Premier League Predictor: Round 30 Picks
Hey everyone, unless you've been reading the other article updates, playing all those quizzes I put together or playing our virtual tournaments, it's been a while!
The Premier League is BACK tomorrow (Wednesday) and we at Superbru are very excited. It feels good to be back writing some predictions for you all to correct and let's hope that 'Project Restart' runs smoothly so that we can hopefully see what should be some fantastic battles for Champions League qualification and Premier League survival over the coming weeks.
It's been 99 days since we saw the final game of Round 29 as Leicester defeated Aston Villa. Round 30 will consist of 12 matches due to two 'games in hand' being played first so Villa will also be involved in the first game back. They'll no doubt be hoping that they play a bit better than they did at the King Power. Here are my thoughts on each game, let me know how yours compare in the comments!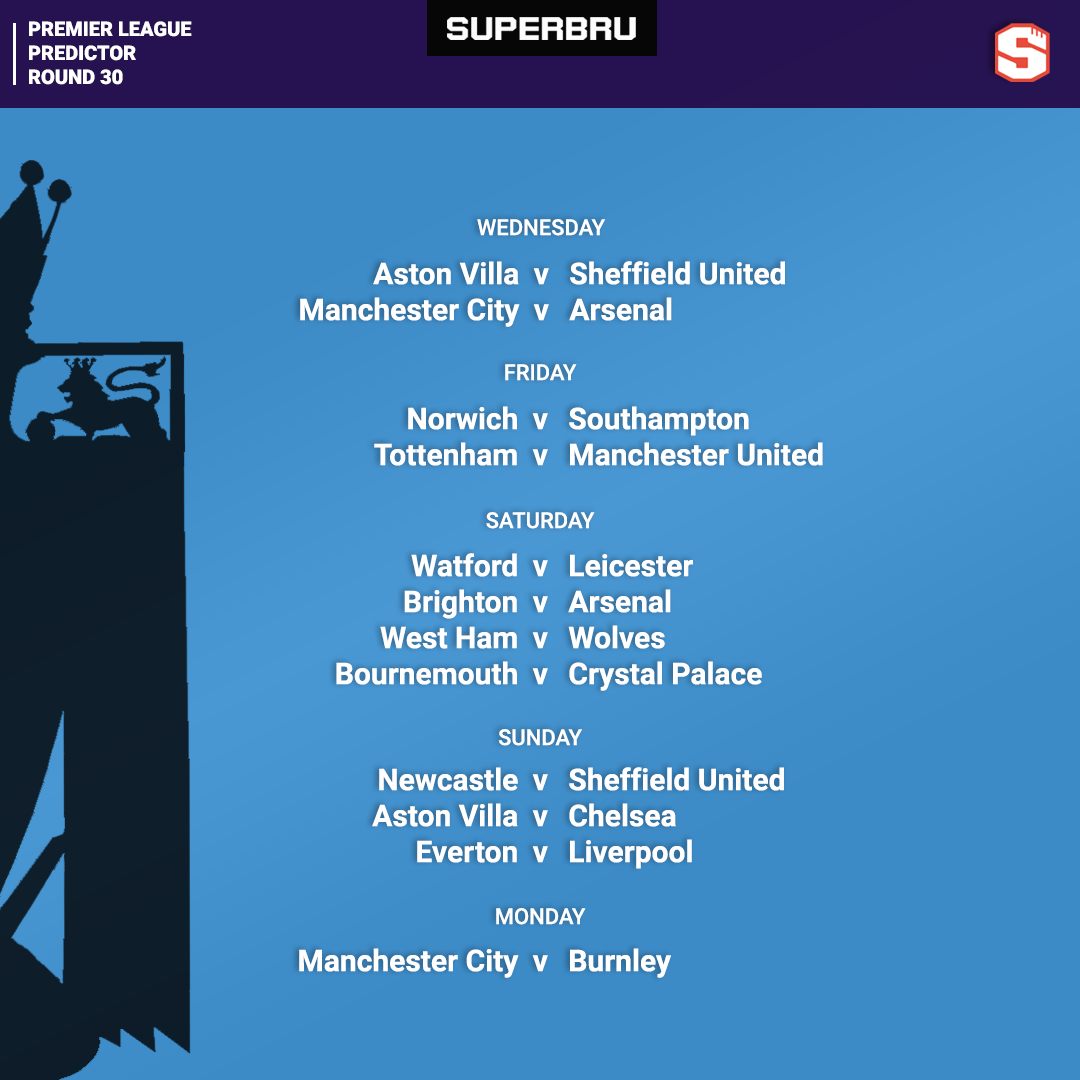 Aston Villa vs. Sheffield United
Right from the off, this should give us a good idea of just how much of an impact the lack of fans will have in the Premier League. This is a huge game for Villa and they'd usually have fantastic support at Villa Park that would definitely help them compete. Instead, I think they'll struggle. Villa are one of few teams that still have some players missing due to long-term injuries and they're important players - Heaton and Wesley. John McGinn is a huge plus if ready to start but I'm still not sure it'll be enough against Sheffield United who have been excellent all season. I'm confident Chris Wilder will have his team right at it after the break.
Prediction: Aston Villa 0-2 Sheffield United
Manchester City vs. Arsenal
Fans or no fans, you have to pick City here. That's not a classic 'City have no fans' dig, they're just a lot better than Arsenal and the Gunners are unlikely to be able to cope defensively. Due to the lack of leadership that Arsenal have suffered from for quite some time, in these big games it often feels that their defenders only really switch on when the pressure is upped by their angry supporters. In an empty stadium, will they be pulled apart even more easily? I think Arteta will do well long-term but a couple of weeks of contact training is unlikely to have been enough to ready his side to compete with a fresh, fully-fit Man City squad.
Prediction: Manchester City 4-1 Arsenal
Norwich vs. Southampton
I'd probably have Southampton just about edging this one anyway and now the concerns about a coronavirus outbreak at Norwich can't be helping preparation. The Club are understandably not revealing which player has recently tested positive but the case is a serious issue and the media interest is a big distraction from prep for what is a must-win game for the Canaries. As well as obvious factors such as player quality, it feels like these first few fixtures will be won by whichever teams have managed to cope with the situation best and get back to match fitness. I think Saints will take the points.
Prediction: Norwich 1-2 Southampton
Tottenham vs. Manchester United
This is a huge game in the battle for Europe and should be a fun watch. The break has definitely helped both teams in getting players back fit, but has Mourinho had time to get Spurs back on track? Will Pogba and Fernandes play together? Will Rashford and Kane be match sharp? I've no idea about the answers to any of these questions and think going for a draw is safest. I might switch depending on team news but I think United will just want to make sure they don't lose this ahead of a fairly kind run-in.
Prediction: Tottenham 1-1 Manchester United
Watford vs. Leicester
Given how much they need the points, I might have picked Watford to win this before the break but now the lack of fans and number of away wins we've seen in the Bundesliga has made me re-think a bit. I don't know much about being a Premier League defender but I'm fairly sure Jamie Vardy isn't a striker you want to face after 3 months off. His directness could be a nightmare for the Hornets if they're not right on their game but Watford do have a strong home record in this fixture. I'm thinking this might be another draw with Pearson able to snatch a point against his former team but you'd have to say Leicester are the more likely to win.
Prediction: Watford 1-1 Leicester
Brighton vs. Arsenal
This is another tricky match for Arsenal. Since being promoted in 2017, Brighton lost their first PL game against the Gunners but have drawn 2 and won 2 since. It'll obviously be sensible to see how Arsenal go against City before finalising this pick but I'm thinking that the 90 mins they'll have at the Etihad (regardless of the score) should help them for this match. A competitive fixture against one of the best teams in Europe should prepare Arsenal well for this game and I think they'll have an advantage.
Prediction: Brighton 1-2 Arsenal
West Ham vs. Wolves
This isn't the easiest pick because West Ham are very unpredictable in even a normal season but both the table and the head-to-head history suggests Wolves are the team to pick. You can count on Wolves to be organised, quite dangerous up front and to keep the ball fairly well in the middle of the park. The same can't be said for West Ham.
Prediction: West Ham 0-2 Wolves
Bournemouth vs. Crystal Palace
Amazingly, since it's set to be the first ever Premier League game shown live by the BBC, this is going to be the most watched Premier League fixture ever here in the UK! I'm going for another away win. Palace are strong on the road and I feel Bournemouth are likely to get relegated. We've seen them struggle to score goals all season which used to be what they were best at and now the circus surrounding Ryan Fraser reportedly no longer wanting to play ahead of a summer move won't help. David Brooks could return from his long-term injury though and I'm very keen to see how he gets on. Until we find out, I'm worried for the Cherries.
Prediction: Bournemouth 0-1 Crystal Palace
Newcastle vs. Sheffield United
Another tricky pick. Sheffield United will have that advantage of having already played a PL game by the time they reach this fixture but Newcastle will have had a lot of time to prepare and should be solid enough. I'm not expecting too many goals, let's go for a draw for now.
Prediction: Newcastle 1-1 Sheffield United
Aston Villa vs. Chelsea
Again, this will be Villa's second game so that may be an advantage but you'd expect Chelsea to have too much regardless. The Blues have a great record against Villa and will have plenty of options now that injuries have passed with the likes of Abraham, Kante, Loftus-Cheek and Pulisic back at full fitness.
Prediction: Aston Villa 1-3 Chelsea
Everton vs. Liverpool
I can't see this being a game where Liverpool can clinch the title because I highly doubt Arsenal will beat City but the Reds should still find 3 points at an empty Goodison. It won't be easy as the derbies at Everton tend to be very competitive and low-scoring. However, the home crowd definitely usually play a massive part in that. Without that support, Liverpool's class should shine through.
Prediction: Everton 0-2 Liverpool
Manchester City vs. Burnley
Burnley will have had more time than any other Club to prepare for 'Project Restart' and given they've been done 5-0 on each of their last two trips to the Etihad, they probably need it. City have the squad to put out an entirely different XI to the one that plays Arsenal for this game if they need to and even if they do, they should win comfortably.
Prediction: Manchester City 3-0 Burnley
Best of luck to you all with your picks and I hope you enjoy watching all of the action as much as I will be!