Premier League Predictor: Round 3 Predictions
After the opening 2 rounds of the Premier League season we have 5 teams on 6 points as West Ham, Chelsea, Liverpool, Brighton and Tottenham will all be looking to maintain their 100% winning starts this weekend. At least one of them will fail to do so as Liverpool host Chelsea in the big game of the round but Tottenham have been handed a huge boost with the news that Harry Kane will be staying at the club this summer.
Round 2 was another fairly good one for me as I managed 3 Exacts and 3 Close picks. I'm just outside the top 3k overall which feels like the best start I've had in a couple of seasons so the pressure is on to try and keep it up!
Here are my thoughts on each Round 3 fixture. As always, feel free to share your own in the comments.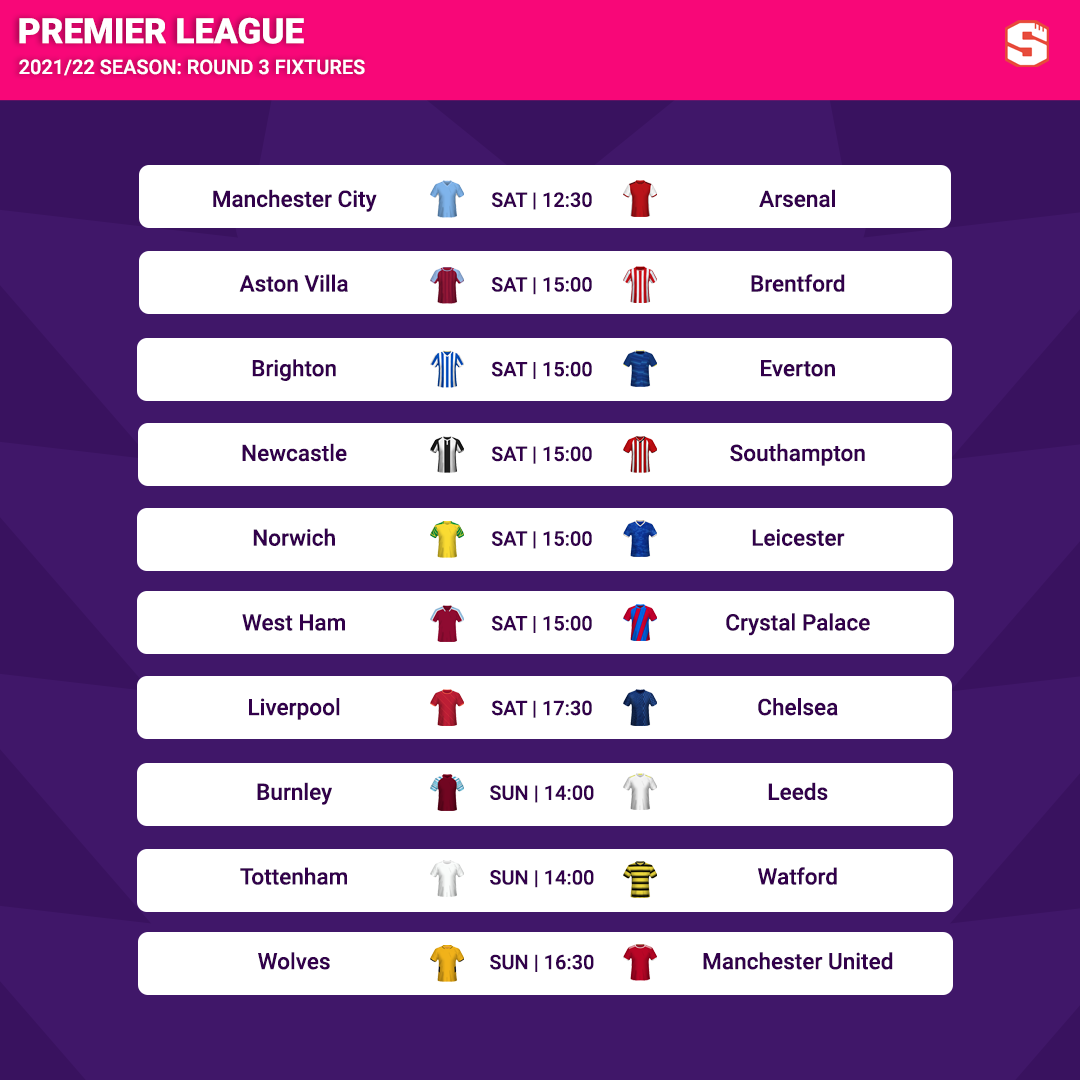 Manchester City vs. Arsenal
Manchester City v Arsenal at the Etihad hasn't been a difficult pick for a number of years now. Arsenal obviously look in all sorts of trouble at the moment - they were well short of Chelsea's level last weekend - while City will just keep improving as I said last week. It's interesting that Gabriel Jesus has decided that he'd also like to be a winger now and I'm excited to see the lineup that Guardiola settles on for big games once everyone is fit after the international break. Now that they aren't getting Kane, will Ferran Torres get an entire season as the main central forward or will they bring someone else in? For this game, I think they'll be far too strong for Arsenal regardless of the XI he picks.
Prediction: Manchester City 3-0 Arsenal
Aston Villa vs. Brentford
Brentford have started really well by picking up 4 points out of 6 and they're still yet to concede but I think this might be the game where that changes. Ings is already showing how useful he'll be as a signing for Villa and with Watkins still to come back as well, there remains plenty of goals in that squad despite Grealish's departure. Brentford seem to have plenty of energy and are good tactically under Frank so I don't think this will be too one-sided but I'd be surprised if Villa don't come out on top.
Prediction: Aston Villa 2-1 Brentford
Brighton vs. Everton
This one looks super even to me. Brighton deservedly have two wins on the board already and will more than match Everton who you would say have the better team 'on paper'. We can expect the Toffees to be difficult to beat under Benitez and they've already managed 5 goals this season, too. There's a few exciting players to watch on either side including Bissouma for Brighton who is rightly getting plaudits once again because he's absolutely quality and then you've got Demarai Gray who has started his first season at Everton really sharply. However, overall I don't think I can split these two and I'm going for a draw.
Prediction: Brighton 1-1 Everton
Newcastle vs. Southampton
Another tough one. Newcastle tend to do alright against Southampton and I think I'm more tempted to pick the home side but I thought Saints were quite impressive in that draw against Manchester United with their pressing and then intent when on the ball at times - new right-back Tino Livramento from Chelsea has been a standout at just 18 years of age. United really didn't test Southampton defensively anywhere near as much as you'd expect though and I think Newcastle could cause their new backline some problems. The Magpies are conceding plenty of goals themselves mind you but I'm hesitantly calling a home win.
Prediction: Newcastle 2-1 Southampton
Norwich vs. Leicester
Even before the red card on Monday night, Leicester were definitely second best against West Ham so that might be of concern to Brendan Rodgers (though West Ham were very good!) but you'd still expect them to respond with an away win at Carrow Road instead. Given that Norwich have played Liverpool and City so far, it does feel like this is the real start of their season simply because they do at least have a chance of a result but this is still a very tough fixture and I think Leicester will be fine.
Prediction: Norwich 1-3 Leicester
West Ham vs. Crystal Palace
West Ham have done incredibly well to continue last season's form right at the start of this campaign and after such an impressive display against Leicester with Michail Antonio looking so sharp, you have to expect them to beat Palace as well. I didn't think there was too much to worry about in Vieira's opening PL games as they were close to scoring a couple against Brentford but I think the League Cup defeat at Watford on Tuesday might concern him given the team he put out. The tough games keep coming for Palace after this so they're going to have to find some magic from somewhere.
Prediction: West Ham 2-0 Crystal Palace
Liverpool vs. Chelsea
A big one! Most of the talk about this game is around the battle between Virgil van Dijk and Romelu Lukaku which is just something I think we're all really looking forward to watching. Lukaku had a near perfect performance against Arsenal in his (second) debut for Chelsea and so van Dijk is set for his first proper test since returning from his serious injury and I'm very interested to see how he holds up.
I think like last week, Chelsea will look to Lukaku as their focal point in this game but we could well see Timo Werner in the Blues' lineup as his pace in behind potential hold-up play from Lukaku could really hurt Liverpool's high line. In response, we all know how Liverpool will threaten Chelsea and I think Salah in particular will be very dangerous, particularly if Tuchel opts to stick with Marcos Alonso at LWB. Both teams are yet to concede this season and I'm not sure I'm brave enough to pick Liverpool to lose at home, but I also don't really want to go against Chelsea as I think they're a serious side this season and in my opinion, the slightly more likely winner. Draw it is!
Prediction: Liverpool 1-1 Chelsea
Burnley vs. Leeds
Leeds did the double over Burnley last season so that's quite encouraging for Bielsa's side and they certainly feel the more likely to score goals in this fixture? Burnley are always difficult to predict because you never really feel like backing them to win but you also know they'll almost certainly pick up enough wins throughout the season to stay up! Leeds were pretty good against Everton last week and they should dominate possession here as well so I'm going with them.
Prediction: Burnley 1-2 Leeds
Tottenham vs. Watford
It's been a good start to the season for Spurs with 6 points on the board already and now Kane secured at the club for at least a few more months. This should be fairly straightforward for them and I wouldn't be surprised to see Kane start and find the net. Watford will have been very disappointed with the way in which they conceded goals against Brighton but they were generally second best anyway.
Prediction: Tottenham 2-0 Watford
Wolves vs. Manchester United
Despite back-to-back 1-0 defeats, it feels like Wolves fans have reason for encouragement following their team's first two PL performances under Bruno Lage and they have also now managed a convincing win in the League Cup. I think they'll compete well in this game too. United were poor at Southampton last week but there still won't be many going against them here where if they avoid defeat they'll be setting a new PL record for the unbeaten away streak they are on. United had a period a couple of years ago where they really struggled to beat Wolves but they improved on that last season and I think it's wise to back them for a win with Wolves' current pattern of playing quite well but ultimately conceding a big chance or two and losing to continue.
Prediction: Wolves 1-2 Manchester United
Best of luck to you all with your own Round 3 predictions!