Premier League Predictor: Round 26 Picks
Incredibly, I've actually managed 3/3 so far in Round 26 of the Premier League predictor! In this updated edition of last week's article, here's a reminder of the results we've had so far along with my predictions for the rest of the round including the rescheduled Manchester City v West Ham which will fortunately remain part of this round as it's been moved to next Wednesday.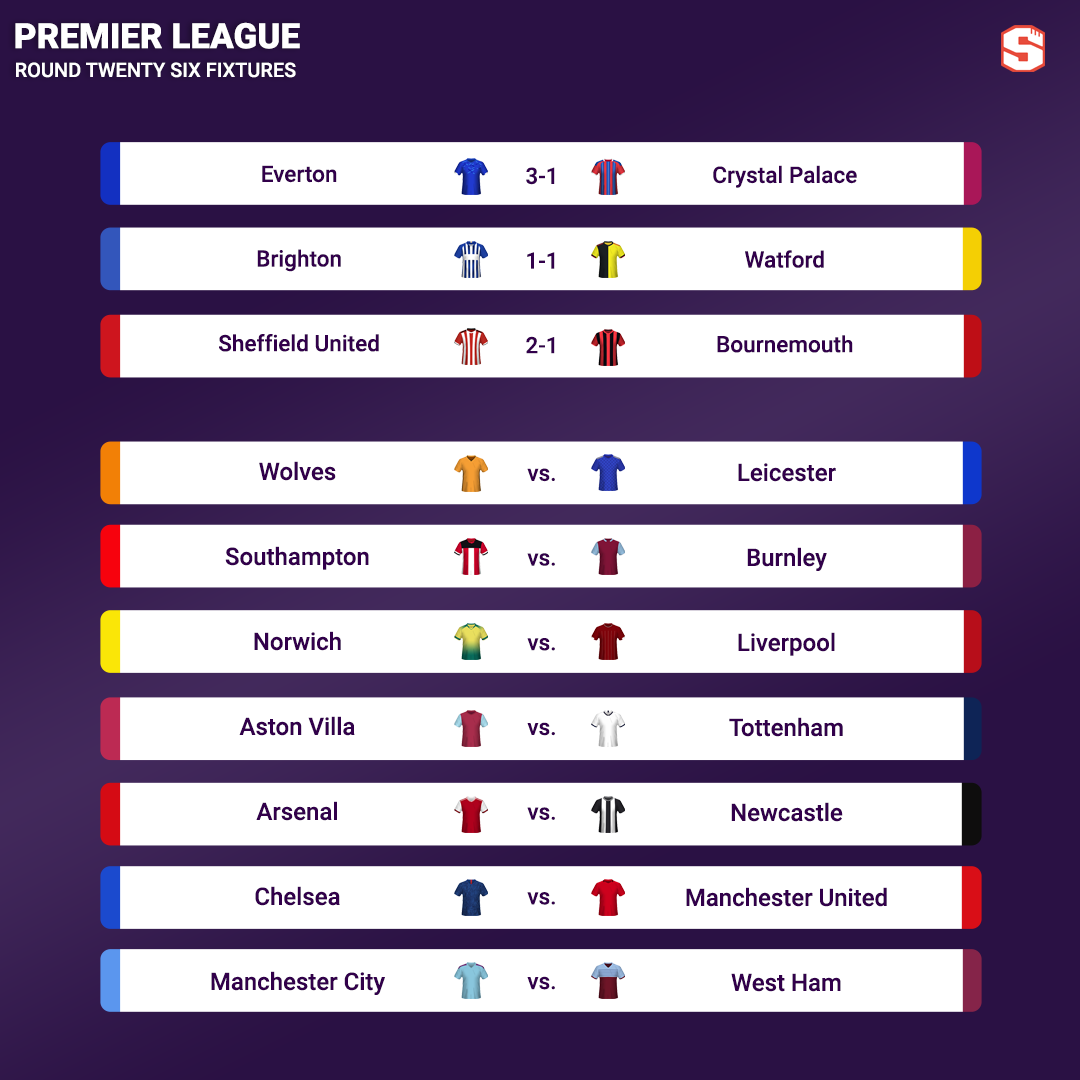 Everton vs. Crystal Palace
My Prediction: Everton 1-0 Crystal Palace
Actual: Everton 3-1 Crystal Palace
Brighton vs. Watford
My Prediction: Brighton 1-1 Watford
Actual: Brighton 1-1 Watford
Sheffield United vs. Bournemouth
My Prediction: Sheffield United 2-0 Bournemouth
Actual: Sheffield United 2-1 Bournemouth
Wolves vs. Leicester
This one should be a good watch. Both sides are very strong, good on the counter and have standout goal threats in Jimenez and Vardy respectively. I just feel as if both may cancel each other out which is what we saw when Wolves went to Manchester United recently. Leicester usually score a goal or two but you can get at them defensively, especially since Ndidi is doubtful again. I'm not sure Leicester will commit to many going forward because of the damage Adama and Podence can cause with their pace and the same is probably true for Wolves when up against Barnes and Vardy.
Prediction: Wolves 1-1 Leicester
Southampton vs. Burnley
I think Southampton should take this but their record against Burnley is a bit of a concern. They've been playing really well throughout 2020 and whilst it's not ideal that they lost 4-0 at Liverpool while playing OK and then battered Tottenham in the Cup but lost 3-2, this isn't the same kind of game and they should get a result that mirrors their performance level. Burnley have found some form in recent weeks but their season so far suggests that after 2 or 3 good games they go through another bad patch.
Prediction: Southampton 2-1 Burnley
Norwich vs. Liverpool
You can't not pick Liverpool here. Their current streak is ridiculous, Norwich are bottom and at the minute there's no reason to doubt that they'll break almost every record in the book. As I've said before, until they do have a wobble, you have to keep picking them.
Prediction: Norwich 0-3 Liverpool
Aston Villa vs. Tottenham
This one could be pretty close I my opinion. Tottenham still don't look right to me but that rather fortuitous win over Manchester City could inspire some confidence ahead of a run of fixtures that are pretty tough for Mourinho's men. Following this match, Spurs face Leipzig (H), Chelsea (A), and Wolves (H). They'll need 3 points here as a result and they should just about get them given Villa's defensive vulnerabilities. I think the hosts can find a goal themselves and might manage a point but Spurs should find 2 or more goals.
Prediction: Aston Villa 1-2 Tottenham
Arsenal vs. Newcastle
If you're picking based on the form guides alone then a draw looks pretty attractive here! I think Arsenal will win but I am more hesitant to pick them after such a weak performance at Burnley before the winter break. They've had more time now to work with Arteta who certainly appears to be strong tactically and as a result I expect them to continue improving and start managing a few more shots on goal!
Prediction: Arsenal 2-0 Newcastle
Chelsea vs. Manchester United
An incredibly tough pick. Manchester United used to really struggle at Stamford Bridge and whilst they still haven't won there for a while in the league, they've won on their last two visits that have come in the FA Cup and League Cup. As was the case in those games, I just think Chelsea might play into their hands again. Wolves (and countless other teams) have shown that if you play slightly cautiously against this United team they simply aren't going to find a way to score but it feels as if Chelsea can't help themselves and go all out in attack only to leave themselves open to the one way United do score goals consistently - on the counter.
Admittedly, it took a very special free-kick from Rashford last time and there's every chance Chelsea get the better of United on this occasion but even without Rashford, I have a sneaky feeling for United with Bruno Fernandes set to provide the attacking passes they've lacked without Pogba.
Prediction: Chelsea 1-2 Manchester United
Manchester City vs. West Ham
I won't be making any changes to last week's prediction:
It's been the story of their season so the pattern is perhaps worrying, but there's literally no need for City to panic about their loss at Spurs last week. They dominated Tottenham, on another day would have scored 4 or 5, and were unfortunate that Bergwijn pulled out something special with his one chance. The fact that Liverpool have already won the league means that there isn't much pressure on City too, they can focus on performances rather than what it means on the table and the performance against Tottenham was sound. They should be fine against West Ham who are looking more and more likely to go down in my opinion.
Prediction: Manchester City 4-0 West Ham
Best of luck with your own picks! Feel free to continue commenting with your own thoughts below.