Premier League Predictor: Round 25 Picks
It was strange having the FA Cup Fourth Round in the middle of the last Premier League round due to Liverpool's rescheduled match and as a result it feels like a long time since we've been making PL picks. My Round 24 was average as I got all the predictable ones right without managing to correctly call any of the matches that were picked by less than 50% of the community.
This weekend we have a more normal round in structure before the new winter break kicks in next week. Here are my picks for what looks like a tricky round full of lots of even games!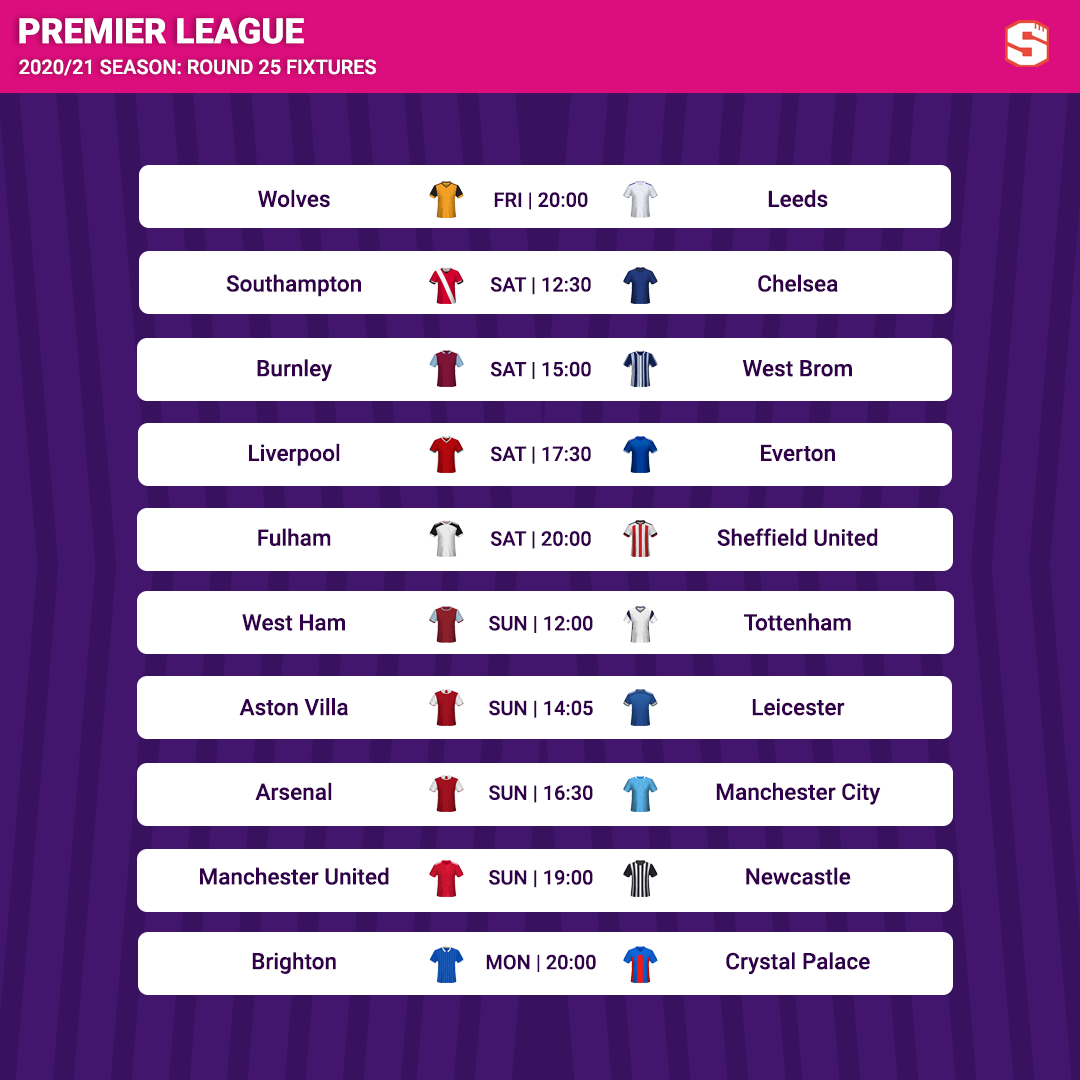 Leicester vs. Chelsea
Leicester are obviously strong but haven't looked as good in the new year and you still don't really know what you'll get with Chelsea. They look very strong in parts but then their game management ability looks very weak and the hosts will feel they have a chance of winning this match regardless of the score after an hour. I'm leaning more towards the Foxes given that Chelsea have failed to strengthen in the transfer window and they could well struggle to handle Maddison and Vardy.
Prediction: Leicester 2-1 Chelsea
Bournemouth vs. Aston Villa
I'm not convinced Bournemouth have fixed much just because of that win over Brighton, a look at the stats from that game show you the Brighton actually had a lot of control and worryingly for the Cherries, far too many shots. This is still a very winnable game for them though but I think I'm going to opt for a draw. Villa had a fantastic result in midweek to progress to the League Cup final but there could well be fatigue as a result and their squad isn't big enough to put a run of too many wins together in my opinion.
Prediction: Bournemouth 2-2 Aston Villa
Crystal Palace vs. Sheffield United
This game just looks as if it has draw written all over it, although most do when Crystal Palace are involved. Both sides are pretty solid, won't give much away and will likely cancel eachother out in my opinion. Palace have some decent players returning from injury but Sheffield United are so hard to beat and I'm excited to see how their new signing Sander Berge gets on.
Prediction: Crystal Palace 1-1 Sheffield United
Liverpool vs. Southampton
Southampton have been great for a while now, especially on the road, but you still have to say that they've got next to no chance at Anfield. It's so strange talking about the Premier League in this way but the title race really is already over which in January is crazy - we've all moaned about PSG finding Ligue 1 far too easy in the past and they've never been this far ahead so early on! You can only praise Liverpool who have been fantastic but the other teams have so much improving to do.
Prediction: Liverpool 2-0 Southampton
Newcastle vs. Norwich
Newcastle should win this given the other results they've been picking up, yet they aren't a team that you can ever actually imagine controlling a game because they're so used to playing behind the ball. They'll get chances against this Norwich defence though and I think it's too risky to pick a different outcome.
Prediction: Newcastle 2-1 Norwich
Watford vs. Everton
Another tough one! Could this be another round that's filled with draws? Watford usually beat Everton at home but it's hard to call this one as both sides have just come off poor results in Round 24. I make the Hornets favourites and might pick them depending on the team news when it emerges but I think I'm more likely to stay on the fence.
Prediction: Watford 1-1 Everton
West Ham vs. Brighton
West Ham still haven't beaten Brighton in the Premier League and though the Seagulls are also struggling for results, they've shown nothing to make me feel like that can change this weekend. West Ham are short of goals, not great in defence, and just lack the control that you require especially when playing at home to pick up the points that their squad should be picking up. Brighton lack a cutting edge but I think it will be them that controls possession and the majority of this game despite probably not being good enough in front of goal to win it.
Prediction: West Ham 1-1 Brighton
Manchester United vs. Wolves
I'm excited to see how Bruno Fernandes fares now that he's finally arrived at Man United, though I expect the number of minutes he plays in this game will be minimal. There'll probably be quite a few going for the draw on this game as well, which is logical when you look at the historic results tab, but whilst I'm tempted to do so I just feel like United will be able to ride the small wave of positivity they've created with the Fernandes signing to pick up three points. Wolves haven't been at their best for a few weeks now and United did fairly well at City in midweek even if it wasn't enough to get them to the League Cup final.
Prediction: Manchester United 2-1 Wolves
Burnley vs. Arsenal
Arsenal have been drawing as much as Palace lately! I think they'll be OK here though, especially with Aubameyang back. The additions they've made in the window are sensible if not too inspiring and they have a fantastic record against Burnley. Martinelli is another really bright spark they have in attack and defensively they'll likely be able to cope with the Clarets who are still without Barnes and Gudmundsson.
Prediction: Burnley 1-3 Arsenal
Tottenham vs. Manchester City
Tottenham will almost certainly approach this in the same way they did the Liverpool game - sit back and absorb pressure while creating genuinely good chances on the break. Therefore, I can see this being either another game where City come undone and just get absolutely destroyed by counter attacks, or Tottenham being punished for sitting back and City finding a first-half goal that eventually leads to them being comfortably beaten. With Laporte semi-likely to feature, I think the latter is more likely.
Prediction: Tottenham 0-2 Manchester City
Best of luck in Round 25!