Premier League Predictor: Round 24 Picks
Well, you can tell that Round 23 was tough when I find that my 3/10 was better than the community average! Of course, the 6 points I managed still aren't much to shout about but it's always a relief to know that everyone else also struggled as we now take on yet more fixtures just a few days later.
Be aware that in addition to today's deadline being easy to miss, it's also important to note that
Liverpool will play twice
in this round because of their rescheduled match at West Ham. This is obviously particularly relevant to fantasy players. You'll no doubt already own as many Liverpool players as you can but the double round naturally affects strategy.
Here are the Round 24 fixtures and my thoughts on each of them. Feel free to let me know how your own picks compare in the comments.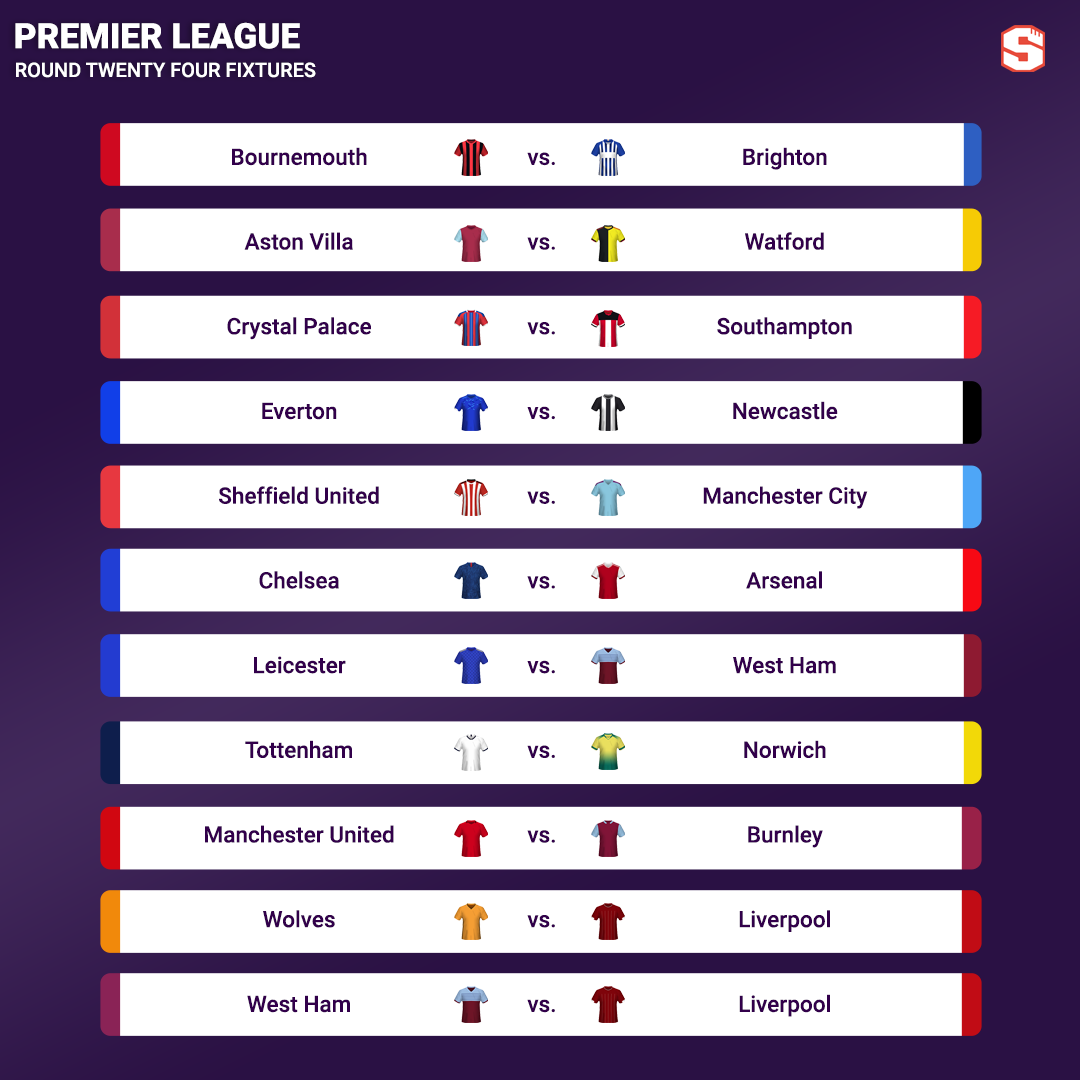 Bournemouth vs. Brighton
A pretty uninspiring fixture and tough pick to begin with. Bournemouth look hopeless at the minute and Eddie Howe certainly gave the impression that he was running out of ideas in his interview post-Norwich. The Cherries just can't score at the moment but then you look at Brighton and despite the fact that I think they're half decent, they've won just 1 of their last 8 and really should have beaten Villa last time out. That 1 win was against Bournemouth in the reverse of this fixture though and I'm tempted to give Brighton one more chance even though I feel fairly sure they'll let me down again by drawing.
Prediction: Bournemouth 0-1 Brighton
Aston Villa vs. Watford
Watford are looking steady at the moment and I'd be surprised to see them lose at Villa Park. The signing of Mbwana Samatta was of course needed for the hosts since they literally don't have a single other available striker in the first team squad, but I don't see how he'll be available to feature this evening and this Villa squad is still weaker than it was before injuries - Heaton, McGinn and Wesley is almost certainly a stronger trio than Reina, Drinkwater and Samatta given their experience within the team for the first half of the season (unless Samatta really hits the ground running!). There's always a chance that Villa find a win at home through the talent of Grealish but I think Watford are more likely to win.
Prediction: Aston Villa 1-2 Watford
Crystal Palace vs. Southampton
Another tough one. These teams look to be at a similar level now in my opinion with Palace just being so hard to beat and Southampton looking fantastic up until the second half of their most recent fixture against Wolves. I'm leaning slightly more towards Palace because of home advantage and the fact that they surely can't have a fifth draw in a row!? Tosun will be eager to get another goal on his first start at home after bagging at the Etihad, too.
Prediction: Crystal Palace 2-1 Southampton
Everton vs. Newcastle
Newcastle really are dreadful to watch but you can't knock them when they keep pulling out results like their win over Chelsea! They're breaking all sorts of records for having the least amount of possession etc. and whilst that's almost certainly not sustainable long-term, it's looking like it's going to keep them up this season. Injuries really are starting to mount up for the Magpies though with Dummett and Willems now confirmed to be sidelined for the rest of the season. I'd be surprised to see them follow up that Chelsea win with a point or more at Everton who are on a decent run in the league.
Prediction: Everton 2-0 Newcastle
Sheffield United vs. Manchester City
You're always wary of results like that Palace draw with City this season, but they should get the job done here. The Blades are tough to beat but City don't tend to struggle to score goals so it's all about the damage Sheffield United can do at the other end. I'd be surprised to see the champions fail to win in consecutive games.
Prediction: Sheffield United 1-3 Manchester City
Chelsea vs. Arsenal
Both of these sides are quite inconsistent but it's Chelsea who look the stronger of the two in my opinion, and not just on the league table. Aubameyang remains a big miss for the Gunners with suspension and I think since Chelsea got the better of Arsenal at the Emirates then they should be OK at Stamford Bridge too. Yes they've been better away than at home but this isn't the kind of home game they've been struggling in where the opposition plays 10 behind the ball. Arsenal won't do that.
Prediction: Chelsea 2-0 Arsenal
Leicester vs. West Ham
Leicester have suffered two really poor results without Wilfred Ndidi but there's supposedly 'a chance' he'll return for this one and they should win it even if he doesn't. West Ham have several injuries of their own and I'm struggling to see how they'll create too many chances against the Foxes. I still think they're in danger of the drop under Moyes and they have some very tough fixtures coming up.
Prediction: Leicester 2-1 West Ham
Tottenham vs. Norwich
Tottenham are due a comfortable win in my opinion and this is the kind of fixture where they should get it. I'm not saying they'll suddenly be back to being a good team but it feels as if an early goal could spark a performance where the likes of Son, Moura and Lo Celso fill their boots. Mourinho will want revenge for the result at Carrow Road (and just a league win!).
Prediction: Tottenham 3-0 Norwich
Manchester United vs. Burnley
Morale couldn't be much lower at United. They'd been picking up a few wins but then losses against City and Liverpool will naturally hurt and they've now lost Rashford to a semi-long term injury. Given the issues they already have without McTominay and Pogba, Rashford's absence is a massive blow in my opinion and if they fail to sign Bruno Fernandes before the window closes then fans really will start turning on the board. I'm tempted to go for the draw here but I'm still being haunted by my decision to switch my pick to Burnley in the reverse fixture so I'm going for a narrow home win with Greenwood to bag a winner.
Prediction: Man Utd 2-1 Burnley
Wolves vs. Liverpool
Attention has almost just turned to whether or not Liverpool go unbeaten this season now given that the title has been all but sealed. This game is interesting as a result because Molineux is a tough place to visit. I'm still finding it too hard to pick against Liverpool though. Even if they only play to about 80% of their potential there's a good chance they'll win given their form and playing style.
Prediction: Wolves 0-2 Liverpool
The final game of the round sees West Ham host Liverpool after this weekend's
FA Cup
fixtures and I'd be writing a similar thing for that game (except it's far easier to win at West Ham than it is Wolves. I'm not making a precise prediction for now but I'll be picking Liverpool.
Best of luck in Round 24 and make sure you don't miss this evening's deadline!