Premier League Predictor: Round 23 Predictions
We've reached Round 23 of the Premier League which is the final round before the short winter break where we can catch our breath a bit!
Round 22 was average for me and the additional midweek games didn't quite fall my way besides the United win. I went for a narrow 0-1 win for Chelsea but Brighton deservedly managed an equaliser and I picked Leicester 2-1 Tottenham which was right until Steven Bergwijn's late antics!
On to Round 23 then and there are plenty of big games where teams have an opportunity to dramatically improve their position on the table going into the break.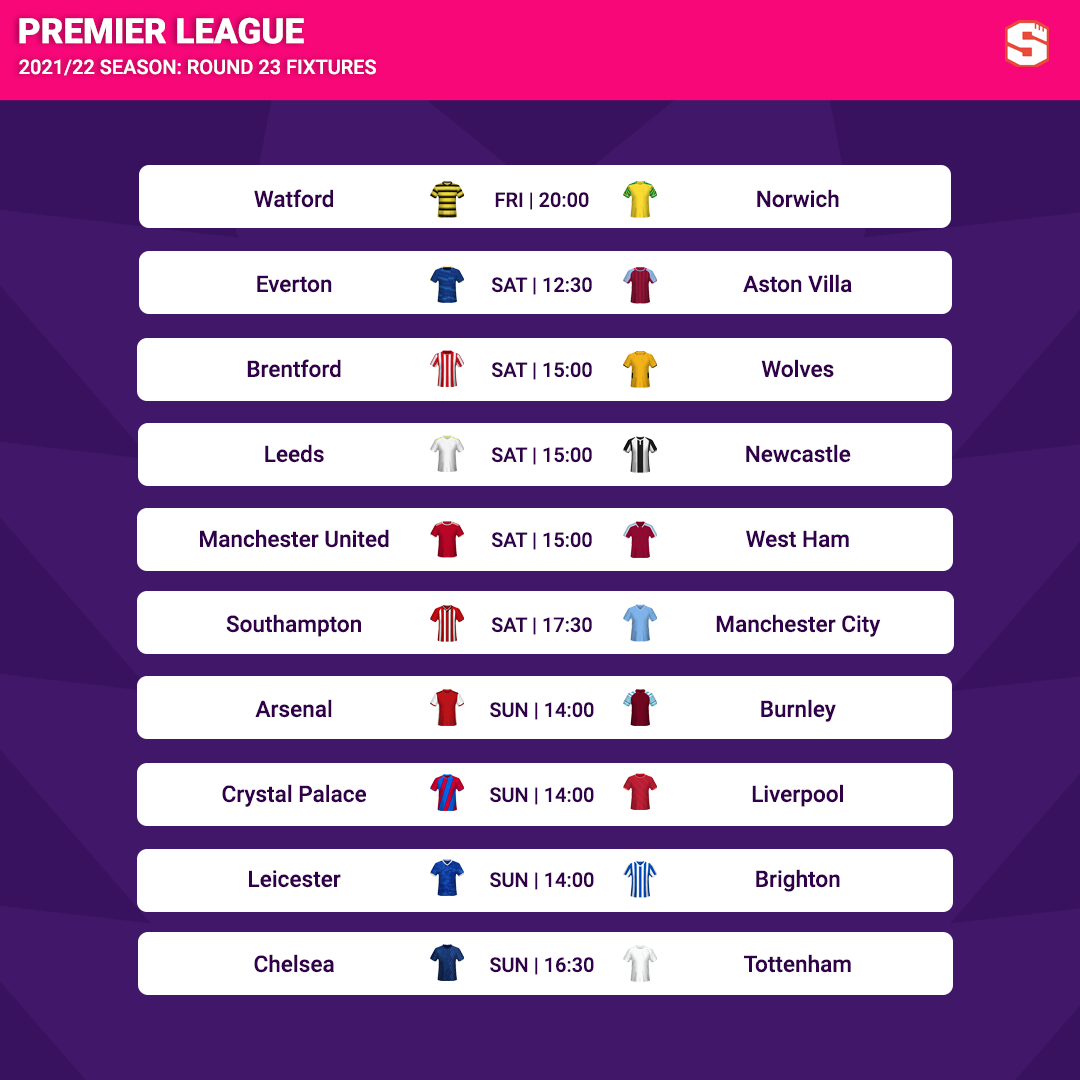 Watford vs. Norwich
A massive game first up - both sides will feel they need to win in order to stay in the Premier League this season. With home advantage, I think it's Watford who are favourites and despite an average display at Newcastle last weekend, that late equaliser to really dent a fellow relegation rival will bring confidence. Tim Krul being out for Norwich plays into the Hornets' hands as well.
Prediction: Watford 2-1 Norwich
Everton vs. Aston Villa
I felt quite sorry for Everton fans when the club appointed Benitez and that has ended as expected so at least they can actually look forward to this game a bit with fan favourite Duncan Ferguson back in the dugout for now. Based on Ferguson's last interim spell, I think they might sneak a point here but Villa are still favourites. Coutinho's obviously enjoyed a perfect return to the Premier League with that equaliser against United and they look a good side under Gerrard at the moment.
Prediction: Everton 1-2 Aston Villa
Brentford vs. Wolves
Far from an easy pick but as you guys know, I'm liking Wolves at the moment and I think they can find another win given the strength of their defence. Brentford have played in midweek so there'll be slightly more fatigue there and I think Wolves can cope with the periods there will be where they're under pressure.
Prediction: Brentford 0-1 Wolves
Leeds vs. Newcastle
The results each of these teams had in the last round feel quite significant ahead of this one as Leeds had a really good win at West Ham whereas Newcastle's draw with Watford will have felt like a defeat and it was a game they needed to win. This is still a rare winnable game for Newcastle given Leeds' injuries but I think I have to go with a home win. You can't trust Newcastle's defence at all.
Prediction: Leeds 3-1 Newcastle
Manchester United vs. West Ham
I'm mainly picking United here just because of their record against West Ham in the Premier League but again, the latest result for each team does make it a bit easier. United looked better in that second half against Brentford and it's been interesting to see Anthony Elanga emerge since Rangnick has come in.
Prediction: Manchester United 2-1 West Ham
Southampton vs. Manchester City
City are back in machine mode as they stroll towards the title so you have to pick them pretty much regardless of who they're playing against. Southampton are a bit up and down but I do of course have to mention that Ward-Prowse free-kick last weekend! What a hit.
Prediction: Southampton 0-2 Manchester City
Arsenal vs. Burnley
Arsenal enjoy this kind of home game and Burnley haven't played for ages so this should be a Gunners win. Without Cornet and Wood, it's looking even less likely that Burnley will score any goals.
Prediction: Arsenal 2-0 Burnley
Crystal Palace vs. Liverpool
There's a chance of an upset here and I was tempted by a draw but Liverpool's win at Arsenal in the League Cup last night was quite impressive and perhaps they'll have enough despite the players they have missing. The Historic Results tab is pretty convincing too!
Prediction: Crystal Palace 1-2 Liverpool
Leicester vs. Brighton
I think Brighton can keep up their unbeaten run and manage another draw here as they continue to impress. Leicester still have a lot of players out and their defeat against Spurs will of course have been tough to take. Brighton always create chances and I think they can put one away to grab a point or potentially even 3.
Prediction: Leicester 1-1 Brighton
Chelsea vs. Tottenham
Chelsea looked really tired and uninspiring in that draw at Brighton so this could well be an opportunity for Tottenham but given how often Chelsea beat them and the fact that they've done so twice very recently, I think a home win remains likely. There's a lot riding on this in the top four battle for Chelsea all of a sudden as they've fallen away in the title race so quickly.
Prediction: Chelsea 2-0 Tottenham
Best of luck to you all with your own Round 23 predictions! You'll notice that Burnley v Watford has once again been rescheduled and added to the end of this round but since it's not until after the winter break, it's not one that I've thought about for now. I'm sure Burnley fans are hoping they sign a striker by then...