Premier League Predictor: Round 22 Predictions
As it stands, Round 22 of our Premier League Predictor is set to be a 13-game round as we have 4 additional rescheduled games taking place across Tuesday and Wednesday but we've lost one of this Saturday's matches as Burnley v Leicester has been postponed.
It looks as if we're set for a really good round as there are so many crucial games at both ends of the table. Here are my thoughts on each match. As always, feel free to leave your own in the comments!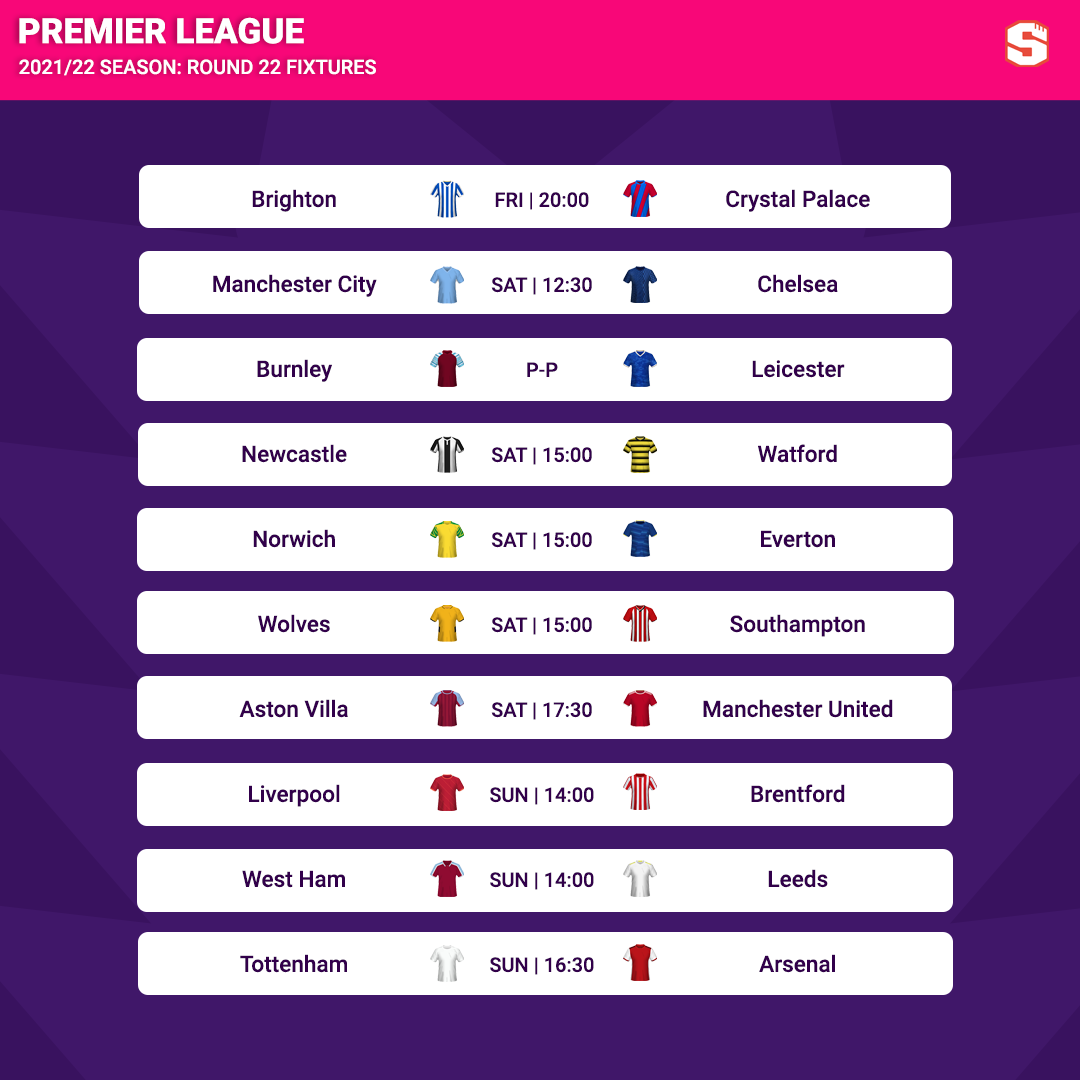 Brighton vs. Crystal Palace
A big rivalry to kick things off this evening. Brighton v Palace is always a tough pick as there's so little between them and it's usually a case of who can take a chance late on. I quite like both of these managers and the teams - we should see a decent game and though I think Brighton are perhaps slight favourites given recent results, I'm going for a draw like the reverse fixture.
Prediction: Brighton 1-1 Crystal Palace
Manchester City vs. Chelsea
Chelsea are still in a slightly unfortunate position in terms of injuries and covid cases but the few players they have had back in recent weeks has triggered a real improvement in form and I think they'll really test City. Mateo Kovacic has been superb since returning from injury.
However, City have of course been a level above everyone else as the table shows and it's not easy going against them when you see that perfect form streak on the Superbru picks page! I really think this might be a draw but City's dominant performance at Stamford Bridge earlier in the season means I'm going with them.
Prediction: Manchester City 2-1 Chelsea
Newcastle vs. Watford
Another massive game. In fact, it's so important that Newcastle went out and ensured they bought a striker that would be able to feature straight away in this match (while putting another relegation rival in massive trouble as a result) in Chris Wood and I think the lift that will give the Magpies may actually be enough for 3 points. Obviously, Newcastle's result against Cambridge last week shows just how poor they can be but Watford are also really struggling at the moment and with some key players either injured or at AFCON, I think they might lose.
Prediction: Newcastle 2-1 Watford
Norwich vs. Everton
You just can't pick Norwich at the moment despite Everton also being in really poor form. It sounds as if Benitez might have Calvert-Lewin and Richarlison back and even if just one of those return you'd think the Toffees should have enough to find the net in this game and win.
Prediction: Norwich 0-2 Everton
Wolves vs. Southampton
Wolves have been really impressive of late so despite Southampton also looking quite good in recent weeks I'm going for a home win here. I know the scorelines haven't exactly been thrilling for Wolves games this season (they've been very similar to Round 1 of AFCON, actually) but I've still enjoyed watching the way Bruno Lage has set them up and the midfield display from Neves and Moutinho at Old Trafford last time out was incredible.
Prediction: Wolves 1-0 Southampton
Aston Villa vs. Manchester United
I still can't quite believe United managed a 1-0 win in the FA Cup tie between these two on Monday so I'm sure Villa fans are the same. There was certainly enough in that performance to suggest that Villa can get something at home this time around and we have the surprise signing of Phillipe Coutinho to consider too! United just look absolutely dreadful at the moment - it was always going to be tricky for Rangnick to come in and immediately get the style of play he wants but if anything United somehow seem less energetic and purposeful than they were before he arrived at the moment?
Prediction: Aston Villa 2-1 Manchester United
Liverpool vs. Brentford
Liverpool's 0-0 draw with Arsenal (who were down to 10 men) last night is a bit concerning if, like me, you were planning on picking a comfortable win for them here but surely they can still find a goal or two even without Salah and Mane? This was always going to be a difficult time of the season for them as Salah especially is irreplaceable but they'll create a lot of chances in this game nevertheless and as long as someone keeps their composure/there's a piece of magic from someone like Alexander-Arnold this should still be a home win.
Prediction: Liverpool 1-0 Brentford
West Ham vs. Leeds
This is another game where we've had a very recent FA Cup tie to go off and I think West Ham will win this meeting as well. I think Leeds will gradually improve and move away from the relegation zone in this second half of the season but things still look quite bumpy for the moment, especially without Kalvin Phillips.
Prediction: West Ham 2-0 Leeds
Tottenham vs. Arsenal
The latest on this fixture is that there are talks between the PL and Arsenal about a potential postponement given Arsenal's current issues with covid and injuries - a situation that hasn't been helped by Granit Xhaka's silly red card at Anfield last night. Though Spurs are still unbeaten in the league under Conte, as I mentioned in other articles, their kind run of fixtures means things aren't quite as rosy as they seem based on that record and the recent defeats against Chelsea in the League Cup have emphasised that. If Arsenal were full strength I'd be backing them to win I think but without Smith Rowe, Ødegaard and Partey (if the game goes ahead), Tottenham are very slight favourites and I'll probably go for a draw. After Xhaka's red card, Arsenal dug in well against Liverpool and that should boost confidence.
Prediction: Tottenham 1-1 Arsenal
Here are the other 4 games in the round: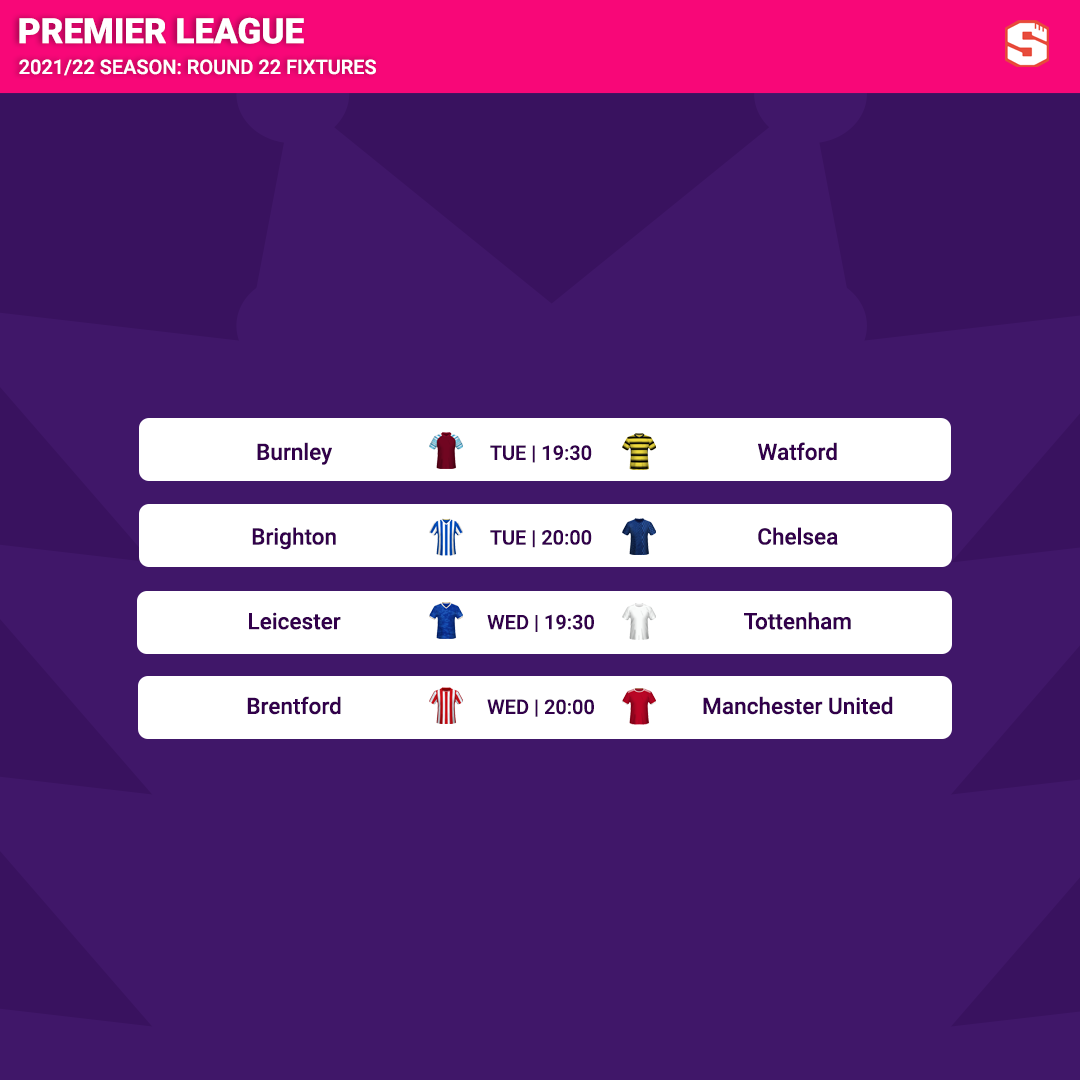 I won't be finalising predictions for these until after the weekend games have taken place but right now, I feel I'm likely to pick Chelsea and Manchester United to win. Burnley v Watford is surely at huge risk of postponement once again and then my pick for Leicester v Spurs is dependent on the North London derby. If Tottenham continue as they've been in the League Cup for that match with Arsenal then I'll probably be backing Leicester, especially since they now have the weekend off in advance.
Best of luck to you all with your own Round 22 predictions!