Premier League Predictor: Round 22 picks
I had a bang average 4/10 round to kick-off 2020 in the last round of the Premier League predictor so here's hoping that this is when my calendar year of PL picks really gets going!
January is always a very interesting month for the Premier League, the transfer window is significant not just because of new players but because of the way we can begin to see where each team has their priorities. With League Cup semi-finals, FA Cup fixtures and the European knockout stages looming, how much will teams look to rotate and when will they do so? Are signings being made to push for trophies this year or will some wait for the summer?
This weekend's standout matches are Tottenham vs. Liverpool and Bournemouth vs. Watford, though many others could have very interesting consequences on the league table. Here are my thoughts on each game in Round 22, leave yours in the comments below!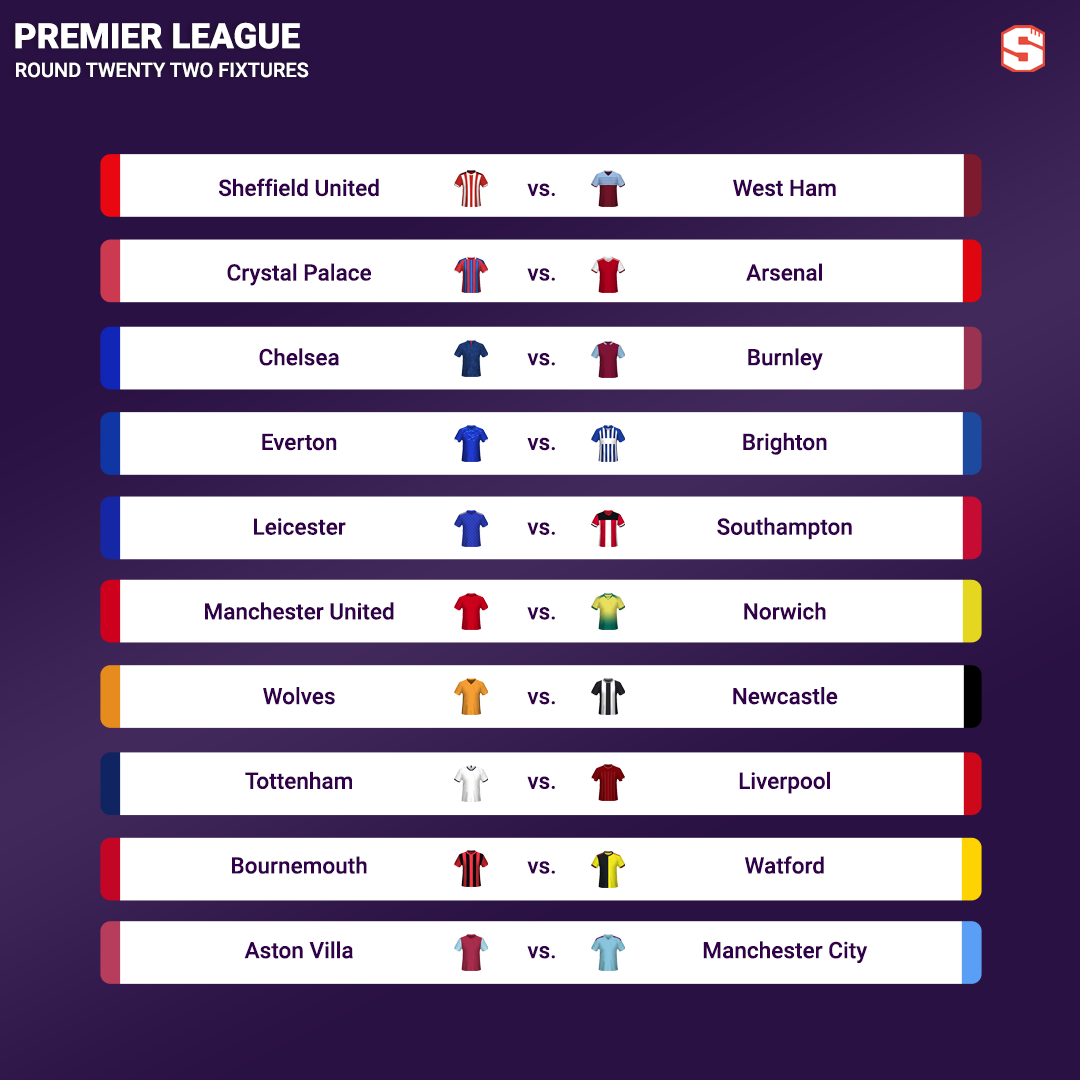 Sheffield United vs. West Ham
I'm really interested to see how Sheffield United get on here. Similar to Leicester recently, they've just lost against Liverpool and Man City which is totally understandable but we now need to see how they respond. West Ham will be competitive after two strong results in Moyes' opening games and I think there's a chance both teams will be cautious if things are level late on. A draw wouldn't be a bad result for either team.
Prediction: Sheffield United 1-1 West Ham
Crystal Palace vs. Arsenal
Arsenal fans must be very encouraged by Arteta's start. Yes it's only a few games and the results haven't even been perfect but he's very confident in himself and against both Man Utd and Leeds we've seen him make tactical tweaks mid-game that have had a positive impact for the Gunners. Palace are rarely easy to beat but with their injuries I think there's a good opportunity here for an Arsenal side growing in confidence.
Prediction: Crystal Palace 1-2 Arsenal
Chelsea vs. Burnley
A tough pick. I'm going with Chelsea again as they're the superior side and Burnley's form has been bad but West Ham and Bournemouth were in the exact same situation heading to the Bridge and look what happened. I'm sure Frank Lampard will have his team winning these home games in time but for now it's hard to tell when their performances against low blocks will improve. Burnley have a decent record at Chelsea as well so it's with a lot of hesitation that I'm going for a narrow home win.
Prediction: Chelsea 2-1 Burnley
Everton vs. Brighton
Everton's league form has been solid but such a humiliating defeat against Liverpool in the Cup will definitely knock confidence. They need a convincing performance here to get back on track and I feel like they can manage a win so long as their mentality is right which is obviously something that's hard to know about! As I say, in the league they've started nicely under Ancelotti so I'm going to back them. It's a little easier for me to look past that Cup result than it is for Everton fans.
Prediction: Everton 3-1 Brighton
Leicester vs. Southampton
Almost everyone will have this down as a home win but not by as many as last time! Southampton have looked strong lately and I'm pleased for Hasenhuttl because I rate him as a manager but Leicester should have too much. Vardy's back and Leicester have only made 1 mistake against a 'lesser' team this season. Ndidi's absence is significant but this is a game they should deal with regardless.
Prediction: Leicester 2-0 Southampton
Manchester United vs. Norwich
A similar pick to Chelsea v Burnley really, Norwich shouldn't trouble Manchester United but the hosts have been really struggling against teams they should beat. Solskjaer's team don't really have a midfield and there's doubts over Harry Maguire but they can relax a little more about that with the knowledge that Pukki is unavailable. United should get through this just as they did at Carrow Road, though I don't think anyone would be too shocked if they slipped up.
Prediction: Manchester United 3-1 Norwich
Wolves vs. Newcastle
I'm not too worried about either of Wolves' recent losses. Liverpool are obviously the best side in the league at the moment and they faced Watford at an awkward time. They should get back on track in this one, especially since Newcastle are missing a number of their better players.
Prediction: Wolves 2-0 Newcastle
Tottenham vs. Liverpool
Yet again, Tottenham find themselves without Harry Kane for a fairly long period of time. The question is, can they cope without him as well as they did at the end of last season? Son's suspension is now over meaning he can lead the line and he did a great job at the end of that 2018/19 campaign. Unfortunately for Spurs, they're in very poor form and playing Liverpool who you know you're going to get at least an 8/10 performance from at the moment. I expect Mourinho to have a decent plan in which to hurt Liverpool even without Kane but just can't see Spurs holding out defensively. An away win is likely.
Prediction: Tottenham 1-2 Liverpool
Bournemouth vs. Watford
Bournemouth really need to win this one but I make Watford favourites. Given everything that's happened in getting him back to the club and how well he's done since, Eddie Howe will naturally maintain support at the Vitality but the Cherries are facing a very real possibility of relegation if they lose this. Nigel Pearson has predictably made Watford awkward to play against and they've impressed me going forward so I think they'll be the bolder side here who are less afraid of losing but ultimately history suggests this match usually finishes level.
Prediction: Bournemouth 1-1 Watford
Aston Villa vs. Manchester City
It's usually true that spending in January to try and stay in the Premier League fails, but it feels as if Villa have little choice but to given the injuries to Heaton and Wesley. Yes, they've already had a rather 'Fulham' season by spending a lot and struggling on the pitch but I feel there's real potential to turn things round with some wins, or at least I did before those two injuries. This game is unlikely to be one that they can get anything from but they managed a decent draw at Leicester on Wednesday in the League Cup. City looked great in that tournament themselves of course and the fact that both Jesus and Aguero were rested in that game is probably a little worrying for Dean Smith!
Prediction: Aston Villa 1-3 Manchester City
Best of luck in Round 22!