Premier League Predictor: Round 21 Picks
The final round of 2019 was pretty average for me as I managed 6/10 with 1 exact. It would have been better had I stuck with my Manchester United pick that I wrote in my article rather than switching to Burnley after seeing the starting lineups!
2020 kicks-off in the best way possible, with a lot of Premier League fixtures to watch. This round has a fairly clear favourite in most of the games so it will be interesting to see if there are many big upsets. I expect teams to go all guns blazing in these matches since we'll see most of them make 11 changes next weekend for FA Cup third round matches.
On that note, if you're wondering where Superbru's FA Cup predictor game is, we'll be launching the tournament immediately after the Third Round as picks begin from the Fourth Round onwards (like last season). This way, we aren't all having to pick a monster 32-game round to start with.
Here are my picks for Round 21 of the Premier League, let me know which you agree with!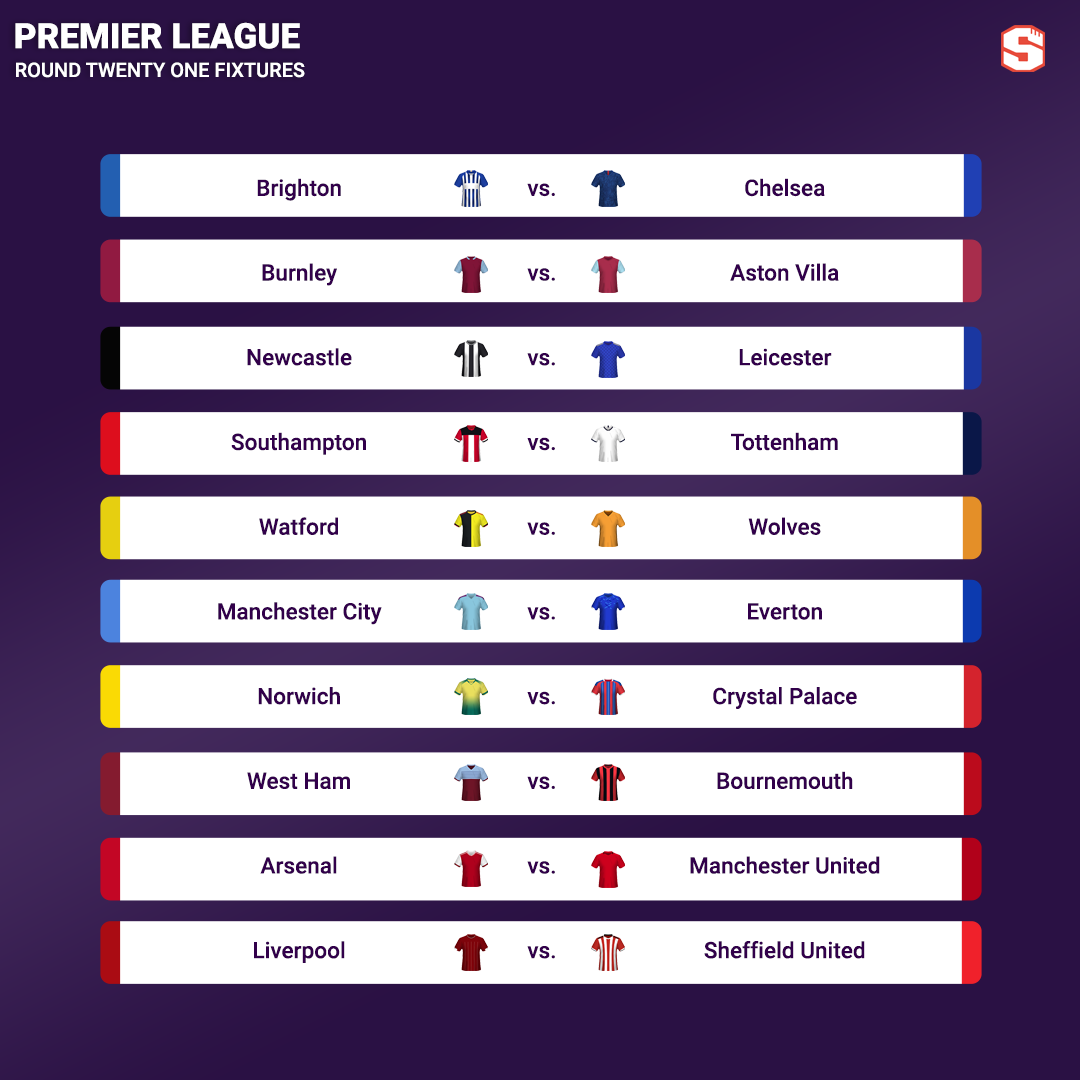 Brighton vs. Chelsea
Chelsea's away form continues to be far better than their home results so they're definitely favourites for this one but did get a bit lucky at Arsenal with that Leno error. As I always say, Brighton are a decent side and will give any team a game but I think the visitors will edge it. Winning a match after going behind for the first time under Lampard was very significant at Arsenal.
Prediction: Brighton 1-2 Chelsea
Burnley vs. Aston Villa
Burnley haven't been great lately but Villa appear to be on the slide so I'm going with the hosts. Dean Smith is under pressure now and needs to find some results but I worry for him when you look at the tough upcoming fixtures including tricky FA Cup and League Cup ties. This is a game where they might just find three points to start turning things around but I'm struggling to see them do it without McGinn and possibly Mings.
Prediction: Burnley 2-1 Aston Villa
Newcastle vs. Leicester
I was really impressed with Leicester winning at West Ham with what was essentially a second team and they now have their first XI fresh for this game. Newcastle were embarrassed at the King Power earlier this season so they need to restore some pride but the best I can see them getting is a less humiliating defeat.
Prediction: Newcastle 0-1 Leicester
Southampton vs. Tottenham
Southampton's decent form continued with a draw against Palace in the last round and I think they'll play well again here without necessarily getting any points. This is a tough pick because Tottenham haven't looked great over Christmas but I think they'll find a win here without it looking too pretty. I'll then be interested to see what Mourinho and Levy do in the transfer window following the former's appointment.
Prediction: Southampton 1-3 Tottenham
Watford vs. Wolves
Another fairly tough prediction to make given Watford's recent form under Pearson but Wolves are a very good side and should win. They didn't manage 3 points in Round 20 like Leicester did but for them to have competed so well at Anfield after making changes was a very good sign for Wolves fans. They'll have to be at their best for at least an hour or so to pick up three points at Vicarage Road but I think they'll have that in them after the likes of Jimenez and Traore were rested against Liverpool.
Prediction: Watford 1-2 Wolves
Manchester City vs. Everton
It wasn't without some fortune but City needed that win over Sheffield United. They should now kick on and spoil Ancelotti's good start at Everton but you just can't rely on City this season to perform consistently. I'm working on the basis that this meeting will play out as others have between these two with Everton being in the game for around an hour before falling away a little.
Prediction: Manchester City 3-1 Everton
Norwich vs. Crystal Palace
Norwich's result against Tottenham was solid and could have been even better had luck gone their way a little more. They still aren't quite able to convert those strong performances into wins though and I think this could be another draw or perhaps even fall Palace's way. Roy Hodgson's team will be far more cautious than Spurs defensively and have a few players that can hurt Norwich up front.
Prediction: Norwich 1-2 Crystal Palace
West Ham vs. Bournemouth
I completely understand West Ham fans' disappointment with the hiring of David Moyes in place of Pellegrini. The Club seems very confused and badly run but who knows, perhaps he'll turn out to do better than expected like Steve Bruce at Newcastle. I certainly think they stand a chance of winning this first game, but that's mainly due to Bournemouth being poor. Fabianski being back is also huge for the Hammers.
Prediction: West Ham 2-0 Bournemouth
Arsenal vs. Manchester United
Arsenal will be very disappointed to have lost against Chelsea the way they did. Arteta will try and focus on the positives, such as the first half, but they invited Chelsea in during the second period even though the Blues didn't look strong enough to score until Leno's mistake. United aren't really the team you want to be facing now when looking for a first win as Arsenal boss since they've been good against 'top teams' and enjoy having space to counter. I think an away win is most likely but there were signs that Arteta's messages are coming through well enough for the Gunners to earn a point.
Prediction: Arsenal 1-1 Manchester United
Liverpool vs. Sheffield United
I could almost copy and paste what I had to say for Liverpool's last game vs Wolves. Sheffield United are a decent team who will make life hard for the Reds but you can't afford to go against Liverpool at Anfield at the moment. The next time they do lose a league game at home will be a big upset and I expect their 2019 form to continue well into 2020.
Prediction: Liverpool 2-0 Sheffield United
Best of luck in Round 21 and Happy New Year!