Premier League Predictor: Round 20 Predictions
The packed Premier League fixture list continues as we now have Round 20 to predict on Superbru which begins at 3pm (UK) today (Tuesday), less than 24 hours after the conclusion of Round 19.
That Boxing Day round wasn't a bad one for me as I managed 6/8, only missing the two notable upsets. Round 20 is currently set to also be a 8-game round following the two postponements shown below. Fingers crossed the 8 remaining games all go ahead but unfortunately there remains a real chance of further cancellations so keep an eye out for those, particularly if you're playing Odds-based Fantasy as well as the Predictor.
Here are my picks for Round 20.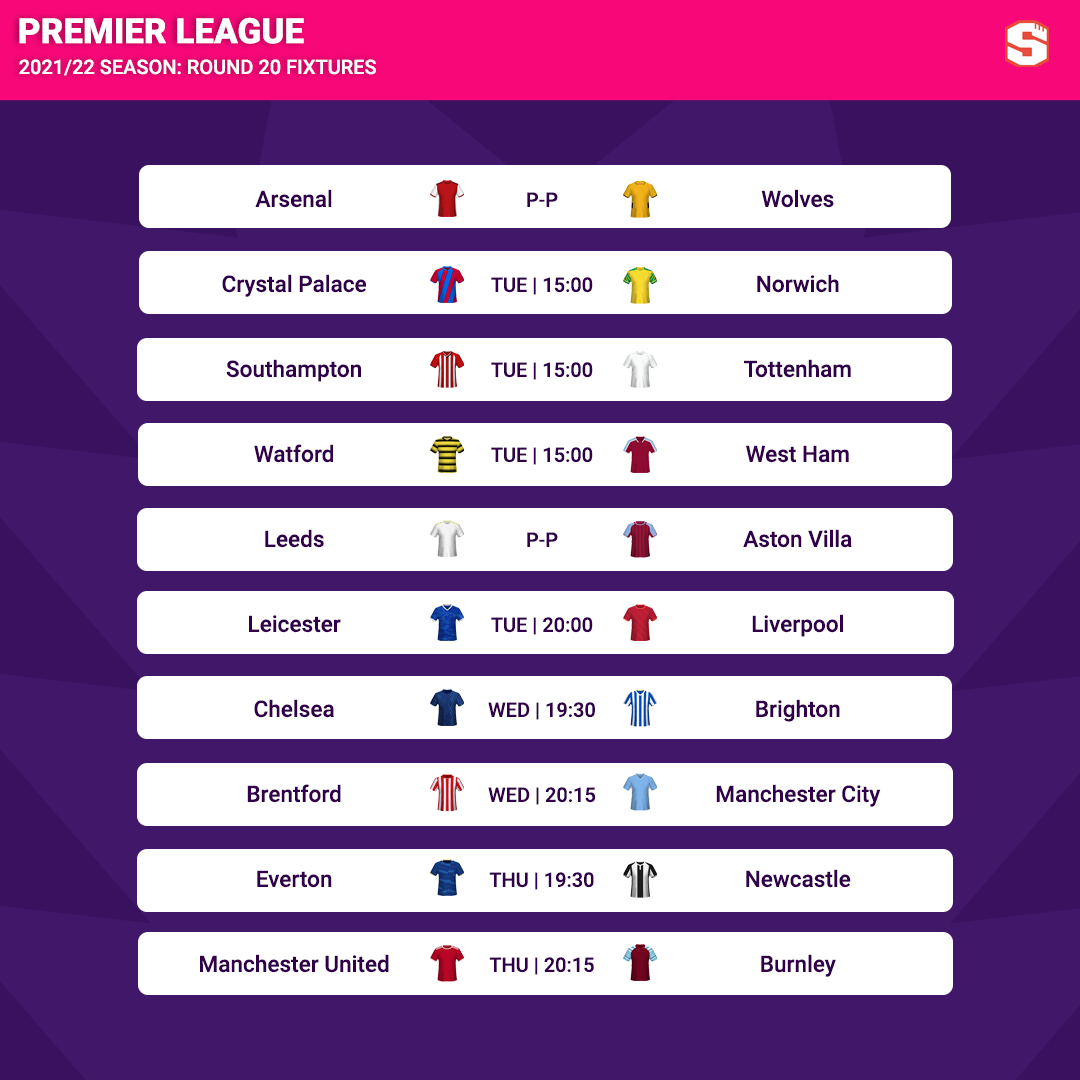 Crystal Palace vs. Norwich
Palace had a request to postpone their game against Spurs rejected and they were missing quite a few players in that 3-0 defeat but you'd still expect them to beat Norwich who are back to looking really weak again. The Canaries have some covid absentees themselves and just can't buy a goal at the moment.
Prediction: Crystal Palace 2-0 Norwich
Southampton vs. Tottenham
Conte's Tottenham are still pretty untested on the road but the form they've shown in recent home games suggests they'll have too much for Southampton despite Saints' good result at West Ham last time out.
Prediction: Southampton 1-3 Tottenham
Watford vs. West Ham
A really tough pick as West Ham are looking a bit shaky without their first-choice defence but Watford just haven't played for ages and we have very little information on the squad they have available. I think West Ham are the logical team to pick for now but take a look at the team sheets as there's certainly a chance of Watford taking a point or 3.
Prediction: Watford 1-2 West Ham (for now)
Leicester vs. Liverpool
Leicester are another team that are missing a lot of key players and after conceding 6 against Manchester City, you have to worry for them in this game as well. After complaining about the festive schedule (understandably), Klopp will have been relieved to have had Boxing Day off in the end and the Reds should be fresh.
Prediction: Leicester 1-3 Liverpool
Chelsea vs. Brighton
Both of these teams will have been delighted to have managed wins on Boxing Day but it's obviously Chelsea who are stronger on paper, particularly after Romelu Lukaku's impressive return to action at Aston Villa. Brighton are never easy to beat but they have a poor record against Chelsea.
Prediction: Chelsea 2-0 Brighton
Brentford vs. Manchester City
You can't go against Manchester City at the moment, despite Brentford being pretty awkward opposition most of the time. It could be a difficult opening 20 minutes or so for City but even Brentford will surely struggle to keep up the intensity required off the ball for the entirety of this match given how much possession City will have.
Prediction: Brentford 0-2 Manchester City
Everton vs. Newcastle
Another match where you need to see the lineups following Everton's recent situation but I think a home win is likely despite Newcastle's impressive performance against Manchester United last night. Away from home, Newcastle have been poor all season and Everton should take the points if they're anywhere close to a first-choice XI.
Prediction: Everton 2-1 Newcastle
Manchester United vs. Burnley
Another very tough one to finish with - United were very ordinary at Newcastle and Burnley have done OK at Old Trafford in recent years but haven't played a PL game for quite some time. I feel like United must surely improve and they're probably the team to pick but I am very tempted to go for a draw. Either way, I expect this to be low scoring since United haven't been creating much in recent fixtures so let's go with 1-0 for now.
Prediction: Manchester United 1-0 Burnley
Best of luck to you all with your own Round 20 predictions!