Premier League Predictor: Round 2 Predictions!
It was great to have club football back last weekend and I did alright with my opening predictions as I had a slightly above average 6/10, which included an Exact for Liverpool's 0-3 win at Norwich.
This week, we have a very interesting second round where the thing to keep in mind once again is that the home teams will be playing in front of a full home stadium for the first time in a long time.
Here are my thoughts on each game. Feel free to leave your own in the comments!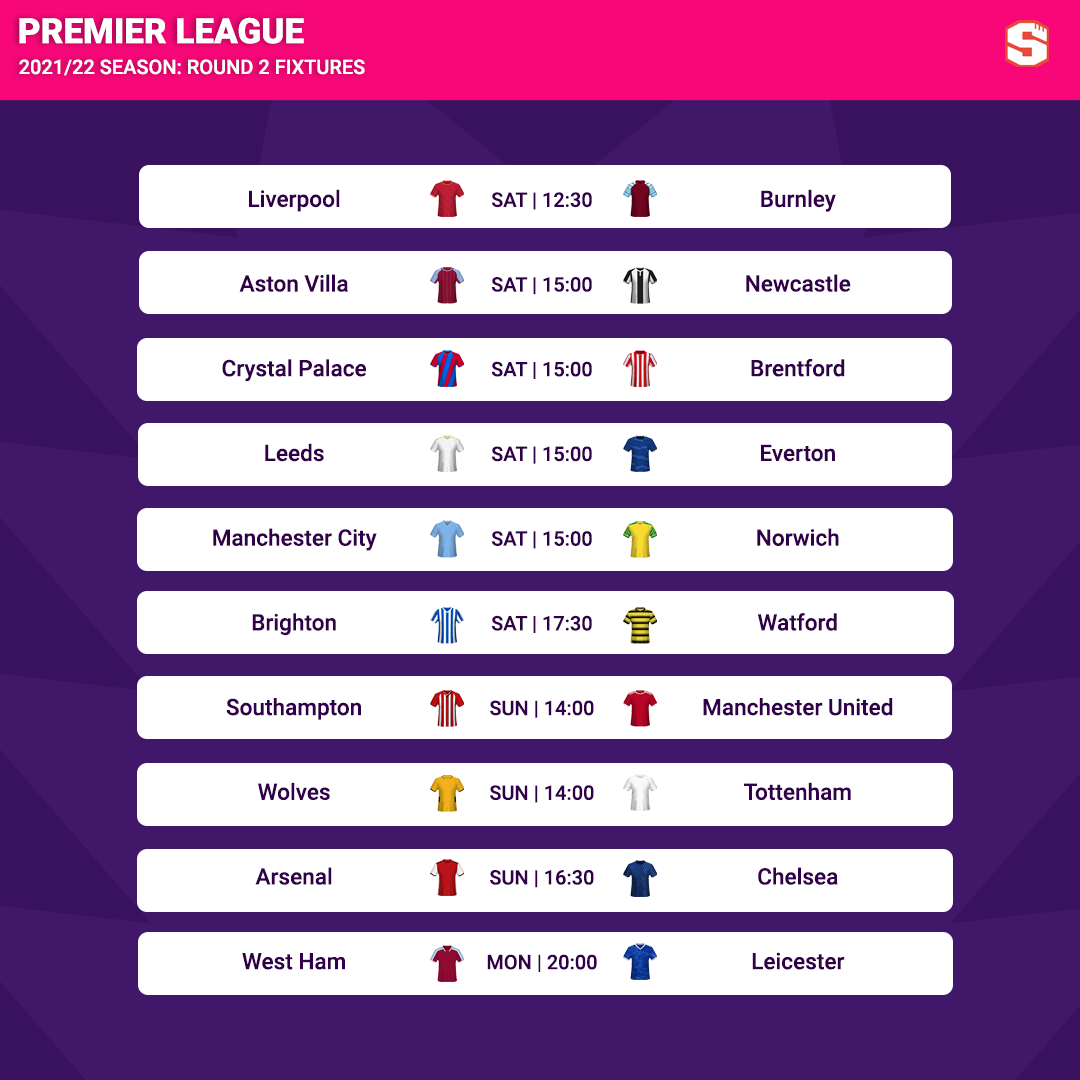 Liverpool vs. Burnley
After Liverpool's comfortable win at Norwich and Burnley's home defeat against Brighton, Liverpool are obviously the fairly logical pick here. Burnley were the side to end the Reds' long unbeaten run at Anfield last season but I'd be surprised to see a repeat of that now that Klopp has a much fitter squad.
Prediction: Liverpool 2-0 Burnley
Aston Villa vs. Newcastle
Both of these teams will be disappointed with how their opening games went. I think Villa's loss at Watford will look like a really poor result later in the season (though these things are more likely to happen in Round 1 where there's no form/momentum) while at Newcastle, I predicted there'd be goals but conceding 4 at home is never good. We saw the ability of Wilson and Saint-Maximin in attack and there's reason to think they could do some damage just as Watford did against Villa but I don't think the Magpies will be strong enough defensively to cope with the home side's attacking options.
Prediction: Aston Villa 3-1 Newcastle
Crystal Palace vs. Brentford
A tough one. Palace's loss at Chelsea was always likely so we can't read too much into that while Brentford were excellent against Arsenal and deservedly have 3 points but this is now a regular Saturday 3pm game without the hype that the home crowd supplied so well last Friday. I just think for Palace, this is the one all fans will be waiting for to properly judge Vieira and the start of the new era. It's a game they'll have flagged as one they should win at the start of the season and I think they can with Benteke back fit to start and Conor Gallagher now available to get involved.
Prediction: Crystal Palace 2-1 Brentford
Leeds vs. Everton
This is another fairly tricky pick but I think I'm leaning towards Leeds despite last week's results. Richarlison making himself available immediately despite playing at the Olympics proved very useful for Everton in Round 1 and he could well have some joy again this week alongside Calvert-Lewin given how easily Manchester United broke through Leeds but I expect a response from Bielsa's side. A full Elland Road is another thing to consider...
Prediction: Leeds 2-1 Everton
Manchester City vs. Norwich
With lots of England players late back to pre-season and the injuries to De Bruyne/Foden, it feels understandable that City have started a little slowly but they obviously should be fine here. I still don't think there'll be at their best but once we're a few weeks into the season, I believe City will be very strong whether they get Kane or not - Kane would obviously take them to a higher level still but I think people are getting a little carried away suggesting a Number 9 is a 'must' when City were so good last season despite hardly playing Aguero. Norwich have just got a horrible start in terms of fixtures so let's wait for a few weeks before we judge them.
Prediction: Manchester City 4-0 Norwich
Brighton vs. Watford
After that decent win at Turf Moor, Brighton should win this one as well but I'm interested to see how Watford go after an impressive victory themselves in Round 1 - what a goal it was from Cucho Hernandez by the way. Brighton will probably have even more of the ball than they did against Burnley but have to be wary of Sarr on the counter. It's hard to tell exactly who will be given the job of keeping Sarr quiet as Graham Potter's lineups are so complex with various inter-changes that the formation almost becomes a bit irrelevant! I was tempted by a draw but after the Seagulls won last week, maybe they can pick up a lot more of the results they deserved last season?
Prediction: Brighton 2-0 Watford
Southampton vs. Manchester United
This pick looks fairly straightforward on paper as Manchester United obviously started very well last week and Southampton look a bit vulnerable. The positive for Saints last weekend was that Adam Armstrong found a goal on his debut which will hopefully lead to him finding the net on a regular basis but this United team looks too strong for them in my opinion with Cavani and Varane still yet to come in as well as Rashford in a few months time.
Prediction: Southampton 1-3 Manchester United
Wolves vs. Tottenham
Fair play to Spurs on a very good win over City last weekend and you'd now probably have to make them favourites for this match, especially given Nuno's knowledge of the opposition since he's only just left Wolves. It's still a bit early to judge Bruno Lage and Wolves but I thought there were a few encouraging signs despite the 1-0 loss at Leicester as they created some chances. This is another tough fixture in what is a difficult opening month for Wolves but I think we'll see them build some momentum in September.
Prediction: Wolves 1-2 Tottenham
Arsenal vs. Chelsea
This is the headline game of the weekend, especially since Romelu Lukaku is likely to make his second debut for Chelsea after returning to the club from Inter. Personally I think it's a good signing for the Blues - Lukaku has become a seriously good striker during his time in Serie A and should score plenty of goals at Chelsea given how many chances they create but he obviously wouldn't be the first high profile signing to struggle with that at Stamford Bridge! Arsenal were really, really bad at Brentford and I'm honestly not sure how they can get themselves into a position where they have some momentum and can take advantage of other 'big' teams playing in Europe while they have only the PL to focus on.
Lacazette and Aubameyang need to show passion and sharpness if they're back soon, and the likely return of Odegaard should help, but I think the Gunners look the far weaker side on paper when compared to Chelsea. I'm wary that this has been the case for a few years and Arsenal have still found good results in this fixture at the Emirates but it really is hard to pick against the visitors here.
Prediction: Arsenal 0-2 Chelsea
West Ham vs. Leicester
A difficult Monday night prediction to finish with! We didn't see a single draw in Round 1 but I'm thinking this could finish level as both sides started strongly last week and though I see Leicester as the superior team, it's the Hammers that have home advantage. Both teams also appear very capable of scoring so I think it should be a good one to watch.
Prediction: West Ham 1-1 Leicester
Best of luck to you all with your own Round 2 predictions!