Premier League Predictor: Round 19 Predictions
Even though we ended up with just 4 fixtures in Round 18 of the Premier League Predictor, I still couldn't quite manage a 100% round! I was all set at 3/3 after picking the draw between Wolves and Chelsea but Tottenham's draw with Liverpool wasn't something I expected - what a game that was by the way.
So we now have the Boxing Day round which, at the time of writing this, is still set to be a 10-game round as the majority of Premier League clubs agreed to crack on with the festive schedule as planned. Of course, there could well be plenty of postponements yet and it's also worth focusing on which teams have a number of cases but are denied a postponement (such as Chelsea in the last round) given their weakened position as they head into matches over the coming weeks.
Here are my picks for each game in Round 19.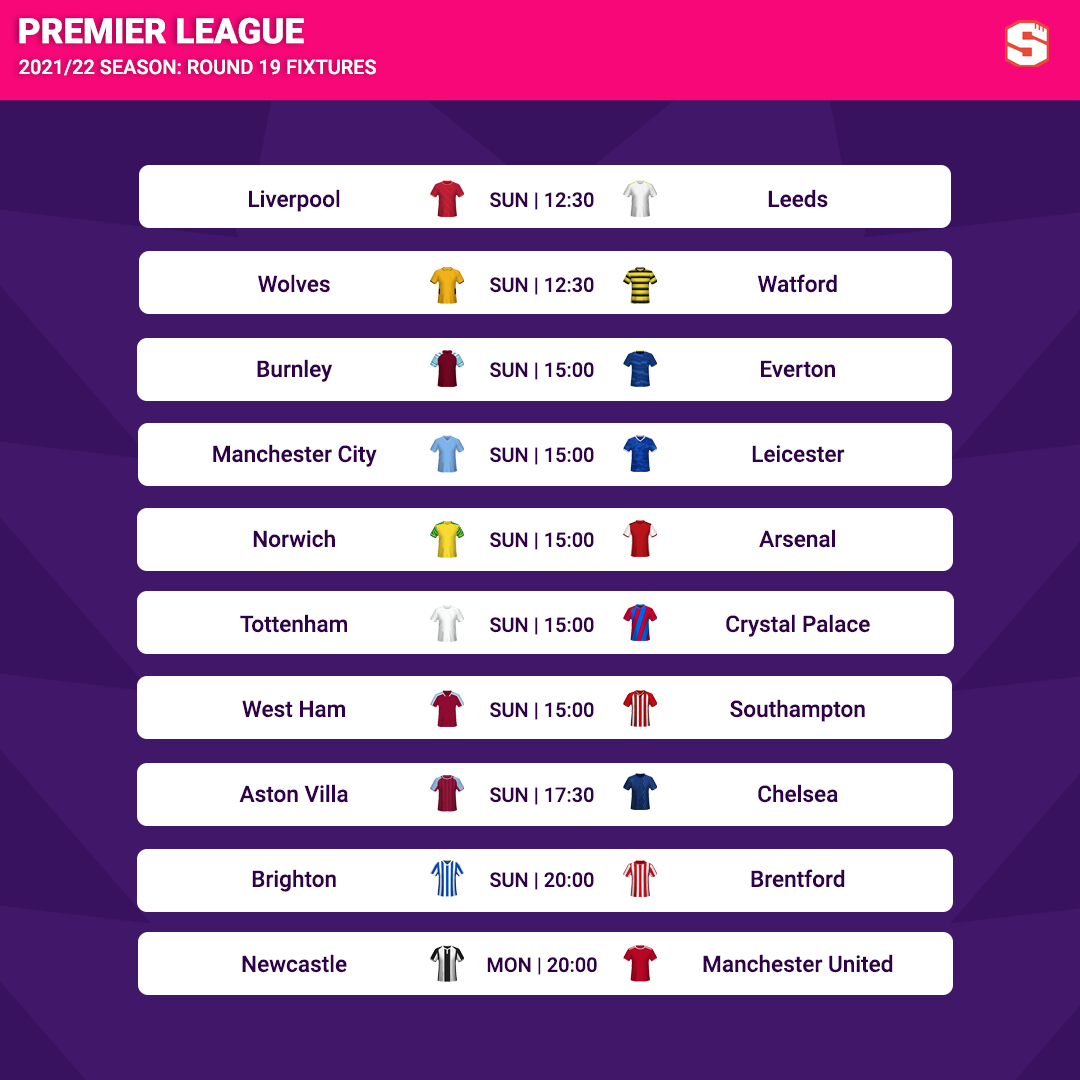 Liverpool vs. Leeds
Liverpool have quite a lot of players unavailable at the moment but they certainly won't be getting any sympathy from Leeds who have looked incredibly thin squad-wise for weeks now. Their last two defeats have been particularly one-sided as Bielsa awaits the return of the likes of Bamford and Phillips so this should be very comfortable for the hosts.
Prediction: Liverpool 4-0 Leeds
Wolves vs. Watford
Watford have had recent matches postponed and given the reports that those cancellations were due to a number of unvaccinated players needing to isolate - this fixture is presumably also firmly in the 'at risk of postponement' category though it is getting tricky to keep track of the number of days each club have been dealing with an outbreak for etc. Even with both teams at full strength, Wolves are the more likely winners as they're looking very good defensively and Watford aren't.
Prediction: Wolves 2-0 Watford
Burnley vs. Everton
Things are looking slightly more positive for Everton - after managing a point at Chelsea with a skeleton team they now might have Calvert-Lewin back at last for this one but it's a tough game against a Burnley side who are hard to judge since they haven't played for a while now. I'd be surprised to see the hosts lose and I think they might have enough for all 3 points.
Prediction: Burnley 2-1 Everton
Manchester City vs. Leicester
City are looking more and more difficult to stop at the moment so I don't see Leicester, who have been struggling with an outbreak, causing many problems at the Etihad despite the form of Tielemans and the success Vardy had in this fixture last season.
Prediction: Manchester City 2-0 Leicester
Norwich vs. Arsenal
As always, you can't really see if there has been progress at Arsenal until they face some of the better teams but Arteta's side do look very good at the moment and should be absolutely fine here. Odegaard is looking particularly impressive and it sounds as if he might be taking over the captaincy before too long.
Prediction: Norwich 0-3 Arsenal
Tottenham vs. Crystal Palace
There's obviously a fixture pile-up to come, but Tottenham look as if they've actually come off their covid outbreak quite well as after beating Norwich with a full squad at the start of the month, they had most of their first team available again two weeks later for the Liverpool game on Sunday and looked very sharp. That performance suggests they should have enough to beat Palace, particularly with Kane back on target, and they do tend to do well in this fixture at home.
Prediction: Tottenham 3-1 Crystal Palace
West Ham vs. Southampton
West Ham are pretty strong favourites here. It's been a couple of months since Southampton have won on the road and one of their defeats away from home since then was at Norwich. The absence of Michail Antonio in the Carabao Cup last night due to covid is a concern for West Ham and Moyes has been pretty secretive in terms of exactly how long he's been out for/will be out for but I think this should be a home win regardless.
Prediction: West Ham 2-1 Southampton
Aston Villa vs. Chelsea
Tricky one. Even without the pandemic this would be an awkward match for Chelsea. They've obviously been struggling with cases but then so have Aston Villa meaning this really is one where I'm hoping to see the lineups! I think Chelsea should just about come out on top if Villa aren't at full strength as the Blues obviously have superior squad depth if both teams are missing key men.
Prediction: Aston Villa 0-1 Chelsea
Brighton vs. Brentford
This looks like a great opportunity for Brighton to finally get a win on the board in my opinion. Brentford were back with a fairly strong team in the Carabao Cup against Chelsea last night but Brighton are set to have Maupay and Welbeck back available which Graham Potter will hope can provide some much needed improvement in front of goal. I think they might need a couple as Brentford do score goals.
Prediction: Brighton 2-1 Brentford
Newcastle vs. Manchester United
United aren't as scary as the other Manchester team that has just visited Newcastle but some of the defending from the Magpies in that defeat was genuinely woeful. After a couple of fixture cancellations, it sounds as if Manchester United will be close to full strength and it would be a big surprise to see them fail to win this.
Prediction: Newcastle 0-3 Manchester United
Best of luck to you all with your own Round 19 predictions and I hope you all have a fantastic festive period! Keep safe and enjoy yourselves.