Premier League Predictor: Round 18 Predictions
Things have obviously started going a bit pear shaped in the Premier League with so many postponements but for now we have 5 matches still set to go ahead this weekend.
The midweek round was reduced to 7 games and I ended up with a fairly average 4/7. Predictions and especially Odds-based fantasy are naturally becoming more difficult with so much uncertainty over player availability (most of the Saturday Odds-based fantasy selectable players have been wiped out!) but that just adds to the challenge and let's see how we get on with this shortened Round 18 which is the last round before Christmas.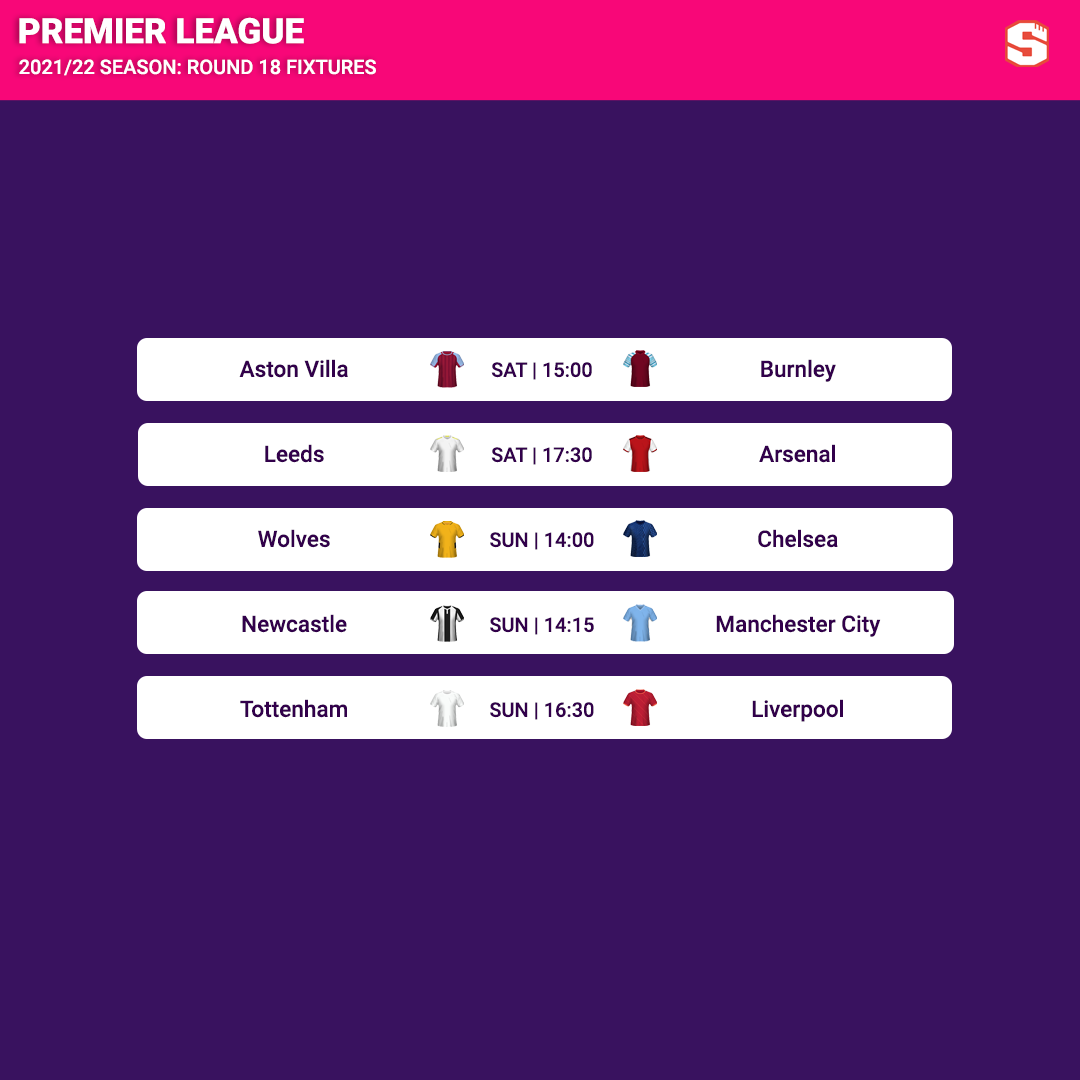 Aston Villa vs. Burnley
Villa continue to look pretty strong and I think they can win this game and perhaps manage another clean sheet after their victory at Norwich. Burnley had another match cancelled at the very last minute in midweek (because of Watford's covid cases rather than snow this time) which isn't great for momentum and I think Villa will have most of the ball in this game.
Prediction: Aston Villa 2-0 Burnley
Leeds vs. Arsenal
I have very little faith in Arsenal's ability to win away from home but against this Leeds side who have just lost 7-0 at City and are missing so many players, surely they can? The Gunners seemed to respond quite well to Arteta's no-nonsense approach in stripping Aubameyang of the captaincy as they were good against West Ham on Wednesday but I still think that might hurt Arteta in the long run when results turn bad and someone needs to be blamed. Nevertheless, this should be a game that they manage to win.
Prediction: Leeds 1-2 Arsenal
Wolves vs. Chelsea
There's potential for an upset here as Chelsea are wobbling since they're another side with a considerable injury/covid crisis. Wolves are difficult to play against and as Thomas Tuchel has suggested, now is a pretty good time to take on Chelsea. Just as they did against Everton, you'd expect Chelsea to create a fair amount of chances and they're favourites even without so many key players but Wolves don't concede many goals and after drawing at home against a very weak Everton side this is now a much tougher game on paper for Chelsea? I think Wolves can manage a point.
Prediction: Wolves 1-1 Chelsea
Newcastle vs. Manchester City
The most straightforward pick of the round. For a minute or two, it looked as if Newcastle could cause a huge upset at Liverpool in midweek after Jonjo Shelvey's goal but it didn't take long for Liverpool to respond and take charge. Similarly, Manchester City should absolutely dominate this game and it might just be a case of damage limitation for Newcastle.
Prediction: Newcastle 0-3 Manchester City
Tottenham vs. Liverpool
It feels like ages since Tottenham have played a game so there's little to go off here and they must have surely lost all momentum in terms of playing style and confidence. We know from last season how significant the absence of van Dijk is for Liverpool but this is a game they should win even without him in my opinion given the circumstances at Spurs and it's obviously inevitable that Salah will score at some point.
Prediction: Tottenham 1-3 Liverpool
Best of luck to you all with your own Round 18 predictions!