Premier League Predictor: Round 17 Predictions
Surprisingly, Round 16 of the Premier League actually did end up being fairly predictable as I initially suggested with most of the community getting at least 6/10.
I only managed the 6 without an Exact meaning it wasn't a great round - I was pleased to get Palace's win but Watford let me down late on and then Leicester made me look rather foolish with that upset pick for a Newcastle draw.
On to Round 17 then as we keep our fingers crossed that we don't start getting more than 1 game per round postponed for covid... Brentford v Manchester United has been the only postponement for this round so far but it's going to be especially important to check team news for your Predictor and Odds-based Fantasy picks this month.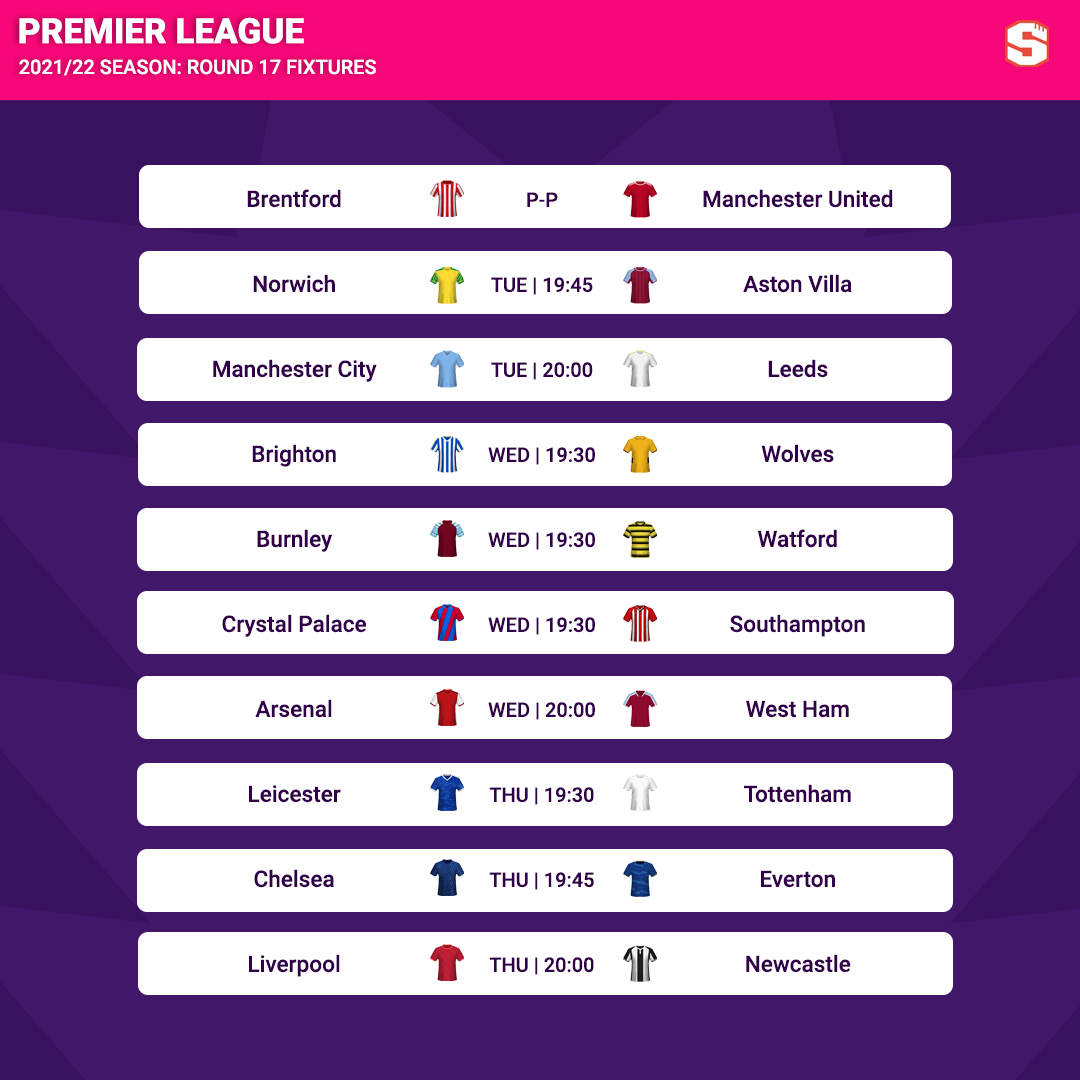 Norwich vs. Aston Villa
These two teams had similar matches at the weekend in that they were competitive and put in respectable displays despite suffering 1-0 defeats against stronger opponents. Norwich are looking more solid under Dean Smith and he'll certainly know about the threats they face in this game but you just feel that the Canaries are going to struggle to put the ball in the net themselves all season. I am tempted by a draw but I think I'll play safe and go Villa.
Prediction: Norwich 1-2 Aston Villa
Manchester City vs. Leeds
Leeds were unfortunate to lose at Chelsea on Saturday but that kind of narrow defeat in a game where emotions were so high may actually be more damaging with such a tough fixture now coming their way just days later. City look good and if Leeds make the kind of defensive mistakes they did at Chelsea in this game there'll concede quite a few. I know people were focused on the penalties but I'm still confused by Meslier's positioning for Mount's goal!
Prediction: Manchester City 3-1 Leeds
Brighton vs. Wolves
Brighton just can't stop drawing this season so that's probably the way to go here. I think they're probably slight favourites, especially since Jimenez is out for Wolves, but they haven't won for such a long time which is a concern. It doesn't look as if there'll be many goals.
Prediction: Brighton 0-0 Wolves
Burnley vs. Watford
Watford let me down last Friday as I say - I was starting to feel pleased after 80 or so minutes knowing so many people would have gone for Brentford! So I'm not trusting them and their defence again this week. Burnley tend to do OK in this fixture and you'd think this is a great chance for them to finally score a goal or two this month.
Prediction: Burnley 2-1 Watford
Crystal Palace vs. Southampton
A Palace win makes sense here after their display on Sunday and Southampton's injury issues. Gallagher continues to look incredible for the Eagles and they have plenty of other attacking players who are capable of finding the net.
Prediction: Crystal Palace 2-0 Southampton
Arsenal vs. West Ham
I've been planning to pick Arsenal here and think I still will given their home form/record at home in this fixture but the Aubameyang news today is a potential distraction which isn't ideal. Obviously we aren't aware of exactly what's happened between him and Arteta but being stripped of the captaincy won't be easy to come back from and there'll be a lot of focus on who will be stepping into that role now. West Ham are going OK but are weaker defensively on paper following recent injuries and David Moyes must be praying his squad isn't stretched further in these coming weeks.
Prediction: Arsenal 3-2 West Ham
Leicester vs. Tottenham
Since Spurs haven't named the players that have been isolating during their outbreak (understandably so), I don't think you can make much of a prediction for this game before seeing their lineup. I won't speculate on who might be absent but a few big names have been reported and Leicester, despite having a few reported cases themselves, should have an advantage in terms of momentum and squad availability.
Prediction: Wait for team news but leaning towards Leicester
Chelsea vs. Everton
As expected, Everton couldn't follow up that home win over Arsenal with a result on the road and it feels like they've sunk right back to where they were in terms of the mood of the fanbase. The Toffees haven't won at Chelsea for ages and the hosts are obviously favourites. I think Tuchel will be eager to see a clean sheet from his team and this is a good opportunity, especially if Richarlison is out after going off injured on Sunday.
Prediction: Chelsea 2-0 Everton
Liverpool vs. Newcastle
Needless to say, I won't be backing Newcastle for a point this time. Liverpool and Mo Salah just feel inevitable at the moment.
Prediction: Liverpool 3-0 Newcastle
Best of luck to you all with your own Round 17 predictions!