Premier League Predictor: Round 17 Picks
The progress I made in Rounds 14 and 15 was quickly erased by a tough Round 16! My West Ham upset pick didn't pay off, Sheffield United immediately returned to winning ways so fair play to them and Manchester United won the derby which I thought may happen - City are becoming pretty tough to predict.
In Round 17 we have 5 or 6 games that look fairly straightforward but then things get pretty tough on Sunday and Monday night. Here are my thoughts on each game, feel free to share your own thoughts in the comments!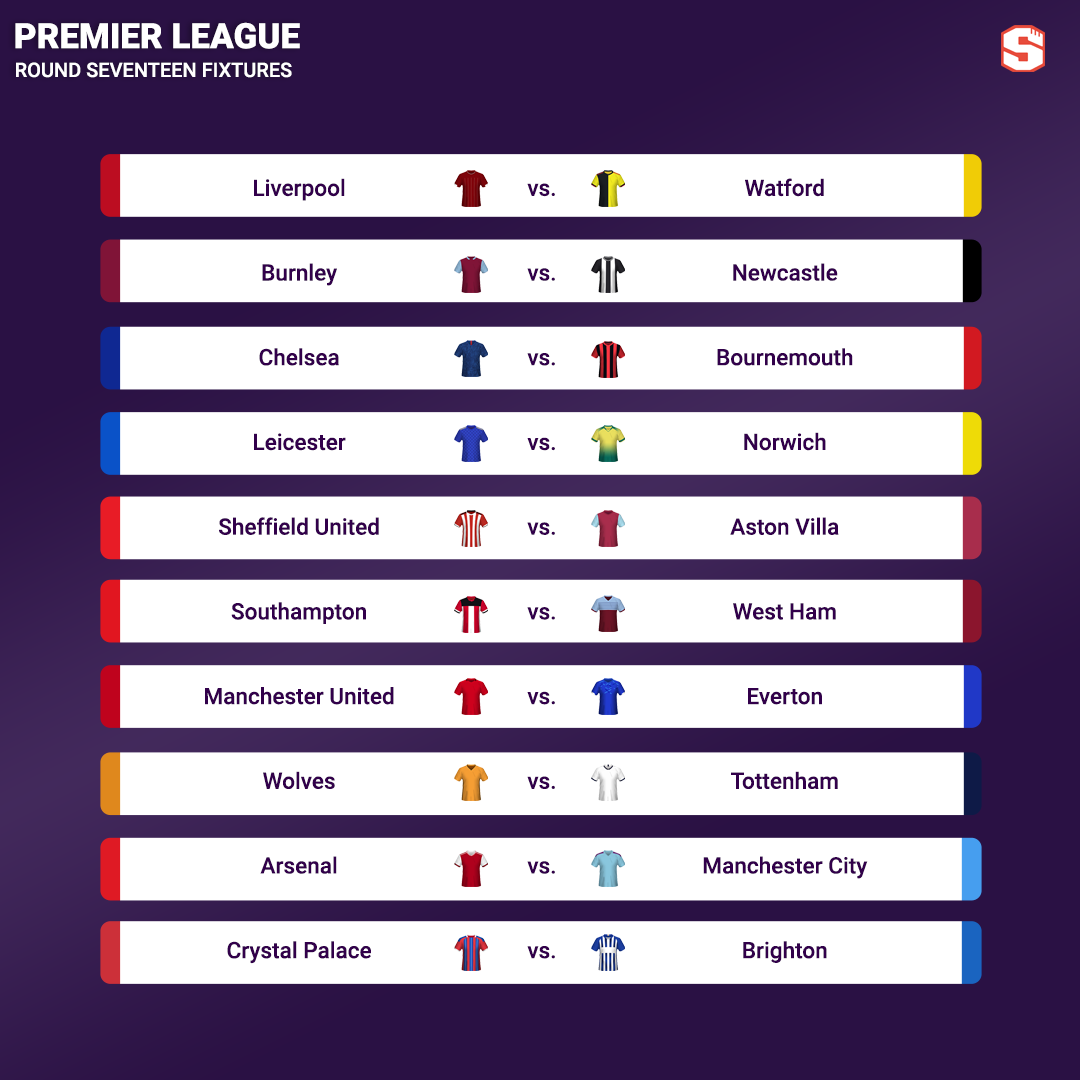 Liverpool vs. Watford
Watford pretty much always get battered when they go away to the top clubs, especially Liverpool and City. Their recent record at Anfield is pretty embarrassing to be honest but I've gone for a lower margin this time around due to the lunchtime kick-off and the fact that this will be Nigel Pearson's first game in charge. I still think the Hornets will struggle to stay up but one thing Pearson should ensure is that the players put in 100% work rate and fight far more to defend their goal than they have been so far this season.
Prediction: Liverpool 2-0 Watford
Burnley vs. Newcastle
Newcastle's recent results have been excellent so they don't deserve much criticism but it's interesting that even many of their fans have been amazed at the points they've been picking up without playing particularly well at all. I feel as if their run may come to an end here, especially since Sean Dyche needs a win and the visitors have several injury problems including Lascelles and Saint-Maximin. The Clarets have lost three on the bounce so need a response in this round.
Prediction: Burnley 2-0 Newcastle
Chelsea vs. Bournemouth
Chelsea continue to look shaky defensively and Bournemouth have a good record against the Blues so this may not be as comfortable as many think. However, the Cherries are on a horrendous run and will be without first-choice centre backs Ake and Cook. Chelsea should find joy in attack but I'm still not too confident they'll manage a clean sheet against King and Wilson.
Prediction: Chelsea 3-1 Bournemouth
Leicester vs. Norwich
If you look at this match in terms of form, standings, head-to-head records and anything else, it seems the only thing that can beat Leicester here is complacency, and Brendan Rodgers' surprise title race underdogs are unlikely to show much of that. I expect the Foxes to continue their impressive run and it will then be interesting to see how they get on in their next two fixtures against the top dogs.
Prediction: Leicester 3-0 Norwich
Sheffield United vs. Aston Villa
Villa being without Tyrone Mings makes me more confident that Sheffield United should find three points on Saturday. I know Norwich aren't great but it was impressive that the Blades went there and won last week after their first set back in a while and I think they'll be composed enough to continue surprising us all by maintaining their healthy league position here.
Prediction: Sheffield United 2-1 Aston Villa
Southampton vs. West Ham
West Ham obviously let me down last week and if they fail to win here, I think Manuel Pellegrini might find himself with some time on his hands this Christmas if the club have a replacement lined up and ready to go. Southampton haven't beaten the Hammers in a while but they're favourites this time around in my opinion and if they can start well and put the visitors under pressure I can see West Ham falling apart.
Prediction: Southampton 2-0 West Ham
Manchester United vs. Everton
This one should be interesting. United have had a fantastic week with the wins over Spurs and City but they still need to prove they can defeat the teams who are a level down from those opponents who look to dominate the game. Everton have a fairly good XI but last week was pretty much the definition of a new manager bounce and it's hard to see them keeping up such intensity this week when they're away from home. I think it's more likely to be United who are still on a high at full-time with Chelsea left to feel even more frustrated about the timing of their fixture at Goodison Park!
Prediction: Manchester United 2-1 Everton
Wolves vs. Tottenham
The first game of the round where I'm struggling to see a home win, but I'm torn between a draw and an away victory. Wolves' unbeaten run has been fantastic and they're in a frame of mind where they simply aren't used to losing and that could count for a lot, however, Spurs have rested players specifically for this match and certainly have the attacking quality to hurt the hosts who are still without Willy Boly. I've been impressed with how well Wolves have coped without Boly recently but this may be too much of a test without him.
Prediction: Wolves 1-2 Tottenham
Arsenal vs. Manchester City
The way in which you beat this City team was displayed very clearly by Manchester United last week but are Arsenal good enough on the counter to do that? I have my doubts. The Gunners have plenty of pace up front but it hasn't been utilised properly up to now, although the front three of Martinelli, Pepe and Aubameyang is perhaps a step towards a better balance. I think City will be OK here and will certainly fancy their chances of goals. David Silva's a doubt but he's been under-par anyway lately and I'd like to see Foden start as this season is becoming the kind of campaign that may give him a chance to break through.
Prediction: Arsenal 1-3 Manchester City
Crystal Palace vs. Brighton
Palace are probably slight favourites but I've been impressed with Brighton this season and the hosts have an issue at left-back with van Aanholt and Schlupp sidelined. The Seagulls won this fixture last year but I'd still be a little surprised to see them manage to pick up three points again as Hodgson is likely to organise his team to maintain their defensive solidity even with that LB issue - they showed great adaptability against Bournemouth in that 10-man win. I'm struggling to pick a winner so have gone for a draw.
Prediction: Crystal Palace 1-1 Brighton
Best of luck in Round Seventeen!