Premier League Predictor: Round 16 Predictions
Round 15 started and finished with notable upsets as West Ham beat Chelsea first up and Everton finally found a win on Monday night as they turned things around against Arsenal.
I personally had an average round with 5/10 but the Exact for Villa's 2-1 win over Leicester was useful. This week, we have a round that looks
fairly
kind for a Premier League round with a clear favourite in most of the games but we obviously rarely see things actually play out that way!
This round has also been cut to 9 matches following the postponement of Brighton vs. Tottenham. Hopefully those affected by the outbreak at Spurs make a full and swift recovery.
Here are my picks for Round 16.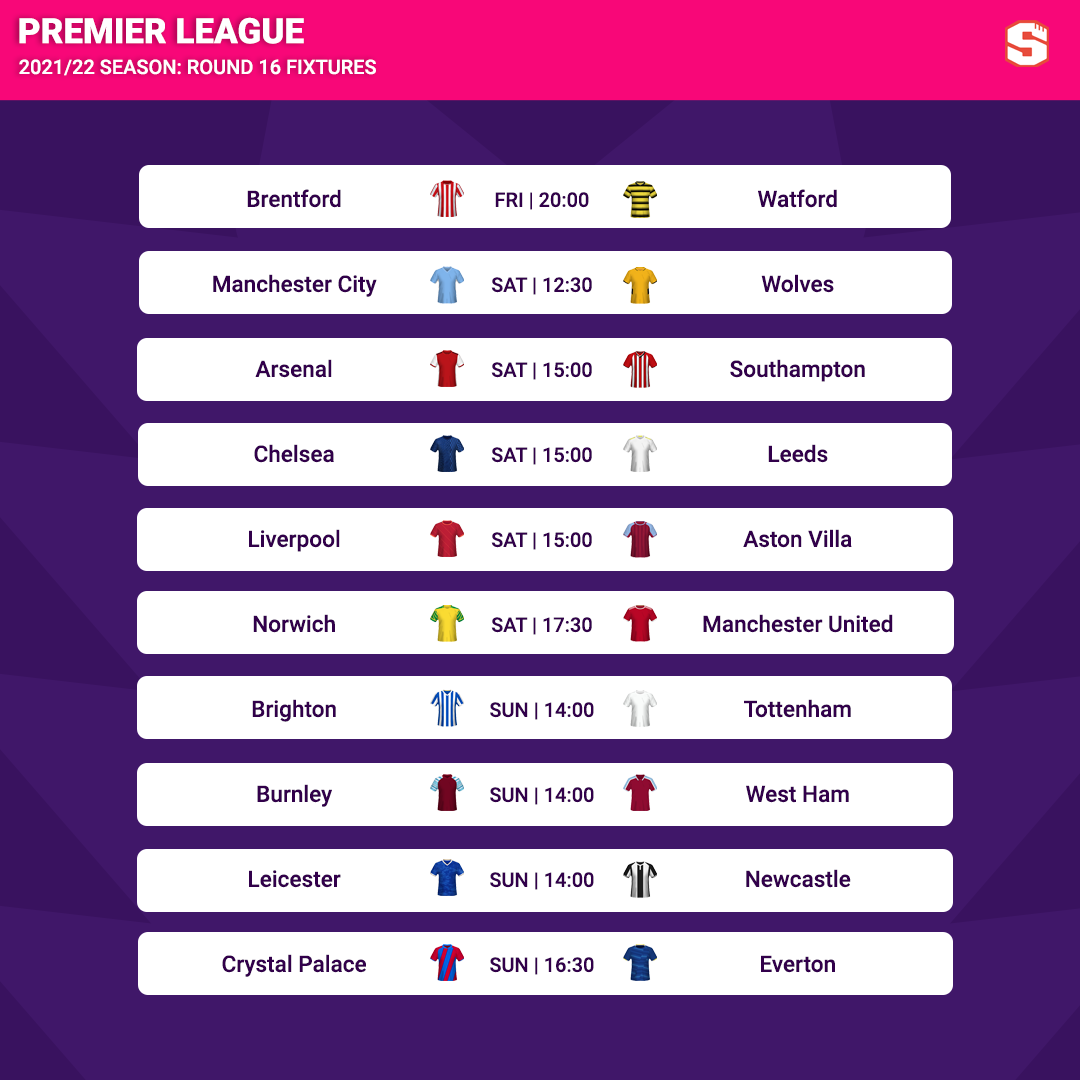 Brentford vs. Watford
We start with one of the more even looking matches and though you'd have to say Brentford are favourites as the home team, I think this will be a real test without Toney and Canos (as well as their existing injuries). Watford are very unconvincing defensively but have been creating a fair number of chances under Ranieri and I actually have a feeling they might sneak a win here.
Prediction: Brentford 1-2 Watford
Manchester City vs. Wolves
Ignoring their midweek result in Leipzig given it was a dead rubber, Manchester City look really good at the moment. Liverpool and Chelsea will be right up there as well this season but City still stand out slightly more to me as they're just so well coached to keep the ball for long periods and then win it back almost instantly on the rare occasions that they do lose it. I said last week that people should watch them just to see Bernardo Silva right now and he didn't disappoint at Watford!
Prediction: Manchester City 2-0 Wolves
Arsenal vs. Southampton
After some poor results on the road, Arsenal are back at home for this one where they're comfortable so they should get the job done. Mikel Arteta needs to do something about his team's away form but they've only lost once at home this season and Southampton haven't been too threatening on the road in recent trips.
Prediction: Arsenal 2-1 Southampton
Chelsea vs. Leeds
Chelsea are having their first wobble of the season and that's perhaps unsurprising with Jorginho, Kante and Kovacic all struggling for fitness. Saul being a little disappointing since arriving from Atletico has left Tuchel quite short in midfield so there is a chance for Leeds here but they're struggling with injuries themselves - Bamford is now out again! If Leeds were full strength then I'd consider an upset here but the more likely outcome is Chelsea finding a win by making sure they get the basics right even if it means being less offensive so that they can get back to keeping clean sheets - they were incredibly open against Zenit on Wednesday.
Prediction: Chelsea 2-0 Leeds
Liverpool vs. Aston Villa
I've been very impressed with Steven Gerrard's start at Villa but Liverpool look incredibly strong at the moment and Gerrard, like all managers, will struggle to think of a way to stop Mo Salah right now. I think the big return to Anfield will just make Gerrard even more determined to prove himself and push his team towards a strong performance but it's unlikely to be enough with the goalscoring form Jurgen Klopp's side are enjoying.
Prediction: Liverpool 3-1 Aston Villa
Norwich vs. Manchester United
United weren't ever going to be a perfect, pressing side in attack in Rangnick's first game last week but they did put in a strong first half performance and looked better at guarding against counter attacks which bodes well here. Realistically, Norwich shouldn't be given many clear chances at all in this game given the contrast in quality between the two sides and I think United will win fairly comfortably.
Prediction: Norwich 0-3 Manchester United
Burnley vs. West Ham
It's hard to go against West Ham here after their excellent result against Chelsea last week. In contrast, Burnley were the team that Newcastle finally beat so that can't be great for confidence and I think West Ham are a fair way ahead of Sean Dyche's side in terms of quality.
Prediction: Burnley 1-2 West Ham
Leicester vs. Newcastle
I think there's plenty of potential for a bit of an upset here and I'm going for a draw. Newcastle finally got that win last week and Leicester's squad is looking pretty thin plus they had a really disappointing defeat in Naples on Thursday night. The Foxes' form has been patchy all season and though they should score goals against this Newcastle team, I think there'll be plenty of chances for Callum Wilson as well as Leicester have been conceding plenty.
Prediction: Leicester 2-2 Newcastle
Crystal Palace vs. Everton
This is a tricky one to finish with. Everton's win over Arsenal on Monday was a really important one and Goodison was rocking at the end but without that home advantage here I think Palace are slight favourites? Richarlison and Demarai Gray look sharp but the rest of the Everton team remain quite unconvincing and I think Palace can beat them if they take their chances.
Prediction: Crystal Palace 2-1 Everton
Best of luck to you all with your own Round 16 predictions!