Premier League Predictor: Round 15 Predictions
The Premier League fixtures keep coming as we're straight into Round 15 tomorrow following Manchester United v Arsenal in the Round 14 finale last night.
That midweek round was a fairly good one for me as I managed 7/10 with a very useful Exact for the 1-1 draw between West Ham and Brighton. There are lots more points available throughout this month so let's hope we can all keep improving.
Here are my thoughts on each game in Round 15.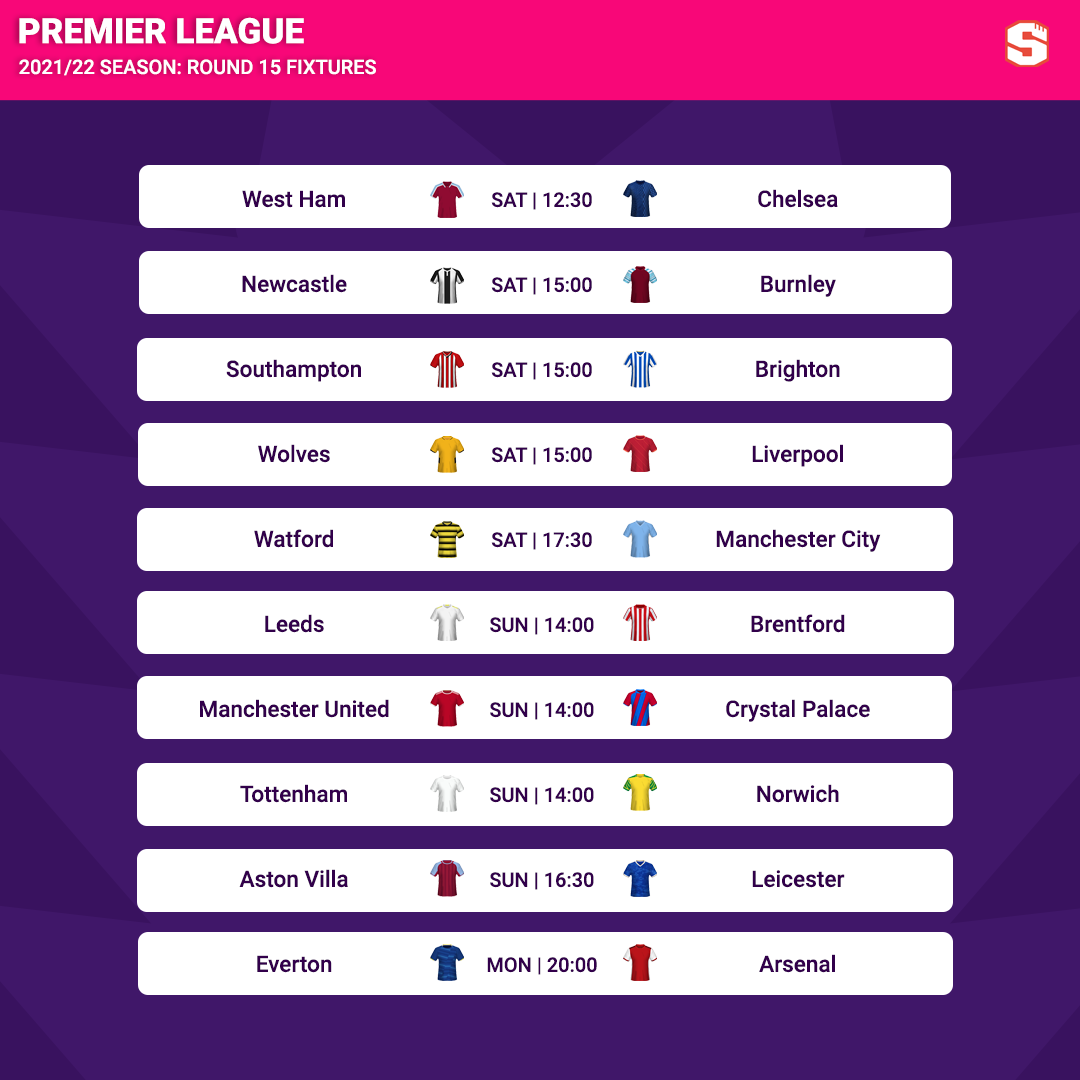 West Ham vs. Chelsea
We've all become pretty used to Chelsea just playing really well and getting good results under Thomas Tuchel so their poor display at Watford was a bit of a surprise but they'll be delighted to have found 3 points regardless. This is now an even tougher away game at West Ham but I think Chelsea will be fine purely because it sounds as if they'll have Jorginho and Reece James back who are both very important.
Prediction: West Ham 0-2 Chelsea
Newcastle vs. Burnley
Ciaran Clark ruined things a bit for those of us that backed Newcastle in midweek by getting sent off within the first 10 minutes. After failing to beat Norwich, it feels quite tough to back Newcastle again here since Burnley are a solid side. I'd probably still make the hosts very slight favourites but I'm going with a draw as that's what has usually happened in Burnley's away matches this season.
Prediction: Newcastle 1-1 Burnley
Southampton vs. Brighton
Tricky one. For similar reasons to the Burnley game, a draw looks like a very good option here but it almost feels too obvious given Brighton's form! The Seagulls' late equaliser at West Ham on Wednesday was really significant for them and I just wonder if that will boost momentum so that they can finally get back to winning a game or two now.
Prediction: Southampton 1-2 Brighton
Wolves vs. Liverpool
You'd be brave to go against Liverpool here after they scored 4 yet again in midweek as they eased past Everton. Wolves are going quite nicely but it's extremely difficult to cope with Salah at the moment and I don't think the hosts can trouble Liverpool enough going the other way to stop the Reds throwing lots of players forward.
Prediction: Wolves 0-2 Liverpool
Watford vs. Manchester City
This is another pretty straightforward one as though Watford have a small chance if they can play as well as they did against Chelsea in midweek, even that might prove insufficient once again as City look incredibly strong at the moment and will have a better team out than Chelsea did with Guardiola indicating only Ferran is injured. If you get a chance, just watch this game so that you can see Bernardo Silva in his current form - that goal against Villa on Wednesday was incredible.
Prediction: Watford 0-3 Manchester City
Leeds vs. Brentford
I can finally stop writing about Leeds missing Bamford now because Bielsa says he'll hopefully be back for this game! I'm sure actual Leeds fans are even more excited about that than I am and after their win over Palace on Tuesday as well it feels as if they should be well placed to take the points here.
Prediction: Leeds 2-0 Brentford
Manchester United vs. Crystal Palace
Palace have been thoroughly enjoying their recent trips to Old Trafford but surely they can't manage yet another win at Man Utd with this being Rangnick's first game on the touchline? I know we won't be seeing an instant overnight transition to United suddenly being gegenpressing kings but the crowd will certainly be up for it and I expect we'll see the players putting in decent running stats in this game as they look to impress the new boss. Palace could well score though just to hand Rangnick an extra reminder of the work he'll be needing to do with that defence.
Prediction: Manchester United 3-1 Crystal Palace
Tottenham vs. Norwich
Spurs finally started to look a bit more 'Conte' against Brentford on Thursday and this is now a fairly kind fixture to try and build on that. I've been really impressed with Dean Smith's impact at Norwich and it'll be great if he can have them competing for survival right until the end of the season but I don't see them getting anything at Spurs.
Prediction: Tottenham 2-0 Norwich
Aston Villa vs. Leicester
I think I'm going for Villa in this one. Leicester continue to be up and down, Tielemans is a big miss (despite Maddison starting to look really good again) and things are looking pretty positive for Villa during this fresh Gerrard period. Picks will be very evenly split though so it's a big one for pool leaderboards!
Prediction: Aston Villa 2-1 Leicester
Everton vs. Arsenal
Finally, we have this Monday night game at Goodison and there doesn't appear to be many reasons to pick a home win. I remain slightly unconvinced by Arsenal away from home but they'll certainly create chances and Everton just look terrible at the moment. When you look at their fixture list, there aren't any clear opportunities to turn things around in the next few games, either.
Prediction: Everton 0-1 Arsenal
Best of luck to you all with your own Round 15 predictions!