Premier League Predictor: Round 15 Picks
Round 14 was a pretty tough one for almost all Superbru players thanks to upsets at St James' Park, Stamford Bridge, Turf Moor and Old Trafford. Though I only managed slightly better than the community average with 5/10, the fact I've finally managed to start getting a few exacts including the Southampton win and Wolves v Sheffield United draw means I had some big green arrows.
Despite that round only finishing yesterday, it's prediction time again as Round 15 begins tomorrow! We've even managed to squeeze in yet another manager sacking despite the shorter break between rounds as Quique Sanchez Flores (QSF) was handed his P45 by Watford on Sunday. I'll give my thoughts on that along with my Leicester v Watford prediction a little further down, but it will certainly be interesting if the Hornets can claw their way back towards safety before Christmas because the relegation battle currently appears set to be far more dramatic than the 'title race'.
Here are my thoughts on each Round 15 game.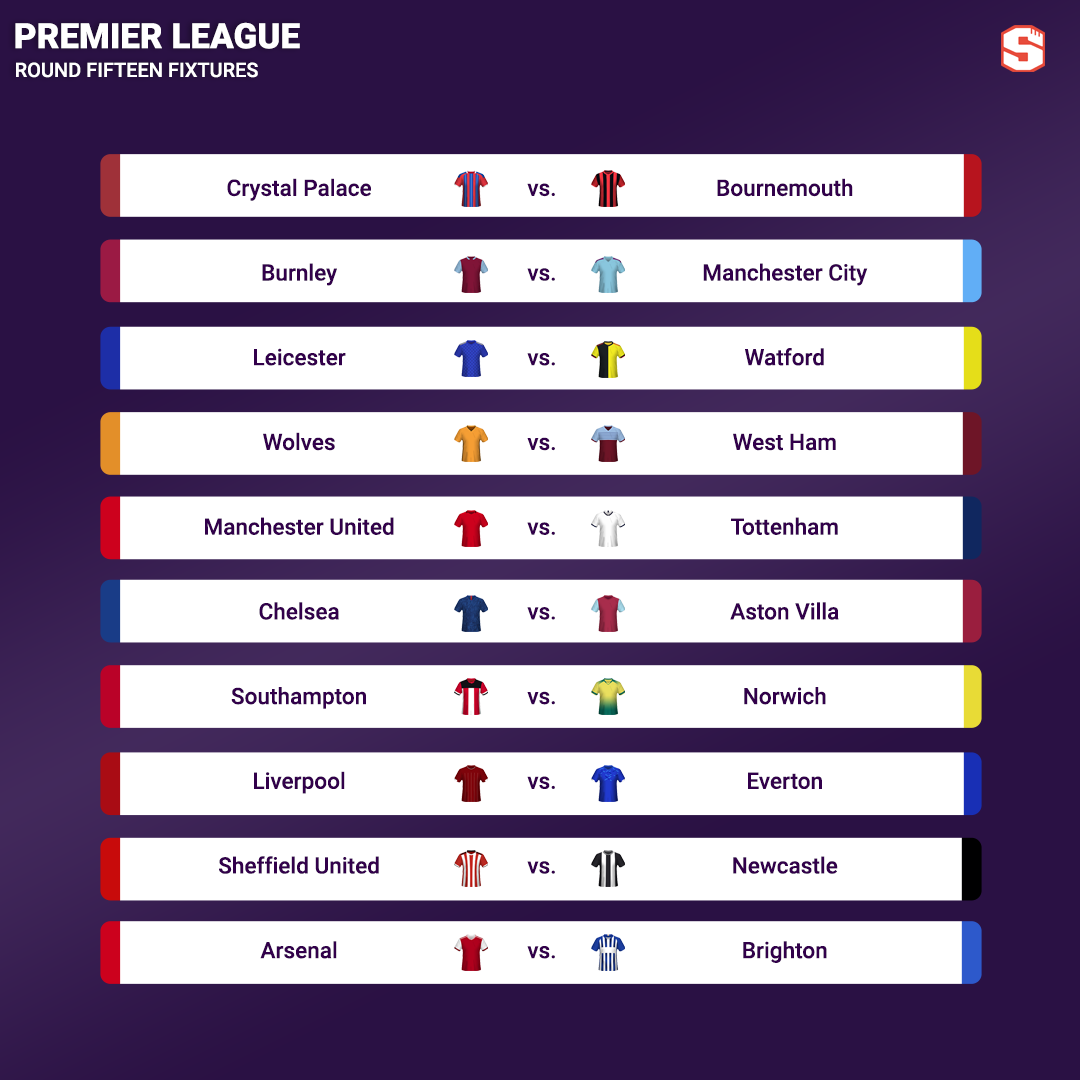 Crystal Palace vs. Burnley
Crystal Palace picked up a great win at Burnley which makes them favourites for this game in my opinion. Bournemouth haven't quite been at it all season and they'll probably find Palace harder to score against than Tottenham were on Saturday. That said, Palace's injury problems at CB do make me a little hesitant about the clean sheet I'm currently going for.
Prediction: Crystal Palace 1-0 Bournemouth
Burnley vs. Manchester City
City are becoming a team that you feel nervous about picking to win! Their defence looks so shaky without Aymeric Laporte and each time they drop points, as they did on Saturday, the confidence of those who do make up the current makeshift back four drops further. This is a game they should win, as Palace proved in Round 14, but I'm a little concerned that they may slip again.
Prediction: Burnley 1-2 Manchester City
Leicester vs. Watford
Watford are probably rightly being seen as a circus now by most football fans but I think their decision to sack QSF was correct because there's been next to no improvement since he took over. The issue is of course higher than the manager because they sacked Gracia too soon and then made a mistake by hiring Flores in the first place (that's not his fault!).
However, from the directors' point of view, there's no point in sticking by a mistake if you know you've made one so it's now just crucial that they make a better appointment this time around which you feel is their last chance of survival. Hayden Mullins is taking charge of this game and he may bring a bit of optimism into the side but Leicester should still be far too good. The Foxes currently look like the only team capable of getting close to Liverpool this season.
Prediction: Leicester 3-1 Watford
Wolves vs. West Ham
West Ham's win at Chelsea was absolutely massive for them. Getting one over a London rival, probably saving Pellegrini's job and finally ending their awful run of form. Following that up with more points at Molineux would be very impressive but I don't fancy their chances. Wolves look the more solid team that should control this game and two away wins on the bounce feels unlikely for the Hammers.
Prediction: Wolves 2-0 West Ham
Manchester United vs. Tottenham
A really tough pick. As I always say in these articles, United are better against the bigger teams because it allows them to hit on the counter without having to break down a side who hand them possession (they have 0 midfield creativity). Jose Mourinho knows that better than anyone though and so I'm torn between picking 1-1 or 1-2 because Mourinho's a great big-game manager and would surely love to pick up three points at Old Trafford to prove a point. Tottenham's poor defence is what's making me feel United can get a draw. Spurs won't be able to get away with conceding as many goals as they have been in recent games and that may lead to them setting up more cautiously.
Prediction: Manchester United 1-1 Tottenham
Chelsea vs. Aston Villa
Chelsea have now suffered 2 league losses on the bounce after having such a good run while Villa will be full of confidence after picking up a point at Man Utd. I think we can expect a pretty tight game as a result but Chelsea should edge it with some players coming back into the XI - I think Lampard over-rotated against West Ham.
Prediction: Chelsea 2-1 Aston Villa
Southampton vs. Norwich
Southampton's win over Watford was absolutely massive for them, especially since it was at home, and they now have another very winnable game. I expect them to make it two on the bounce here despite Norwich doing OK against Arsenal yesterday. Both Hasenhuttl and some of the players have said that finally finding three points at St Mary's was a huge weight off of their shoulders and performances should now improve with less anxiety.
Prediction: Southampton 2-0 Norwich
Liverpool vs. Everton
Everton's record in the Merseyside derby has been pretty poor for years now (lots of draws but no wins) and they're currently looking at their least likely to defeat their neighbours. Liverpool will be without Alisson but they have been for a lot of this season anyway and still performed. Marco Silva has done well to survive this long but I think a loss in this one could be the final straw.
Prediction: Liverpool 3-0 Everton
Sheffield United vs. Newcastle
Newcastle's recent form suggests they'll give Sheffield United a game but the Blades have gone so long without losing now that it's very hard to pick against them. I'm not sure this will be a classic but I'm going with a home win. Sheffield have had three decent draws in a row now but this is a game they'll hope to win rather than settle for a point.
Prediction: Sheffield United 1-0 Newcastle
Arsenal vs. Brighton
A tough one to end on. It's now almost 2 months since Arsenal won a league game and Brighton are a decent side yet they've only won once away from home all season. You can't expect the Gunners to keep a clean sheet which obviously automatically makes winning the game more difficult for them and the Seagulls played some good football at Anfield last time out. I'm going to wait and see some team news before confirming my pick for this because I can see Arsenal struggling again unless Ljungberg plays two defensive midfielders in either a 4-3-3 or a 4-2-3-1. I was very surprised to see Nicolas Pepe left out on Sunday.
Prediction: Arsenal 2-2 Brighton
Best of luck in Round Fifteen!