Premier League Predictor: Round 14 Picks
Another Premier League round, another manager sacking to consider when making your picks! After Mauricio Pochettino's departure ahead of last weekend, the Premier League's other North London club has decided to act this week with Unai Emery losing his job after last night's defeat against Frankfurt in the Europa League.
Former player and 'Invincible' Freddie Ljungberg has taken the reigns on at least an interim basis while the club assess who they'd like to appoint next. Based on how things usually go after an inevitable manager sacking, Arsenal fans can now look forward to an improvement in form.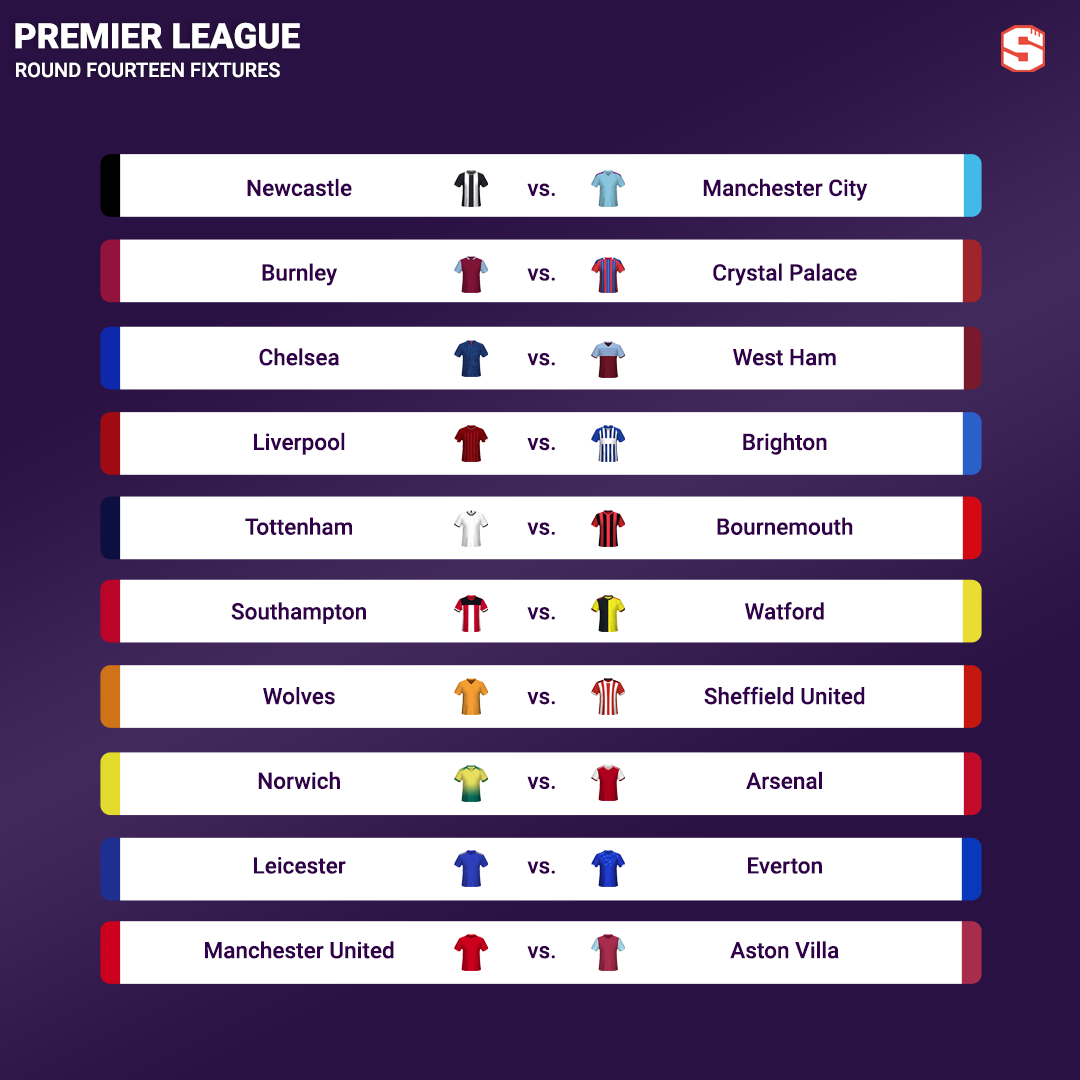 Here are my thoughts on how Round 14 will play out. Let me know how your thoughts compare in the comments!
Newcastle vs. Manchester City
Newcastle have surprised me with a few results this season and aren't terrible at home but they still look short of regular goals in my opinion and you have to back City here. Jesus is of course a very able replacement for Sergio Aguero and the likes of Kevin de Bruyne and David Silva should be able to cope with unpicking the low block Steve Bruce will likely opt for.
Prediction: Newcastle 0-2 Manchester City
Burnley vs. Crystal Palace
It's a little tricky to judge how Palace are looking at the moment because they've just had a very tough run of games where you weren't expecting them to pick up many more points than they have. It wouldn't shock me if they got something at Turf Moor because they do travel fairly well but I'm going with Burnley after their recent convincing wins. They're unlikely to enjoy a 3-0 this time around but I think they can edge it with home advantage.
Prediction: Burnley 2-1 Crystal Palace
Chelsea vs. West Ham
Two late goals for West Ham last week against Spurs made the scoreline look as if the game had been quite tight but that certainly wasn't the case. The Hammers were absolutely woeful and they have a big problem in goal until Fabianski is back fit because Roberto doesn't seem able to save anything and causes issues from non-threatening situations too. I actually feel a bit sorry for him because he should be taken out of the team and away from the criticism of his own fans but West Ham don't really have an option to do that. Chelsea should win this fairly comfortably even after playing in midweek but it will be interesting to see how they look without Tammy Abraham. Batshuayi's a good finisher but isn't always as effective in build-ups as Abraham.
Prediction: Chelsea 3-1 West Ham
Liverpool vs. Brighton
This is another game with a very clear favourite. Liverpool's lack of a home clean sheet must be at least slightly bothering them but when you've won 12 out of 13 and drawn the other it's not too much of an issue! I can't see Brighton getting anything at Anfield. They're certainly improving under Potter and remain tough to beat at the Amex but I think they're less likely to grind out draws away at the big clubs now than they were under Hughton.
Prediction: Liverpool 2-0 Brighton
Tottenham vs. Bournemouth
This should be another relatively routine win for the round although I do feel as though there must be an upset somewhere while writing this! It's only been two games but the pattern of Mourinho seeing his team look lethal going forward but shaky at the back is likely to continue until he's had a longer period of time to put things right. Bournemouth can cause problems and Eddie Howe will know that it's worth having a go at this Spurs team but the Cherries are unlikely to keep them out at the other end.
Prediction: Tottenham 3-1 Bournemouth
Southampton vs. Watford
The biggest game of the weekend. This is absolutely huge for both teams and it's a tough pick because they can't both lose! You can argue a draw would feel like a loss for both sides as it's no good for them really and that's what stopping me from predicting one because I feel as if they have to just both go for the throat. Southampton have been dreadful at home but Watford just cannot get going this season and with the defensive injury issues they now have to add to their actual defensive issues, I fear for them. If Southampton are going to be able to finally find a home win and get the fans back behind the team and manager a little, then surely this is the game for it?
Prediction: Southampton 2-1 Watford
Wolves vs. Sheffield United
Two teams that are difficult to beat and that haven't lost for a long time as a result. I think Wolves are favourites as they've started looking like their last season selves again of late but I'm really struggling to pick Sheffield United to lose when they've been so solid lately. Wolves also played their first XI last night in the Europa League and that extra fatigue factor is what's led me to go with the draw rather than a home win. Not an easy pick!
Prediction: Wolves 1-1 Sheffield United
Norwich vs. Arsenal
I was ready to pick either a draw or Norwich for this game but after Emery's departure I'm leaning towards a rare away win for Arsenal. We see the new manager bounce impact so often and the level of quality that Arsenal's attackers have is frightening, it's just that we haven't seen it for ages. There are still big concerns over the Gunners defence and I'd be surprised to see a clean sheet but I now feel we're more likely to see Ljungberg celebrating at full-time than Farke. Is he the latest club great turned interim manager who will go on an incredible run that forces the board to make a premature appointment!?
Prediction: Norwich 1-3 Arsenal
Leicester vs. Everton
The difficult run of fixtures that Everton now have is probably what's kept Silva in a job despite such a poor result last week at home to Norwich. Owners often avoid hiring a new boss ahead of a tricky run of games in order to prevent the buzz of a new appointment being killed stone dead before it has the opportunity to return points. Instead, Silva is left to try and rescue is job by pulling off an upset in one of the next few games. That's not impossible, given Everton's squad, but it's unlikely. Leicester have been very good this year as we all know and they're the logical team to back.
Prediction: Leicester 2-1 Everton
Manchester United vs. Aston Villa
I'm going with United here, not because I think they're particularly strong but because Aston Villa are yet to really prove themselves on the road. I think Villa could compete with this United team at Villa Park but at Old Trafford it just feels as if the hosts will get the job done. I'm not sure it will be a particularly exciting game as Villa will probably aim to play on the counter which is sensible but I don't think they quite have the mix of pace and clinical finishing to win a game that way. Their best players (in my opinion) are in the middle of the park which is where United are weakest so it could be interesting if they try and dominate, but there's a bit of a catch 22 there for Villa as United are best when on the counter themselves so probably wouldn't mind Villa taking their time on the ball rather than sitting behind it.
Prediction: Manchester United 1-0 Aston Villa
Best of luck in Round Fourteen!