Premier League Predictor: Round 13 Picks
A fair bit has happened since my last Premier League predictions piece! I was fairly happy with my Round 12 effort of 7/10 correct picks but that 'achievement' was soon shown to be very average by so many of you picking up a lot of Exact scores in that round!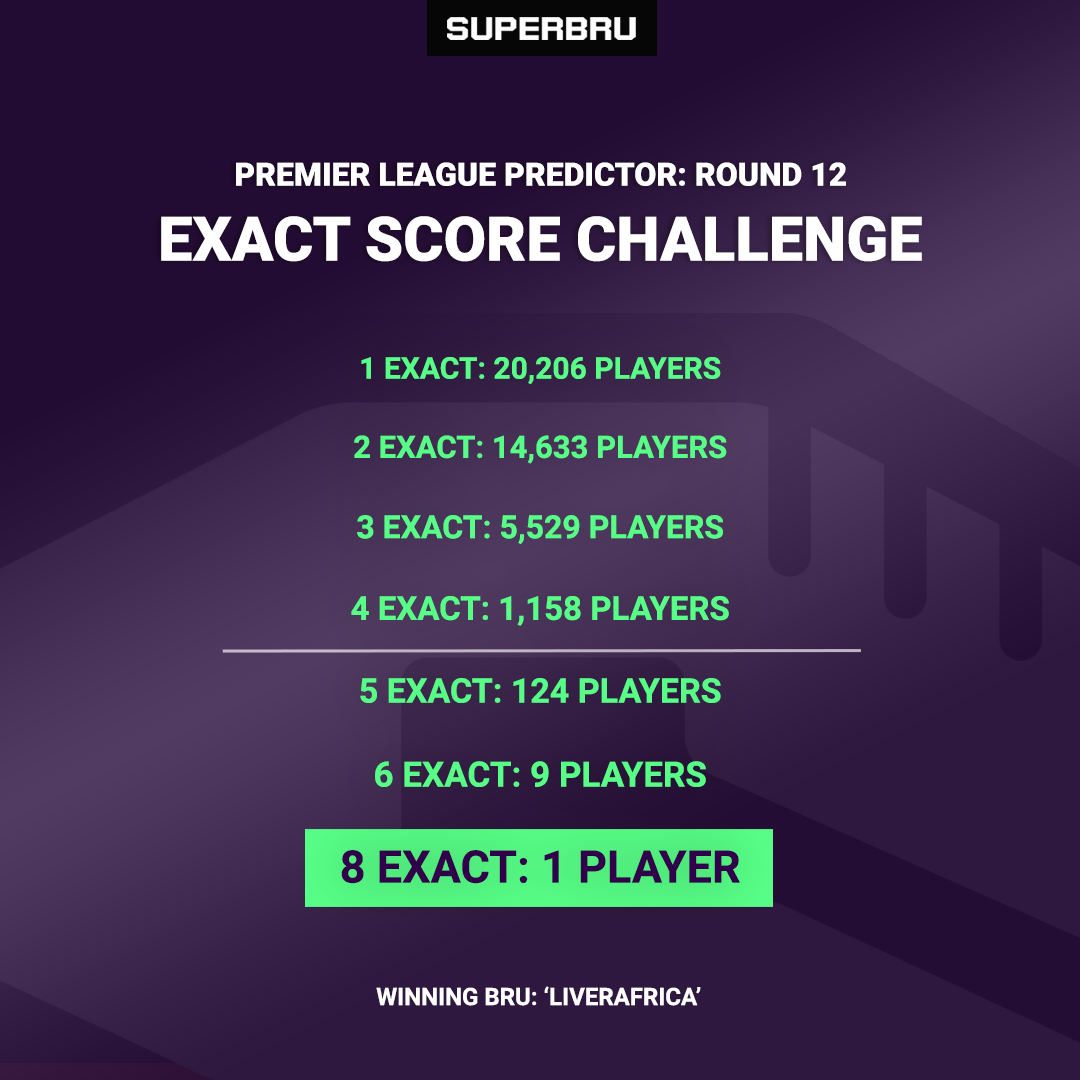 Marc Casais was the bru that performed best in Round 12 as he nailed an unbelievable 8 Exacts to win R15 000. Our Exact Score Challenge is of course active again this weekend, as it is in every Premier League predictor round this season, so good luck to you all as we look to guess whether the effect the international break has had on certain teams is positive or negative.
One team that certainly will be different now is Tottenham as they made the surprise move earlier this week of sacking Mauricio Pochettino before hiring Jose Mourinho in his place shortly afterwards. There's no doubt that the Premier League is more entertaining when Mourinho is involved and I'm sure it won't be long until Pochettino is picked up by a large European club. Whether or not we'll now see Tottenham start winning some trophies remains to be seen but it will be fascinating to witness how Levy and Mourinho work together and I expect a sharp improvement in Spurs' form over the coming weeks.
Here are my thoughts on their clash vs. West Ham and each of the other Round 13 games: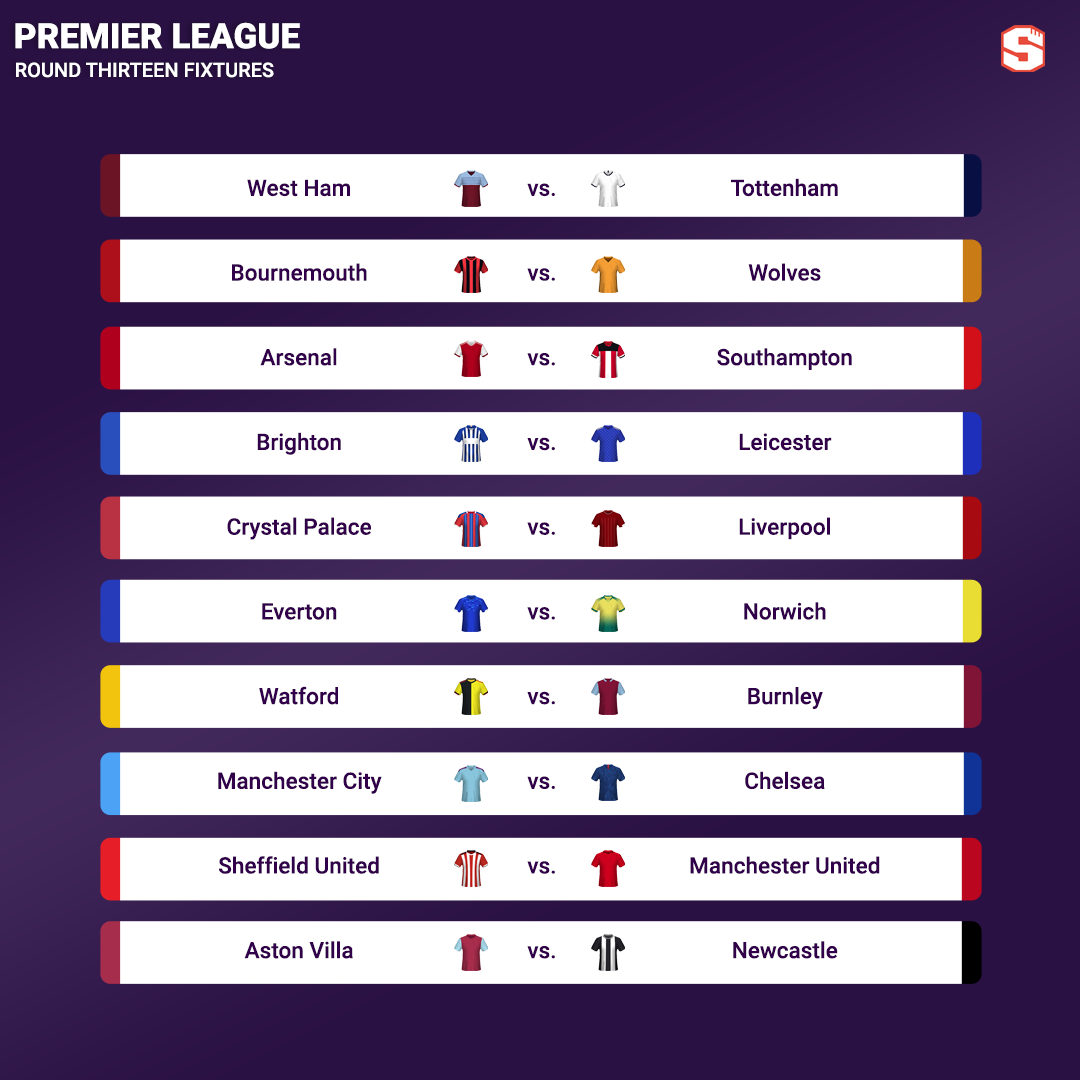 West Ham vs. Tottenham
As I've just said, I think Spurs will start picking up wins immediately under Mourinho but I'm made more confident in this pick by how bad West Ham have been lately. The Hammers often get up for London derbies, this one especially, but they've been really poor in recent weeks and the absence of Fabianski is really hurting them. For a few months at least, Mourinho will send the confidence of this Spurs team sky high. I expect Pellegrini was particularly disappointed to learn of Mourinho's appointment - West Ham are in desperate need of a win as soon as possible if he is to avoid being the next PL manager to lose his job.
Prediction: West Ham 0-2 Tottenham
Bournemouth vs. Wolves
This is the first of four or five games this week that really could go either way. Bournemouth are without Josh King and possibly Ryan Fraser which feels significant and Wolves have been gradually improving throughout the season. I'm leaning more towards the away side but Wolves do draw a lot of matches and I think that's what we could see again here.
Prediction: Bournemouth 1-1 Wolves
Arsenal vs. Southampton
This isn't the dead cert it perhaps should be given Arsenal's recent form but you'd still have to be brave to pick Southampton. I think the break came at a good time for the Gunners so that they can regroup a bit and they now have six winnable games on the bounce. Of course, if they slip here, the wave of negativity we saw from fans a few weeks ago will return more fiercely than ever but I feel they have enough good attacking players to finally find three points.
Prediction: Arsenal 2-1 Southampton
Brighton vs. Leicester
Leicester are looking very difficult to stop at the moment and they're playing with so much confidence that it's hard to see their momentum decreasing. Brighton are always fairly strong at home and won't be outplayed but their performances against Everton (even though they won) and Manchester United suggest that Leicester will find a way to victory.
Prediction: Brighton 1-2 Leicester
Crystal Palace vs. Liverpool
There are a couple of question marks over the fitness of Andy Robertson and Mo Salah, though it sounds as if they'll be available in my opinion, but even without those two I'd expect Liverpool to edge this. We've had the benefit of seeing Palace face two other top teams in recent weeks (Leicester and Chelsea) and on both occasions they were relatively competitive but didn't threaten either side as much as we saw them trouble big teams last season. This should be another three points for Klopp, it really is starting to look like that league title drought is coming to an end next summer.
Prediction: Crystal Palace 0-2 Liverpool
Everton vs. Norwich
I know Norwich have been bad this season but I was genuinely surprised when I noticed this week that they've only managed one away goal all season! To have not found the net once since that opening night of the season is a real concern for the Canaries and they'll have been bitterly disappointed to have lost at home to Watford before the break. Zimmermann being back fit and training should help them improve defensively over the Christmas period but I doubt they'll be able to get a result at Everton despite the Toffees' lack of consistency.
Prediction: Everton 2-0 Norwich
Watford vs. Burnley
A tricky one. I can see Watford putting a small run together after finally finding that first win but equally, they obviously aren't suddenly a fantastic team simply because they beat Norwich. Burnley looked good against a poor West Ham team before the break but still haven't won away yet this season. I don't think this will be a great game but Deeney should be ready to start for the Hornets now and he might just get an important goal. Also, if Deulofeu can show his quality more frequently, Watford will pick up a lot more points than they have been.
Prediction: Watford 1-0 Burnley
Manchester City vs. Chelsea
This is a match that everyone should be looking forward to watching. Both sides are scoring plenty of goals and there's big pressure on Manchester City - they're now looking to fight their way back to second before they can even think about the gap between themselves and Liverpool. A win for Chelsea would be huge for Lampard and his team as they'd open up a four-point gap between themselves and their opponents but whilst I think they're capable, I just feel City will have a little too much. With the exception of Ajax away where they were excellent off the ball, Chelsea have been a bit suspect defensively against the big sides and dealing with the threat posed in wide areas is of particular concern against City who are known for working balls across the box from the byline. Aguero has a good record against Chelsea and I can see him having some joy again on Saturday.
Prediction: Manchester City 3-1 Chelsea
Sheffield United vs. Manchester United
This is another 50/50 match in my opinion but I can see Sheffield Untied continuing their incredible start to the season. Chris Wilder has been excellent tactically so far in this campaign and he'll obviously be aware of why United have struggled in the games that they've lost at places like Newcastle and Bournemouth. Sheffield United don't concede many goals and Man United have struggled to break teams down when faced with any kind of defensive organisation. The Blades play good football, won't be scared of this United team and I'm struggling to see how the visitors can compete in midfield without McTominay now as well as Pogba. I think the upset pick is worth a gamble.
Prediction: Sheffield United 1-0 Manchester United
Aston Villa vs. Newcastle
Team news could be important for this one as I feel Tom Heaton is quite important for Villa. If he doesn't recover in time for the game, Orjan Nyland will be in between the sticks who I don't know much about so it's hard to judge the overall effect on the potential result. What we do know, though, is that Jamaal Lascelles is out for Newcastle and that is a big blow for the Magpies. Steve Bruce has done really well to pick up back-to-back wins and this is a huge chance for three on the bounce but I'm backing Villa to take what is an equally huge chance to get a win on the board after some tricky fixtures.
Prediction: Aston Villa 2-1 Newcastle
Best of luck in Round Thirteen!