Premier League Predictor: Round 12 Predictions
With the group stages of World Cup qualifying now complete, the Premier League returns tomorrow and we're entering the hectic period of continuous domestic football as there now won't be another international break until March when the World Cup qualifying play-offs take place.
As always, it's not as if there's been a shortage of PL news during the break though as we have no fewer than 3 clubs entering this round with a brand new manager. Dean Smith has gone to Norwich after being sacked by Aston Villa, Steven Gerrard has taken his place at Villa and Newcastle have finally got themselves a first permanent coach appointed by the new ownership as Eddie Howe is now in charge of the Magpies.
So there's lots to consider when making your Round 12 picks! Here's what I'm going with for each game.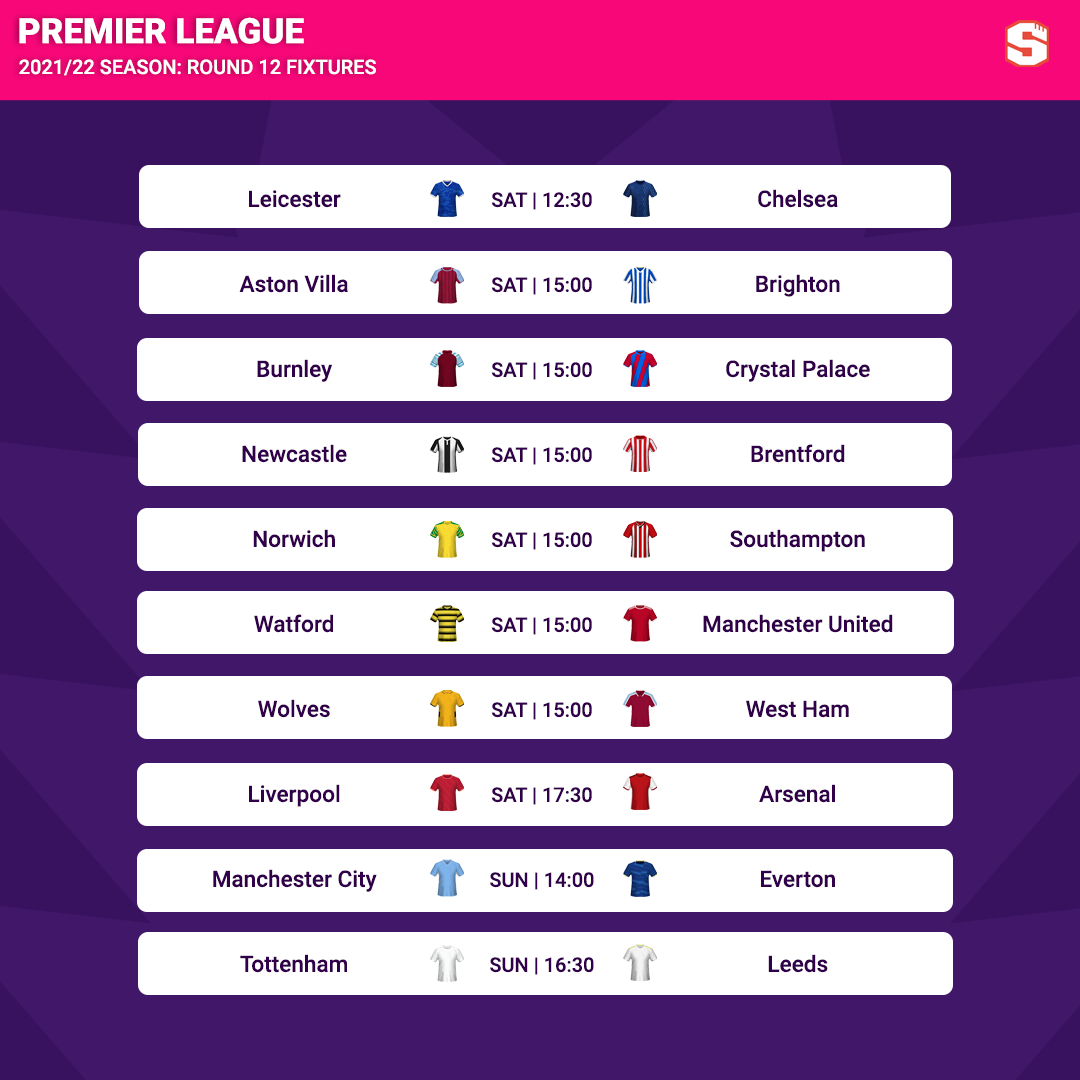 Leicester vs. Chelsea
Chelsea's draw with Burnley in Round 11 will have been frustrating for them but they remain 3 points clear at the top and should beat Leicester who weren't looking great before the international break. There's also a contrast in terms of team news ahead of this one as Chelsea have a lot of very good players ready to return in Mount, Werner and Pulisic while Leicester are set to be without Tielemans who I think has been excellent for them.
Prediction: Leicester 0-2 Chelsea
Aston Villa vs. Brighton
Villa deciding to appoint Gerrard is a very interesting move and it'll certainly be fun to see how he gets on in the Premier League as a manager. I thought it was a little harsh to remove Dean Smith at this stage after what he's achieved but they have lost a lot of games in 2021 and Villa fans will know better than me about the vibe around Villa Park and whether or not things were feeling broken beyond repair.
This is a very tough first game for Gerrard as Brighton are very well coached by Graham Potter though they have fallen back into their habit of drawing a lot. I think this might be another such game as it will take some time for Villa's defence to improve even if they have some added flair up front due to the excitement of Gerrard's arrival.
Prediction: Aston Villa 1-1 Brighton
Burnley vs. Crystal Palace
Both of these two have managed some good results in recent games and this is a tough pick but it's Palace that have impressed me most for a number of weeks now. All 3 outcomes are very possible in this one and I'm tempted by the draw but since I feel Palace are the better side who will look to be proactive despite being the away team, let's go with them.
Prediction: Burnley 1-2 Crystal Palace
Newcastle vs. Brentford
It certainly wasn't the case a few weeks ago, but Brentford now look like a favourable team to be up against in Eddie Howe's first game as Newcastle manager. Howe seems to have made a good first impression with the Newcastle fans through the media and there's definitely a good chance of that positive buzz resulting in a first win of the season here in my opinion.
Prediction: Newcastle 3-1 Brentford
Norwich vs. Southampton
Dean Smith certainly hasn't chosen an easy job by taking over at Norwich but I do think he can improve them and while I'm still fairly sure they'll be relegated this season, if they can become more competitive then it will make things far more interesting at the bottom. I'm not as confident we'll see a 'new manager bounce' resulting in a win in this game though as Southampton were putting a good run of results together before the international break. Ralph Hasenhuttl has seen his team keep a number of clean sheets during that time which is bad news for Norwich who have struggled for goals this season.
Prediction: Norwich 1-2 Southampton
Watford vs. Manchester United
Things clearly aren't right at Manchester United, and like many others I struggle to see how Solskjaer can turn it around himself, but I think you still have to back them to win this game. United's impressive long unbeaten away run may have ended with that defeat at Leicester last month but they've beaten Tottenham on the road since then and still have a very good record in this type of game. With the exception of that crazy win at Everton, Watford are really struggling for goals and I think United should win this quite comfortably before they head into some more very tough fixtures in the coming weeks.
Prediction: Watford 0-2 Manchester United
Wolves vs. West Ham
Two teams in decent form but it's hard to go against West Ham at the moment given their league position and the fact that they've just beaten Liverpool. This won't be easy but they managed a win at Molineux last season and I think they can find another here despite the absence of Angelo Ogbonna who will be a big miss for the rest of the campaign with a nasty ACL injury.
Prediction: Wolves 1-2 West Ham
Liverpool vs. Arsenal
Arsenal have shown signs of real improvement in recent weeks but this is now a test to see if they've already now got themselves capable of competing with the league's best - my feeling is that they're still slightly short of that. The Gunners have been easily beaten each time they've been to Anfield for years now so it will be a challenge for Arteta to make his team more competitive in this fixture. Liverpool have quite a few players out but most of their key men are fit and I can only really see a home win.
Prediction: Liverpool 3-1 Arsenal
Manchester City vs. Everton
This looks like one of the most one-sided matches of the round on paper as Everton have looked poor for weeks now and City couldn't have been more dominant in the Manchester derby. It sounds as if Calvert-Lewin and Doucoure are both still a little while away from returning for the Toffees and it's hard to see things improving too much for Everton until they're back.
Prediction: Manchester City 3-0 Everton
Tottenham vs. Leeds
Leeds are another team that has been struggling without some key players and since Bielsa has confirmed that both Ayling and Bamford still aren't ready to return for this match, I think Tottenham should be OK. It may take Conte a little longer than usual to get Tottenham firing in the way that Chelsea/Inter did under his management but Harry Kane's goalscoring form for England during the international break will surely help him as he returns to Spurs. If they do win this, they then have a nice little run of upcoming fixtures to put some points on the board.
Prediction: Tottenham 3-1 Leeds
Best of luck to you all with your own Round 12 predictions!