Premier League Predictor: Round 11 Predictions
Despite the lack of an Exact, I was pretty pleased with my 6/10 in Round 10 as Burnley, Southampton and Wolves all came through for me. I overestimated Spurs, underestimated Arsenal and then certainly didn't see Man City and Liverpool dropping points.
This weekend is yet another big one in the Premier League as we have a huge Manchester derby and the start of the Antonio Conte era at Spurs. Conte's appointment arguably makes Tottenham the real winners of last week's game against United but let's see how Solskjaer gets on in the derby on Saturday as he has managed a few results against Guardiola and City!
Here are my picks for each game in Round 11.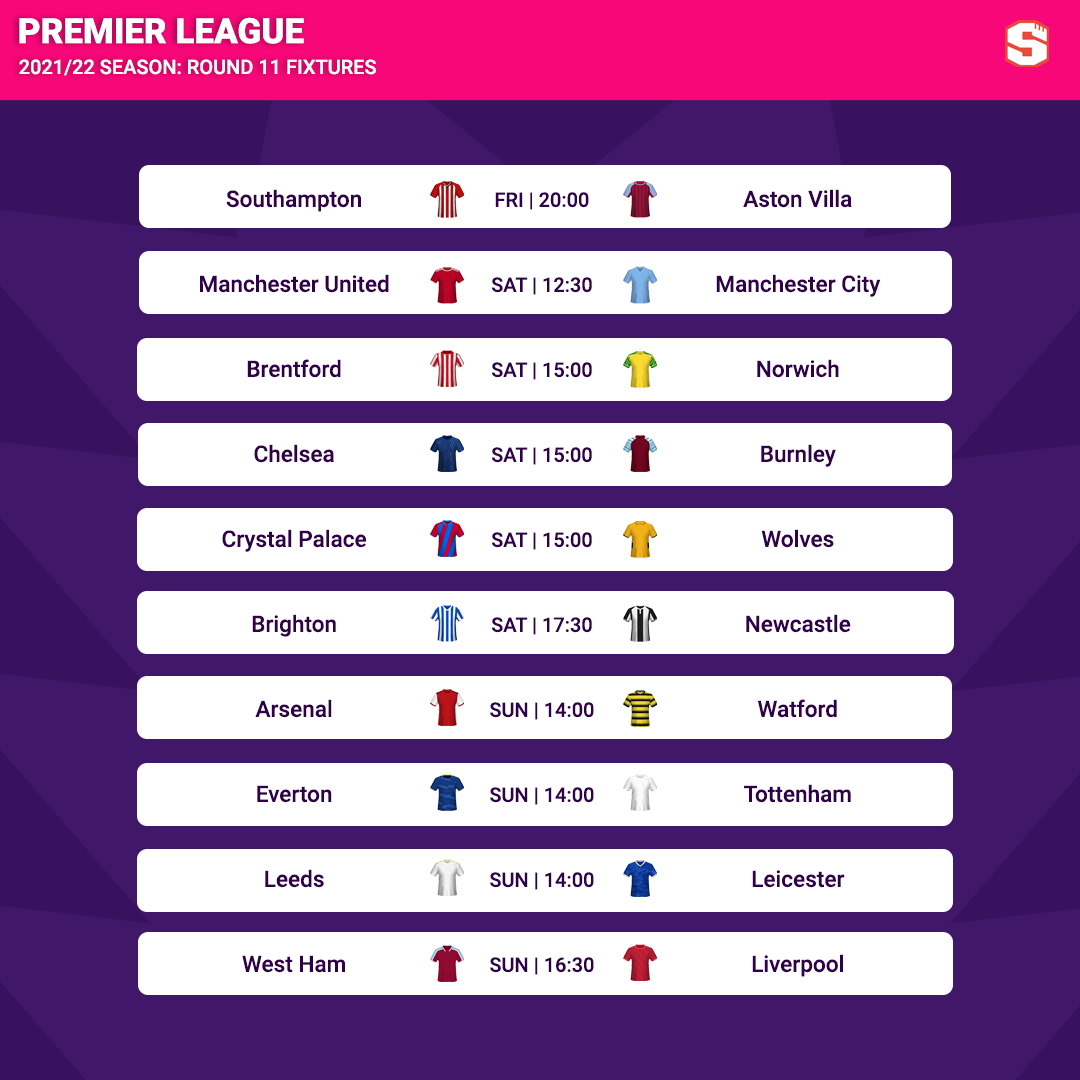 Southampton vs. Aston Villa
I always felt that Hasenhuttl and Saints would get back on track and find some results soon enough so it's been good to see a couple of wins for Southampton in recent weeks and they're probably now favourites here? Villa appear to have really lost their way since that embarrassing defeat against Wolves and with Ings set to remain out for this game I think Saints are the slightly more likely winners.
Prediction: Southampton 2-1 Aston Villa
Manchester United vs. Manchester City
I feel in a similar way to how I did before United vs. Liverpool about this game - United should be up for it and the home crowd should have an impact but if we're just looking at this logically as if it was any other league game, City should win comfortably. The Atalanta game in midweek was another example of a game that sums this current United side up - they tend to look pretty unconvincing but then have some genuinely world class moments every now and then because of the quality of their players.
City are the opposite (though they obviously also have world class players!) - they're controlled, excellent at playing out and getting the ball from defence to attack smoothly but then their 'moments' are slight defensive errors meaning they can be got at now and then. So while there's obviously a chance that United get a result here with Ronaldo snatching a point or three, the sensible pick is that City win this game but I expect them to do so with the kind of controlled performance we saw them show at Chelsea as opposed to a 0-5 rout like Liverpool at Old Trafford.
Prediction: Manchester United 0-2 Manchester City
Brentford vs. Norwich
There's probably slight cause for concern if you're a Brentford fan after the recent drop following such a good start but I'd say that's more because of the number of injuries in Thomas Frank's squad as opposed to their last 3 results. That said, Mbeumo should be back for this game to partner Toney and this is the most favourable fixture you can have to try and get back to winning ways.
Prediction: Brentford 2-0 Norwich
Chelsea vs. Burnley
They've had some favourable fixtures, but I think it's been impressive how Chelsea have coped without Lukaku and Werner in attack and this is another game they should win fairly comfortably. Chelsea's wing-backs are on fire at the moment in front of goal and they should have some opportunities in this game with Burnley likely to sit very deep. The Clarets managed 3 vital points last week which has at least eased some of the pressure on them.
Prediction: Chelsea 2-0 Burnley
Crystal Palace vs. Wolves
This should be a good game given the form these two have each been showing in recent weeks. After failing to win plenty of games that they should have done in the rounds beforehand, it's quite amusing that Manchester City away was the fixture where Palace finally picked up 3 points rather than 1 and what a confidence boost that should give the entire squad who already seem very happy under Patrick Vieira. Wolves are also a very good side though who look quite nicely balanced with two very strong goal threats in Jimenez and Hwang. I think we might see Palace's run of draws at Selhurst Park continue.
Prediction: Crystal Palace 1-1 Wolves
Brighton vs. Newcastle
I think you have to go for Brighton here. Newcastle have had a messy week with their hunt for a new manager and remain very ordinary on the field so this is a game that you'd expect the hosts to control and win. It sounds as if there's still a chance Eddie Howe will be appointed in time to be in charge for this game but even if that's the case, the chance of a new manager bounce is perhaps reduced if he hasn't had any time at all to train the team before this fixture.
Prediction: Brighton 1-0 Newcastle
Arsenal vs. Watford
I said last week that Arsenal were yet to prove themselves in a tricky away game but that win over Leicester is an example of doing just that - I thought Arteta's team were really impressive at the King Power. There are certainly some encouraging signs for the Gunners and they felt a million miles away from where they are now in Round 3 of this season so it just goes to show that turnarounds can be possible even when many have lost faith in a manager so Arteta deserves a lot of credit. They're still a young team so slip ups are perhaps inevitable but this looks like a favourable game for Arsenal and I'd be surprised if they don't win.
Prediction: Arsenal 3-0 Watford
Everton vs. Tottenham
There's obviously about to be a very dramatic change at Tottenham so we can pretty much discard everything that we have seen so far this season from Spurs when making this pick. If there's a club that can probably somehow still manage to miss out on trophies even under Antonio Conte (as well as Mourinho) then it's Tottenham but they've given themselves the best possible chance of success by hiring the Italian - in my opinion, Conte is the best 'quick fix' manager in the world as he's just incredible at taking players and moulding them into his system to get results.
Everton look absolutely dreadful at the moment so this is a decent first league game for Conte and we've already seen his 3-4-3 in action in the Europa Conference League with Emerson and Reguilon handed the wing-back roles. I expect Kane and Son to begin hitting form very quickly in front of goal and there's a good run of games for Spurs to find some momentum before they have some big fixtures over Christmas.
Prediction: Everton 1-3 Tottenham
Leeds vs. Leicester
Not the easiest pick but Leeds remain pretty unconvincing and it sounds as if Bamford still isn't fit which is bad news given how lost they've looked without him. Leicester played on Thursday night which isn't ideal but I think they're the sensible pick. The Foxes are struggling to really hit peak form themselves but they do have far more goalscorers available for selection than Leeds.
Prediction: Leeds 1-2 Leicester
West Ham vs. Liverpool
This is a real test for Liverpool as West Ham are a really good team at the moment but I think the Europa League game the Hammers had on Thursday (where they picked a strong team) has just put me off any temptation I might have had to back them for a point. It feels almost inevitable that Liverpool will score at least a couple regardless of who they're playing at the moment and it won't be easy for West Ham to score twice themselves.
Prediction: West Ham 1-2 Liverpool
Best of luck to you all with your own Round 11 predictions!