Premier League Predictor: Round 10 Predictions
After another difficult round for us all in Round 9, it doesn't look as if things will get too much easier this weekend outside of the games involving the big 3! Watford's win at Everton last week was a huge surprise, Palace let a lot of us down by failing to hold on to a lead again and then while expected as an outcome, I'm not sure even the most optimistic Liverpool fan will have had an Exact for that 0-5!
Most eyes will be on Solskjaer and United again this weekend as the pressure reaches a new high at Old Trafford but aside from that I'm just excited to keep watching the top 3 this season - we're set for such a good title race, partly because of the simple reason that there are 3 teams rather than 2, but mainly because of just how good those 3 are.
Here are my picks for Round 10.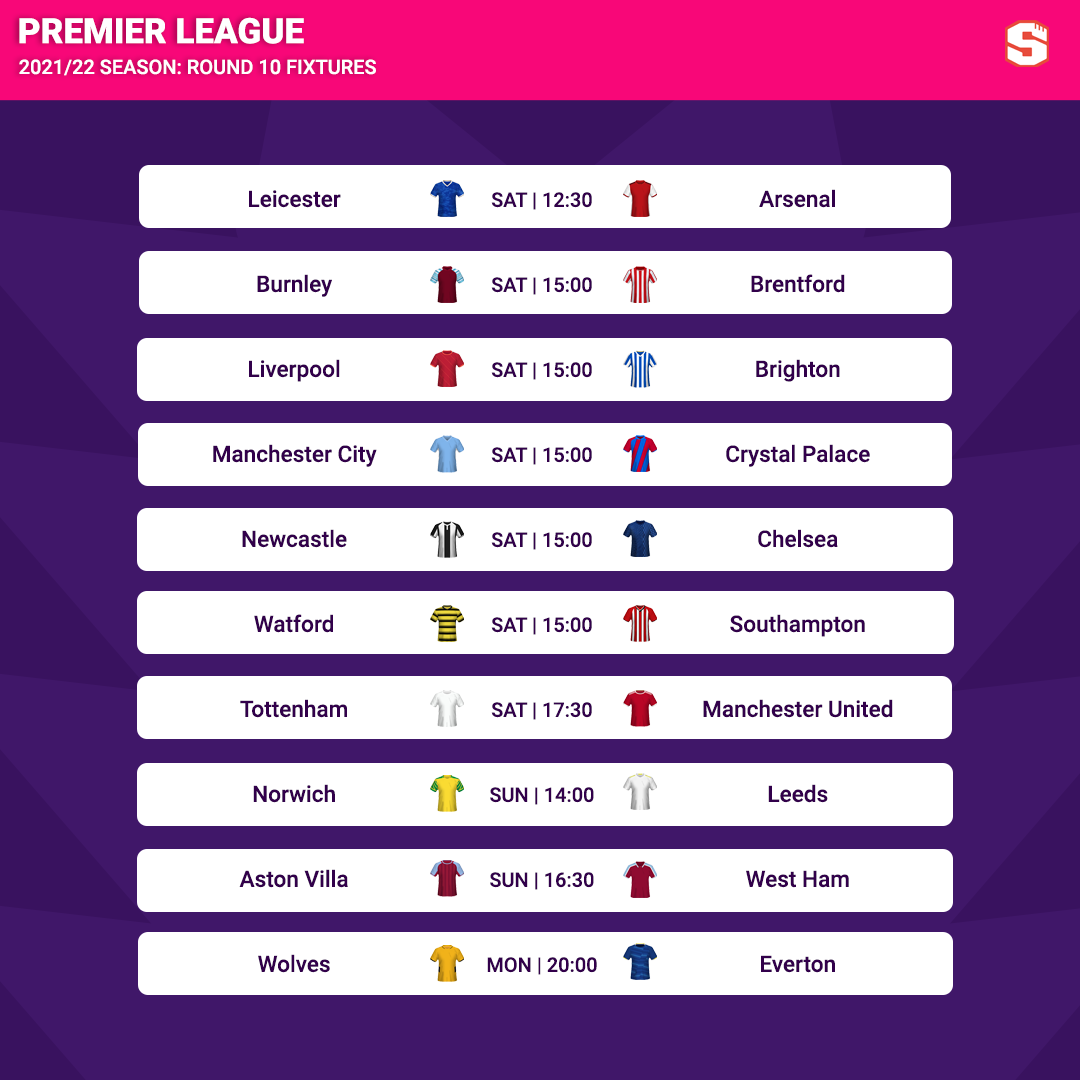 Leicester vs. Arsenal
Not the easiest pick to begin with but I think Leicester are favourites as Arsenal still need to convince me away from home. The Foxes have looked like they've been coming back into form and that win away at Brentford last weekend was a really impressive result.
Prediction: Leicester 2-1 Arsenal
Burnley vs. Brentford
They were very competitive in both games but Brentford now need to respond to back-to-back defeats for the first time this season and it won't be easy without goalkeeper David Raya. It's a very difficult pick but I'm wondering if this is the time to back Burnley to finally get a win on the board? A look at Brentford's away form suggests that's probably the wrong move and I think I should be going for 1-1 but I just have a feeling Burnley might like this fixture as despite their poor defensive record so far, Brentford are the kind of team they might be able to cope with given their physicality.
Prediction: Burnley 2-1 Brentford
Liverpool vs. Brighton
I won't spend too long justifying these next three picks as I'm sure most of you have similar - as I said in the intro, the top three are very, very good teams. Liverpool just look excellent at the moment and it feels like Mohamed Salah is going to score in every match this season!
Prediction: Liverpool 3-0 Brighton
Manchester City vs. Crystal Palace
City just aren't conceding goals at the Etihad and though Palace are probably brave enough under Vieira to give them some scares, I can't see how they cope with them defensively. Phil Foden is the man to watch at the moment in the City team and could be for a number of years.
Prediction: Manchester City 3-0 Crystal Palace
Newcastle vs. Chelsea
This is a potentially tricky fixture for Chelsea as it's away and they aren't always great at Newcastle but you'd have to say they're still incredibly strong favourites. Like City, Chelsea aren't conceding many goals at all and though they're without their two main strikers, there are so many players in their team who are capable of contributing in attack - Ben Chilwell can't stop scoring at the moment.
Prediction: Newcastle 0-2 Chelsea
Watford vs. Southampton
This one is tough! It's hard to gauge Watford under Ranieri as they've just had two very extreme results so far that probably said more about their opposition for each game than it did about what we'll see in terms of style and approach from Ranieri. I'm thinking of going for a draw but probably see Saints as favourites? They've been drawing a lot of matches but are a better side than Watford in my opinion - I'm interested to see what Hasenhuttl does now that Ward-Prowse is available again as Romeu and Diallo have been playing quite well.
Prediction: Watford 1-2 Southampton
Tottenham vs. Manchester United
Not really sure what I can say about Manchester United and last week other than I'm glad I didn't go with my 'hunch' that they might turn up and win! What happened was pretty much exactly what everyone who watches a lot of football predicted could happen, it's just that you never really expect it can be quite that bad on the day. The writing's on the wall for Solskjaer in my opinion in the sense that I don't see how he ever truly turns things around, but the United ownership aren't exactly known for sudden manager changes because of a burning ambition for trophies so he may well still have some time yet.
Spurs aren't great themselves meaning this is still a tough pick - you have to be quite brave to pick either team!? That's why I'm going for a draw.
Prediction: Tottenham 1-1 Manchester United
Norwich vs. Leeds
Similarly, you don't want to be picking Norwich to win at the moment so Leeds are the side to go with here. I still think Leeds will be alright this season as they've had plenty of injuries but that opinion will change for many people if they do fail to find three points. Norwich just look way short of the quality required in the Premier League and it's going to be a very long season for them.
Prediction: Norwich 0-2 Leeds
Aston Villa vs. West Ham
Having looked pretty good for a while, Aston Villa have really fallen off in recent weeks and I think West Ham should be OK here. Dean Smith's a good coach who will likely turn things round for Villa in my opinion but he doesn't quite seem settled on how to get the best out of some of his new players (admittedly Leon Bailey has hardly been fit so far) and I'm wondering if we see them much stronger in the second half of the season instead. West Ham are the opposite as they've just continued from last season and have such a strong spine.
Prediction: Aston Villa 1-2 West Ham
Wolves vs. Everton
Wolves let me down last week with that very late penalty they conceded but I'm sticking with them in this round too as Everton were just so bad during that collapse against Watford. Wolves are quietly climbing the table now that they've ended their early season trend of playing well but always losing 0-1. Everton must just be praying Calvert-Lewin and Doucoure are back as soon as possible.
Prediction: Wolves 1-0 Everton
Best of luck to you all with your own Round 10 predictions!