Premier League Predictor: Round 1 Predictions!
In the words of transfer reporting legend Fabrizio Romano, here we go! The Premier League is back this Friday and I think we're set for an incredible season. The number of quality players in the league continues to grow, it's still home to a lot of the best coaches in the world and most importantly, fans are back in stadiums.
Considering the Euros and Olympics have filled a lot of the summer, we've also had a pretty crazy transfer window so far and there are of course still some weeks left for deals to be done. Unless you have no internet access whatsoever - in which case you won't be reading this - you'll know that Lionel Messi has joined PSG this week but as usual the big Premier League clubs have also been active in the market with big deals including Jadon Sancho and Raphael Varane to Manchester United, Jack Grealish heading to Manchester City and Romelu Lukaku set to be announced as a Chelsea player once again very soon.
In my opinion, last season's top four are all going to be very, very good sides this season so I think we could have quite a title race. With the bar so high, even among many 'mid-table teams', any one of the three newly promoted clubs we have in this campaign will have to do very well to stay up. I'll obviously be giving my thoughts on each team more generally as we head through the Round 1 predictions but before I get into it, make sure you've joined at least one of our two games for the Premier League season which is why we're all here! The games we are running are the
Premier League Predictor
and
Premier League Odds-based Fantasy
.
Don't forget that in the Predictor, our
Exact Score Challenge
will also be in play once again this season meaning there's a chance to win prizes in every round if you happen to absolutely nail your picks. Here are the fixtures in Round 1 which begins with Brentford vs. Arsenal on Friday night.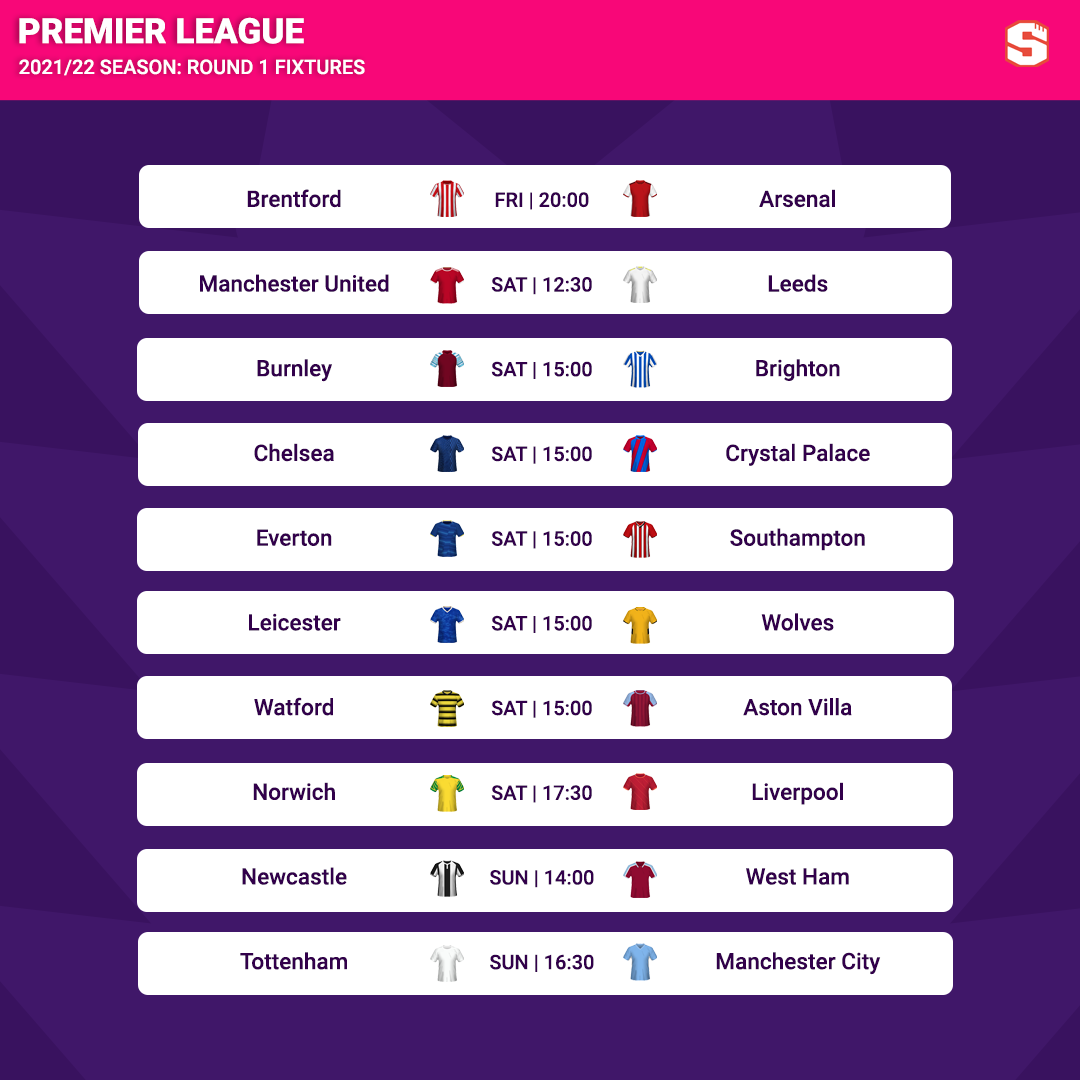 As with most seasons but particularly this one, a key thing to keep in mind in these opening rounds is that many clubs will be without some key players due to a lack of pre-season following the Euros and/or travel restrictions and quarantine being enforced as they return to the UK.
Brentford vs. Arsenal
It feels extra risky when picking an upset for the very first game, but I really think Brentford could get something here. A club's first ever Premier League match in their history is obviously always quite a big deal but when you also consider that it's the first game of the season in it's own Friday night slot with fans finally back in what is also a brand new stadium, the hosts should be right up for this! Longer-term, it wouldn't surprise me if Arsenal end up improving their league position this year without having Europe to worry about, but I'm not sure how well they'll start. The Gunners were disappointing last year, haven't really strengthened and their pre-season results (though often not too significant) haven't exactly provided encouragement. They're obviously still favourites given their attacking options, but I just feel Brentford can get at least a point.
Prediction: Brentford 1-1 Arsenal
Manchester United vs. Leeds
For different reasons, Manchester United are another club that will probably take a few weeks to get going properly but that's because they definitely
have
strengthened, it's just that at least one of their new arrivals likely won't be ready to have an impact this weekend. Jadon Sancho and Raphael Varane are two fantastic signings in positions that United needed to improve upon so it'll be interesting to see if they can mount a proper title challenge as a result. Personally, I still feel they'll fall slightly short without a defensive midfielder that matches the quality of their more advanced players. Leeds, as always, will be interesting to watch as they take on the challenge of trying to improve on what was a great first year back in the PL. I'm excited to see how Bielsa sets up after finishing last season very strongly but I expect a home win despite United having a few key forwards out.
Prediction: Manchester United 3-1 Leeds
Burnley vs. Brighton
Both of these teams started last season pretty slowly so that's something to keep in mind but I think it's Brighton who are the stronger, more progressive club and I'm interested to see if the Seagulls pick up a lot more points this season as they deserved more in a lot of their games throughout 2020/21. They probably still need a new, quality striker for that to happen but the addition of Enock Mwepu in midfield is one to watch as he should be great alongside Bissouma (if Brighton hold on to the latter). Burnley remain the side that everyone expects will finish between 12th and 16th so it's hard to get too excited about them. This is a fairly tough pick and I can see Burnley potentially taking the points by just being efficient in front of goal while Brighton waste their possession/chances but let's go for an away win as the visitors should play most of the football.
Prediction: Burnley 0-1 Brighton
Chelsea vs. Crystal Palace
It's going to be fascinating to see how Palace get on post-Hodgson this season with Patrick Vieira taking the reigns and lots of very exciting young players arriving. It's understandable that there's question marks over Vieira, particularly after the de Boer experiment, but it seems most Palace fans are excited which is great. Hopefully, that will mean Vieira and the squad are given at least some time as I think that'll be needed and this is certainly a very tough fixture first up. Chelsea should be right up there challenging for the title in May as European champions and they'll have had a competitive game to get themselves going before this opener as they face Villarreal in the Super Cup on Wednesday night.
Prediction: Chelsea 2-0 Crystal Palace
Everton vs. Southampton
I still don't really understand why Everton and Benitez have decided to work together. From having all fans behind Ancelotti and believing in a project, Everton have now gone to a manager that will be given very little time (if any) to get things heading in the right direction and that won't be easy when James Rodriguez, their best player, doesn't appear to be too keen to play anymore now that his favourite manager is back at Real Madrid. The Toffees are still favourites in this game though as Southampton don't have a great record at Goodison and are looking like they have the potential for a rocky start to the season themselves following the sudden exit of Ings to Villa. Adam Armstrong is a solid replacement who I'm excited to watch but with rumours now that Vestergaard may well also be off to Leicester, Ralph Hasenhuttl might just have to do what he can to get through to the end of the window where he'll know what he's actually left with in terms of a squad and things can settle down.
Prediction: Everton 2-1 Southampton
Leicester vs. Wolves
With a Community Shield already in the bag, Leicester are off and running this season and should be pretty well placed to start with 3 points here, I think. The Foxes have great options in attack with Daka now added to Vardy and Iheanacho while Harvey Barnes is back from injury as well. As for Wolves, who knows!? Bruno Lage is a complete unknown to me I'm afraid and it's also hard to tell whether or not Raul Jimenez will be able to get back to his previous level after such a horrible injury. Again, another team to keep a close eye on as I'm intrigued to see what Lage changes from the Nuno era.
Prediction: Leicester 2-0 Wolves
Watford vs. Aston Villa
Watford look pretty short of Premier League quality if I'm honest and as I said in the intro, there really aren't many average teams in the league this year on paper with Villa being a great example of a side outside of the big six that still just has so many quality players. We'll have to wait and see if Villa's use of the Grealish cash has been well spent or not but I think Ings, Buendia and Bailey are all very good players and when you add those to the talent that's already there including Watkins, McGinn, Martinez and Mings, this is clearly a far stronger squad than Watford's. In a similar way to my Brighton pick, there's still some hesitancy when picking an away win on the opening day but you'd have to say Villa are the more likely winner.
Prediction: Watford 0-2 Aston Villa
Norwich vs. Liverpool
I remember Norwich facing Liverpool in their opening game last time they were promoted to the Premier League as well and though they'll have home advantage this time around, we can expect a similarly one-sided game in the Reds' favour. With their defenders back fit, Liverpool should be stronger this season than they were in 2020/21 but there are still some concerns such as whether or not Mane and Salah can keep being as brilliant as they have been for years, particularly when both will be heading to AFCON in January. Norwich, like Watford, don't look strong enough to stay in this division but there have been some smart acquisitions such as Pierre Lees-Melou from Nice and Billy Gilmour on loan from Chelsea who together should make a really interesting midfield. Both like to get on the ball, but in this game and many others this season, they're likely to have to dig in and defend.
Prediction: Norwich 0-3 Liverpool
Newcastle vs. West Ham
This is a tough one. West Ham surely won't be able to match how well they did last season with their Europa League involvement and such a thin squad, but that obviously doesn't really affect this game and they're probably slight favourites? We can expect much the same from Newcastle I think - they're not great to watch but will probably stay up and can always threaten in moments through the ability of Callum Wilson and Allan Saint-Maximin. I think there could be goals in this one and I'm going to go for a draw. Wilson and Antonio should both be fit and ready to go for their respective clubs and both will fancy their chances of finding the net.
Prediction: Newcastle 2-2 West Ham
Tottenham vs. Manchester City
Finally, we have what is a pretty big game between the two teams that want Harry Kane scoring their goals this season. This is a classic case of a big match not feeling as significant as it would later in the season as both teams are likely to be pretty undercooked and missing players. Unless Kane stays (and if so, until that's confirmed), this is a very tough job at Spurs for Nuno. Following the drop-off since that Champions League final, the aim is to get back in the top four but that's going to be incredibly difficult even with Kane such is the level of Chelsea, Liverpool and the Manchester clubs now. I think City should still win this despite their loss at Wembley last week and poor recent record at Spurs but it could be tight since there's no De Bruyne and Foden and many of City's other players only returned to training this week. You'd think there's a good opportunity for Grealish to really nail down a place in the team over these opening few weeks..
Prediction: Tottenham 0-1 Manchester City
Best of luck to you all with your own Round 1 predictions and I hope you enjoy watching some of the action this weekend! Feel free to comment with the ones I've got wrong - I know, quite possibly the first one..