Premier League Predictions: Round 9
The final international break of 2020 has come and gone, meaning it's now time for several months of an extremely hectic domestic and European club calendar!
International breaks featuring friendlies don't tend to be too well received by football fans at the best of times, so playing some during a pandemic that seems to be rising in strength once again never seemed like a great idea. We're through it now (the international break, not the pandemic!) but it's a good idea to keep a close eye on team news over the next few days with several players needing to isolate before they can feature for their clubs again.
Round 9 looks set to be a belter with some very important fixtures that will set the tone for what is the busiest period of the season. Here are my thoughts on each game, let me know where you disagree in the comments!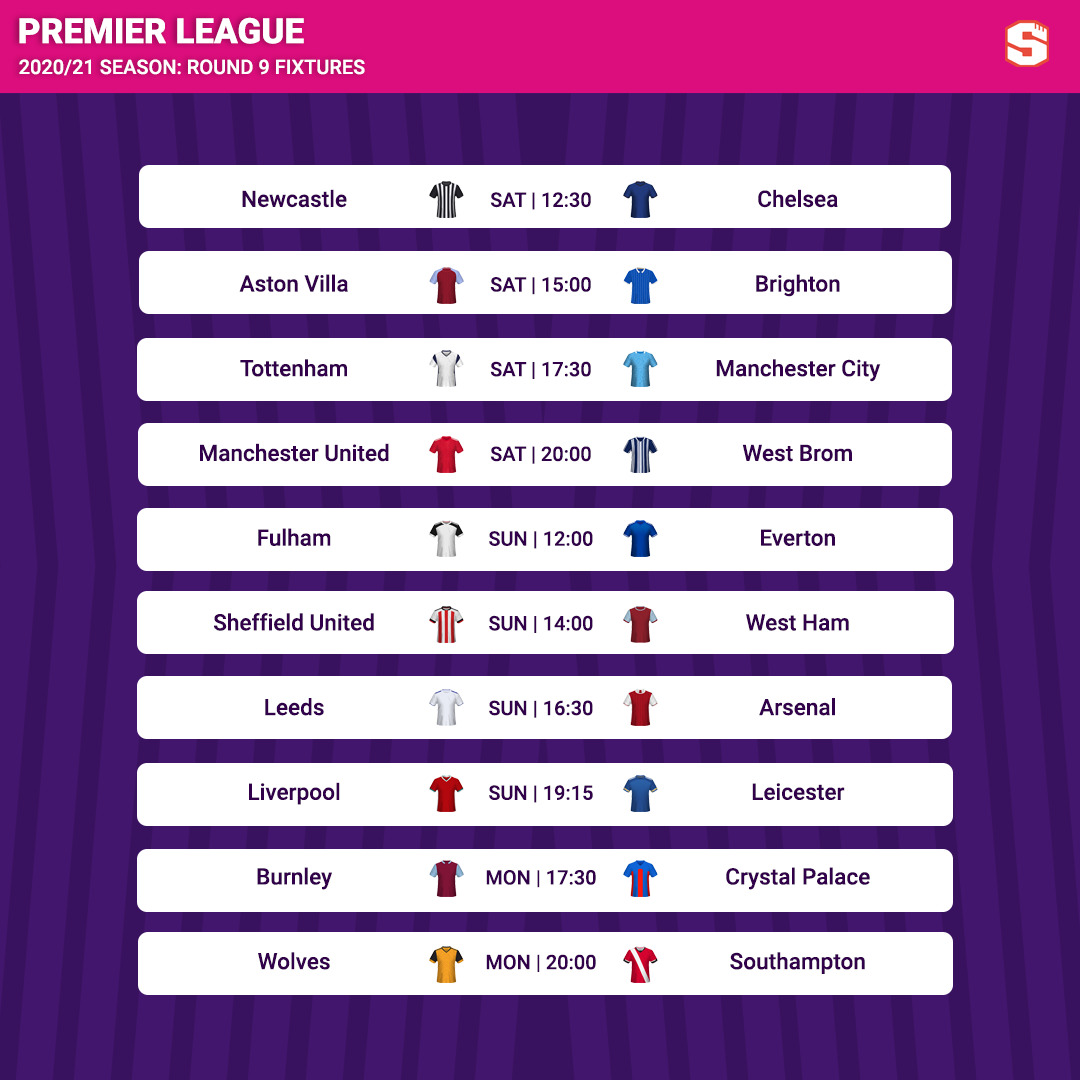 Newcastle vs. Chelsea
Chelsea were starting to look very good before the international break and are certainly favourites for this game but I am a little wary of their poor record at Newcastle so it won't be the easiest place to get going again following the break. Newcastle's form pattern suggests they're on for a draw this week but their 3-goal home defeats to both Brighton and Manchester United mean I think Chelsea will edge it. Keep an eye on whether or not Thiago Silva plays though - he had to rest after travelling back from Brazil following the last international break and Chelsea will be far less assured defensively without him.
Prediction: Newcastle 1-2 Chelsea
Aston Villa vs. Brighton
I've been reading/hearing a lot about Aston Villa throughout the international break and rightly so after their excellent display at Arsenal. I'm still slightly concerned about their consistency but their summer transfer business continues to look excellent and they should have too much for Brighton. The platform of Luiz and McGinn that allows Grealish and Barkley to play freely works really nicely and Brighton have still only won once this season.
Prediction: Aston Villa 3-1 Brighton
Tottenham vs. Manchester City
This should be interesting. Tottenham have won their last two home meetings with City who are yet to start scoring a lot of goals so far this season so I'm a little surprised to see the bookies making City fairly strong favourites. Spurs have a very difficult run of fixtures between now and Christmas that reads: City (H), Chelsea (A), Arsenal (H), Palace (A), Liverpool (A), Leicester (H). I think they'll start off well enough here and avoid defeat by getting a point but we'll then see by new year whether or not they're realistic title challengers. Also, something that needs to be said and was already known but has been emphasised during this international break - Manchester City have two
serious
talents in Phil Foden and Ferran Torres (both still just 20)!
Prediction: Tottenham 1-1 Manchester City
Manchester United vs. West Brom
Surely United can finally find a home league win here? West Brom were very unlucky to lose against Spurs before the break and will play the way that United struggle to play against at Old Trafford but I'm still struggling to pick them to get anything. Just one clean sheet for the Baggies so far this season makes it feel inevitable that Bruno Fernandes will either create a goal or score a penalty at some point and if that comes early in the game, I feel the floodgates might open a bit.
Prediction: Manchester United 3-0 West Brom
Fulham vs. Everton
Everton have lost three on the bounce after their good start but I don't think it's a coincidence that their dreadful run has taken place during the 3 games where Richarlison has been suspended. This is a game they should win anyway but now that Richarlison is back I feel more confident backing them. Fulham are improving but teams will still score goals against them and unless Mitrovic hits form soon, the Whites just aren't going to score enough to pick up points.
Prediction: Fulham 0-2 Everton
Sheffield United vs. West Ham
They've had some tough recent fixtures where it has admittedly been difficult to find any points, but I still don't think we've seen enough from Sheffield United to justify picking them to win this game. West Ham have been going quite well despite having some difficult fixtures themselves and they certainly seem the more likely to find three points, especially if Antonio is fit.
Prediction: Sheffield United 1-2 West Ham
Leeds vs. Arsenal
Difficult pick! Leeds are conceding too many goals since they lost Kalvin Phillips to injury but Arsenal are struggling to create anything and conceded a lot of goals themselves against Villa last time out. Neither side has had many draws either so I'm forcing myself to pick a winner. I'm not really confident about either team so I'm going to go for the upset and back Leeds. They've predictably been raising themselves for the matches against the big sides and as Villa showed, if you just go at this Arsenal team (which Leeds will), you can find some joy. Leeds are also there to be got at but we haven't really seen Arteta's Arsenal do that very much? I'm going to gamble on Leeds but am very aware that Aubameyang could quickly make me pay.
Prediction: Leeds 2-1 Arsenal
Liverpool vs. Leicester
This is a massive test for Liverpool. After a couple of seasons where they somehow had virtually no injuries at all, Liverpool seem to be getting them all at once with Alexander-Arnold, Salah and Gomez all set to join Fabinho and van Dijk in being unavailable. Of course, they still have plenty of quality and Leicester are proof that you can perform very well without key players - they've done excellently so far this season despite missing Pereira, Soyuncu and Ndidi. I'm going to go for a draw in this match. It would be a huge statement if either side can win this and I think Leicester have a real chance with Vardy up against a makeshift Reds defence but Liverpool haven't lost in the league at Anfield in ages so I'm not quite brave enough to pick the visitors.
Prediction: Liverpool 1-1 Leicester
Burnley vs. Crystal Palace
Unless Burnley can find a win in the next couple of weeks, there surely has to be concern about whether or not Dyche can actually it around this time or if this friction between him and the board has now grown too much. It'll be interesting to see how they go with this home game that they'll see as being winnable but I'm backing Palace. The Eagles have a surprisingly strong record against the Clarets and have the larger number of quality attacking players.
Prediction: Burnley 0-1 Crystal Palace
Wolves vs. Southampton
We finish with one that will split the Superbru community. This is really tricky - Southampton have been the better team this season but Wolves aren't easy to beat and just how much of a miss will Danny Ings be? I'm going to sit on the fence. Wolves have their main striker available in Raul Jimenez who may well find the net but it's Southampton who are more likely to play the football and create chances even without Ings.
Prediction: Wolves 1-1 Southampton
Good luck to all with your predictions in Round 9!