Premier League Predictions: Round 8
We finally had a relatively 'normal' round in Round 7 of the Premier League predictor with 4 very predictable outcomes, a few difficult ones and then a couple of notable upsets. I was pleased to have managed an Exact for one of those as Newcastle beat Everton but was never close to picking Arsenal despite Manchester United's form. It's weird that we'll have to consider them as potential winners of away games at Big Six teams again now!
Round 8 starts unusually early later today so be aware of that and make sure you've got your picks in. Here are my thoughts on each game, feel free to leave your own in the comments as usual.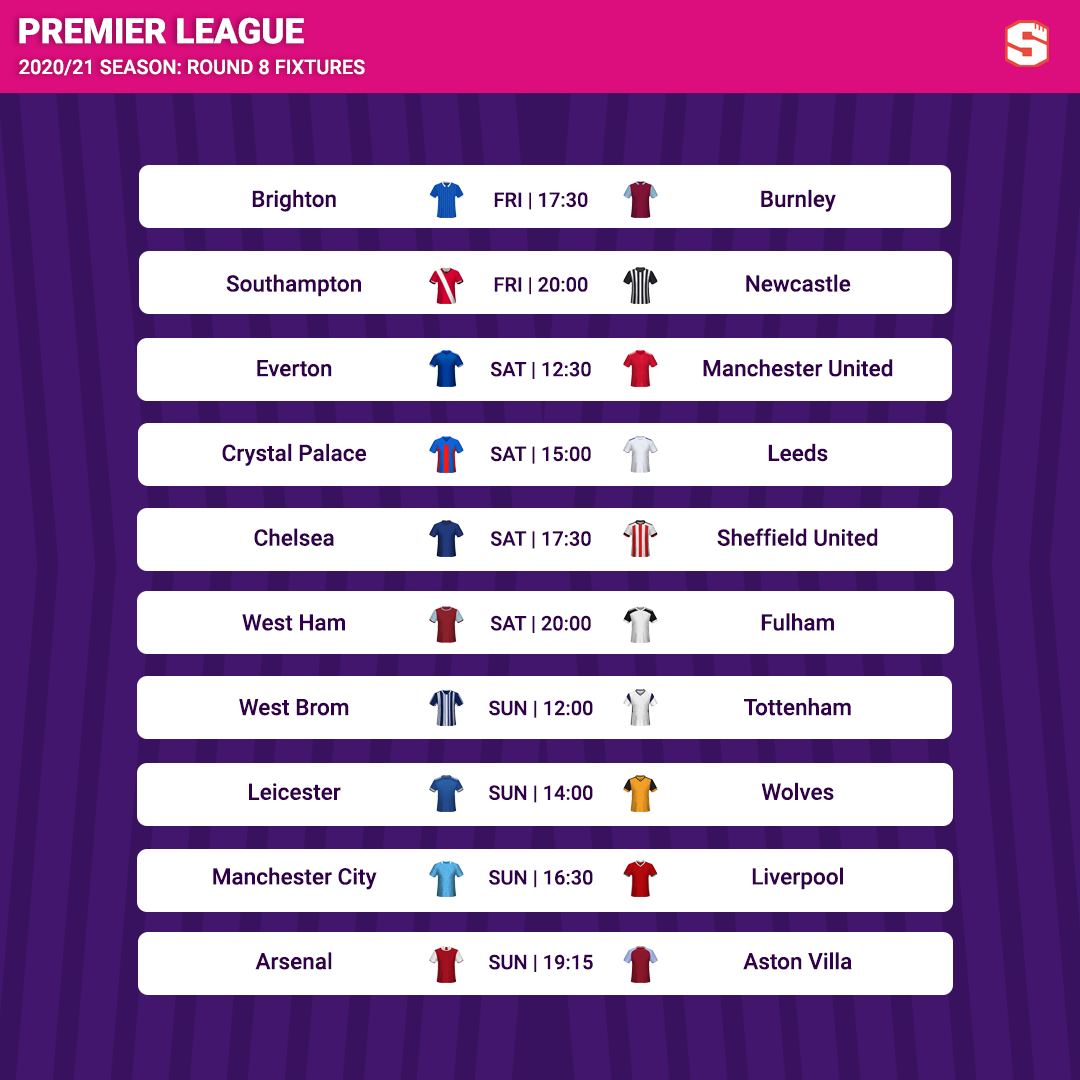 Brighton vs. Burnley
I've gone from being adamant at the start of the season that Brighton would win a lot of games, to being concerned every time I pick them to even manage a point because of how good they are at playing well but losing. There were a couple of selection surprises from Potter last week as he left Ryan and Maupay out but the Seagulls really should win this week regardless of who they select. Burnley will come good at some point but they look very toothless at the moment and Brighton will have all of the ball in this game.
Prediction: Brighton 2-1 Burnley
Southampton vs. Newcastle
A more difficult pick now that Ings is out but I think Southampton are still just about the more likely to win this. Newcastle's consistently inconsistent form pattern means they're due a loss this week though I am a little concerned by how good their recent record is against Saints. I'm going for a home win because Southampton are the better team and I'm eager to see Newcastle keep up this WLDWLD pattern throughout the entire campaign.
Prediction: Southampton 1-0 Newcastle
Everton vs. Manchester United
This should be good. It's a tough pick, but it will be fun to watch. United look in all sorts of trouble but their current pattern has been quite typical of Solskjaer - they have really good runs, then really bad runs but are also always capable of a one-off contrasting result to break up either run. Unless things really are terrible behind the scenes, I don't think they'll get blown away in this game because a lot of things actually favour them. It's away from home, Everton will have a go and they have Martial back for the counter while the hosts are missing Richarlison. With these in mind as well as the fact that Solskjaer often pulls a result out as I say, I think I'm actually closer to picking United but feel more comfortable backing a draw.
Prediction: Everton 1-1 Manchester United
Crystal Palace vs. Leeds
The loss to Leicester was a poor one for Leeds but I think they might bounce back with a win here. Leicester showed that Leeds can be quite fragile when you go at them hard early and don't retreat but Palace aren't going to do that. Leeds have been good on the road and while this should be close, I think they'll nick it.
Prediction: Crystal Palace 1-2 Leeds
Chelsea vs. Sheffield United
Though they persisted all year last season, Frank Lampard deserves credit for addressing the defensive issues in his side so swiftly and effectively this season now that he's made some signings. Chelsea are looking good at the moment - they're always likely to score goals because of the sheer amount of talent they have in their squad and Sheffield United just look nothing like the force they were last season.
Prediction: Chelsea 2-0 Sheffield United
West Ham vs. Fulham
Fulham were considerably better defensively last week as they finally managed a win but I don't think we can think too much of that yet given it was one game against WBA. I never feel comfortable picking West Ham, especially with Antonio out, but they are the logical choice this week.
Prediction: West Ham 2-1 Fulham
West Brom vs. Tottenham
I said last week that whoever lost the Fulham v WBA game would be in serious trouble and Slaven Bilic must now be wondering where he's finding a first win of the season. Tottenham have looked very strong, particularly on the road, and shouldn't have a problem here. Both Harry Kane and Son Heung-min are going to finish the season with ridiculous numbers if they keep this up.
Prediction: West Brom 0-3 Tottenham
Leicester vs. Wolves
Leicester proved me wrong again last week with a great display at Leeds so I think it's time to put some trust in them. Their home performances haven't been as good so far this season but I haven't been too impressed by Wolves and Jamie Vardy just isn't going away. Despite being 33 now, Vardy's main weapons of pace and finishing seem as deadly as ever and Brendan Rodgers' team look to be building momentum after a brief hiccup last month.
Prediction: Leicester 2-1 Wolves
Manchester City vs. Liverpool
This should be considerably tighter than the 4-0 we saw just after Liverpool won the league last season, but I still think City will win with home advantage and van Dijk missing for the Reds. Liverpool haven't won at City in the league for a while and it'll help Guardiola a lot to have Jesus back to play up front even if Aguero still isn't quite ready. Liverpool are going to have to approach this differently to how they usually would without VVD in my opinion because there's a reason why they only have 1 clean sheet this season and City could really hurt them if they play too high. You can't ever rule out a Liverpool win simply because of their attacking players, particularly after that display against Atalanta, but I think it's unlikely. I highly doubt City will freeze and play within themselves like Atalanta did.
Prediction: Manchester City 3-1 Liverpool
Arsenal vs. Aston Villa
This will be an interesting test for Arsenal because it's in this kind of game that they've sometimes looked a little short of ideas when it comes to chance creation. They deserved their win at Manchester United though and Aston Villa look to have declined quite rapidly from their level that saw them start so well. As expected, Thomas Partey has been a joy to watch since arriving and he should help Arsenal both win the ball more and then move it faster.
Prediction: Arsenal 2-0 Aston Villa
Good luck to all with your predictions in Round 8!