Premier League Predictions: Round 7
Well then, Round 6 was pretty tough wasn't it? My good work in Round 5 was erased with a shameful 2/10 last weekend. I'm annoyed at myself for not calling the United v Chelsea draw and the 1-1 between Wolves and Newcastle (it's always 1-1 in that game!) but the others I didn't see coming so I have some work to do this weekend!
It might be wise for many of us to just start picking upsets since there are so many occurring but that's always easier said than done because you always expect the tide to turn at some point. I started writing these picks with the intention of being bold but I've ended up siding with most of the favourites, however, there are plenty of tight games that don't have a clear winner and it's those that will decide the Yellow Caps this week, as always.
Here are my picks, let me know which I've got wrong in the comments section as usual!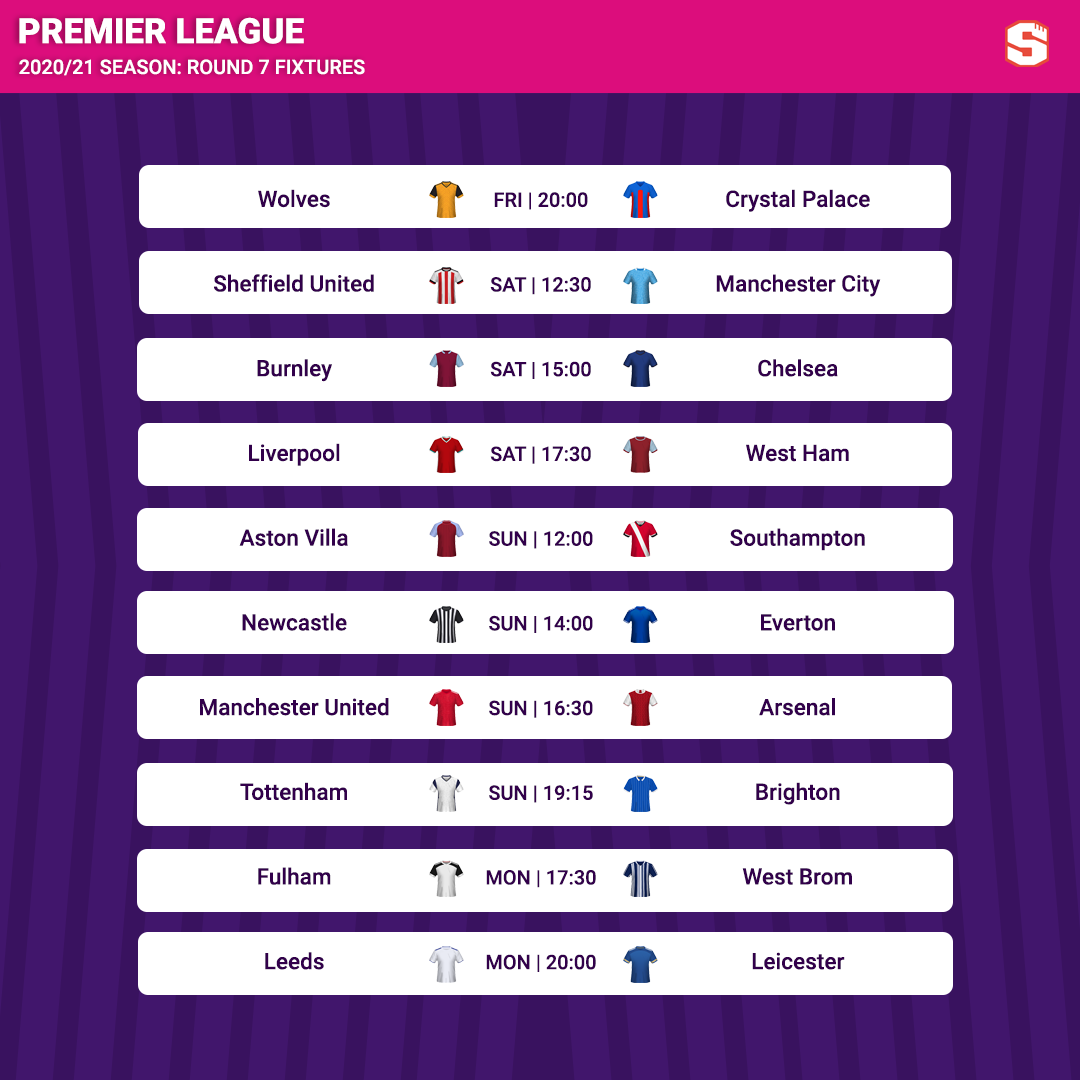 Wolves vs. Crystal Palace
I was frustrated by the equaliser Wolves conceded against Newcastle last week as it ruined my exact but it wasn't totally underserved. I'm not sure it's entirely intentional, but the Wolves game plan has essentially been to scrape through first halves and then try and win the second with the clean sheet still in tact. It's often hard to transition into being more attacking in the second half though and Palace are another team that are tough to score against if you aren't dominating the game and creating lots. Zaha is scoring goals for the Eagles and they have other players capable of finding the net as well so I'm going for a draw here.
Prediction: Wolves 1-1 Crystal Palace
Sheffield United vs. Manchester City
Sheffield United are yet to really show any kind of capability of winning this game - they dug in fairly well at Anfield after going ahead but it always felt inevitable that Liverpool would turn it around. City won at Sheffield United last season when it looked a far tougher fixture so they should be okay here.
Prediction: Sheffield United 0-2 Manchester City
Burnley vs. Chelsea
It feels like it's only a matter of time before Burnley get going because they always do. With that in mind, I thought they might just sneak it against Spurs last week after keeping things at 0-0 for so long but Tottenham did well to grab the points and now it's Chelsea's turn to make the tough trip to Turf Moor. The improvement we've seen in Frank Lampard's defence means I'm slightly more comfortable picking them to win this game. The Blues have a decent record at Burnley and should build on their UCL win in Russia on Tuesday.
Prediction: Burnley 1-3 Chelsea
Liverpool vs. West Ham
Can West Ham manage a third huge draw in a row against a top side? I think it'll be perhaps too difficult now that Antonio is reportedly out. Liverpool obviously haven't lost at Anfield in the PL for ages and they don't draw many either so it's always brave to expect them to drop points and they managed to rotate their squad quite a lot against Midtjylland.
Prediction: Liverpool 3-0 West Ham
Aston Villa vs. Sheffield United
This is a tough game for Villa to have after being dominated by Leeds last week to bring their 100% start to an end. Southampton are a really good side and like Leeds, Hasenhuttl will setup with every intention of winning this game. It's really hard to pick a winner - I'm very aware that Barkley and Grealish could just return to form immediately but I'm leaning towards Saints after their recent displays. They're very good tactically and it always feels like at least one of Ings and Adams will score in each game.
Prediction: Aston Villa 1-2 Southampton
Newcastle vs. Everton
Last week's loss at Southampton was obviously Everton's first loss of the season and though the impact of Richarlison being out is a potential factor (he'll miss this game too), I'm more concerned by both of their first-choice full-backs now being out for this game. I think Everton will be fine once they have their regular XI back available again but they don't have the depth of the top sides and with Digne suspended as well as Richarlison and Coleman likely still absent with injury, they might struggle again this week. Newcastle aren't easy to beat, as they showed at Wolves. I'm thinking this could be a draw but let's be brave and go for the full upset since there have been so many!
Prediction: Newcastle 2-1 Everton
Manchester United vs. Arsenal
United should win this game. Their performance against Leipzig was genuinely excellent and they have so many players that can hurt Arsenal. For the Gunners, the goals are drying up because Aubameyang isn't scoring and I think that's a result of them just being too predictable in attack without a more creative playmaker. They might still find a goal here because United aren't amazing defensively but I think it's brave to go against the hosts.
Prediction: Manchester United 3-1 Arsenal
Tottenham vs. Brighton
Some of the confidence Tottenham have been building will have been harmed by that embarrassing defeat to Royal Antwerp on Thursday but given Brighton's recent record against big teams they should still find a way to win. Spurs have more depth than they previously have had for those Europa League games, it's just that the likes of Bale aren't firing yet. In the Premier League, it's been a different story with Son and Kane so lethal and there's no real reason to doubt them being able to combine yet again on Sunday.
Prediction: Tottenham 2-1 Brighton
Fulham vs. West Brom
This is a huge pick as the Superbru community will be very evenly split. There's often draws between these two but both sides will be desperate to just get a first win on the board and I'm going to back West Brom. Both sides have some threatening players but I think it'll be WBA that are just that little bit more organised defensively under Bilic. The team that loses this game really will look like they're in huge trouble because this is one of the most winnable games in each team's calendar.
Prediction: Fulham 0-2 West Brom
Leeds vs. Leicester
Brendan Rodgers deserves massive credit for his setup and result at Arsenal last weekend. That was a game I felt very confident they'd lose but he improvised and managed Vardy perfectly to get the result. That said, I'm just still not quite convinced by Leicester.
This is another very tough away game for them which in some ways is good because they've been great on the road but I'm still concerned by their drop-off last season and home form in this campaign. I might have picked them if they had Ndidi and Soyuncu available but Leeds had a similarly impressive result last time out and I think they'll match Leicester as long as Bielsa has a plan to deal with Vardy. I'm going for a draw I think but was close to picking Leeds rather than the visitors.
Prediction: Leeds 1-1 Leicester
Good luck to all with your predictions in Round 7!