Premier League Predictions: Round 6
Round 5 was another very tricky one - it's been a tough season so far! - so I was pleased to have managed 5/10 including a couple of Exacts for the draws at Everton and Crystal Palace.
I'm not sure it'll get much easier this week but here's what I'll be going with to try and protect the good position I've got myself in after Round 5. Feel free to let me know how your picks compare in the comments and don't forget the opening game of the round is
tonight
when Aston Villa face Leeds!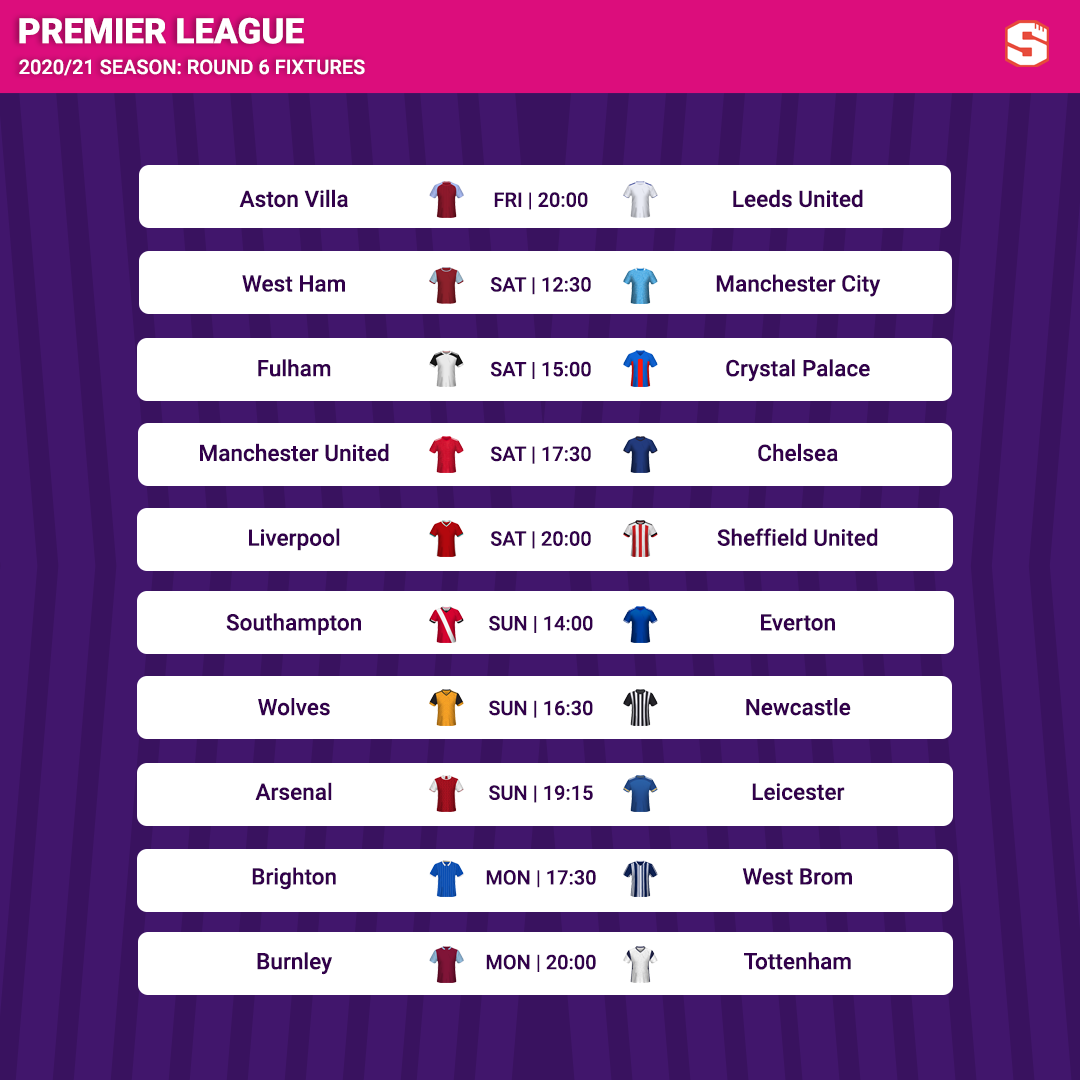 Aston Villa vs. Leeds United
This should be an entertaining game to watch first up. I'm annoyed with myself for not picking Villa at Leicester because there's no reason to doubt them at the minute and I'll be picking them to win this game. Barkley again proved himself to be very valuable with that winner at the King Power and his ability, as well as the quality of other new recruits such as Traore and Watkins, means Villa's best player Jack Grealish seems to have also gone up a level because of the talent around him. Leeds were decent in their first half against Wolves but failed to score while on top and fell away in the second half. I think they'll miss Phillips here too.
Prediction: Aston Villa 2-1 Leeds
West Ham vs. Manchester City
West Ham haven't caused Man City any problems in the Premier League for quite a while so this seems like it should be a comfortable away win despite West Ham's antics at Tottenham last weekend! Guardiola surprised us all by suddenly naming Aguero to start and him being back is a big boost for City. It seems there could be another surprise this weekend too with De Bruyne and Laporte now potentially returning for this game despite Guardiola suggesting it would be 'weeks' before they were available again a few days ago. I was impressed by the unique tactics City used to defeat Arsenal last time out and after beating Porto as well they're gaining momentum.
Prediction: West Ham 1-3 Manchester City
Fulham vs. Crystal Palace
Is it time to actually back Fulham to win? This is a tricky pick. The hosts now have players that can do damage in Loftus-Cheek and Lookman as well as Mitrovic but Crystal Palace tend to be solid as they showed last week against Brighton where they managed a point despite spending nearly all of the game on the back foot. I think all 3 potential outcomes are equally likely here so I'm going for a draw for the time being and then significant team news could sway me either way. Fulham, West Brom, Sheffield United and Burnley surely all have to win at some point and that's playing on my mind!
Prediction: Fulham 1-1 Crystal Palace
Manchester United vs. Chelsea
Another tough pick because these are two teams that remain in transition and have fairly obvious flaws but also some very dangerous attacking players. In the league, it's been Solskjaer who has had the better of Frank Lampard and I make United slight favourites with home advantage. I think both teams will set up similarly to how they did in the Champions League in midweek as United often manage good results (as they did on Tuesday!) playing on the counter attack while it makes sense for Chelsea to try and do the same given the speed of Werner/Pulisic and so that they don't play right into United's hands.
I'm tempted to go for another draw but until I see the teams, I think United might just shade this. Chelsea are improving defensively when Mendy and Thiago Silva both play but the issue remains where their full-backs often over-commit and leave space behind. If both are looking to counter one another, I think Chelsea will crack first since they're the team that are used to looking to have possession and run games more often than their opponent. That could well just play into United's hands as I say and I think the hosts may be the more disciplined side that are ready to take advantage of that.
Prediction: Manchester United 2-1 Chelsea
Liverpool vs. Sheffield United
The thought of Rhian Brewster going back to Anfield and being the first to take advantage of Liverpool's lack of both Alisson and Virgil van Dijk is definitely in my mind, but the performances of Fabinho at centre-back whenever he has played there suggest Liverpool should still be fine in this game. The Reds were pretty fortunate in Amsterdam in midweek but ultimately picked up a very impressive result and they even rotated a fair bit both with the starting lineup and in-game so could well have a fresh midfield for this clash.
Prediction: Liverpool 3-0 Sheffield United
Southampton vs. Everton
Everton's team news has made this look a far more even game as not only do they have Richarlison suspended but both Seamus Coleman and James Rodriguez are out with injury. The Toffees have been flying this season but can they and Dominic Calvert-Lewin still fire in the goals when Rodriguez and Richarlison aren't there to help provide? They should still be fine defensively with Allan and Doucoure available in front of their backline but I think I'm going for a draw. Saints managed a good point at Chelsea last time out and have goals in them.
Prediction: Southampton 1-1 Everton
Wolves vs. Newcastle
There's been a lot of draws between these two in recent meetings and we could easily see another one on Sunday as Wolves aren't yet at the level we got used to them playing at last season. I still think they'll get stronger as the season goes on without any European football and they should narrowly win this but Wolves aren't too enjoyable to watch at the moment and aren't creating that many chances. I'm going to cautiously back them for a third consecutive 1-0 win.
Prediction: Wolves 1-0 Newcastle
Arsenal vs. Leicester
After two home defeats, it's not easy to see Leicester winning at Arsenal. Vardy should be back and he often scores against Arsenal but I'm still going for a home win. Mikel Arteta's side haven't been creating too many attacking opportunities in recent games but they should do now that they're back at home and Thomas Partey will add so much to their midfield.
Prediction: Arsenal 2-1 Leicester
Brighton vs. West Brom
Brighton should win this one. They tend to control many of the games they play in and Palace last week was no exception where the point they eventually picked up was the least that they deserved. They'll dominate possession in this game and should score goals against West Brom but it wouldn't surprise me if the Baggies manage a goal of their own on the counter, particularly since Dunk will be suspended.
Prediction: Brighton 3-1 West Brom
Burnley vs. Tottenham
Tottenham have struggled with their recent trips to Burnley but it seems likely they'll manage a win this time around. The Clarets just haven't got going yet and Spurs have been looking pretty deadly going forward. Like most teams, there's still question marks over Tottenham defensively but I think they'll power through this match. The fact they've finally signed a back-up striker will make such a difference because the key thing about their Europa League win last night was that they were able to rest their two best players in Kane and Son.
Prediction: Burnley 0-2 Tottenham
Good luck to all with your predictions in Round 6!