Premier League Predictions: Round 5
After an average predictor performance in Round 4 before the international break, I'm excited for the PL to return this weekend and get back to making some picks! It looks a really good round too with some very important games for teams at both ends of the table.
We're also about to have the Champions League to enjoy again alongside the Premier League as the European action returns from Tuesday onwards. If you haven't already, make sure you get involved in our
predictor game
and
odds-based fantasy game
for that - I think they'll be even better than usual this year with with the group stage rounds coming weekly either side of the November international break.
Here are my thoughts on each match in Round 5 of the Premier League.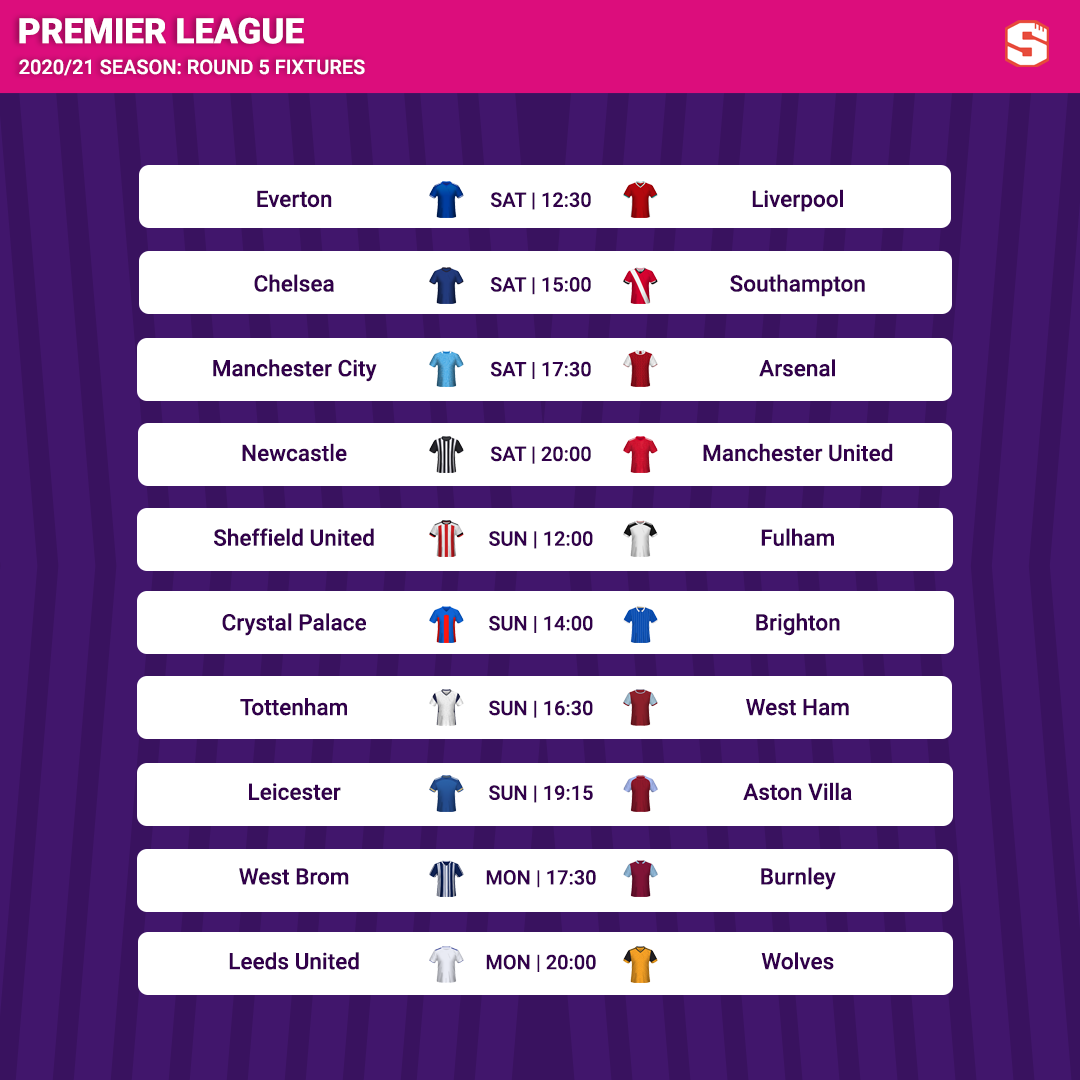 Everton vs. Liverpool
What a game to start with. Everton have obviously been great so far as their place on the table shows while Liverpool suddenly look not just beatable (unlike last season) but incredibly fragile defensively. That said, you can't ignore the record the Reds have over their local rivals and they are still favourites. We've seen 3 0-0's in a row at Goodison between these two but that's because Everton usually just dig in for the point whereas this time they'll surely have a go? I can see this being another draw but with goals this time.
Prediction: Everton 2-2 Liverpool
Chelsea vs. Southampton
Mendy and Thiago Silva being out for Chelsea is a blow considering Frank Lampard will have wanted to finally build upon a more consistent backline after that clean sheet vs. Palace but the Blues should still have enough to win this. I think Southampton will score but with Chelsea's attacking talent plus Pulisic and Ziyech now being available, you'd think Chelsea will score a few too.
Prediction: Chelsea 3-1 Southampton
Manchester City vs. Arsenal
The lack of pre-season and injuries to big players has meant City are really struggling to get going this season and now they'll be without Kevin De Bruyne too. I still think they should win this game based on their PL record vs. Arsenal but I am a little hesitant with their shaky start coming at the same time as Arsenal looking better prepared to win a game like this than they have been in years. The Liverpool game suggests Arteta's team still aren't quite there yet but I'm not as convinced as I normally would be that City will win this game.
Prediction: Manchester City 2-1 Arsenal
Newcastle vs. Manchester United
Where do you even start on what happened to United before the international break? Their win against Brighton was very fortunate as well meaning they could very easily have lost all 3 games before the international break and I'm certainly not confident they can win this match. Newcastle look fairly good but you're always very aware that they can suddenly have a result like the 0-3 loss to Brighton. I don't think Maguire will play for United but would like to think van de Beek will finally get a start. If he does, and the team looks well balanced despite Martial and Cavani being unavailable then I might be swayed in to going 1-2 but for now I'm going for a draw.
Prediction: Newcastle 1-1 Manchester United
Sheffield United vs. Fulham
The fans of these two teams will just be praying for a win, otherwise it'll start feeling like they're never going to find one! Both have looked pretty poor so far this season with Sheffield United quite toothless and Fulham a mess at the back. There are some interesting signings to look out for on either side such as Brewster and Loftus-Cheek but I just feel Sheffield United are far more likely to win this than Fulham with home advantage.
Prediction: Sheffield United 2-0 Fulham
Crystal Palace vs. Brighton
This one looks like a draw to me. Palace and Brighton are of course pretty fierce rivals so there's lots on the line and I think they're at a pretty similar level on the pitch. I make Palace the more likely to win purely because Brighton have become incredibly good at losing while playing well but those good performances have got to start equalling points soon and they should be good enough to get one at Selhurst.
Prediction: Crystal Palace 1-1 Brighton
Tottenham vs. West Ham
I've had the entire international break, but I still can't quite work out how West Ham have suddenly managed to turn it on and pull off the last two results that they have. They've always had potential to do damage but 7 goals across consecutive games against Wolves and Leicester without conceding!? I think most Hammers fans will be as shocked as I am but you have to still go Tottenham here with Bale potentially ready to start playing alongside Kane and Son who have been excellent. If West Ham win this, it's time for me to take them more seriously in these articles (but still not pick them because they have City and Liverpool next).
Prediction: Tottenham 3-1 West Ham
Leicester vs. Aston Villa
This is a very tough pick. I'm going with Leicester on the basis of their recent record against Villa but it feels very unfair to go against the visitors after the start that they've had. I guess I'm just working on the basis it's almost impossible to improve upon beating Liverpool 7-2 so there must be some kind of drop but I'd be delighted to see them keep this kind of form up because they've built a very entertaining XI with their recent signings.
Prediction: Leicester 2-1 Aston Villa
West Brom vs. Burnley
Just like Sheffield United vs. Fulham, there's a lot riding on this as both sides look for their first win. It wouldn't really help either team but I'm currently thinking I'll go for a draw because I'm honestly struggling to call this. It looks as if West Brom will now have an available striker after bringing Karlan Grant in from Huddersfield but Ashley Barnes should now be fully fit to partner Chris Wood and we all know they can be dangerous. I'm sitting on the fence for now but may have changed my mind by Monday depending on how my round is going!
Prediction: West Brom 1-1 Burnley
Leeds vs. Wolves
It seems like lots are tipping Leeds to win this which is fair enough considering their start and impressive result vs. Man City but I'm keeping the faith with Wolves who I still believe are a very strong side. Their result against West Ham was obviously concerning but I expect Nuno and his team to get on track in these next few games and a win at Elland Road would set themselves up nicely ahead of a favourable run of fixtures.
Prediction: Leeds 0-2 Wolves
Good luck to all with your predictions in Round 5!