Premier League Predictions: Round 4
I started last week's article by saying how fun Round 2 was but that's probably not the way I'd describe Round 3. For Superbru players, Round 3 was just one painful result after another - FOUR results picked by less than 10%!
I was pretty frustrated right from the off to be honest as my gamble pick - Brighton getting a draw against Man Utd - was killed by a winning penalty that happened after the final whistle. Yes, it was a penalty and yes, I think it was right to give it but from a Superbru perspective that was a pretty clear sign to me that things were going to be a little bumpy!
A big thanks and congratulations to Diogo Jota who scored a goal on his Liverpool league debut to hand me an Exact in the final game of the round and ensure that I managed a fairly respectable 6 points all things considered since the only 2 games I got right were Exacts.
On to Round 4 then and we have a busy fixture list across Saturday and Sunday because it's then the international break next week. Here are my thoughts on each match, leave your own in the comments!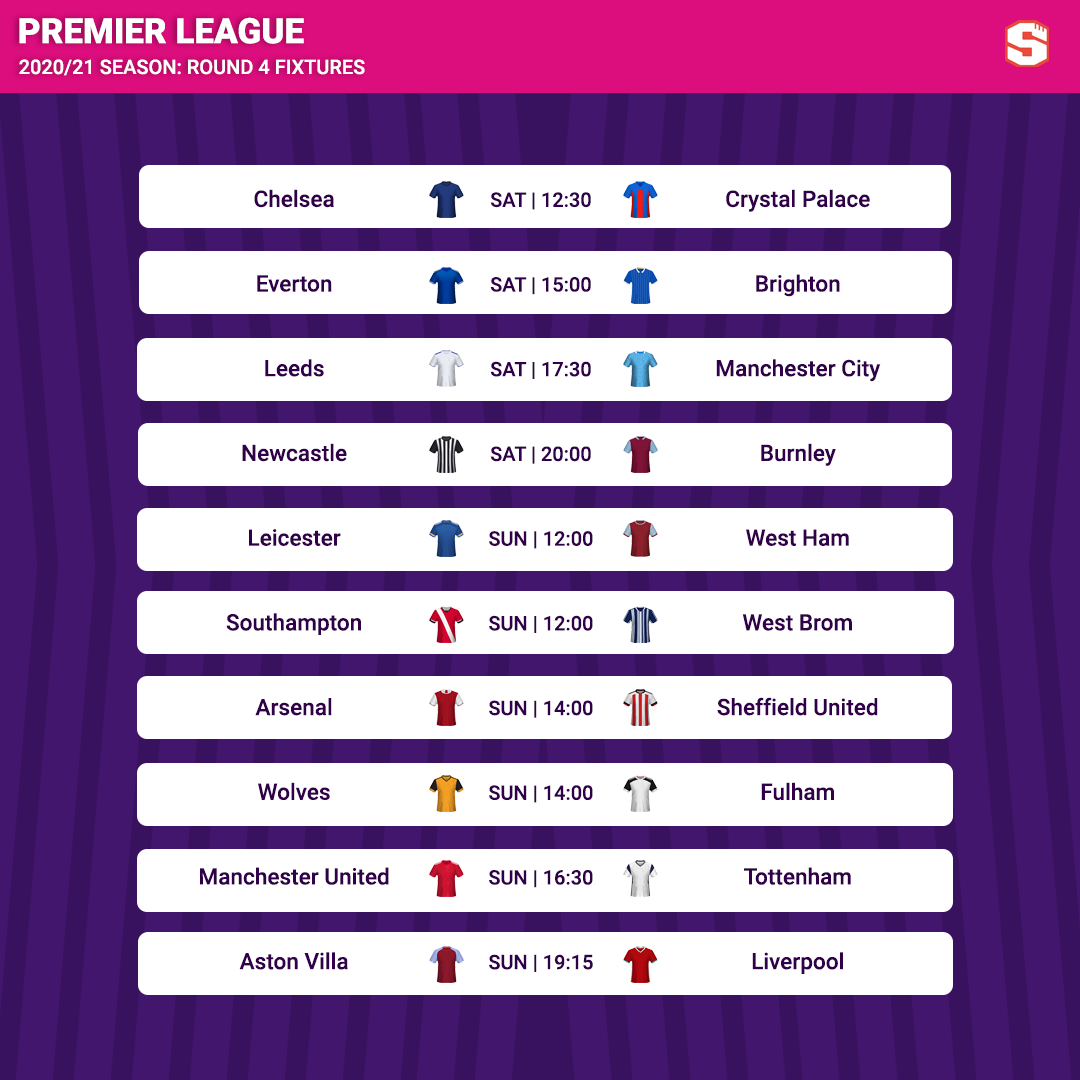 Chelsea vs. Crystal Palace
Chelsea need a win after their recent results and should just about get one but this won't be easy against Palace who have started nicely. Palace were one of a few teams who suffered very harsh handball penalty decisions last week (hopefully there are some changes in how those are enforced from this week onwards) but they played OK against Everton just as they did in their opening two games and Chelsea will have to be right at it if they're to win this match. They played well in one half against West Brom and in one half against Spurs in midweek so if they can put those together they'll be looking OK and Christian Pulisic being ready for a late appearance off the bench is a boost.
Prediction: Chelsea 2-1 Crystal Palace
Everton vs. Brighton
Everton have had an unbelievable start to the season and it's great to see Dominic Calvert-Lewin has deservedly been given a place in the England squad. I'm interested to see how they do in this match for two reasons - 1. Brighton are playing nicely and 2. Allan is injured and he's the kind of midfielder who just brings so much and can be easy to become reliant on because of how much ground he covers (a little like N'Golo Kante). The Toffees should be fine regardless because they still have a lot of attacking quality and I think Doucoure could perhaps play deeper to compensate but Brighton should manage at least a goal.
Prediction: Everton 3-1 Brighton
Leeds vs. Manchester City
Like most, I'm looking forward to watching this and it's hard to picture a lack of goals. It'll be interesting to see if Ruben Dias is thrown straight in for City after arriving from Benfica but even just Laporte being fit to start now is enough to dramatically improve the backline they had vs. Leicester. I think City will win but there's every chance Leeds make it difficult for them as they did vs. Liverpool on the opening day. Harrison obviously can't play for Leeds as he's a City player and I think Guardiola's side will score goals despite both of their main strikers being injured.
Prediction: Leeds 1-3 Manchester City
Newcastle vs. Burnley
In contrast, there might not be too many goals in this one. I think I'm going with Newcastle but I'm pretty hesitant after they got done 0-3 by Brighton in their only home game so far. Saint-Maximin might be back which would definitely push me towards picking them but if he's still missing and Barnes starts alongside Wood for Burnley then I might go for a draw.
Prediction: Newcastle 1-0 Burnley
Leicester vs. West Ham
I definitely didn't see West Ham beating Wolves 4-0 last week but I still think Leicester should be OK here. Vardy is looking incredibly sharp, they've brought in some good players in the last few weeks and Maddison looks like he should be ready to start now. West Ham always lack consistency so you certainly can't start picking them based on just one result.
Prediction: Leicester 2-0 West Ham
Southampton vs. West Brom
I'm playing safe here and backing Southampton but it'll be interesting to see how West Brom respond after that good but also very disappointing point against Chelsea. Conor Gallagher could feature for the Baggies for the first time and he's a real talent that could take advantage of the space between Southampton's midfield and defence (like Matheus Pereira can), but Saints remain the stronger side and you'd expect Ings to score at least once.
Prediction: Southampton 2-1 West Brom
Arsenal vs. Sheffield United
Arsenal weren't particularly good at Liverpool in Round 3 I didn't think but have since won a League Cup tie on penalties at Anfield so their momentum and confidence under Arteta remains strong as far as I'm concerned and I'd be surprised to see anything other than a home win in this game. It sounds like Sheffield United will be bringing Rhian Brewster in to help address their lack of goals but that remains a problem for now and they'll struggle to keep Arsenal out at the other end.
Prediction: Arsenal 2-0 Sheffield United
Wolves vs. Fulham
Wolves need a win in this round so that they can forget about that West Ham scoreline as soon as possible and luckily for them, they've got Fulham at home. This should be where Nuno's side get back on track and given how many goals Fulham are conceding in each game at the moment, I'd be very excited for this match if I was Raul Jimenez.
Prediction: Wolves 3-0 Fulham
Manchester United vs. Tottenham
This one is hard to call. Tottenham have already played Tuesday and Thursday but will fatigue be an issue for a game as big as this and this early in the season? Spurs seem to be in a pretty good place morale wise but the most I can see them getting from this game is a draw, particularly since Son is a huge doubt. United are back to looking quite good in front of goal and Bruno Fernandes is sharpening up again so I'm going for a home win.
Prediction: Manchester United 2-1 Tottenham
Aston Villa vs. Liverpool
You have to go Liverpool to win but I want to say that I'm a big fan of the business Aston Villa are doing in this window and I think they'll comfortably avoid being anywhere near the relegation zone this season which is a big improvement on last year. Barkley arriving on loan is a great deal, just as Martinez arriving to play in goal was. There's a small chance of an upset here but Liverpool have started really well and both Mane and Salah look very sharp.
Prediction: Aston Villa 1-3 Liverpool
Good luck to all with your predictions in Round 4!