Premier League Predictions: Round 38
Right then, we've made it to the final hurdle, guys! After managing 7/10 in Round 37 (I missed the 3 results picked by fewer than 5%), it's time for one final shot at moving up pool leaderboards before the Premier League is done and dusted for another season.
Of course, we won't have to go very long without football this summer as following next weekend's Champions League final, the postponed Euros begin on June 11th. If you haven't already, make sure you've joined our
Euro 2020 predictor game
and
Euros Odds-based fantasy game
once you've made your final PL picks as they should be a lot of fun next month!
On to this final round then and I'm wary that there's often a couple of big scorelines on the final day with the pressure off and a few teams on the beach. That's definitely something to keep in mind when making your score predictions and your Odds-based fantasy picks - with 10 games all being played at once there are a lot of different options in this final OBF round!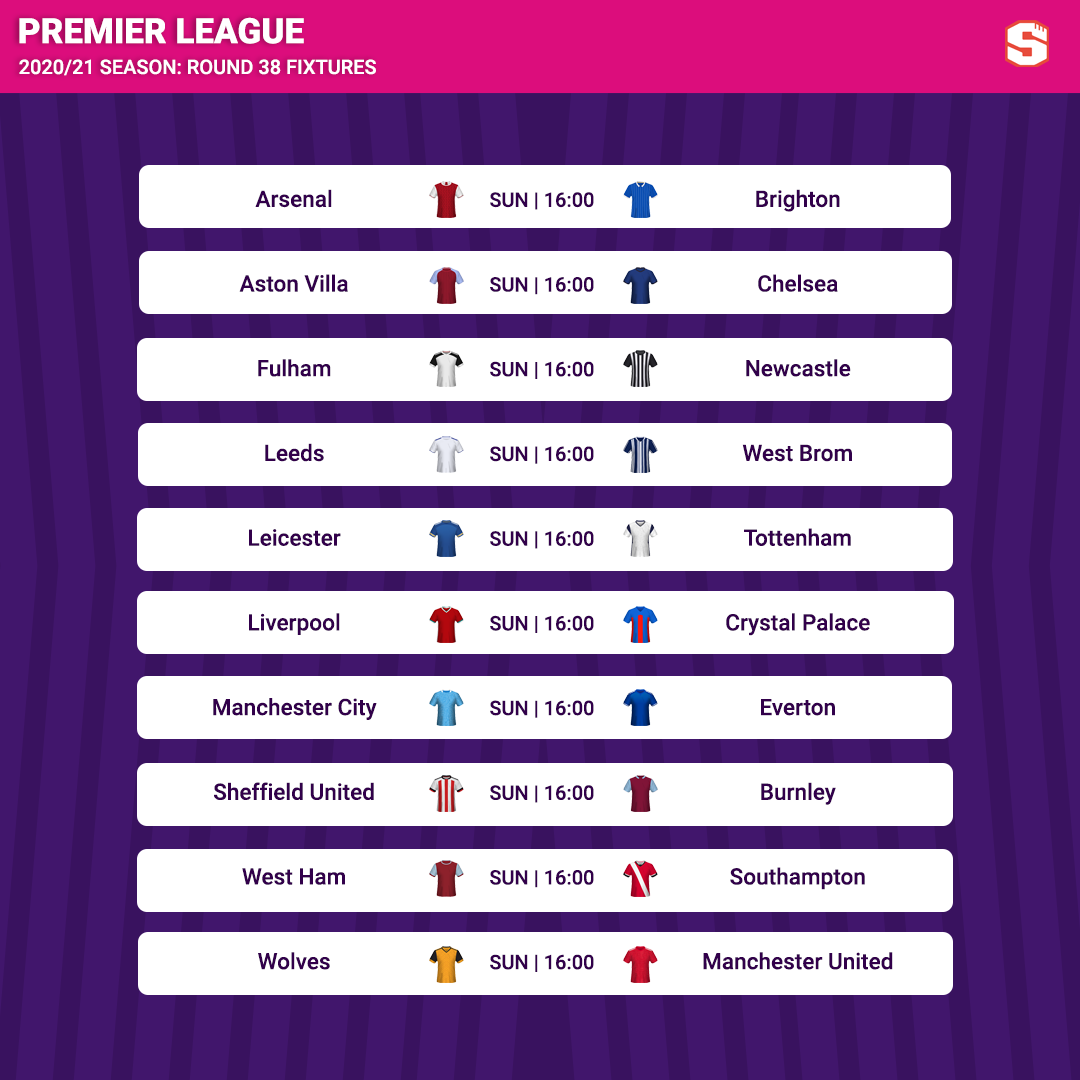 Arsenal vs. Brighton
Brighton will obviously be very pleased with their first PL win over Manchester City last time out but I think Arsenal should be OK here after winning that awkward Palace fixture. It's pretty crazy that the Gunners still have any hope of qualifying for some European football (though I know many fans would rather nothing than the new Conference league) and Arteta sounds as if he's really pushing his team to finish as strongly as possible.
Prediction: Arsenal 2-1 Brighton
Aston Villa vs. Chelsea
Aston Villa have just shown against Tottenham that they're capable of beating teams that have more to play for than themselves but this is a tougher fixture for them and I think Chelsea will win simply because they need to in order to guarantee their top four place. The Blues managed a huge victory against Leicester last time out and you could see what it meant to them so I'd be very surprised to see them slip up here.
Prediction: Aston Villa 0-2 Chelsea
Fulham vs. Newcastle
The first fixture of this final round where both teams are officially 'on the beach' with nothing to play for other than slightly more prize money based on league position in Newcastle's case. I'm not sure that will be too much of a motivating factor for the Newcastle players but they've been looking pretty good lately and it's their form that has led me to back them again, especially when you compare it with Fulham's. Joe Willock remains on fire and I expect both teams will look to have a go since there's no reason not to do so.
Prediction: Fulham 1-3 Newcastle
Leeds vs. West Brom
Based on Leeds' recent form, West Brom need to be careful here if they want to avoid an embarrassing scoreline since as I say, we often see some high scoring games on the final day. It wasn't too surprising to see Allardyce confirm he won't be staying at WBA next season in the Championship and this now looks like a real nothing game for the Baggies - I'd be very surprised to see them get anything from it.
Prediction: Leeds 5-1 West Brom
Leicester vs. Tottenham
A far more significant match! Leicester need to win and then pray that either Chelsea or Liverpool slip up in order to get Champions League football next season, while Tottenham need a win to stand a chance of getting Europa League football next season. I think you have to make Leicester fairly strong favourites. The loss at Stamford Bridge will have hurt the Foxes but they've still got a small chance of top four with a win here and Spurs have recently been beaten by two teams with nothing to play for. Things looked pretty bleak for Tottenham in their one home game with fans in midweek and I think we could see similar here before the attention on Harry Kane's future intensifies further.
Prediction: Leicester 2-1 Tottenham
Liverpool vs. Crystal Palace
Fair play to Liverpool, from where they were after that horrendous run of results at Anfield, they've done incredibly well to get back in the top four and surely after doing so we won't now see them bottle it at the final hurdle? I think they'll win but Palace aren't the ideal team to be playing in this situation as they've managed plenty of famous victories away at big six clubs. If, like me, you're in need of some big points in Odds-based fantasy though to try and finish the season well, Andros Townsend looks like an option if selected in my opinion as he often likes to turn up in games like this and it's not impossible that Palace cause a huge shock on the final day. I just don't really see it enough to change my predictor pick away from Liverpool now that their form has settled so much and they look far more assured defensively.
Prediction: Liverpool 3-0 Crystal Palace
Manchester City vs. Everton
I'm not sure how motivated Everton are by the potential qualification for the new Europa Conference League tournament but that is at least something to play for in this match and they've been going nicely away from home. Can they beat City on their title presentation day though? I doubt it. There should be a bright atmosphere at the Etihad with some fans back and the trophy being handed to Pep Guardiola's team at full-time, plus there will of course be a big farewell for Sergio Aguero who has been truly excellent throughout his time at the club. I'm not sure if Aguero is fit enough to play some minutes in this game but I'm sure he'll appear if he's even close to being ready and if he does, you wouldn't rule out one final goal would you?
Prediction: Manchester City 2-1 Everton
Sheffield United vs. Burnley
Pretty difficult pick, this one. Sheffield United have found a couple of wins despite being relegated and will have their fans back but they still just look so short of goals? Burnley haven't been great but have been far better away than they have at home and I think they're more likely to score goals than the hosts. It's hard to imagine either of these teams being involved in a high-scoring final day thriller but let's show some belief in them and go for both teams to score in a 1-2.
Prediction: Sheffield United 1-2 Burnley
West Ham vs. Southampton
West Ham are of course the team with more to play for in this match and I'd be surprised to see them slip up. The Hammers have got a decent record against Southampton in recent meetings and David Moyes will fully deserve the Europa League football he'll have provided West Ham with if they manage at least a point in this game. I'm backing them to score a few as well and then will be really interested to see if West Ham can match or perhaps even improve on this campaign next season.
Prediction: West Ham 3-1 Southampton
Wolves vs. Manchester United
We saw Manchester United held to a draw by Fulham in Round 37 and I think we could see a similar story in this game since United's focus will rightly be on their Europa League final on Wednesday. Injury concerns will no doubt have already been on Ole Gunnar Solskjaer's mind in these final rounds but if they weren't, then the sight of Harry Maguire hobbling around on crutches over the past week will certainly have an influence on Solskjaer's lineup for this match. Certain players like Bruno Fernandes seem to just play every match anyway but I think we'll see a slightly weakened lineup in this game and then those who are playing are likely to be a few % below their top level as they understandably look to avoid injury before Wednesday's big one.
Prediction: Wolves 1-1 Manchester United
A big thanks to those of you that have taken the time to read these throughout this season! It's been a very hectic one. Good luck with your final Premier League picks and we'll be back with plenty of Euros preview content for you both before and throughout the tournament this summer.