Premier League Predictions: Round 37
After 9 months of almost daily football, we've reached the final week of the Premier League season! With the title wrapped up and relegation confirmed, all eyes are on the European qualification places and tonight's clash between Chelsea and Leicester at Stamford Bridge is absolutely huge.
Even more importantly, there'll be some home fans at Premier League games for these final two rounds of the season. Each PL team will have a home fixture with 10,000 fans in attendance this week which is of course great news and will make things massively more enjoyable to watch as those of us that watched Saturday's FA Cup final will know.
After an average 5/8 in Round 36, I'm hoping for some Exacts in this round to finish the season well! Here are my picks. Feel free to leave your own in the comments.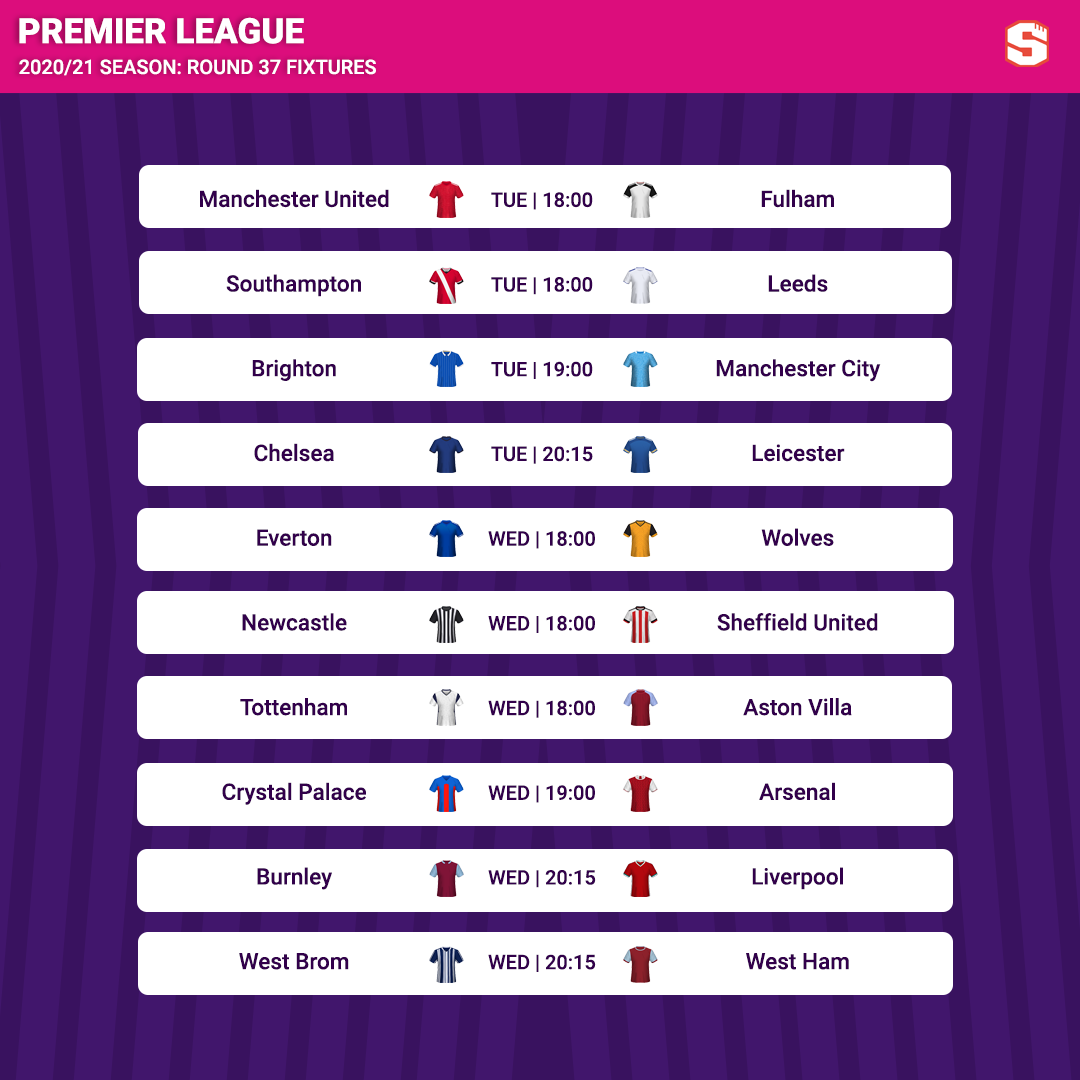 Manchester United vs. Fulham
It'll be quite interesting to see what the atmosphere is like for this fixture as Manchester United have to go from setting up prison-like barriers around Old Trafford for their last game against Liverpool, to inviting 10,000 people in for this one. In terms of what will happen on the pitch though, I don't think there'll be many picking against United. Their recent back-to-back defeats are quite easy to explain by their hectic schedule and the absence of Harry Maguire and now that they've had some rest, I think they'll have more than enough to beat relegated Fulham even without their captain.
Prediction: Manchester United 3-1 Fulham
Southampton vs. Leeds
After their recent wins and the home advantage that will be gained from having fans back, I'm tempted to pick Saints here but it's very hard to go against Leeds given how well Bielsa's team are finishing this season. Based on recent results, I think we can expect some goals. Bielsa is resting a couple of players ahead of the Euros but there's plenty of power in attack with Raphinha and Rodrigo both back.
Prediction: Southampton 2-3 Leeds
Brighton vs. Manchester City
It'd be a big surprise to see anything other than City continuing their perfect PL record against Brighton here. After a fun selection against Newcastle saw Scott Carson included in the team, Pep Guardiola has suggested these final 2 league games will serve as preparation for the Champions League final so I expect a close to full strength XI.
Prediction: Brighton 0-2 Manchester City
Chelsea vs. Leicester
A massive game here which isn't as important as the FA Cup final that Leicester have just won in the eyes of most fans, but will considered to be more important by those in charge of each club's finances since Champions League qualification is on the line. I picked Chelsea for a 1-0 win in the final but Leicester deserved their victory and now it's difficult to know what to pick for this game as I'm thinking of going 1-0 Chelsea again!
The Blues' success under Tuchel has been built on not conceding and controlling a high percentage of the game with possession and then aggressive pressing off the ball. The trouble is, with the exception of the Manchester City game, when the opponent scores first and control of the game is therefore lost, Chelsea look in quite a lot of trouble and pretty uninventive. So what to pick here? I still think it's more likely that Chelsea score first and then go on to win but Leicester will feel they have a real chance of ruining Chelsea's domestic season if they can find a breakthrough via Vardy or Iheanacho on the counter (or another Tielemans worldie).
Prediction: Chelsea 1-0 Leicester
Everton vs. Wolves
I was saying how bad Everton have been at home in my last predictions piece but I still can't believe they lost to Sheffield United. Fans are rightly fuming after that one but will their presence for this match be the thing that can finally see the Toffees improve at Goodison? It's really hard to tell. I feel a bit silly picking them again but it definitely seems like a lot of that Everton squad are the type that will start performing again once there's a crowd there to get on their backs if and when there's low effort/quality.
Prediction: Everton 2-1 Wolves
Newcastle vs. Sheffield United
Newcastle have somehow scored 7 goals in their last 2 games and the most recent match was against Man City without Callum Wilson! Joe Willock has been impressing for the Magpies and they certainly appear the team to pick here. Sheffield United deserve credit for their win at Everton despite their poor league position but I think that result probably said more about the Toffees.
Prediction: Newcastle 2-0 Sheffield United
Crystal Palace vs. Arsenal
Arsenal have had plenty of time to rest and prepare following their impressive result at Chelsea and I think they should sneak a win in this game. Palace obviously managed a good result against Villa at the weekend and I feel they'll make life difficult for Liverpool in the final game of the season on Sunday but Arsenal tend to perform fairly well when there's no pressure on them which is the case here. We've seen lots of draws in recent meetings between these two so I've thought about picking another but the visitors have a had a full week to prepare as I say.
Prediction: Crystal Palace 1-2 Arsenal
Tottenham vs. Aston Villa
It's been interesting to see the Harry Kane news come out ahead of this game with fans! Spurs obviously still have plenty to play for as well as they'll be very eager to keep their place in the top six. After such a good start to the season, Villa are falling away now - losing that Palace game from 1-2 up was a really poor result. So I think Spurs should win and as for Kane - surely it's Manchester City or nothing? He'll want to stay in the Premier League and I think City are the only club he'll consider that can afford him.
Prediction: Tottenham 2-0 Aston Villa
Burnley vs. Liverpool
It was of course Burnley that triggered Liverpool's horrendous nosedive in form at Anfield this season but we've seen the Clarets really struggle at Turf Moor. Leeds' recent 0-4 win at Burnley suggests this should be straightforward for Liverpool though they have been making life tough for themselves - that said, the nerves of being held by West Brom were surely worth it for Liverpool fans when they eventually got to see Alisson head home a winner! I think they'll win this one too and perhaps won't need their goalkeeper to score this time.
Prediction: Burnley 1-3 Liverpool
West Brom vs. West Ham
An awkward one to finish with. West Ham's unlikely Champions League dream is over but they still have a real chance of UEL qualification whereas West Brom are of course already down. The Baggies will have fans back though and their recent performance against Liverpool certainly provides a few doubts about whether or not West Ham can get the job done. I think West Ham will sneak it but Grady Diangana is a player to look out for if selected for WBA as he'll have a point to prove against his former side.
Prediction: West Brom 1-2 West Ham
Best of luck with your own picks!