Premier League Predictions: Round 36
The less said about Round 35, the better I think! I was particularly frustrated by the Tuesday night results as I should have changed my Saints draw pick to a win as I said I would once Ings was starting, and then I should have also been brave enough to switch to Leicester once we saw the United lineup.
Aside from those two, we did of course have some real upsets including Arsenal's win at Chelsea, after Chelsea had won at City, with both of those results picked by fewer than 10%. The last few rounds of each PL season tend to be very tricky to pick as it's hard to gauge which teams will perform best in games where there's little to play for. Here are my picks for this weekend's 8-game round.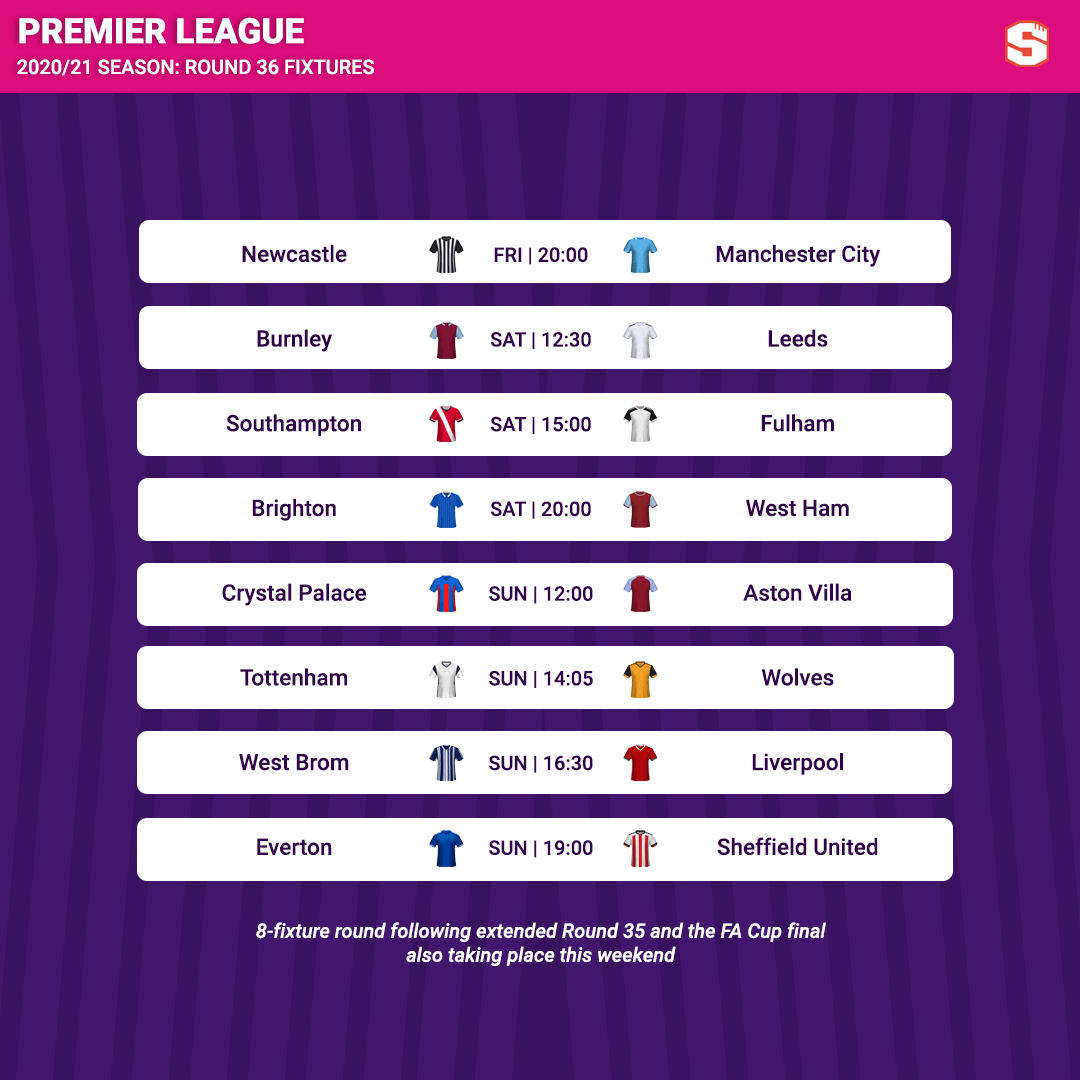 Newcastle vs. Manchester City
First of all, congratulations to Manchester City. They fully deserve the title after that ridiculous run of straight wins at the start of this calendar year. I, like many, had real doubts about whether or not Guardiola could win the league with this team after last season and their early results in this campaign including that home defeat against Leicester, but they've been excellent ever since and remarkably consistent given the schedule. Newcastle really surprised me with that victory at Leicester last week but this is obviously even tougher on paper and without Callum Wilson, I'd be surprised to see them win despite City's title celebrations this week.
Prediction: Newcastle 0-2 Manchester City
Burnley vs. Leeds
Contrasting the general trend of Bielsa seasons, Leeds are actually finishing this campaign really well rather than falling away and though Burnley have been quite impressive on the road, their current struggles at Turf Moor make me feel like an away win is the way to go. Leeds' 3-1 win over Spurs last time out was impressive and definitely suggests they can cause Burnley some problems.
Prediction: Burnley 1-2 Leeds
Southampton vs. Fulham
The return of Ings for Southampton's game against Palace, plus the knowledge that they were safe from relegation, seemed to free Southampton from their awful 2021 form and they looked sharp in that win. Given that display, they definitely look like the team to pick against Fulham who were of course relegated after their loss to Burnley.
Prediction: Southampton 3-0 Fulham
Brighton vs. West Ham
Historic results suggests this one will be a draw and I can certainly see that happening, but with so much still to play for if you're West Ham, they could well sneak it. The Hammers have 3 winnable games remaining this season and if they manage 9 points, they'll have guaranteed themselves Europa League football with an outside chance of Champions League. Graham Potter is right when he says Brighton deserve more points than they have this season and they could well find some wins now that the pressure is off but I think an away win is the safer pick.
Prediction: Brighton 1-2 West Ham
Crystal Palace vs. Aston Villa
I thought Palace might be a little dangerous once safe because of the number of players they have with something to prove in attack ahead of next season such as Batshuayi and Mateta but given how little they've played, it's understandable that they're perhaps just rusty instead. We saw Grealish finally return for Villa last night and with Watkins also set to return from suspension for this one, Villa look the stronger team.
Prediction: Crystal Palace 1-3 Aston Villa
Tottenham vs. Wolves
Wolves actually tend to do quite well at Spurs and after Tottenham's loss at Leeds there is reason for slight hesitation about this game but you'd still expect a home win. Wolves have looked very blunt for much of this season in comparison to previous campaigns. It's the hosts that have more to play for too, even though they're only looking at Europa League qualification as the best possible outcome.
Prediction: Tottenham 3-1 Wolves
West Brom vs. Liverpool
A team that's already down against a team that is desperate for wins and just put 4 past Manchester United at Old Trafford. West Brom have caused some big upsets this season but I think this game is beyond them now that they're relegated. Liverpool seem to have finally rediscovered their ability to put good results together and barring another upset, that's going to cost Leicester or Chelsea their top four place.
Prediction: West Brom 1-3 Liverpool
Everton vs. Sheffield United
You really can't trust Everton at home but surely, surely, they'll win this one. Sheffield United have won just 1 away game all season and the hosts still have a great chance of Europa League qualification. I don't think they'll make it easy for themselves but you have to think Ancelotti's team will find 3 points.
Prediction: Everton 2-1 Sheffield United
Best of luck with your own picks!