Premier League Predictions: Round 35
Round 34 was pretty average for me as I managed 4 correct results but thankfully 3 of them were Exact. There were of course only 9 matches in that round in the end because of the forced postponement of Manchester United vs. Liverpool and that's one of the reasons why we have an extended round this week!
In total, there are 15 matches to predict in Round 35 because the Premier League have also made some changes for the final rounds of the season to work around the FA Cup final and hopefully having (some) home fans in attendance for the matches in Rounds 37 and 38. As usual in this situation, I'll be giving my picks for the first 10 matches now and I'll then update this article with my remaining predictions on Tuesday morning once we've had a chance to see what happens over the weekend.
Of course, it's been a good week for 75% of the Premier League teams that featured in the semi-finals of the European competitions! This Saturday's game between Manchester City and Chelsea is now a dress rehearsal for the Champions League final but more importantly for the moment, City will be confirmed as Premier League winners if they pick up 3 points.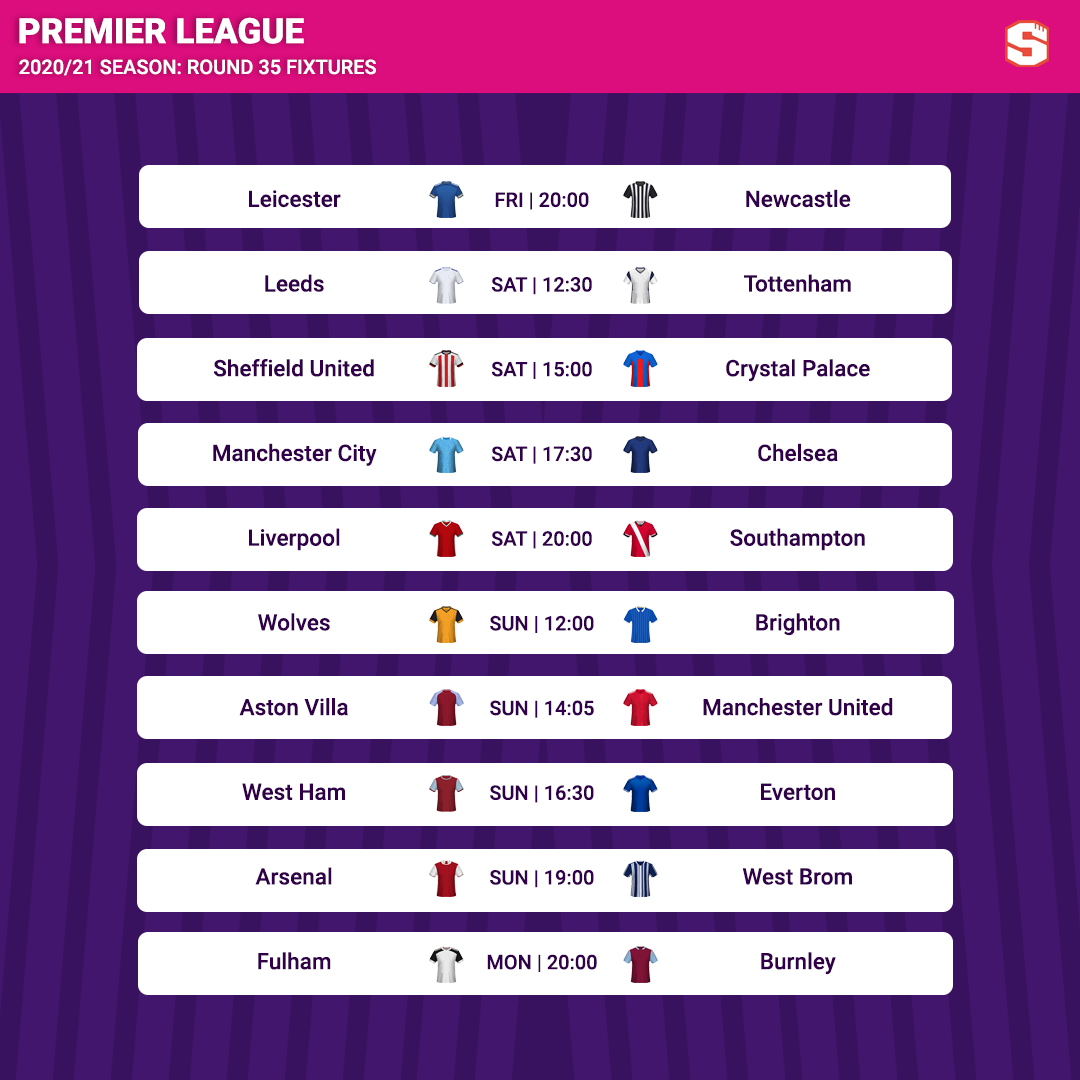 Leicester vs. Newcastle
This looks like a fairly kind start on paper, though we have seen Newcastle pick up some good results in recent weeks. The trouble is, it never really feels like there are many convincing reasons to back Newcastle and you're always wary of how wrong it can go for them. The hosts are clear favourites and they really need a win when you look at their remaining fixtures.
Prediction: Leicester 2-0 Newcastle
Leeds vs. Tottenham
Quite a difficult one, this. It's hard to predict how Tottenham will go for the remainder of this season because they've looked OK in their 2 PL games under Mason so far but there's obviously a lot of talk about who their next manager will be long-term and I feel that this may well be the summer that sees Kane and Son decide to move on *if* there are clubs capable of affording them. Will speculation about the summer have an impact on results? There wasn't much sign of that last time out and Leeds haven't been scoring many lately so I think Spurs might sneak a win.
Prediction: Leeds 1-2 Tottenham
Sheffield United vs. Crystal Palace
Far from the most enticing game of the weekend. I feel slightly silly but actually might pick rock bottom Sheffield United here? Crystal Palace have as little to play for as the Blades really and we saw Sheffield United manage a home win over Brighton last time out. I don't think there's a bad pick between the 3 options here so let's go for a home win since there's likely to be far less people picking them on Superbru than Palace.
Prediction: Sheffield United 1-0 Crystal Palace
Manchester City vs. Chelsea
These two teams were both excellent in midweek and fully deserve their places in the European Cup final. I think Chelsea will give City a real game in Istanbul and that'll be a very tough final to predict but for this weekend, I think a home win is most likely. It's probably Chelsea that actually need the points more since it's just a matter of 'when' City will in the title rather than 'if' but I can see Guardiola's team being very motivated to get the job done while they're on the pitch rather than watching other results confirm their title win. City also have a good record against Chelsea at the Etihad and are probably the one team in the league with greater squad depth than the Blues.
Prediction: Manchester City 2-1 Chelsea
Liverpool vs. Southampton
Liverpool really should win this. As I said last week, Southampton are struggling and the hosts still have a great chance of a top four place when you compare their run-in with Chelsea's/Leicester's. Saints have been conceding a lot of goals in games like this so if Liverpool are anywhere near the level we expect from them in attack they should be fine.
Prediction: Liverpool 3-1 Southampton
Wolves vs. Brighton
These two look very evenly matched and the Historic Results suggest a draw is indeed the way to go. The 3-3 at the Amex was a bit of a surprise between these two though! I think 0-0 is more likely than 3-3 this time around but let's go 1 each.
Prediction: Wolves 1-1 Brighton
Aston Villa vs. Manchester United
For this game and especially United's next two we're going to have to keep in mind just how ridiculous their schedule is. This is their second match in a run of 4 games in 8 days so we're bound to see some rotation at some point and they played a strong team in Rome last night despite being 6-2 up on aggregate. I think they'll be fine in this one though, particularly since they have such a good record over Villa who haven't been great lately. Though their next two fixtures are against tougher opposition, United can pretty much secure top four here (if they haven't already) with a win.
Prediction: Aston Villa 1-3 Manchester United
West Ham vs. Everton
West Ham got the job done at Burnley last week with Michail Antonio returning to action so I think they're the more likely to win this game too. As I predicted, Everton slipped up at home again last time out, I just wish I went Villa rather than a draw! The Toffees have been better on the road and they'll certainly compete in this match with lots still to play for themselves but it's West Ham that have been more consistent, as is reflected by the table.
Prediction: West Ham 3-2 Everton
Arsenal vs. West Brom
Last night felt like a new low for Arsenal and Mikel Arteta and they're now left with very little to smile about for the remainder of this season. The lack of urgency the Gunners seemed to have in a game where they had to score a goal will have been very concerning for Arsenal fans watching that Europa League tie but they now have a routine Premier League game which is usually where they tend to put in better performances. There's obviously a lot of talk about Arteta and whether or not he'll lose his job but this is a game they should win regardless with West Brom all but down.
Prediction: Arsenal 2-0 West Brom
Fulham vs. Burnley
Another tricky Monday night game to call and it's a must win for Fulham if they're to stand any chance at all of staying up. We haven't seen much to suggest they can find 3 points though and despite Burnley not being in great form either, they do look more capable of finding the net thanks to Chris Wood. I think I'm going for a draw as I can see Burnley scoring and Fulham don't seem capable of scoring twice in a game at the moment.
Prediction: Fulham 1-1 Burnley
Right then, time for the final 5 games of the round and it's fair to say this round hasn't been going too well so far! Just 3/10 so far is poor from me, particularly since Burnley and Crystal Palace were fairly logical picks. Here are my predictions for the remaining games as we look to salvage some points!
Manchester United vs. Leicester
Leicester's loss against Newcastle was a really poor result that now leaves them in quite a lot of trouble in this top four race. They have three very tough fixtures remaining and even though this one might prove to be the easiest on paper because of Manchester United's schedule and confirmed top four spot, I still struggle to see them winning. United are on a really good run at the moment and have been finding good results even after falling behind so many times this season. Maguire will be a loss for Solskjaer's side but I expect them to cope.
Prediction: Manchester United 2-1 Leicester
Southampton vs. Crystal Palace
Quite a tough prediction. My gamble Sheffield United pick obviously didn't pay off earlier in the round as Palace beat them comfortably but it's hard to know if they can manage back-to-back victories despite Southampton's form in this calendar year being dreadful. Danny Ings might be back which would make a big difference for Saints and I think this might be one to wait for the team sheets on as a result. For the moment, I'm planning on going for a draw.
Prediction: Southampton 1-1 Crystal Palace
Chelsea vs. Arsenal
Arsenal haven't won at Stamford Bridge for a long time and at the moment, Chelsea look very far ahead of them in terms of both quality and consistency. The Blues' win at Manchester City was a really excellent result for them in this top four race and if they're anywhere close to their best in this match, they should have too much for Arsenal.
Prediction: Chelsea 2-0 Arsenal
Aston Villa vs. Everton
Everton are going really nicely on the road at the moment and after that away win at West Ham I think they can win this too. The Toffees are still well in the mix for Europa League qualification which would mark a really good season - just imagine if they were better at home as well! For Villa, it sounds like Grealish is finally nearing a return but we were also told that a month ago. With Watkins now suspended too, I think this should be an away win.
Prediction: Aston Villa 1-2 Everton
Manchester United vs. Liverpool
Finally, we have a huge game at Old Trafford to finish. Ahead of the original date for this fixture, my prediction was 2-1 United but it definitely feels as if Liverpool have more of a chance now that this will be the hosts' 4th game in 8 days. My guess is that United will rotate quite heavily against Leicester and then go full strength for this fixture, though there will likely still be some fatigued players and Maguire is also unlikely to play. It will obviously be sensible to review this pick again after tonight's matches but for now I'm thinking a draw.
Prediction: Manchester United 1-1 Liverpool