Premier League Predictions: Round 34
Well, Round 33 was quite difficult, wasn't it? Like most people, I only got 2/8 last weekend with Chelsea and Leicester wins providing my only points. Of the other 6, the only one I was tempted to pick was Burnley's win but I certainly wouldn't have gone 0-4 so I can't really complain!
This week we have a full 10-game round and it could be the weekend that sees City crowned champions. Here are my picks for each game in Round 34.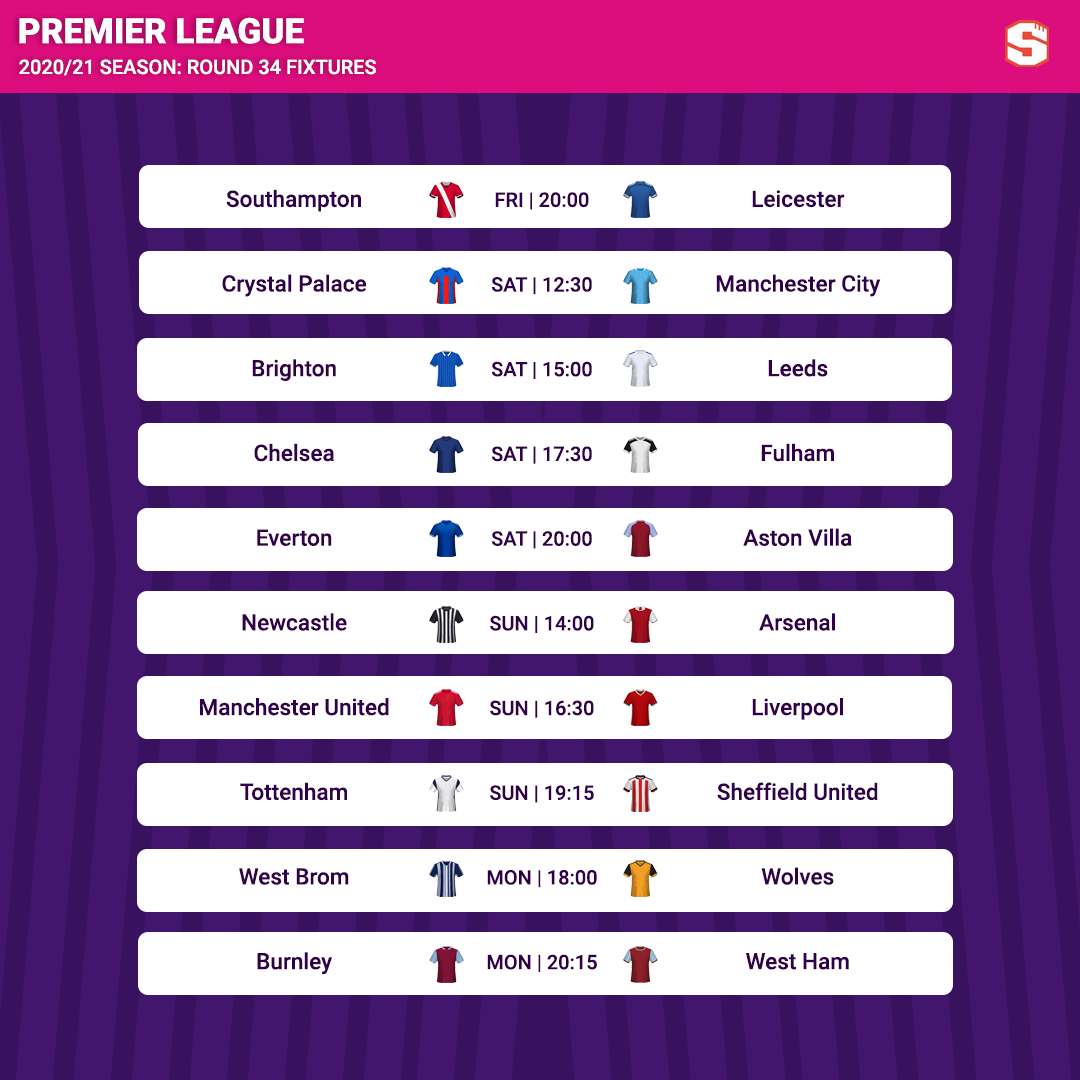 Southampton vs. Leicester
Leicester look good at the moment and I'd be surprised to see them drop points here. Southampton have had a horrendous 2021, got beaten by Leicester in the FA Cup recently and are missing a couple of key players in Ings and Romeu. It feels like Hasenhuttl and his team need to just limp through to the end of the season and then review things properly this summer.
Prediction: Southampton 1-3 Leicester
Crystal Palace vs. Manchester City
So City need to win this match and then see United lose against Liverpool on Sunday to have the title confirmed. I'm not sure the latter will happen but City should do their bit even with some heavy rotation given this comes mid-PSG tie. The second half performance in Paris on Wednesday was really, really impressive because I thought PSG looked very good first half. Palace have obviously upset City a couple of times in the past but ending this 18-game winning away run looks a tough ask...
Prediction: Crystal Palace 0-2 Manchester City
Brighton vs. Leeds
Not the easiest game to predict and I think I'm going for a draw. Brighton's games never tend to have too many goals and surprisingly, we've seen Leeds become more like that in recent weeks too as their solid form has been due to some defensively solidity. I'm tempted by 0-0 but let's go 1-1.
Prediction: Brighton 1-1 Leeds
Chelsea vs. Fulham
There's an outside chance of a Chelsea slip here given the focus on Real Madrid but Fulham don't look nearly as threatening as they did a couple of months ago and Tuchel has quite a few players with something to prove that he can bring in. I'm really surprised Tammy Abraham hasn't been given more of a chance, particularly with TImo Werner's conversion rate failing to improve, but this is the kind of game where we might see Abraham handed some minutes and if so, he'll be right up for it.
Prediction: Chelsea 2-0 Fulham
Everton vs. Aston Villa
This one is tricky because Everton look like the team to pick but they've just been so bad at home. On paper, they should win this quite comfortably if Grealish remains out in my opinion but they haven't been winning games at Goodison so I think Villa have a chance despite looking very average themselves in recent weeks. This will probably be the time where Ancelotti actually gets the performance he wants from the Toffees because I'm going with a draw now that I've been stung so many times backing Everton for home wins.
Prediction: Everton 1-1 Aston Villa
Newcastle vs. Arsenal
I definitely did not expect to be writing about this game with Newcastle coming into it with just 1 defeat in their last 8 games. After a season of many underwhelming performances, Steve Bruce and his team deserve credit for their fight shown in recent weeks with that Liverpool draw a great example - scoring a second injury time equaliser after the first one was chalked off by VAR is impressive. I'm a little unsure how Arsenal will go in this game. I'm not really sure how they managed to come away with only a 2-1 loss in Villarreal on Thursday but now that they have, that second leg is a clear priority over this game. They've had two poor results in their last couple of PL games and I think I'm going to risk going for another draw here.
Prediction: Newcastle 1-1 Arsenal
Manchester United vs. Liverpool
Always a big game and it could well be made even bigger by City winning on Saturday and some planned protests against the owners of both clubs before kick-off. United are obviously the team that still have European action but they should be going all out in this fixture anyway and I think they would have done even if they hadn't won 6-2 last night against Roma. It's a tough pick but I'd be surprised to see United lose given their strong unbeaten run and so I'm stuck between a narrow home win and a draw.
There have been quite a few recent draws between these two but I think particularly after the recent FA Cup win in this fixture, I can see United finding a win. Liverpool still look understandably vulnerable defensively with so many players out and I think they'll struggle to cope with the movement of Cavani and pace in behind of Rashford if both players are involved. It's Liverpool that need the points more but as you can see on the Historic Results tab, they don't win at Old Trafford very often.
Prediction: Manchester United 2-1 Liverpool
Tottenham vs. Sheffield United
Tottenham were very poor in the League Cup final and Sheffield United surprised us all by finding a win last week but Spurs still look the obvious pick here. Sheffield United's win does hint that we could see one of those situations where a relegated side with nothing to play for actually improve in terms of results once they're playing more freely but I'm not sure that's the case here when we've all known the Blades were going down for a number of months now.
Prediction: Tottenham 3-1 Sheffield United
West Brom vs. Wolves
Not the most inspiring fixture but it could be an important one on Superbru as picks will be quite even. Based on the last round, this might be a good time to back West Brom I think. That late Villa equaliser was of course a massive blow for them but they managed to beat Wolves at Molineux and I don't think they have much to fear in this game. Wolves, like Southampton, look like they need to just get to the summer and regroup once they have some key players back from injury.
Prediction: West Brom 2-1 Wolves
Burnley vs. West Ham
A tough one to finish with! Burnley obviously had a great result last week but then while West Ham have had two losses on the bounce, they still remain in a great position just 3 points off fourth and with a very favourable run-in if they can find 3 points here. I think West Ham have it in them to get back to winning ways, particularly if Rice and/or Antonio are back. I was considering a draw as Burnley have had a lot of them at home but there's so much to play for if you're West Ham and I think an away win is just about the most likely outcome.
Prediction: Burnley 1-2 West Ham
Good luck in Round 34!