Premier League Predictions: Round 33
There's no time for rest and recovery after Round 32 of the Premier League predictor as we're straight into Round 33 tonight. Overall, the last round was okay for me, as the average 5/10 I managed was improved by 2 of those 5 being Exacts.
Obviously, the two upsets we saw at Elland Road and Stamford Bridge were at least partly explained by the rather crazy amount of news we've had surrounding the future of the game this week! Those matches were rightly seen to be of far less importance than the fight against a new Super League but now that we've seen the breakaway crash and burn in a matter of hours, I'm hopeful the Round 33 games will be a little more 'normal' and we can focus on the race for top four again.
Needless to say, I'm delighted that all six Premier League clubs have now backed down from the Super League and we'll have to wait and see how they're punished for the plans. As the T-shirts of other PL clubs have said, the big six will now have to get back to earning their European spots and we should have an absolute cracker between West Ham and Chelsea at the London Stadium tomorrow.
Here are my picks.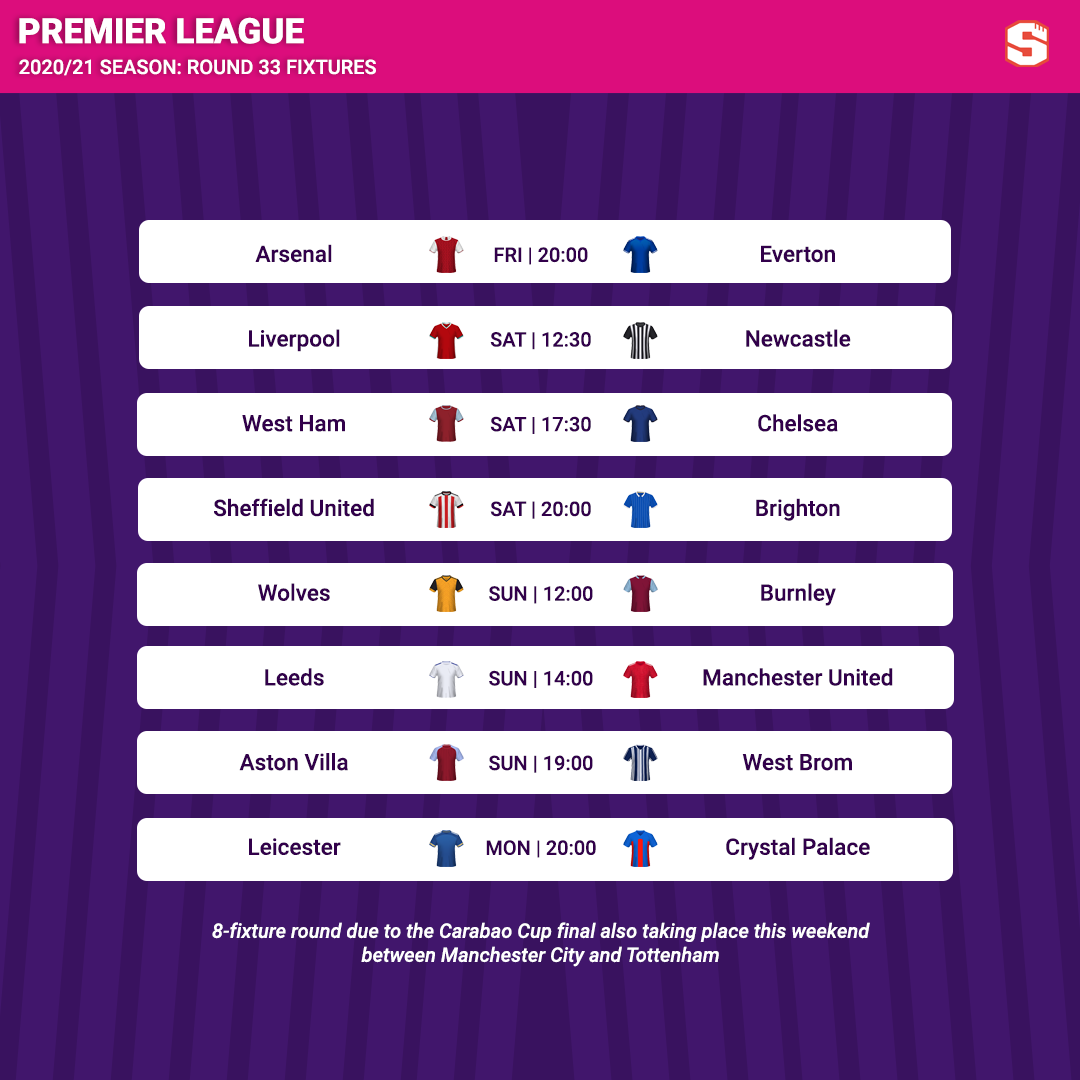 Arsenal vs. Everton
This isn't an easy opening pick given Arsenal's team news which is that Lacazette and Aubameyang are both out. Of course, we've seen their younger players star for much of the season but those two are still the guys putting the ball in the net on a regular basis. In contrast, Calvert-Lewin is fit again for Everton, among others, which you'd think will help the Toffees break their poor run of form soon. I'm not sure they'll manage 3 points at the Emirates but I can see a draw.
Prediction: Arsenal 1-1 Everton
Liverpool vs. Newcastle
Fair play to Newcastle, a couple of weeks ago I really thought they were going down but they've surprised a lot of people with back-to-back wins and they have a really strong chance of survival now. I'm obviously not impressed enough to back them at Anfield though, especially now that Liverpool have finally ended their home losing streak and really need the points. Chelsea's draw at Brighton and the fact they now face West Ham means Liverpool are still well in the mix for top four.
Prediction: Liverpool 2-0 Newcastle
West Ham vs. Chelsea
On to that big game of the weekend then and while this really could still go either way, I think West Ham's loss at Newcastle has lessened the temptation to pick an upset. David Moyes and his team have done incredibly well to get themselves in this position and I'm sure after the ESL saga there are now even more people hoping to see the Hammers make Europe ahead of a big side like Chelsea. However, we often see those punching above their weight fall away in the final weeks of the season due to a lack of squad depth, which could be the case for West Ham if Antonio and Rice remain out.
Chelsea have been difficult to score against under Tuchel whereas we've seen quite high scoring West Ham games. I think the visitors will back themselves to score at least a couple here and I'm not sure the Hammers will quite be able to match that.
Prediction: West Ham 1-2 Chelsea
Sheffield United vs. Brighton
I don't think it's worth over-thinking this one. Sheffield United have nothing to play for besides pride, Brighton have a lot to play for. Brighton are also a much better side. We should see an away win.
Prediction: Sheffield United 0-2 Brighton
Wolves vs. Burnley
Burnley have some pressure on after 3 straight defeats, though I thought they were unlucky at Manchester United last week where they played well. Wolves have put back-to-back 1-0 wins together but both were against weak teams and this will be a test without Jimenez and Neto. Given the visitors' need for points, I'm actually closer to going for an away win here than I am a home win but I think a draw is what I'll go for. Neither team is prolific but both still tend to find a goal or two.
Prediction: Wolves 1-1 Burnley
Leeds vs. Manchester United
Another big game where it really would have been great to have fans in attendance - at least Leeds are going to stay up so we'll (hopefully) see these games with a full stadium next season. Both teams are in decent form and given that Leeds have just taken 4 points from games against Man City and Liverpool, you definitely can't rule out a result for them here. However, Manchester United's away record is excellent and they tore Leeds apart in the reverse fixture. We've seen Leeds change a little since then and their recent games have had fewer goals but I still think the movement of Cavani, Rashford, Greenwood and perhaps even Dan James if selected again will be a problem for them.
Prediction: Leeds 1-3 Manchester United
Aston Villa vs. West Brom
West Brom's sudden surge of good performances with lots of goals came to a rather abrupt end at Leicester last night where they were quite poor. We've also seen Aston Villa look pretty flat for weeks now but I'd be surprised if they don't raise it a little for this derby. I wonder if the defeat at Leicester has destroyed the faint hope of surivival in the WBA camp and if so, we could see another uninspiring performance from them at Villa Park.
Prediction: Aston Villa 1-0 West Brom
Leicester vs. Crystal Palace
Leicester look like a straightforward pick for this final game. They were always dangerous anyway but you've now got an in-form Iheanacho up front alongside Vardy which means two serious goal threats! Palace would be far stronger if they had just one striker capable of scoring so consistently.
Prediction: Leicester 3-0 Crystal Palace
Good luck in Round 33!