Premier League Predictions: Round 31
I had a very average Round 30 in this predictor tournament which is perhaps understandable given the post-international break unpredictability but also frustrating because I broke the golden rule of never making late changes to my picks - with Grealish out I decided to back Fulham to get a point at Villa which looked a good decision for about 80 minutes.
This week we have some very interesting games in the top four race which now looks even more open after Chelsea's shock loss to West Brom. Tottenham v Man Utd and Leicester v West Ham should both be great on Sunday! Here are my picks for all 10 matches in Round 31.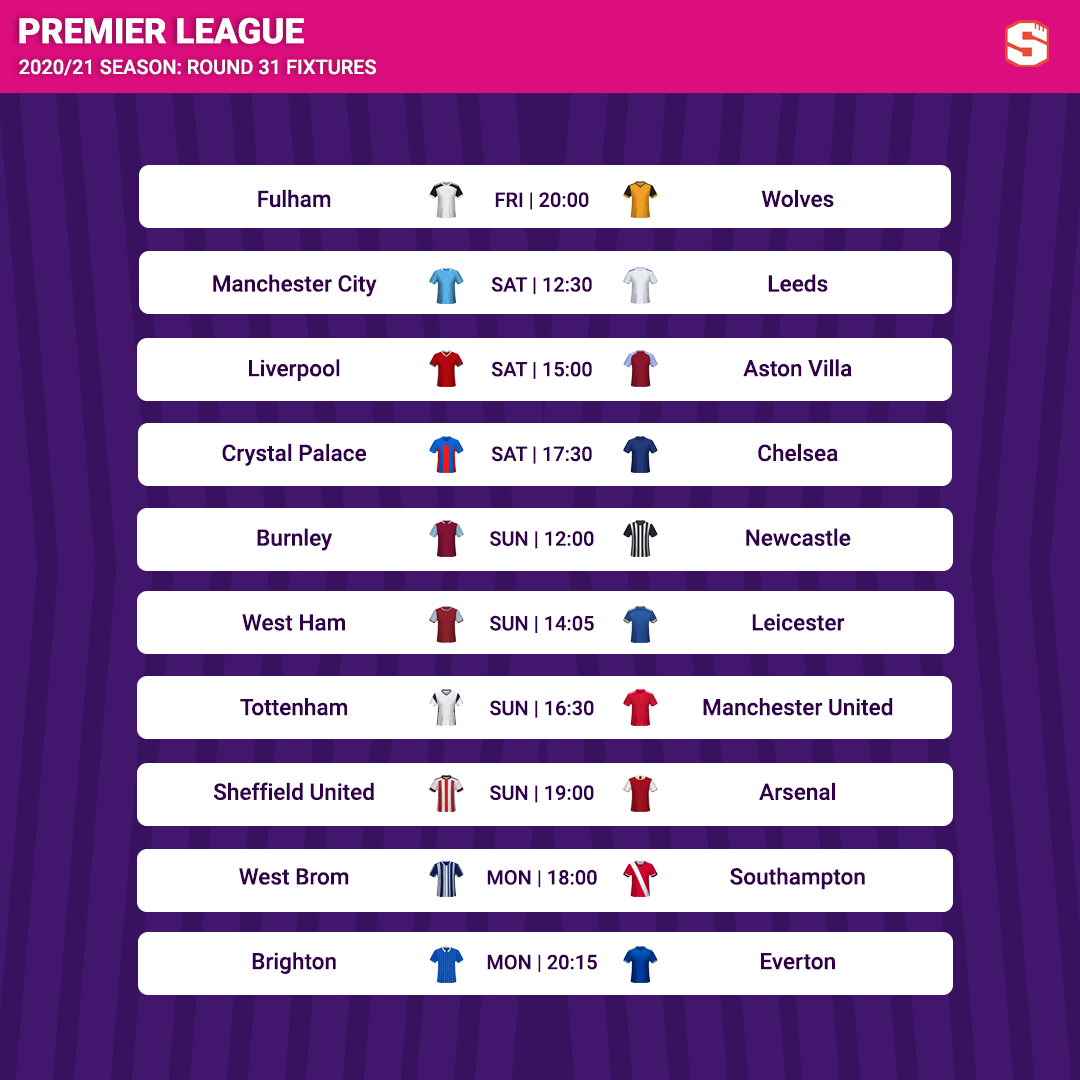 Fulham vs. Wolves
Not an easy start this week as neither of these teams look particularly reliable when it comes to predictions. I've gone from feeling very confident Fulham will stay up in place of Newcastle to feeling slightly doubtful after their recent run, especially as they've started conceding quite a few goals again. Wolves are very beatable though and if I had to pick a winner I think I'd just about go with the hosts. Instead, I'm thinking I'll go for a draw as I'm just not sure enough about either of these teams to back them.
Prediction: Fulham 1-1 Wolves
Manchester City vs. Leeds
The fixture between these two at Elland Road was a good watch and this should be similar but I'd be surprised if Leeds manage a point (or 3) this time. We've seen Manchester City improve a lot since their early season form and though I expect we'll see quite a lot of rotation from Guardiola, they'll obviously still have a stronger team on paper than Leeds. I can see Leeds scoring, which is an achievement against this City team, but I think they'll struggle to prevent goals at the other end.
Prediction: Man City 3-1 Leeds
Liverpool vs. Aston Villa
I was surprised to see Liverpool get beaten so comfortably by Real Madrid in midweek after some better Premier League displays but that slight improvement in domestic form is probably still enough to make me back them here despite their awful run at Anfield. 6 home defeats in a row is obviously woeful but that has to change at some point and Villa have failed to win their last two away games which were against far weaker opposition in Sheffield United and Newcastle. There's a lot at stake for the hosts with the top four back well within their reach as well as the need to break this home run.
Prediction: Liverpool 1-0 Aston Villa
Crystal Palace vs. Chelsea
That West Brom win at Chelsea last week was probably the upset of the season in my opinion (more on that when we get to WBA's game this week) but we've had the benefit of seeing Chelsea in action again since that match and their impressive 0-2 against Porto is fairly strong proof that the 2-5 should just be a blip. Chelsea have won 5 of their last 6 at Palace and should pick up the points here to get back on track in the fight for a top four spot after the wake up call WBA gave them.
Prediction: Crystal Palace 0-2 Chelsea
Burnley vs. Newcastle
Sean Dyche will undoubtedly have been very frustrated to have lost a 2-goal lead at Southampton last week but his team should find a win in this game I think. It's an important match for both teams as Newcastle are closer to Burnley on the table than you might think but I see the Clarets as the better side, particularly defensively.
Prediction: Burnley 2-0 Newcastle
West Ham vs. Leicester
West Ham are already the team that has made this top four race very interesting as they're the 'underdog' involved that might cost a big team their place but if they win this match, things just get even more exciting because we could have the 4 teams between 3rd and 6th all separated by around 3 points by Monday. I think they can do it as well. Liverpool are the only away team that has won at the London Stadium in 2021 and Leicester feel less threatening than usual at the moment with Vardy not scoring and Barnes out. It's a tough pick but I think West Ham and David Moyes might just continue their remarkable season.
Prediction: West Ham 2-1 Leicester
Tottenham vs. Manchester United
Another big game. Given the mood around each club at the moment, it feels crazy to think back to the reverse of this fixture that finished 1-6! It's really not looking good for Mourinho and Spurs at the moment. That Europa League loss will have been so crushing as I think it was a major target this season and then Mourinho coming out and battering the players in the press again almost certainly won't have helped things. I remain convinced that this will end with Spurs winning the League Cup and Mourinho eventually leaving claiming he's been successful because he's ended their trophy drought but in the meantime, I can't see them winning this given United's away PL form. I was tempted to go 1-2 but Spurs do have the silver lining advantage of more rest time this week due to their UEL loss in Zagreb.
Prediction: Tottenham 1-1 Manchester United
Sheffield United vs. Arsenal
Arsenal were second best by a long way against Liverpool last week but this is a match they should win and I'd be surprised if they didn't. Assuming the likes of Saka, Smith Rowe and Martinelli are still fully fit after the UEL I think we could see a fairly bright end to the season for those players with Arteta to then try and shift the rest of the dead wood in the squad this summer and build around them - he's already removed plenty in the previous window to be fair to him.
Prediction: Sheffield United 1-2 Arsenal
West Brom vs. Southampton
We have to mention last week for a bit first, don't we. What an incredible performance it was from West Brom at Stamford Bridge! I can't remember ever seeing them play like that, some of the goals were incredible, particularly Callum Robinson's first strike. So the question now is can they build on that result and remain in form or will we see the drop-off we so often see after a smaller club beats a big side like that? Sadly for Baggies fans I think the latter is slightly more likely. Southampton have a good record against WBA and had a great win themselves last week with that comeback against Burnley. The hosts have drastically improved their home defensive record so I think they might get a point but I don't think they'll win.
Prediction: West Brom 1-1 Southampton
Brighton vs. Everton
A difficult pick to finish with but I'm surprised to see Everton rated as considerable underdogs by the bookies. The Toffees have had some poor results with that draw against Palace being one of them but they've been solid on the road all season, only losing 3 out of 14. Brighton had another 'play well but lose' game at Manchester United last week and we could see something similar here in my opinion unless they manage to be more clinical. Everton miss Doucoure in midfield but as long as Allan is back I think I'm going to be going for an away win here. Richarlison missed so many chances against Palace (which was annoying as I had him in odds-based fantasy) and surely won't be as wasteful in this game.
Prediction: Brighton 1-2 Everton
Good luck in Round 31!