Premier League Predictions: Round 3
Round 2 was just fun, wasn't it? Yes, the record-breaking number of goals made it very difficult to get Exact predictions on Superbru, but it was great watching so many high-scoring matches and I was pretty pleased with 7/10 in the predictor.
Having Son in our odds-based fantasy game definitely helped me enjoy the weekend more too - well done to anyone that managed to fill their boots with fantasy points across the goal-filled weekend! Zaha was a particularly good pick on the Saturday, he and Palace destroyed both my predictor pick and odds-based round for that day but I've nothing but respect for the team full of attacking power that Roy Hodgson appears to be building after a couple of seasons of very few options in the final third!
On to Round 3 then and there are quite a few fixtures to look forward to. Here are my thoughts on each of them. Let me know how your picks compare in the comments.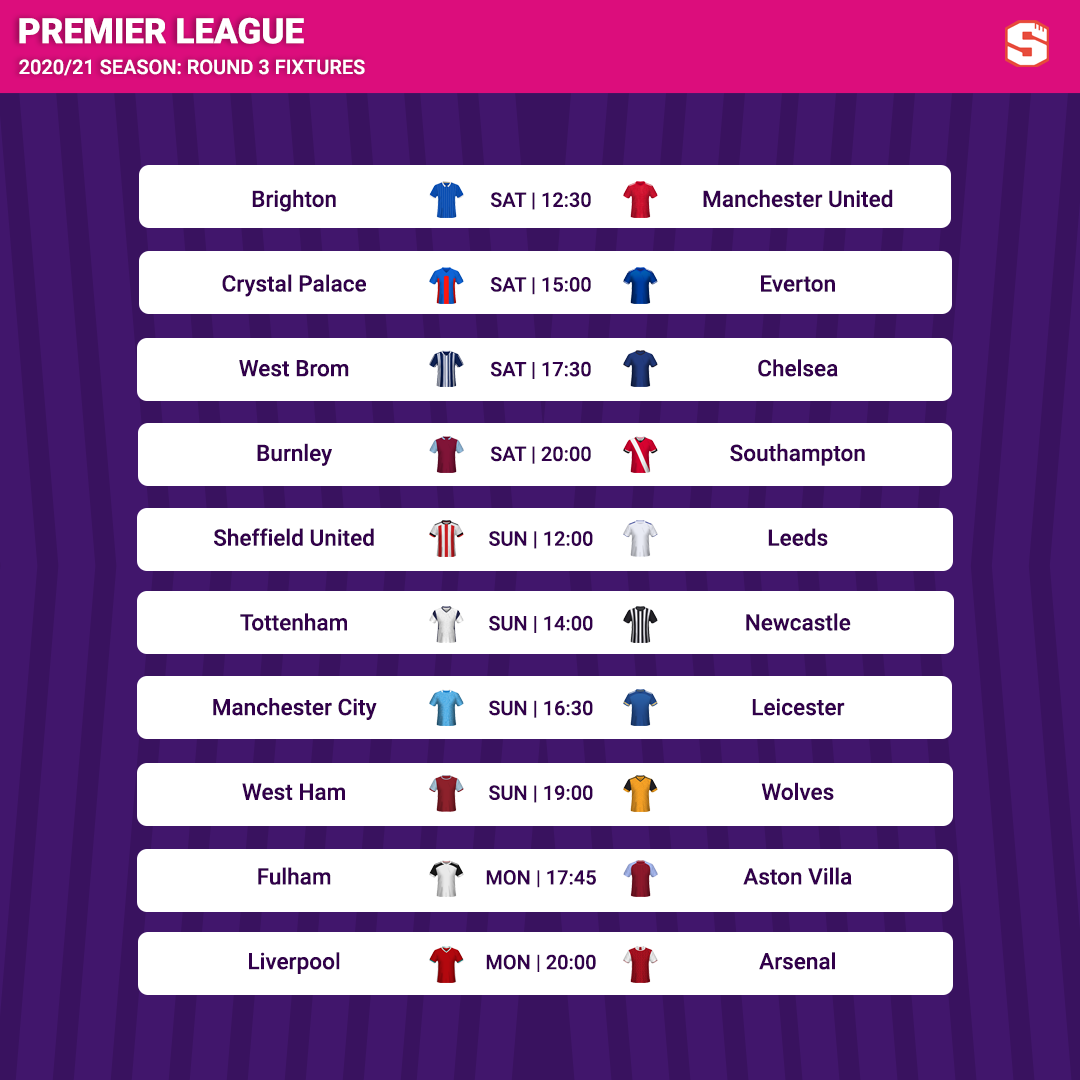 Brighton vs. Manchester United
An upset right from the off? I think Brighton have a real chance here. United were obviously poor against Palace and there's just so much negativity across their fanbase as they look set to finish another transfer window there they've spent the entire summer chasing one player (Sancho) before either not getting him or paying full price at the end of the window anyway. Neither outcome is particularly favourable. Brighton are playing really well and and while I think United will soon improve and get going this season, this feels like a real chance for the hosts to take advantage of Solskjaer's side still trying to find fitness and balance this season. Brighton still haven't managed too many wins against 'big' sides under Potter though so I'm going for a draw.
Prediction: Brighton 1-1 Manchester United
Crystal Palace vs. Everton
This should be an interesting game too. Both have started the season really well but it's hard to go against Everton given how good their record is against Palace and the displays we've seen from their new signings. The most significant of those additions, James Rodriguez, looks to be bringing Richarlison and Calvert-Lewin up to a new level as well and I think they'll have a little too much for Palace. However, as I said in the intro, the Eagles are more likely to score goals now that they have attackers like Batshuayi and Eze as well as Zaha.
Prediction: Crystal Palace 1-2 Everton
West Brom vs. Chelsea
Two teams that suffered losses last week and both were largely down to red cards. I'm not saying either would have won without the reds but it does make it a little harder to assess where each team is at. West Brom have lost both of their openers and will likely lose again here but I'm not sure they should be totally written off as being certain for relegation as they have a good manager in Bilic and some decent creative players - Conor Gallagher being another who has recently arrived on loan from Chelsea so won't feature in this game. Chelsea should score goals all season with their squad and you'd think they'll also improve defensively now that Thiago Silva and Chilwell are fit to add to the arrival of a new goalkeeper.
Prediction: West Brom 0-3 Chelsea
Burnley vs. Southampton
A difficult pick. Southampton looked like they might be living up to pre-season expectations during the first-half against Tottenham but then just fell to pieces defensively. I haven't really seen enough of Burnley yet this season to judge them properly but the general rule when you're not sure who to pick at Turf Moor is to go for the hosts. They should be quite organised and unless they let Southampton create chances for Danny Ings early on, they should settle into this game and win it.
Prediction: Burnley 2-1 Southampton
Sheffield United vs. Leeds
I'm going to stick my neck out and say there won't be 7 goals in this match even though Leeds are playing! We've learned that there'll be lots of crazy matches involving Bielsa's side this season but I don't think this will be one of them as Sheffield United don't tend to be involved in many. The Blades are still yet to score in this campaign and Wilder will be demanding that their losing run stops here but I'm not sure I'm confident enough to pick them. Leeds will likely find a goal or two but have shown that Sheffield United will also get plenty of chances to get their first goal of the season so I'm going for a draw.
Prediction: Sheffield United 1-1 Leeds
Tottenham vs. Newcastle
Tottenham should be okay here. They're in the middle of a ridiculous schedule but managed to rest a few players on Thursday and the Leyton Orient League Cup game being cancelled will help. Newcastle bounced back from their loss against Brighton by absolutely hammering Morecambe in midweek but this is obviously a far tougher test and I think it'll be a fairly uneventful win for Spurs.
Prediction: Tottenham 2-0 Newcastle
Manchester City vs. Leicester
Wilfred Ndidi's injury is a real blow for Leicester. This is a game they'd struggle to win anyway but I think they have far less chance without Ndidi to help shield the back four from Kevin De Bruyne. City looked really good at Wolves considering that was their first league match after no pre-season and I think they'll be fine.
Prediction: Man City 3-1 Leicester
West Ham vs. Wolves
It's hard to tell how much of an effect the absence of David Moyes will have on West Ham while he's self-isolating so I'm choosing to ignore that really and Wolves certainly appear the more likely to win this match on paper. Nuno's side have plenty of quality, a great record against the Hammers and need to bounce back after the City defeat so I think they'll be increasing West Ham's wait for a single point in this new season.
Prediction: West Ham 0-2 Wolves
Fulham vs. Aston Villa
A very tough pick. I'll probably wait and see how the team sheets look for this one on Monday but my current prediction is a draw. Aston Villa are the stronger side and will have the better season in my opinion but Fulham have home advantage of course. Much will depend on how Mings and Konsa deal with Mitrovic - I think Villa will score at least once so the pressure will be on Fulham to produce the goods in attack.
Prediction: Fulham 1-1 Aston Villa
Liverpool vs. Arsenal
Arsenal head to Anfield in the best form they've been in for a very long time but until they manage a result in an away game like this, I can't bring myself to pick them to win. Liverpool are favourites and they played nicely at Chelsea with their high press looking particularly good. They'll need to press just as well if not better in this game to prevent Arteta's side from playing out effectively but I think they're capable and they tend to score plenty against Arsenal at home.
Prediction: Liverpool 3-1 Arsenal
Good luck to all with your predictions in Round 3!