Premier League Predictions: Round 29
After a lot of intense weeks of Premier League predicting, we have a slightly more relaxed period to enjoy before the final straight as this weekend's 4-match round is followed by an international break.
With the FA Cup quarter-finals also taking place this weekend,
which you can make picks for here
, we have a small fixture list in the PL but it's a huge weekend for those battling against relegation. As usual, here are my thoughts on each game!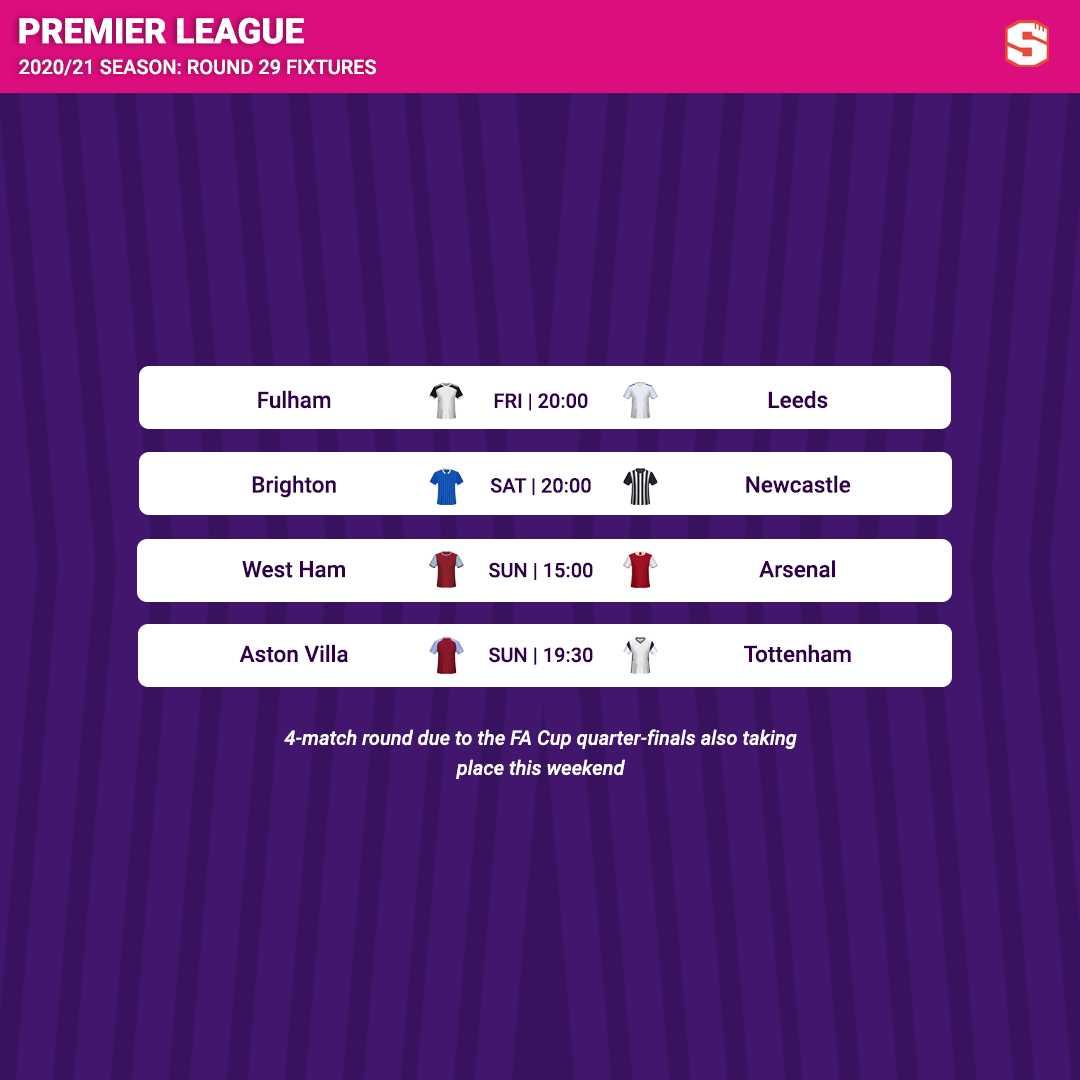 Fulham vs. Leeds
A huge, huge game for Fulham as they finally have a chance to exit the relegation zone and I'm kind of hoping they do simply because it will make the next match between Brighton and Newcastle even bigger! Even aside from having so much at stake, I think the home side are slight favourites as they've looked really solid in recent weeks whereas Leeds have lost 4 of their last 6. It was strange to see Bielsa's team finally draw a game last week, especially as it was 0-0, but I think we could see another tight and low-scoring match here. It's been a long time since Fulham lost against a team in the same half of the table as them so I think they'll manage at least a point and might just snatch all 3...
Prediction: Fulham 1-0 Leeds
Brighton vs. Newcastle
A huge fixture but in my opinion, Brighton either win this or they beat themselves because they'll have control of the match. You certainly can't see Newcastle turning up and dominating this game so when making a prediction, it comes down to the classic dilemma for all Brighton games - whether or not they'll actually score some goals because of their good play or whether they'll just 'win on XG' again. We saw the Seagulls win 0-3 in the reverse fixture and I think you have to back them. A draw is definitely possible, especially since Newcastle are on a run of draws at the moment, but Brighton are a far better side in my opinion.
Prediction: Brighton 2-1 Newcastle
West Ham vs. Arsenal
Tough pick. West Ham continue to be competitive in each game they have and Arsenal remain up and down, as we've just seen with a defeat to Olympiakos after winning the North London derby. I don't think there'll be much in this and I'm going to go for a draw. West Ham can definitely hurt the Gunners but you'd still expect Arsenal to find a goal themselves.
Prediction: West Ham 1-1 Arsenal
Aston Villa vs. Tottenham
I just don't know what to think about Spurs after that defeat last night. It has to be up there as one of the worst results both they and Jose Mourinho has personally ever had? At this point, it feels like it's unlikely we won't see massive changes at Tottenham in the summer especially after Hugo Lloris's post-match comments but I still have a feeling they might sneak the League Cup so that Mourinho walks away claiming his time has been a success.
So I'm not expecting too much quality from Spurs, especially if Son remains out, but Aston Villa haven't been great lately either. They'd have hoped to win each of their last 3 games but they failed to pick up 3 points in any of them and while Grealish might return for this game, he doesn't sound fully fit. It feels strange after watching the horror show on Thursday night but I actually think Spurs might find a narrow win - they do have a good record against Villa.
Prediction: Aston Villa 1-2 Tottenham
Good luck in Round 29!