Premier League Predictions: Round 25
Round 24 was another fairly average one for me, Chelsea got me an Exact but there was understandably very few people picking up points for West Brom's draw at Manchester United and Fulham's win at Everton!
This week we have an 11-game round because Leeds v Southampton has been rescheduled for Tuesday night. There is expected to be an announcement very soon regarding other postponed fixtures being rescheduled for the next few weeks so as always this season, keep an eye out for extra fixtures and
Odds-based fantasy
rounds being added!
Here are my thoughts on each game in Round 25.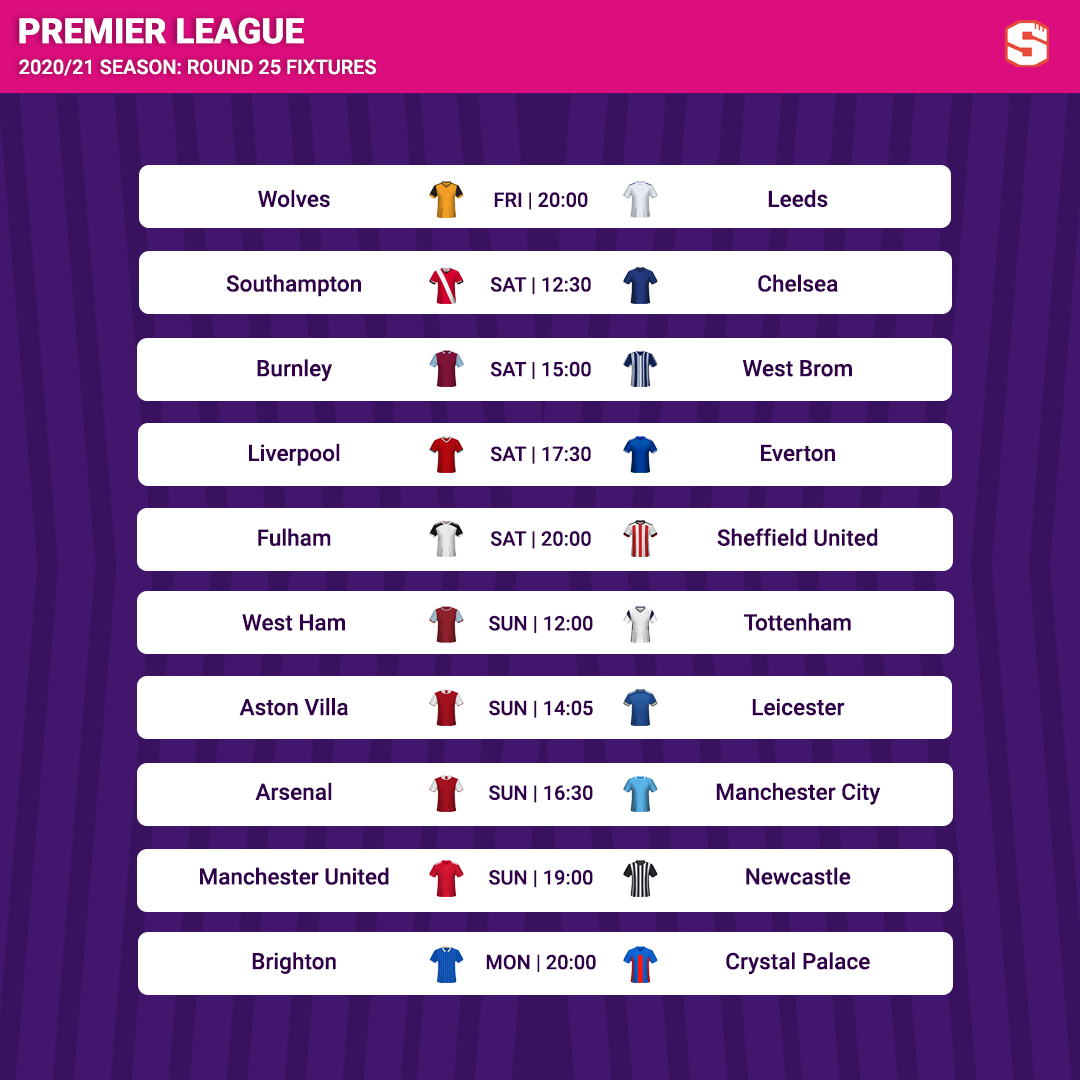 Wolves vs. Leeds
Leeds let me down last week when I backed them for an upset at Arsenal and with Bielsa confirming that they will remain without the players they were missing in that match for this game, I think Wolves are favourites. I'm still wary of how toothless Wolves often look at the moment but Neto is a serious talent.
Prediction: Wolves 2-1 Leeds
Southampton vs. Chelsea
Chelsea are the fairly obvious pick here and as much as I like Southampton, you can't really excuse a 6-match losing streak. There certainly aren't many reasons to pick an upset and Chelsea might also have Thiago Silva back. It'll be interesting to see if Werner can now build on his goal in Round 24.
Prediction: Southampton 0-2 Chelsea
Burnley vs. West Brom
Burnley look pretty good at the moment and still have Chris Wood to welcome back soon (though probably not for this game). West Brom did really well to get a point against Manchester United last week but it's wins that they need and they'll be frustrated with a few of the chances they missed in that match. It's very tough for a team at the bottom to start going all out for wins without sacrificing defensive stability (if WBA had any of that anyway) and I think a home win is quite likely.
Prediction: Burnley 2-0 West Brom
Liverpool vs. Everton
It's basically a rule that for a Merseyside derby at Anfield, you have to pick Liverpool. You can consider picking a draw when the derby is at Goodison but Liverpool's record in this fixture is just so dominant and I think you can ignore their recent PL form ahead of this game. It helps that they managed a good result in the Champions League on Tuesday as well while Everton have also suffered disappointing recent league losses.
Prediction: Liverpool 3-1 Everton
Fulham vs. Sheffield United
I think Fulham are the better side here and their recent win at Everton suggested that they might now be able to start backing their performances up with victories which gives them a chance of catching Newcastle on the table. I'm still not confident they'll deliver since they've only won 3 games all season but Sheffield United are of course bottom and now have John Egan out after his injury against West Ham. The relegation battle will finally look quite interesting if Fulham do win!
Prediction: Fulham 2-0 Sheffield United
West Ham vs. Tottenham
This is one of the most difficult picks of the round as I think West Ham have an equally good chance of winning this as Spurs do and they're perhaps even favourites? It feels weird to write that but David Moyes has seen his team deliver results consistently this season and West Ham are always well up for this derby against Tottenham. I'm not sure how much we can look into Dele and Bale starting in the Europa League because I'm not sure either will start this game. I think it'll be fairly tight with chances at both ends and I'm still considering a draw but right now I think I'm going to go with a home win.
Prediction: West Ham 2-1 Tottenham
Aston Villa vs. Leicester
Leicester have been very impressive on the road this season so I think they're the team to pick for this one. Villa have struggled a bit of late and I think part of that is down to Ross Barkley suffering a drop in form since his injury. They were comfortably second best at Brighton last time out and this is a tough game against Leicester.
Prediction: Aston Villa 1-2 Leicester
Arsenal vs. Manchester City
Until City's form does drop off slightly, it's takes a brave bru to see that streak of Ws and pick against them. Aubameyang's hat-trick against Leeds is very encouraging for Arsenal but they have a poor recent record against City in the league and aren't close to the level of Guardiola's side at the moment.
Prediction: Arsenal 0-2 Manchester City
Manchester United vs. Newcastle
Newcastle are in serious trouble in my opinion. They were already sliding towards danger and now that they're without Wilson for weeks, that relegation zone looks awfully close. They're going to need someone to step up and score the goals to keep them in the PL but who is that going to be? I think Manchester United will dominate.
Prediction: Manchester United 4-0 Newcastle
Brighton vs. Crystal Palace
A tough game to finish with but this should be a decent game as there's a strong rivalry between Brighton and Palace. I have Brighton as quite clear favourites given the decent run that they're on but they so often don't win matches that they should (last week being an example)! Zaha is unlikely to return which should favour Brighton even more but I can see a similar match to the reverse game which finished level.
Prediction: Brighton 1-1 Crystal Palace
Tuesday's game looks like it should be a Leeds win at the moment but I'm definitely waiting to see how both they and Southampton perform this weekend before making my prediction for that match. Injury news regarding Phillips/Rodrigo will also be important.
Good luck in Round 25!