Premier League Predictions: Round 23
On the off chance there's a bru out there who just copies my picks each week, Round 22 was the round where that tactic paid off! 7/10 with 4 Exacts is probably about as good as it'll get for me this season but rather than retiring there we have to head straight into Round 23 which has a few tricky picks.
Liverpool v City is the big game of the weekend but before that we have a couple of 50/50s first up. Here are my picks for Round 23.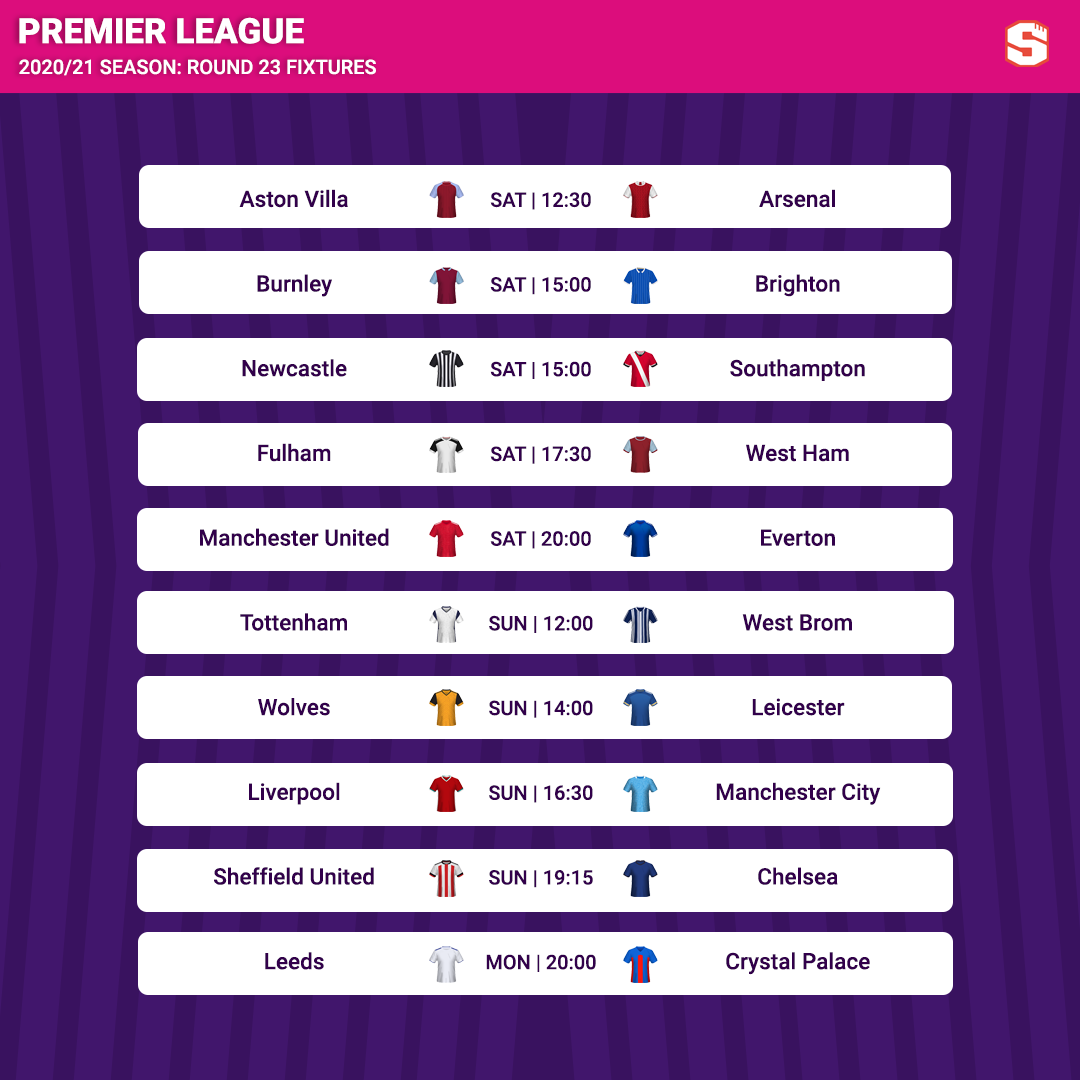 Aston Villa vs. Arsenal
A difficult one to start with, this. Arsenal's goalkeeper situation could well play a big factor as Leno is suspended meaning Runarsson, who has looked shaky on the few occasions we've seen him, may start and the irony is of course that former Arsenal backup keeper Emiliano Martinez will be in the Villa XI. Arsenal have looked good in recent weeks though and were good against Wolves until things fell apart with that Luiz red card. Villa have lost 4 of their last 6 as well so while they are of course still having a good season, I'm not sure either team will dominate this match. I think I'm talking myself into going for a draw…
Prediction: Aston Villa 1-1 Arsenal
Burnley vs. Brighton
Well, I definitely didn't expect this match to be between two teams that have recently won at Anfield! Brighton were excellent on Wednesday night and actually come into this as the form side as Burnley have suffered some harsh defeats against Chelsea and City since their impressive results. I'm wary of the fact teams often have a poor result after a big win but there isn't really much reason to go against Brighton here in my opinion. They've long deserved better results, are now actually getting them and Burnley could be without a key striker or two as well.
Prediction: Burnley 1-2 Brighton
Newcastle vs. Southampton
I can't believe Southampton lost 9-0 again. That margin twice! It was always going to be a long night after that really early red card but conceding three goals in the last five minutes or so is really poor and they deserve the criticism/memes they're getting as a result in my opinion. All that said, my opinion of Saints and Hasenhuttl is still that they're a decent side (it's just that when things go wrong, they go really wrong). Minamino could be involved in this game as well which is exciting and this is a great chance to bounce back from an embarrassing defeat because Newcastle aren't very good and have a lot of defenders out.
Prediction: Newcastle 0-2 Southampton
Fulham vs. West Ham
I still can't really get used to it but West Ham and Soucek just aren't slowing down, are they? It feels like the positive vibe around some of the well-earned points Fulham earned from draws against big teams over Christmas has really worn off now and the reality is just that they haven't won for ages. West Ham should have too much I think.
Prediction: Fulham 0-2 West Ham
Manchester United vs. Everton
This should be a good match I think because Everton will give United a game. It's a shame Allan will likely still be out but Olsen in place of the injured Pickford is an upgrade in my opinion. United are of course favourites and though I'm tempted by a draw, I think I will be picking a narrow home win. They obviously couldn't have managed a much better result last time out and Everton conceded a lot of chances against Leeds - if they do the same here, United are far more clinical.
Prediction: Manchester United 2-1 Everton
Tottenham vs. West Brom
I'm genuinely fascinated to see how Tottenham approach this. The main takeaway from Spurs 0-1 Chelsea on Thursday wasn't that Chelsea were particularly good, it was that Tottenham were genuinely dreadful. Kane is expected to remain out until next week and since Spurs seem to have no attacking plan without him, how will they score the goals that everyone else are scoring against West Brom? Surely we'll see a change of approach and Tottenham win this? Sheffield United's record-breakingly bad start to the season took the attention away but West Brom are really struggling and shouldn't trouble this Spurs squad.
Prediction: Tottenham 2-0 West Brom
Wolves vs. Leicester
Wolves picked up 3 great points against Arsenal but it's hard to really judge if there was any improvement because of Arsenal's red cards - what a strike from Joao Moutinho though. I think Leicester are still quite clear favourites as a result, especially given their away form and the fact that Vardy will be fit to play some part.
Prediction: Wolves 0-1 Leicester
Liverpool vs. Manchester City
This is usually the one game of the season where I don't really consider picking City but this season you kind of have to, don't you? Guardiola's side have been incredible in recent months and Liverpool's home form has obviously nosedived. It sounds like Alisson, Fabinho and Mane might be back but Liverpool will still be short of a central defensive partnership that consists of two players who are familiar with one another. That's the last thing you need against City but it seems crazy that Liverpool might lose 3 consecutive home games!
Prediction: Liverpool 1-3 Manchester City
Sheffield United vs. Chelsea
Chelsea look very controlled during this new manager bounce period under Tuchel and while they're still not creating lots of clear chances, when you've got the ball as much as they do, you're sure to create at least some opportunities and don't have to defend many at the other end. Thiago Silva will be a big miss if he's out for long but the Blues should win this regardless.
Prediction: Sheffield United 0-2 Chelsea
Leeds vs. Crystal Palace
Palace have got me Superbru points in each of the last two rounds so I'm going to remain loyal and back them to avoid defeat in this game as well. The news that Zaha won't be playing means I think they'll struggle to win at Elland Road but I think they can manage a point. It's a big risk because as I said last week, Leeds don't really do draws but I think Hodgson will take a point if he can get one so if they can find a goal (which like Everton, could well come from a set piece) I think we'll see the Eagles sit pretty deep. Leeds are favourites but they haven't been great at home.
Prediction: Leeds 1-1 Crystal Palace
Good luck in Round 23!