Premier League Predictions: Round 22
Round 21 was another that proved very tricky for us all but the Exacts I managed for Chelsea and Liverpool meant that it wasn't too bad a round for myself.
Round 22 actually looks a little more friendly on paper than recent rounds have in my opinion. With that said, here are my picks which are now likely to fare very badly indeed.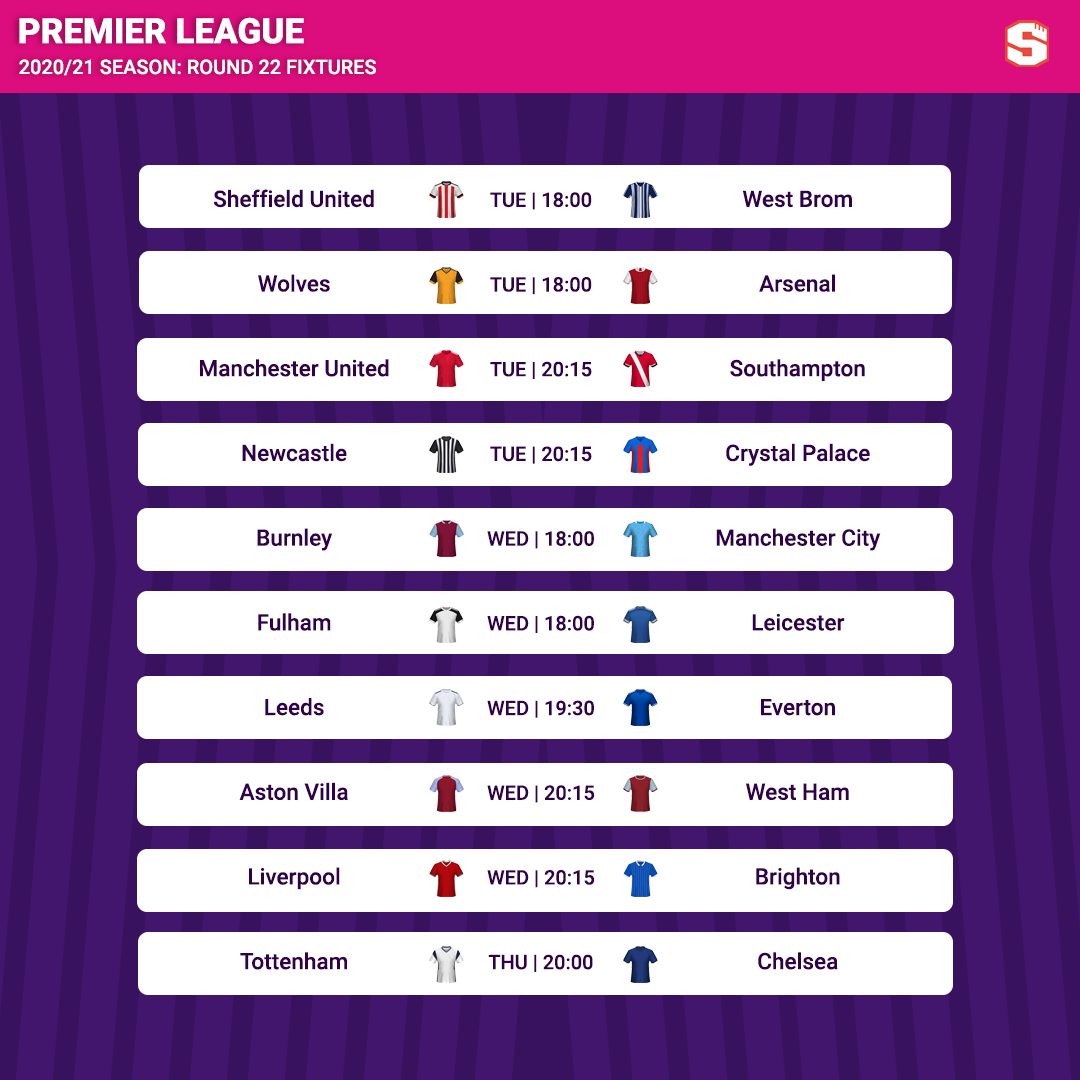 Sheffield United vs. West Brom
I think this might actually be the first time I've picked Sheffield United this year, unless I did a couple of times in the opening rounds. Their improvement in form has coincided with West Brom looking pretty terrible defensively - I've no idea how WBA weren't 3 or 4 nil down at half-time against Fulham. The improvement the Baggies showed in the second half of that game was of course encouraging for Allardyce, and new striker Mbaye Diagne made a useful contribution too, but it's Sheffield United who have looked more solid in recent weeks and I'm less wary of their attacking weaknesses in this game because of how poor West Brom have been defensively.
Prediction: Sheffield United 2-1 West Brom
Wolves vs. Arsenal
Two teams in very contrasting form so it should be Arsenal that win this. No Saka or Tierney for the Gunners would be a concern but they've been going nicely in recent weeks and might have Aubameyang back. Wolves seem to have lost their ability to consistently keep clean sheets and with Raul Jimenez unavailable to score goals at the other end, that's a big problem.
Prediction: Wolves 0-2 Arsenal
Manchester United vs. Southampton
First of all, I doubt he'll be ready for this game but Southampton's signing of Minamino on loan from Liverpool is an exciting one that nobody saw coming! It's been a shame that we've seen so little of him since he arrived in England and I think he could be a really nice fit in this Saints team. This isn't the easiest pick because Man Utd have been so poor at home but I think they should win? Saints were obviously very unlucky against Villa but that's now 3 losses on the bounce and they haven't won at Old Trafford for years.
Prediction: Manchester United 2-1 Southampton
Newcastle vs. Crystal Palace
Newcastle's win at Everton was one of the biggest upsets of the season so far on Superbru and it's made this an even tougher pick. I'm certainly not convinced they've suddenly 'turned a corner' and this isn't an easy game as Palace are normally pretty competitive on the road. I risked going for Palace in the last round and they delivered so I'm going to stick with them for this round as well.
Prediction: Newcastle 1-2 Crystal Palace
Burnley vs. Manchester City
You'd expect this to play out in a similar way to Burnley's game at Chelsea, despite the impressive results the Clarets managed before that. Chelsea dominated the ball and had so many chances in that game and I expect City to turn up at Turf Moor and do the same. If Burnley are to get something from this game, they'll need to make sure they take any half-chance they get which is of course very difficult.
Prediction: Burnley 0-2 Manchester City
Fulham vs. Leicester
I was always concerned that Leicester would drop points soon, particularly without Vardy, but now I'm thinking they've perhaps got that disappointing result out of the way and should respond in this match. Vardy is likely to still be out but Fulham just can't get wins at the moment and missed a golden opportunity at West Brom. I'm tempted by a draw but feel the visitors might sneak it.
Prediction: Fulham 0-1 Leicester
Leeds vs. Everton
I'm really not sure which way to go for this game. Usually I'd go for a draw when that's the case but Leeds' approach means they have very few draws. Everton have been decent away so I think they are still the safest pick. I think they can hurt Leeds from set pieces, too.
Prediction: Leeds 1-3 Everton
Aston Villa vs. West Ham
This is an equally difficult pick as both teams are having great seasons but I think I will go for a draw this time. Villa will create more chances in my opinion, but West Ham have made themselves very difficult to beat and have goal threats in Antonio and Soucek - getting outclassed by Liverpool at the weekend doesn't really take away from what they've achieved so far in this campaign.
Prediction: Aston Villa 1-1 West Ham
Liverpool vs. Brighton
Liverpool should win this comfortably. It'll be interesting to see how their new central defenders get on though I'm not sure if either will be ready to play in this game and definitely doubt they'll immediately play together anyway. Brighton are usually quite tidy and have finally found some wins but they won't have much of the ball in this game and Liverpool look to be returning to form.
Prediction: Liverpool 3-0 Brighton
Tottenham vs. Chelsea
Having a big London derby at the end of a round is always fun. Since Harry Kane is out, I think you have to pick Chelsea here as they looked full of confidence against Burnley and Spurs just look so lost without all of their attacks being built around Kane. I think Mourinho will be doing absolutely everything he can to get Kane on the pitch for this match but reports suggest he won't be able to and it'll be at least a couple of weeks. Presumably, Spurs will be spending all week working on attacking patterns without Kane after how lifeless they were against Brighton but I'm not sure they'll be able to improve enough in time.
Therefore, the likely way this match will go is Spurs will sit in, try and stop Chelsea from scoring and find a goal on the break through Son or Bergwijn. That may not sound too dissimilar from their normal gameplan, but without Kane to play the quarterback role, it's far more difficult and I think they'll spend even more time defending. I'm not sure Tuchel can afford to play the midfield he has been using when up against teams that will attack Chelsea but I think he'll continue to just look to dominate the ball in this match and then it becomes a question of whether or not the Blues can find a goal.
Prediction: Tottenham 0-1 Chelsea
Good luck in Round 22!