Premier League Predictions: Round 21
I started the Round 20 piece by saying how tough the fixture list looked and so it proved. Going for so many draws didn't work out because I picked all the wrong games and then it was especially frustrating to change my Liverpool pick to a draw for the final game as planned when I saw the lineups.
So I'm in need of a much better round this weekend! Here are my Round 21 picks.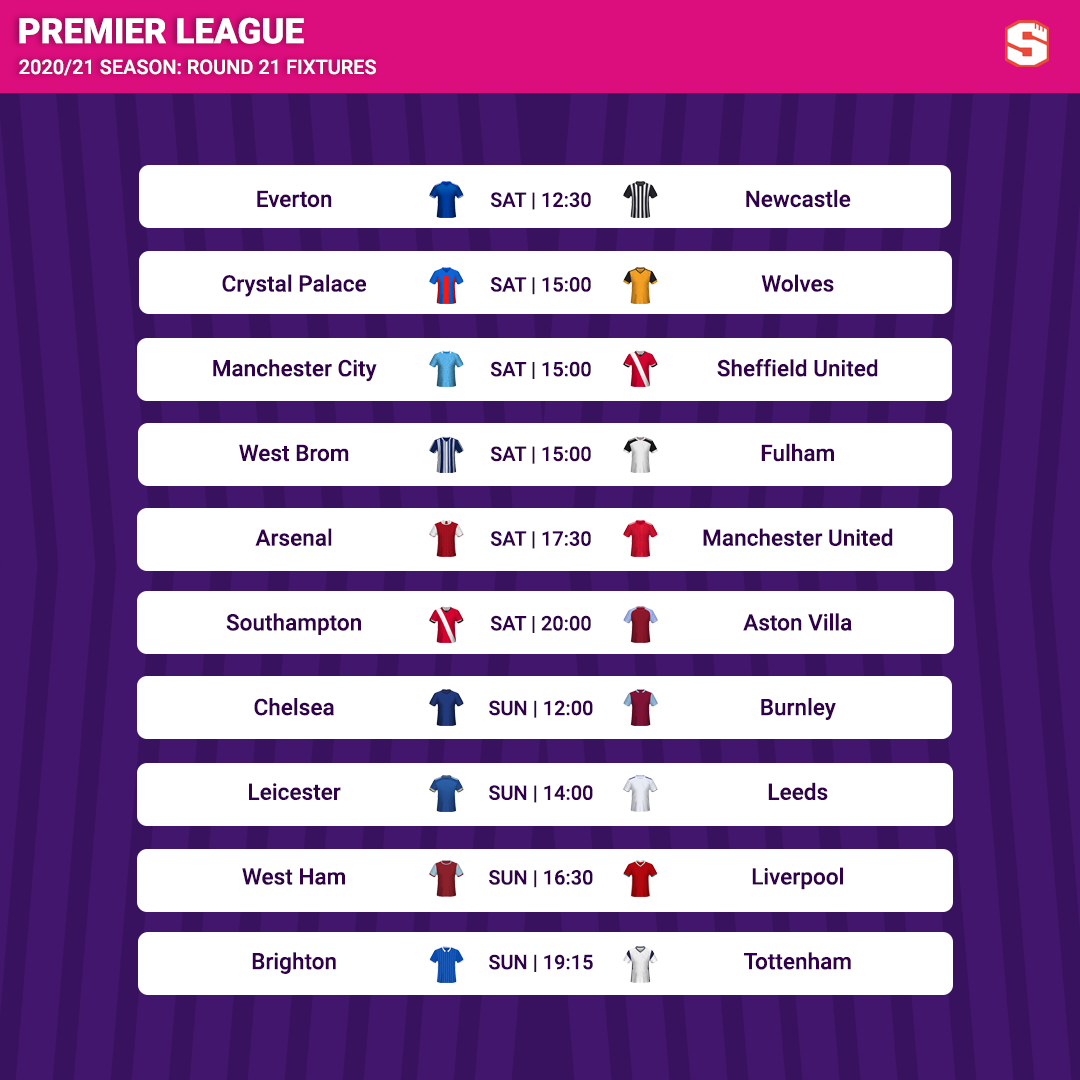 Everton vs. Newcastle
This looks an easy one to start with (if such a thing exists in the Premier League predictor). Everton are a good, solid side and Newcastle have been pretty dreadful for weeks. I can't see Ancelotti's team being troubled much here.
Prediction: Everton 3-0 Newcastle
Crystal Palace vs. Wolves
Tough pick. I'm excited to see both teams potentially lineup with a new striker in their XI but I'm not sure there'll be too many goals. Wolves were pretty negative against Chelsea in midweek and haven't won for ages but will surely have a go in this game as Palace have been conceding goals. That may help Palace though who have some good players to take advantage on the counter and I actually have a sneaky feeling this might be a win for the Eagles.
Prediction: Palace 2-1 Wolves
Manchester City vs. Sheffield United
It was great to see Sheffield United show that they've still got fight in them despite such a poor start to the season and what a result it was at Old Trafford. As much as they deserve huge credit for that, it hasn't really changed my thoughts on this game. No one has embarrassed the Blades in terms of a scoreline so far this season and I don't think Manchester City will either but this should still be very comfortable. City have conceded just 1 league goal in 2021 and they've faced better attacking sides than Sheffield United.
Prediction: Manchester City 2-0 Sheffield United
West Brom vs. Fulham
This is obviously a massive game for both sides and I'd normally say an Allardyce team playing at home will never lose a relegation battle match like this but their recent record at the Hawthorns is genuinely woeful. It'll be so difficult for the Baggies to turn things around and so while far stranger things have happened this season, I'm looking at a draw or Fulham I think. Fulham have become a bit like Brighton in that they can keep the ball fairly well and tend to put in half decent performances but they haven't won for ages and are often a bit safe. That said, they look quite a lot better than West Brom to me so I'm going for a narrow away win.
Prediction: West Brom 0-1 Fulham
Arsenal vs. Manchester United
Mikel Arteta has done well in his games against Manchester United so far as Arsenal manager and the Gunners are on a good unbeaten run at the moment. However, I think this 'new look' Arsenal with some of the younger players coming in are still slight underdogs for this game given Manchester United's away record. Arsenal did well to win at Southampton but this will be a slightly harder test again and I think the safe pick is for United to edge it with the ability they have on the counter. Solskjaer will be eager for his team to bounce back after Wednesday and they've been far better away than they have at Old Trafford.
Prediction: Arsenal 1-3 Manchester United
Southampton vs. Aston Villa
This should be a decent game to watch as both sides are playing really good football (and the reverse fixture was 3-4!). I think it's hard to pick a winner and I'm going to go for a first draw of the round here. Villa will likely have more chances thanks to Grealish but it's been a little while since they've won on the road and Southampton are always difficult to beat.
Prediction: Southampton 1-1 Aston Villa
Chelsea vs. Burnley
After Burnley's last two results, there's no way you can rule out another win for them here but their record against Chelsea is quite poor and I'm expecting Tuchel to manage a first win during his 'manger bounce' period now that he's had a couple of days with the Chelsea team. By the look of Chelsea's game against Wolves, we can expect them to have a lot of possession and they should also have a little more directness if Tuchel starts Mount and Pulisic this time having benched them in midweek.
Prediction: Chelsea 2-0 Burnley
Leicester vs. Leeds
I thought they'd struggle without Vardy, and there were times where they missed those runs in behind against Everton, but Leicester still controlled the vast majority of that game in midweek and I'm fairly sure they'll win this. Leeds look slightly less sharp and intense than they were early in the season which perhaps isn't a surprise under Bielsa with this crazy calendar and I'm not sure they'll see much of the ball in midfield. I don't think we'll see another 4-1 like the reverse fixture as Rodgers will likely be less keen to open this game up without his main striker so a more measured approach with a focus on possession is what I'm expecting.
Prediction: Leicester 2-0 Leeds
West Ham vs. Liverpool
This should be another good watch as West Ham go for five wins in a row! Sadly for them, Liverpool looked more like their old selves against Tottenham on Thursday - the finishing of the front three and Alexander-Arnold putting in a good performance spells danger for the rest of the league. I almost feel bad picking West Ham to fail to win again but then again, it's been helping them quite nicely so far so I'm sure their fans would rather I continue going against them!
Prediction: West Ham 1-3 Liverpool
Brighton vs. Tottenham
If Harry Kane is out as expected, this will obviously be a lot tougher for Tottenham but I think they should still find a way to win. I think it'll be even in terms of possession and perhaps even chances but Spurs are the more clinical. Brighton will know that they have a chance even if they go behind as Spurs often sit off but the Seagulls just don't score enough goals so it's hard to back them for even a point.
Prediction: Brighton 0-1 Tottenham
Good luck in Round 21!