Premier League Predictions: Round 19
Round 18 was a bit ordinary, wasn't it? Both in terms of Superbru picks and entertainment while watching, the short midweek round wasn't great so let's hope for an improvement across the 15 matches that make up a large Round 19!
There have been a lot of fixture postponements/changes so it's easy to get confused but in this round we have a regular weekend schedule which has been reduced to 9 matches rather than 10 because Aston Villa vs. Everton is postponed, plus 6 extra matches made up mainly of teams that didn't play in Round 18 plus a rearranged fixture between Villa and Newcastle which will be played next Saturday while most other clubs are playing in the
FA Cup fourth round
.
It's not easy to keep up but the best advice I can give you is to make all your picks for Round 19 now (you can always edit them nearer KO) and then join our
FA Cup predictor
and make all of those picks too! Here are my picks for the first 9 matches in Round 19, I'll be adding my thoughts on the other 6 games on Monday once I myself have gone back and reviewed my picks following the weekend's action.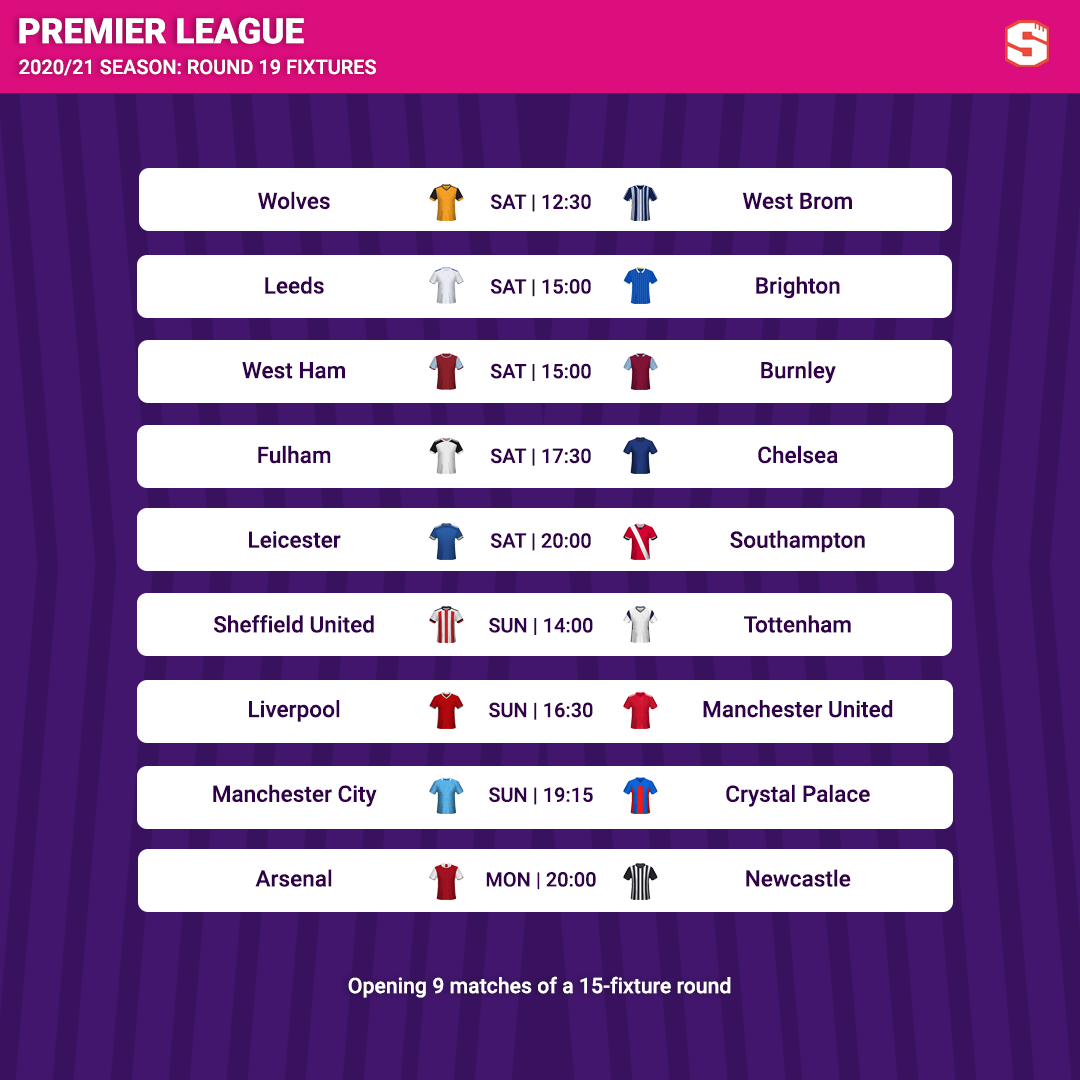 Wolves vs. West Brom
If anything, Allardyce has made West Brom look more likely to be relegated since replacing Bilic and while I don't think Wolves are a particularly good side at the moment either, this should be a home win. There doesn't tend to be many goals in games at Molineux and I'm going low-scoring because the Premier League has been lacking goals generally anyway but I think Wolves should be able to deal with the limited numbers of attacks WBA do manage.
Prediction: Wolves 1-0 West Brom
Leeds vs. Brighton
Brighton's performance at Manchester City was another one where did they did fairly well, especially since they were missing so many players, but it's results that Potter needs given how few wins his side are picking up and it's difficult to pick them when they seem to lack that clinical edge. Leeds have been going well against teams below them on the table so I'm going for a home win.
Prediction: Leeds 3-1 Brighton
West Ham vs. Burnley
I think I'm going to go for a slight upset and call a draw here. West Ham are favourites and have been going nicely but they've looked short of a goalscorer in recent weeks (other than Soucek!) so a lot is riding on injury-prone Antonio. Haller wasn't performing well for the Hammers but selling him to Ajax isn't a great move unless a very strong replacement is on the way in my opinion so that's one to keep an eye on. Burnley look as if they're back to being competitive in every game and I think they'll manage a point at least unless West Ham are really at it.
Prediction: West Ham 1-1 Burnley
Fulham vs. Chelsea
Fulham are on a very impressive run of draws - going to Tottenham and getting a point in those circumstances was a great effort. It does mean they've had far less time than Chelsea to prepare for this one though and the Blues tend to win this SW London derby. I don't think it will be easy by any means but Lampard's team need to pick up three points.
Prediction: Fulham 1-2 Chelsea
Leicester vs. Southampton
Lots will be picking Leicester here and I'm more tempted to now following the news that Ings will almost certainly miss out but I don't like going against Southampton and I never trust Leicester! Saints don't lose many and I'm interested to see how the Foxes lineup as they look to ease Pereira and Under back in. I'm going for another draw.
Prediction: Leicester 1-1 Southampton
Sheffield United vs. Tottenham
Sheffield United have finally won a match so I have to start considering them for wins now and this is a tougher pick than it should be because Mourinho and Tottenham are
still
not learning that scoring early and then just defending for the rest of the game is costing them lots of points. The Blades won this fixture last year and I think they'll be competitive again but it still feels tricky to pick them with just 5 points to their name.
Prediction: Sheffield United 0-2 Tottenham
Liverpool vs. Manchester United
What a huge game this is. Suddenly, rather than United going to Anfield to try and close the gap/delay Liverpool's title charge, this is a bigger game for the hosts because United could go six points clear at the top at least until City play. As much as I really hope this will be entertaining, there's potential for a boring, cagey match because I think Liverpool will be very wary of their makeshift centre-back pairing having to face a very good United attack.
Unlike previous meetings, I don't think this will be a case of Liverpool just committing men forward and peppering the United goal. The Reds haven't looked themselves in attack recently anyway but Thiago being back is a huge boost and I still can't see Liverpool losing simply because they haven't at Anfield for so long. Another draw pick for me!
Prediction: Liverpool 1-1 Manchester United
Manchester City vs. Crystal Palace
This one is less likely to be a draw. City continue to look pretty good and managed yet another clean sheet in midweek against Brighton despite facing some late pressure. This game will probably play out similarly to that one. I'm aware of Palace's pretty incredible recent record at the Etihad but City look as difficult to score against now as they ever have under Guardiola.
Prediction: Man City 2-0 Crystal Palace
Arsenal vs. Newcastle
Another evening fixture on it's own PL match day for Arsenal against a team they should beat... Let's hope it's more entertaining than the clash with Palace was! The Gunners really missed Tierney in that match so if he's back I'd be more confident that they'll manage 3 points, especially since Newcastle are unlikely to be as resilient as Palace.
Prediction: Arsenal 2-0 Newcastle
I'll add some thoughts on the other 6 matches in Round 19 on Monday...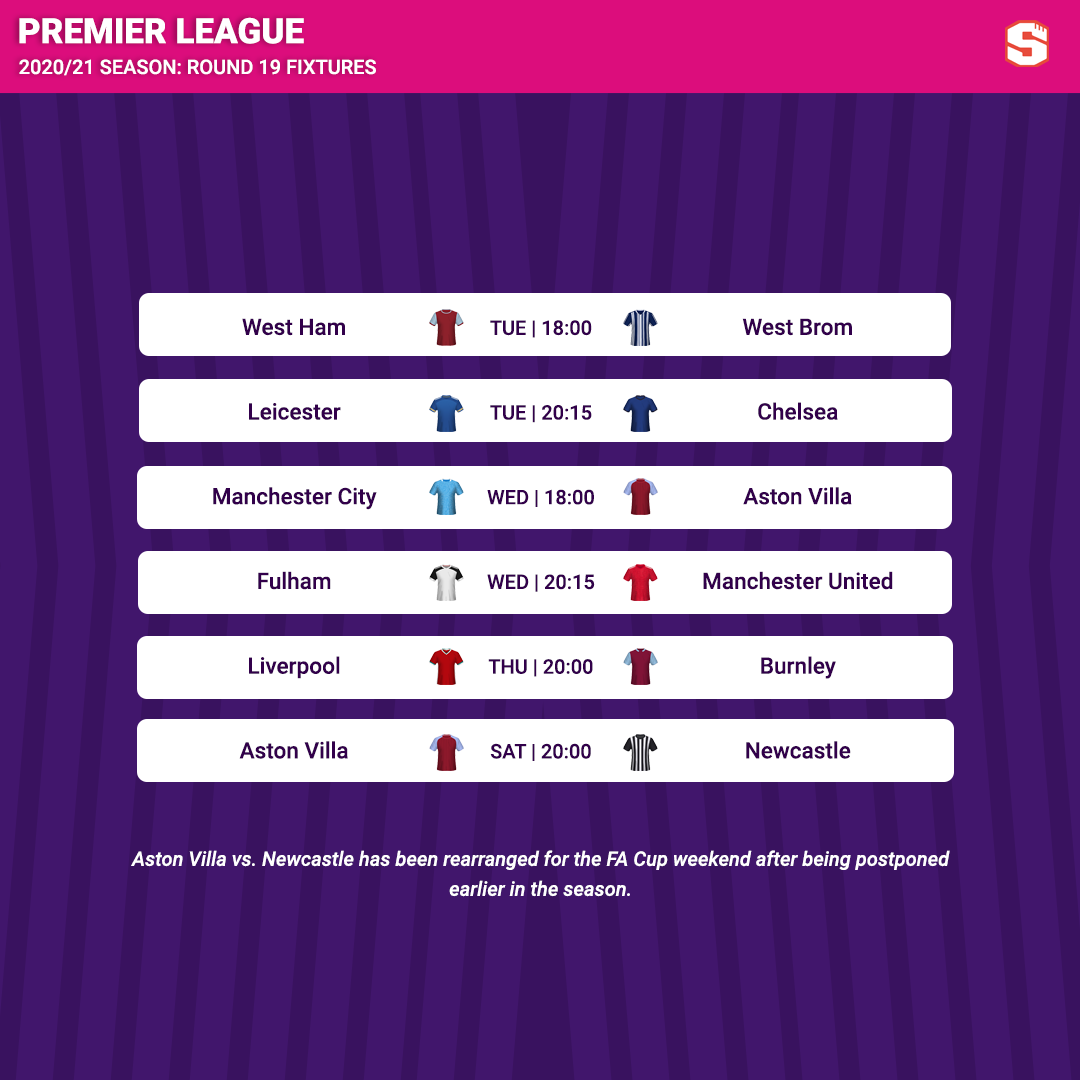 UPDATE: So then, we're 8 games in and Round 19 has been quite a mixed bag! My draw picks didn't pay off for West Ham v Burnley and Leicester v Southampton but I was pleased to at least get one right for Liverpool v United. I need some Exacts in midweek now!
West Ham vs. West Brom
Both these sides managed good wins at the weekend so it'll be interesting to see how they follow up now. Well done to the small percentage that backed WBA on Saturday and those that had Pereira or Ajayi in Odds-based fantasy - big points there! I didn't see that win coming at all despite having doubts over Wolves and I'm not really considering going against West Ham here. It's very rare to see an Allardyce team win 2-3 and it feels very unsustainable. Until WBA improve dramatically defensively, I can't see them consistently managing results.
Prediction: West Ham 2-1 West Brom
Leicester vs. Chelsea
Really tricky one. Again, both teams won at the weekend - Leicester did really well to beat Saints while Chelsea scraped a win at Fulham while appearing to save some players for this match. It's hard to be convinced by Chelsea but they obviously have dangerous players and I still have my doubts about Leicester - they fell away last year when the big games came up so will they deliver this time with an opportunity to go top? If they win this match I think it's fair to consider them dark horses in the title race let alone top four. I just have a sneaky feeling for Chelsea though. Finding that goal at Fulham was vital and the Blues have to prove they can beat a side at the top of the table this season.
Prediction: Leicester 1-2 Chelsea
Manchester City vs. Aston Villa
Though they've been brilliant this season, it's hard to see Aston Villa getting anything here after so long without playing due to their coronavirus outbreak. City are looking in excellent form as well. I've gone for a narrow scoreline because I think Villa will impress again but the hosts should be too strong.
Prediction: Man City 2-1 Aston Villa
Fulham vs. Manchester United
This is a similar story in that Fulham have been impressive of late (they looked to be really troubling Chelsea up until their red card) but will likely still just fall short of a result given Man United's away form. United's confidence is growing all the time on this unbeaten run, they picked up a good result at Liverpool and will find a way through this Fulham defence despite the serious improvement Scott Parker has seen from his team since September.
Prediction: Fulham 0-2 Manchester United
Liverpool vs. Burnley
At the start of the season, I'd never have expected Liverpool to go 4 games without a win in the PL and certainly wouldn't have expected 3 games without a goal! The pressure is now on the Reds to put out a clear statement in this game and you'd expect them to regain their scoring touch against Burnley. Klopp's team aren't playing awfully and I think will be helped in this game by Henderson coming back into midfield with Matip or one of the young centre-backs coming in at CB. Burnley are struggling for goals themselves so the hosts shouldn't have too much to worry about defensively.
Prediction: Liverpool 2-0 Burnley
Aston Villa vs. Newcastle
Both of these teams still have a match to play before this one but I'm fairly sure I'll be picking Villa whatever happens. Newcastle have been very ordinary for weeks now and Villa will get some match fitness back if nothing else at City before turning up for this game.
Prediction: Aston Villa 3-1 Newcastle
Good luck in Round 19!