Premier League Predictions: Round 18
After a brief pause for some FA Cup football, the Premier League is back tonight and we're returning to a very busy schedule with matches taking place on 9 of the next 10 days.
As you may well have already seen in the news/via an email from us, there's been a late fixture change in Round 18 with Tottenham now facing Fulham on Wednesday rather than travelling to Aston Villa because Villa are still out of action following their coronavirus outbreak.
Here are my picks for this week's mini 6-game round which will be followed by a monster 16-fixture round starting on Saturday.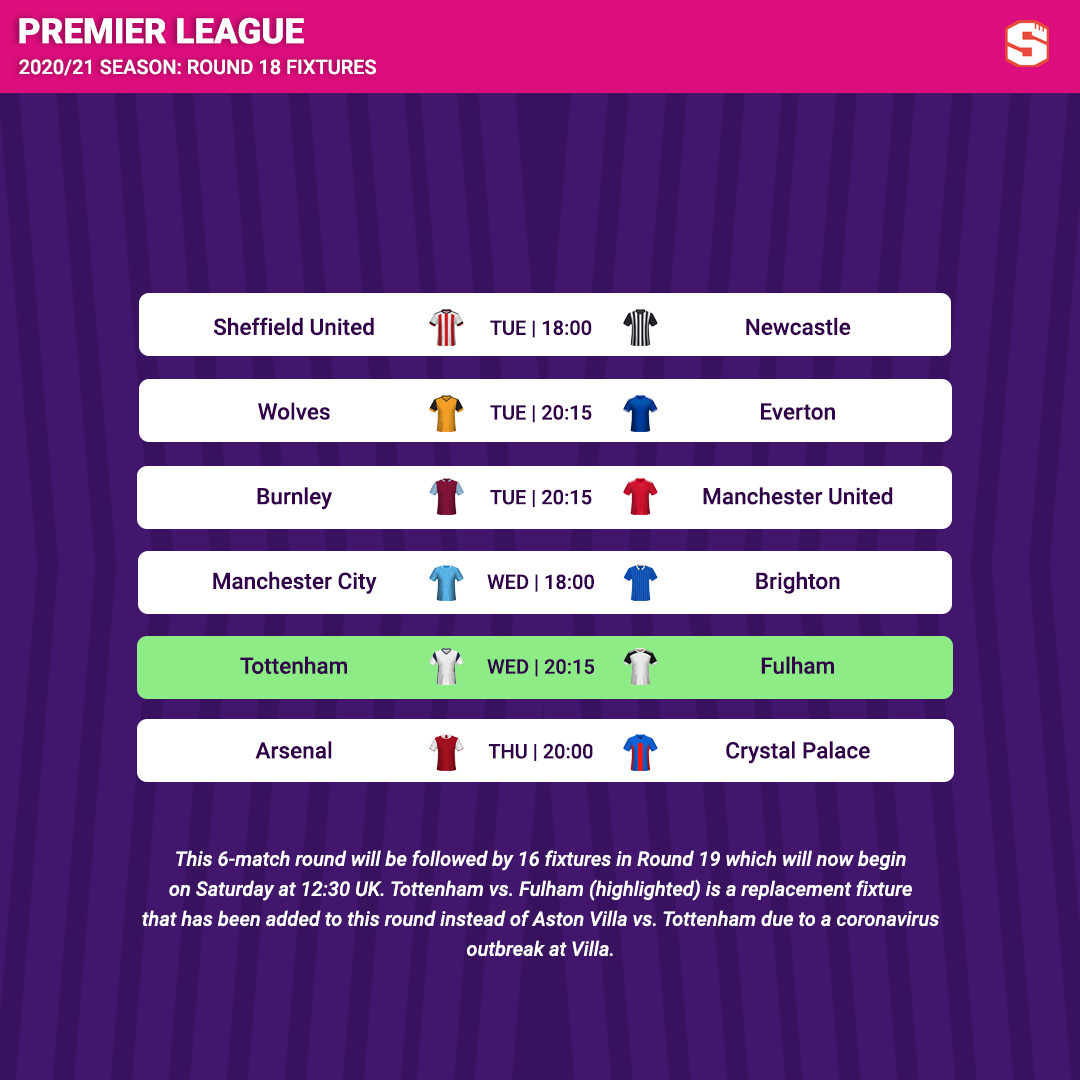 Sheffield United vs. Newcastle
This is a pretty good opportunity for Sheffield United to finally get a league win on the board and they did manage to (just about) find a victory in the FA Cup against Bristol Rovers at the weekend, but I'm sticking with my plan to avoid picking them until they show they can win a PL match this season. Newcastle aren't great but they've shown themselves to be far more capable of scoring than Sheffield United so far in this campaign and they're starting to get some players back from injury at last.
Prediction: Sheffield United 1-2 Newcastle
Wolves vs. Everton
Tough pick! I think I was ready to back Everton for an away win but now that Ancelotti has said Calvert-Lewin is out I'm far less confident. It'll be interesting to see how Cutrone does for Wolves now that he's been recalled from loan but I can't see him making an immediate drastic impact so Wolves will likely still struggle for goals. They've lost some of their defensive solidity too in the past couple of months so I"m going for a draw here.
Prediction: Wolves 1-1 Everton
Burnley vs. Manchester United
It still sounds very surprising, but Manchester United are going to go top of the league tonight, aren't they? Having looked so unconvincing in the opening weeks of the season, you have to give Solskjaer a lot of credit to put a 10-match unbeaten PL run together in a season where everyone is struggling for consistency. Their away form in particular has been excellent and I think they'll win this match to set up what should be an absolute belter at Anfield this weekend!
Prediction: Burnley 1-2 Manchester United
Manchester City vs. Brighton
Manchester City are starting to look really, really good and Brighton are missing quite a few players so I can only see a comfortable home win. I know lots of South Africans will be eager to see Percy Tau finally appear in a Premier League match so let's hope he gets some minutes but that might be one of few highlights in this game for Brighton fans.
Prediction: Manchester City 3-0 Brighton
Tottenham vs. Fulham
There's obviously a much bigger picture and compromise was always going to be needed this season because of how stupidly the football calendar has been designed, but I do feel a bit sorry for Fulham this week. Rather than just preparing to host Chelsea on Friday as planned, they now have to suddenly make a gameplan for Spurs away on Wednesday and then still host Chelsea just a few days later on Saturday. This would have been a difficult enough game for Scott Parker's side anyway but I'd be very surprised to see them manage a point or more in these circumstances.
Prediction: Tottenham 2-0 Fulham
Arsenal vs. Crystal Palace
Arsenal have struggled with Palace in recent years and I think this will be close once again but the recent form Arteta's side have shown makes me think they should sneak it. Palace have only won 1 away game since October and will dig in to ensure this isn't a classic but I think the Gunners will find a goal.
Prediction: Arsenal 1-0 Crystal Palace
Good luck in Round 18!