Premier League Predictions: Round 16
The Boxing Day round was a pretty average one for me as I picked all of the matches that the majority of the community got correct but failed to pick any of the draws/upsets. There's very little time to dwell on that though as we're straight into Round 16 which begins today - probably the craziest fixture turnaround in a season full of crazy fixture turnarounds.
Since most teams will have little more than 48 hours to prepare for each of these games, we can expect some rotated lineups, tired players and therefore perhaps the bigger sides coping best since they have the largest squads and more experience of this due to playing in Europe? Here's what I'm going with in Round 16...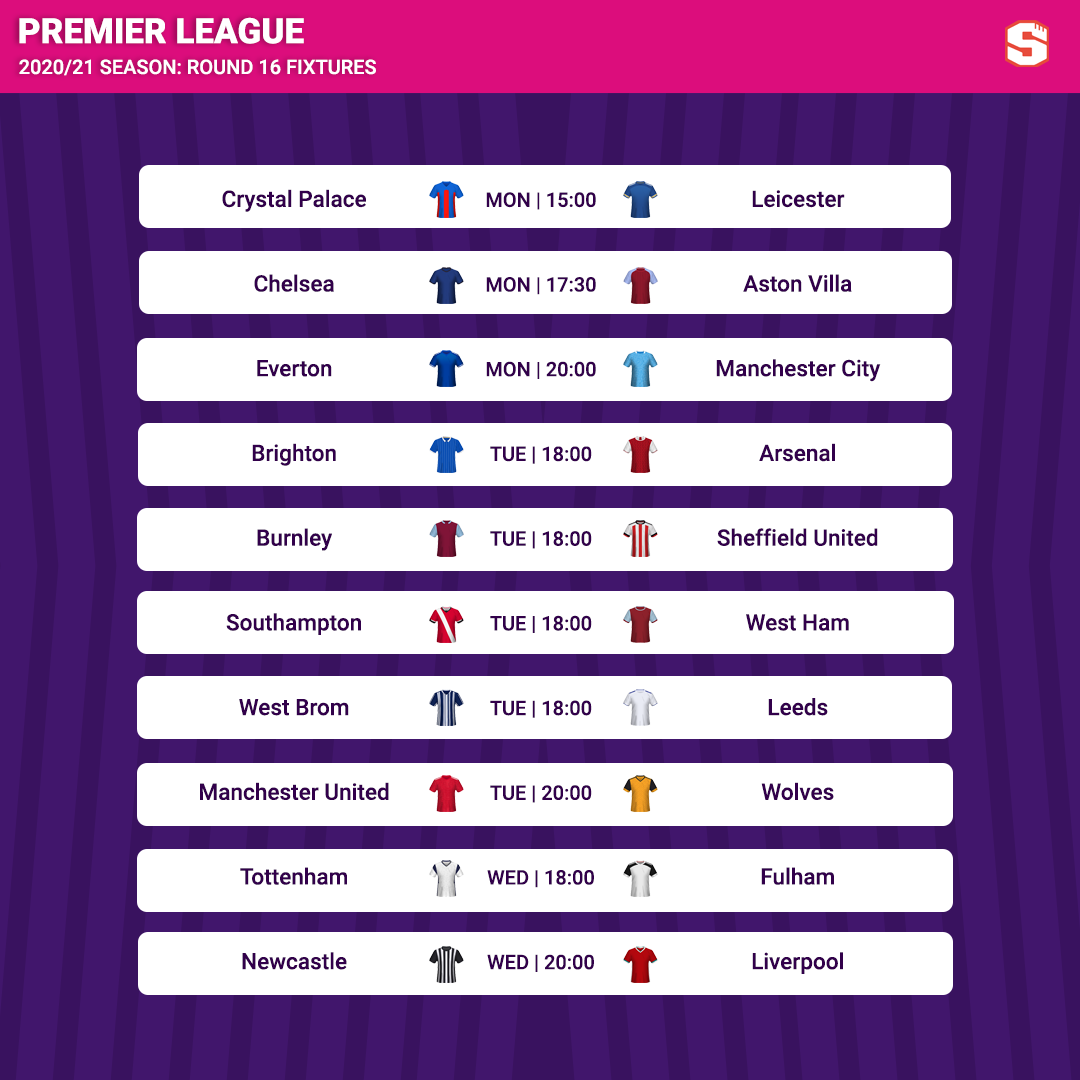 Crystal Palace vs. Leicester
Leicester did well to get that late goal against Manchester United and they've been better on the road than they have been at home this season so I think they'll win this. Palace are going through a bit of a difficult patch so I'm not really tempted by a home win.
Prediction: Palace 0-2 Leicester
Chelsea vs. Aston Villa
Really tricky. This is one of those games where form really points towards Villa but Chelsea are still pretty firm favourites in the eyes of most. The thing that still has me leaning towards the Blues is that first of all, this is at home and it's away that they've been losing games, and second, we saw Lampard hook Werner at HT during that Arsenal defeat which suggests he's either lost patience with him or is giving up on the idea that he can affect games from the wing.
Either way there should be changes for Chelsea. I think Werner can play on that left flank if he isn't being given the ball to create the chances and Ziyech is available to pick him out with far post crosses but without Ziyech fit, things haven't worked. The alternative now is either Werner on the bench (probably likely given how much he has played) or Werner as a central striker and I think either of those options will help Chelsea in this game. Villa have been going well but Mings being suspended is a blow.
Prediction: Chelsea 2-1 Aston Villa
Everton vs. Manchester City
Everton have been going nicely but Ancelotti has already hinted at pretty heavy rotation for this game and they're without quite a few key players due to injury as well. City should be too strong and are starting to find their feet this season after a slow start. They're also missing a couple of players but it looks as if Aguero might be ready to start and even if not, Ferran has shown he can do a pretty decent job as a 9. Walker will also be out but Cancelo has impressed me with his versatility under Pep and he's obviously a very capable replacement in his main position at RB.
Prediction: Everton 0-2 Man City
Brighton vs. Arsenal
In the same way I said Lampard may well change his lineup/formation long-term quite significantly after that Arsenal result, I think Arteta will too but obviously for different reasons. We saw Arsenal's young players play with so much desire and intent in that game so you'd think Arteta will be more comfortable selecting them going forward than many of the experienced players that have got them in this mess in the first place. Saka was excellent once again and Martinelli appears as sharp as he was before his injury. If they're able to lineup with a similar team at Brighton I think they can win again. The Seagulls had another typical performance last time out where they played quite well, should have won, but didn't.
Prediction: Brighton 1-2 Arsenal
Burnley vs. Sheffield United
The approach of just picking Sheffield United to lose each week is still going quite well. Of course, they'll win at some point and it'll definitely be a result I get wrong but it's hard to have much faith in them and this is a very difficult match at Burnley. I'd be surprised to see anything other than a home win.
Prediction: Burnley 2-0 Sheffield United
Southampton vs. West Ham
A pretty even game on paper. I'm going with Southampton because of home advantage and I think they are just a slightly better side than West Ham but I'm a little concerned by how good the Hammers' record is against them. Saints are also still missing some key players in Ings and Vestergaard so it's definitely understandable to pick West Ham but with Romeu back I'm thinking the hosts might still just about have enough.
Prediction: Southampton 2-1 West Ham
West Brom vs. Leeds
The ultimate clash of styles. If you're Bielsa, how do you go to the Hawthorns and open the game up as you usually like to when the opponent will just stay in shape anyway for a very large amount of this game? I'm interested to see how this goes because I'm struggling to picture how it will play out. The Championship meetings between these two aren't really relevant in my opinion now that WBA have a different manager and are chasing survival rather than promotion. I'm going with Leeds because you'd think they'll have the greater number of chances but I doubt they'll completely blow West Brom away.
Prediction: West Brom 1-3 Leeds
Manchester United vs. Wolves
United should be able to cope with this tight turnaround far better than Wolves who have a pretty thin squad. The visitors have a decent record against Man United but this will be very tough for them so soon after the Spurs game where they picked up a hard-earned, deserved point. When you're slightly fatigued or perhaps a younger player coming in during squad rotation, playing this United side with their speed on the counter won't be easy at all.
Prediction: Manchester United 3-0 Wolves
Tottenham vs. Fulham
Spurs fans have understandably been left pretty disappointed with dropped points in recent weeks in games at Palace and Wolves where we've seen Tottenham take the lead and then just sit back far too much as they aim to protect it. In both matches they of course failed to do so and surely we won't see the same mistake made here? Spurs are strong favourites, have a great record against Fulham and should push for a second goal this time to make game management far easier.
Prediction: Tottenham 2-0 Fulham
Newcastle vs. Liverpool
Liverpool's draw with West Brom was different to the Tottenham draws I've just described in that they didn't sit back at all but they did become quite complacent and slow in my opinion. I expect a pretty strong response from Klopp's side in this match and they'll likely find Newcastle easier to score against than they did WBA.
Prediction: Newcastle 1-3 Liverpool
Good luck with your Round 16 picks!