Premier League Predictions: Round 15
I didn't make my way up too many leaderboards without an Exact, but I was fairly satisfied with 6/10 in Round 14. Burnley pulled off an upset win for me but 10-men West Brom weren't even close to getting the draw I was hoping for!
On to Boxing Day then and there are some pretty entertaining fixtures coming up. Here are my picks for each game!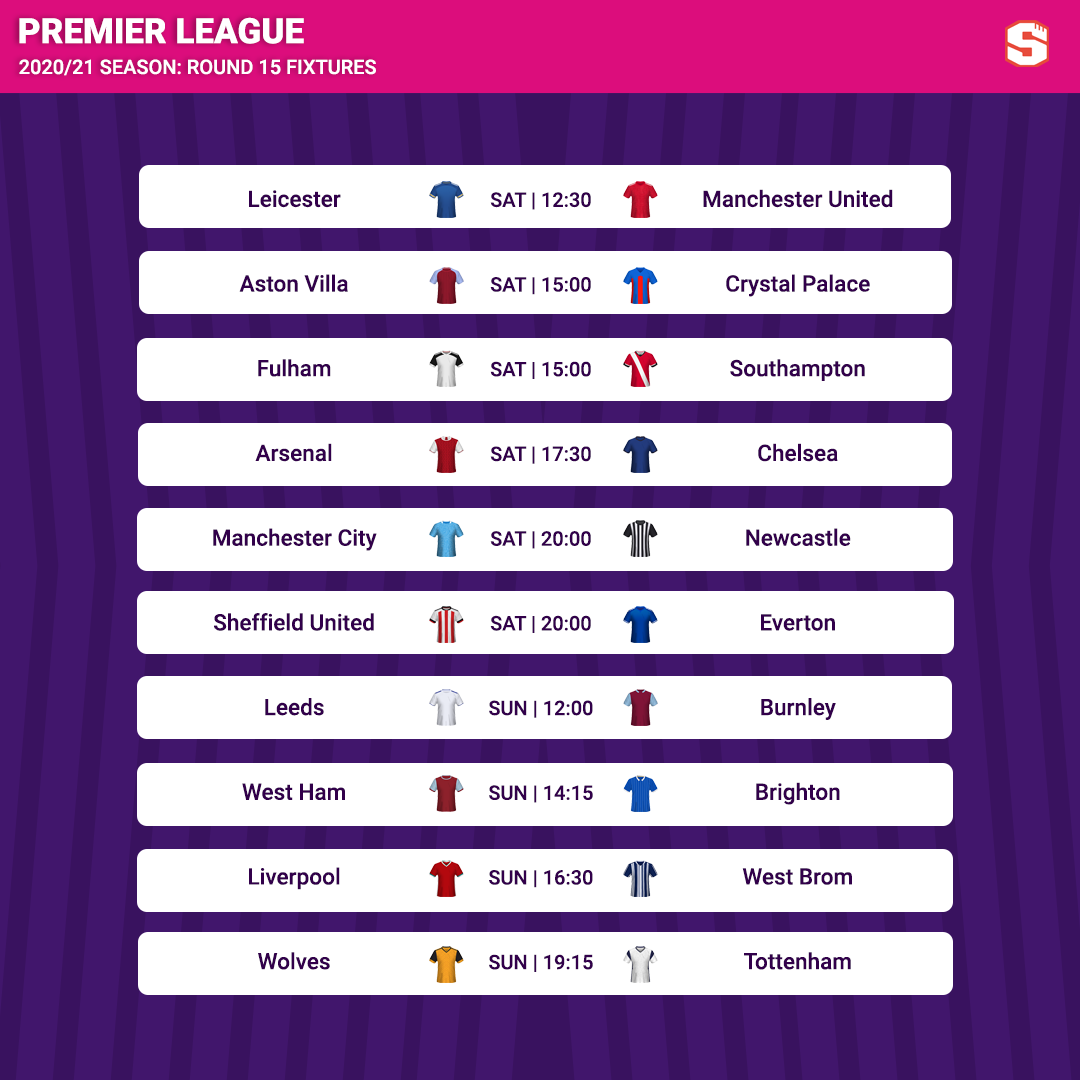 Leicester vs. Manchester United
Given the away run United are on, it feels like Leicester would have more chance of winning this if it was at Old Trafford! The Foxes picked up a great win at Spurs but you're never quite sure what you'll get from them and I think United are fairly strong favourites. Solskjaer's team played fairly well in their Cup game at Everton on Wednesday despite resting quite a few players.
Prediction: Leicester 1-2 Manchester United
Aston Villa vs. Crystal Palace
Aston Villa are looking really good, while Palace's 0-7 loss against Liverpool probably wasn't a great confidence booster going in to Christmas. Villa should dominate this game and I expect them to score goals. Palace do have goals in them too but I'd be surprised to see them score more than once which probably won't be enough to get anything at Villa Park.
Prediction: Aston Villa 2-0 Crystal Palace
Fulham vs. Southampton
An interesting fixture. Fulham are competing well consistently each week now as their run of draws shows and while Southampton are a considerably better team, this could be tricky, especially without Danny Ings. Romeu is also suspended and he's been key for Saints so I am tempted by an upset. I'm sticking with an away win for now but might change to a draw if I catch the team sheets and see anyone else missing.
Prediction: Fulham 1-2 Southampton
Arsenal vs. Chelsea
We tend to see pretty close games between these two, including this fixture around Christmas time last season when Chelsea came from behind to win 1-2 thanks to a late Abraham goal. I think it'll be close this year as well despite Arsenal's horrendous form. It's got to the point now where you're thinking the Gunners have to win at some point and it's likely to be when you least expect it but logic suggests Chelsea are the team to pick. We've seen both teams play pretty cautiously in the big games so one goal might be enough.
Prediction: Arsenal 0-1 Chelsea
Manchester City vs. Newcastle
The League Cup loss to Brentford was a very bad one for Newcastle as the fans rightly saw a great chance for a trophy. There's now going to be a lot of pressure on the Magpies with the anger towards Mike Ashley rising once again and this isn't the fixture Steve Bruce wants when in need of a win. At the Etihad, there should only be one winner.
Prediction: Manchester City 4-0 Newcastle
Sheffield United vs. Everton
They've been getting closer, so is this week to finally pick a Sheffield United win!? I have huge respect for those that do but I'm still not brave enough myself. Everton are another side that will be very disappointed to have lost in the League Cup but they've been going really nicely in the PL and that should continue in this match.
Prediction: Sheffield United 1-3 Everton
Leeds vs. Burnley
Leeds' game at Manchester United turned out pretty much exactly as expected, with them playing right into Man United's hands and conceding a lot of goals. Every match they play is a must-watch but I think Bielsa does deserve some criticism for not altering his team's approach even slightly to acknowledge the strengths and weaknesses of that Man United team. In contrast, this is a match that should suit them far better. Burnley are going well but aren't a lightning quick counter attacking side. The Clarets can still hurt Leeds at set-pieces but I think it'll be the hosts creating a lot of chances from open play and I expect them to win.
Prediction: Leeds 2-1 Burnley
West Ham vs. Brighton
Brighton just keep finding ways to not win matches that they should win so I think you have to go with West Ham here. There's no doubt that Graham Potter has improved the style of Brighton's football but you would expect results to be improving by now and not beating a 10-man Sheffield United side is really poor. They have a great record against West Ham in the Premier League but I think the hosts can find a win this time around, especially since there's a chance Antonio can be back involved.
Prediction: West Ham 2-0 Brighton
Liverpool vs. West Brom
Liverpool have won every home PL game so far this season and this looks like it should be one of their more routine victories. The Reds can attack this WBA side knowing it's unlikely Allardyce will be planning to swing too many punches back at them and I think it will be almost impossible for the Baggies to keep a clean sheet.
Prediction: Liverpool 3-0 West Brom
Wolves vs. Tottenham
A slightly tricky one to finish with now that Tottenham have gone off the boil a bit but I still expect a Spurs win. As I said in the last round, I think Wolves were fortunate that Chelsea gave them a chance to win in that fixture at Molineux and aside from that, we're looking at 3 defeats in 4 since Raul Jimenez suffered his injury. Jose Mourinho will know that if his team stay organised for the full 90 they should be able to deal with what Wolves can offer offensively and then in attack the plan remains the same - hope that Kane and Son continue to combine nicely and deliver the goals.
Prediction: Wolves 0-1 Tottenham
Best of luck in Round 15! I hope you all have the best festive period you can in the circumstances and that the football/Superbru can provide you with a smile over the Christmas break. Feel free to critique my picks in the comments below and I look forward to bringing you my Round 16 predictions on the 27th!