Premier League Predictions: Round 14
It feels like unexpected results come up more frequently during midweek rounds although saying that, the recent Round 13 was no worse than Round 12 was for me! On the plus side, the community average was only 3/10 and people were winning Yellow Caps with 4/10, but after two very poor showings I'm in need of a strong Round 14 and a green arrow heading into Christmas.
As you may have seen in a recent email from us, be aware that after Round 14, there are three rounds in very quick succession from Boxing Day through to New Year. As a result, it's a good idea to make some picks for each round in advance so that you don't miss any deadlines - you can always go back and edit them at any time up until each individual kick-off.
On to Round 14 then and here's what I'm going with for each game. We saw quite a few managers mention fatigue in midweek after some flat displays from certain teams so that's something to keep in mind in this round too.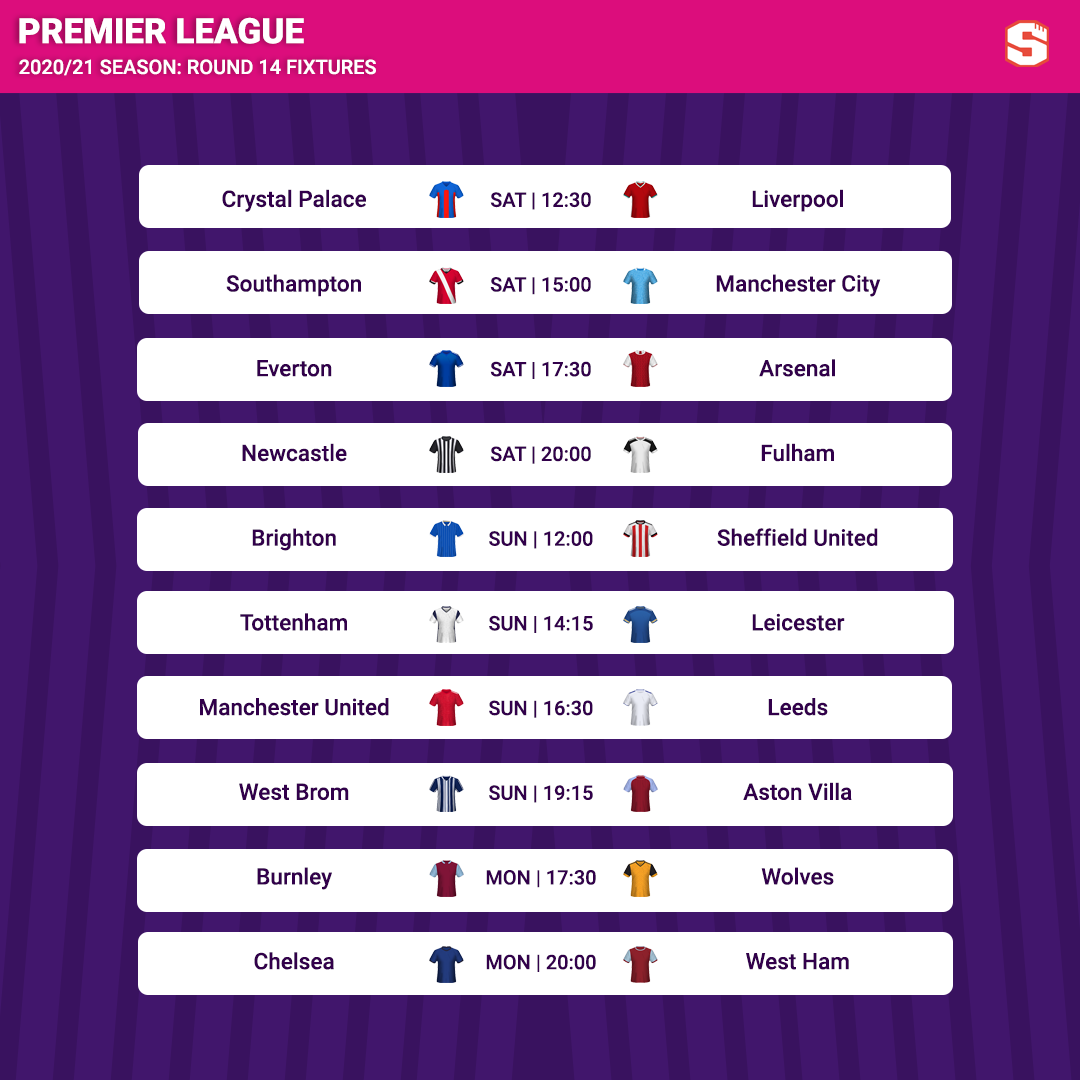 Crystal Palace vs. Liverpool
I thought Liverpool were really good going forward against Spurs. They weren't great at dealing with Son and Kane, as was reflected by the big chances Tottenham had, but some of the incisive passing when in possession was really impressive against a low block. That should stand them in good stead for this game too and though their away form hasn't been great and this is the dreaded early Saturday kick-off, I think they'll sneak it.
Prediction: Palace 1-2 Liverpool
Southampton vs. Manchester City
This will also be close and I expect a fair percentage of people will back Southampton/a draw but their home displays against Spurs and United have put me off slightly. Saints also let Arsenal off the hook a bit in midweek (even before the red card) and so even though I really rate them as a side, I'm concerned they'll give City too many chances and even this new-look, more pragmatic Pep Guardiola side should be able to score enough goals to win.
Prediction: Southampton 1-2 Man City
Everton vs. Arsenal
Everton have managed really impressive back-to-back wins now. I should have picked them to beat Leicester because I never feel comfortable backing the Foxes and there's now no reason why they can't make it three on the bounce. Arsenal hardly turned a corner against Saints despite avoiding defeat and we saw yet another stupid red card that will affect Arteta's team selection for this game. This should be a home win.
Prediction: Everton 1-0 Arsenal
Newcastle vs. Fulham
Really tough to call. I think I'm tempted by a slight upset because Fulham were again quite strong defensively in midweek and are playing with more and more courage in attack. Newcastle have been picking up a fair number of wins and I expect most will pick them despite that 5-2 at Leeds but if Fulham are brave I think they can go there and win this.
Prediction: Newcastle 1-2 Fulham
Brighton vs. Sheffield United
Brighton should definitely win this game but I'm by no means confident since they're still yet to win at home this season and fail to win a lot of games that they should win. Sheffield United are breaking all sorts of records for how bad their start to the campaign has been and despite a couple of goals against Manchester United, I don't see how they're going to find the net enough to start winning games anytime soon.
Prediction: Brighton 2-1 Sheffield United
Tottenham vs. Leicester
Despite what Mourinho says, you can tell he thinks Tottenham are right in this title race and why shouldn't he after what was a decent performance at Anfield. I think Spurs will be fine in this game, they have a good record at home against Leicester and I'm not sure how the visitors will create too many chances when there won't be space in behind. Tottenham will struggle most this season when facing a low block I think and that won't happen here.
Prediction: Tottenham 2-0 Leicester
Manchester United vs. Leeds
This is the 'must watch' game of the weekend because it'll just be straight chaos but I feel like Manchester United will win. As much as I like and respect Bielsa (how can you not when so many other managers talk of him so highly), this is the kind of game where I have slight question marks because the reason United have such a terrible home record is because people don't allow them a chance to counter and make them have the ball.
Leeds definitely aren't going to sit back and force United to play in a way that makes them uncomfortable which in my opinion only reduces the chances of the visitors getting a result? I can't see them doing anything other than what they do in every match which is open things right up and effectively say 'you have a shot and then we'll have a shot'. If they get a result playing that way then fair enough but I think this will just play in to Solskjaer's hands as Man Utd will treat it like an away match where they are very, very good on the counter.
Prediction: Manchester United 3-1 Leeds
West Brom vs. Aston Villa
The return of Big Sam! Allardyce has been out of the game for quite a while so I'm interested to see how he sets up although we can obviously guess what's coming in a general sense - he'll make West Brom awkward to play against and hard to beat but that may come at the expense of the creative freedom the likes of Diangana and Pereira usually like to have. This is quite a difficult pick because there might be a slight 'new manager bounce' but WBA shouldn't be in need of one after a great result at City last time out anyway. I think this could be a 1-1 just like they managed at the Etihad with Villa having most of the chances.
Prediction: West Brom 1-1 Aston Villa
Burnley vs. Wolves
I'm leaning towards Burnley here. Neto and Podence stepped up brilliantly for Wolves against Chelsea in midweek to score the goals needed for a win but it's in games like this where I think they'll really miss having a 9. Chelsea allowed Wolves back into that game at Molineux and I just can't see Burnley giving up similar chances given their style of play. Dyche's team are on a 3-match unbeaten run and I think they can continue to move themselves up the table.
Prediction: Burnley 1-0 Wolves
Chelsea vs. West Ham
A tricky London derby to finish. After back-to-back defeats on the road with some average performances, Chelsea really need a win here but West Ham are going nicely and have won their last two meetings with the Blues. That said, their win at Stamford Bridge last season was their first in a long time and I'm not going to back them for another upset. Chelsea have had a long time to prepare for this game since it's not til Monday night and they last played Tuesday. If Ziyech is back fit, I'll be far more confident picking the Blues but if he's not, I think they need to find a way of getting Werner back playing centrally again. If still without a right winger, I can't see Lampard lining up the same way again for a third consecutive game and that's why I think the hosts should get a result.
Prediction: Chelsea 2-0 West Ham
Best of luck in Round 14!