Premier League Predictions: Round 13
I think we're all quite pleased that we get to move on from Round 12 swiftly. My prediction that Round 12 would be a bit of a mess after a decent Round 11 was one of few I got correct at the weekend but sadly it didn't bring me any points!
The fact that there were so many upsets in the last round means the table has actually remained pretty similar at the top with Liverpool and Spurs both drawing and Chelsea, Man City and Man United all failing to take advantage.
On to our first midweek round of the season then and here are my thoughts on each game in Round 13. Plenty will be caught out by the early opening deadline of 6pm (UK) on a Tuesday so make sure you get your picks in!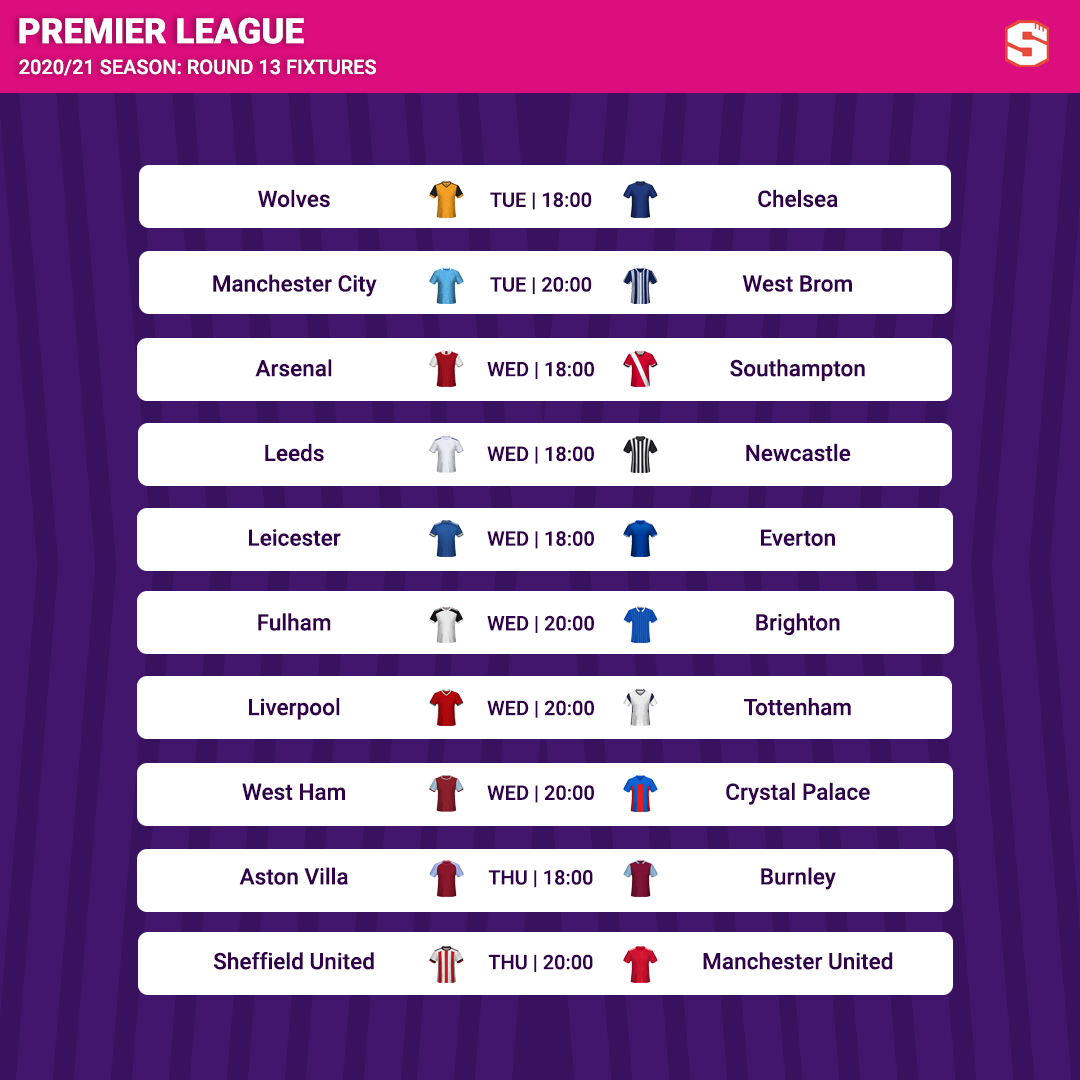 Wolves vs. Chelsea
Chelsea's loss at Everton was an upset but wasn't
too
surprising given the Blues' poor record at Goodison. I think I'm more concerned about Wolves who lost at home to Villa, have a very thin looking squad for this busy calendar and will lack goals without Jimenez. Chelsea will need to start well so that their confidence doesn't take another hit but I think they should win.
Prediction: Wolves 0-2 Chelsea
Manchester City vs. West Brom
As Round 12 showed us, nothing is certain in the PL but this is probably as close as you can get. I'd be amazed if West Brom got anything at City who might also have Aguero back. In
Odds-based fantasy
, West Brom keeper Sam Johnstone has odds of 19 for a clean sheet!
Prediction: City 4-0 West Brom
Arsenal vs. Southampton
I'm genuinely surprised about how bad Arsenal are. Yes, they've been average for years now but it's pretty remarkable how quickly Mikel Arteta has gone from looking like the man perfectly suited to turn things around, to arguably overseeing worse performances in recent weeks than we ever saw under Emery? I thought the Gunners would be challenging for Europe this year but they're not even close to that and hardly show energy let alone an ability to score goals. Arteta can probably still turn it around but I'd be surprised if he did in this game against a very good Southampton team. The Saints' position on the table doesn't flatter them - they've been fantastic.
Prediction: Arsenal 0-2 Southampton
Leeds vs. Newcastle
It feels like people are slowly moving away from talking about how good to watch Leeds are and instead talking about a key reason why their games are so fun to watch: because they're not very good at defending. Not only are they giving up far too many chances, but the number of goals they're giving away at set pieces is a real worry for their fans. This is a game they should win but I'm having doubts because of that West Ham performance and think I'll go for a draw.
Prediction: Leeds 1-1 Newcastle
Leicester vs. Everton
This is tough. Leicester performed well last week but I still never feel comfortable picking them. With home advantage they are favourites though and Everton have been equally inconsistent. I think this one will be level for a lot of the game before a late winner.
Prediction: Leicester 2-1 Everton
Fulham vs. Brighton
Another tricky one. Fulham's performance level over the past few games has been such a dramatic improvement on their start to the season and this fixture now looks quite even on paper. Lookman and Reid have been particularly impressive for the Whites but I'm wary of the pattern we often see where after a big performance against a massive club, we then see a drop off and the same team lose a match that is far more winnable. Brighton had a bad defeat at Leicester but are usually fairly tidy and I think they'll sneak this.
Prediction: Fulham 1-2 Brighton
Liverpool vs. Tottenham
Obviously a huge game and it should be a good watch as Jose Mourinho looks to find a result at Anfield that would basically confirm Tottenham's status as title challengers. We all know what to expect, including Liverpool of course, and there are some clear recent examples of how to defend and how not to defend against Tottenham from the Chelsea and Arsenal games.
It's still a huge gamble to pick an away team to win at Anfield simply because it hasn't happened in the Premier League for such a long time. Liverpool are used to dominating teams and given that Spurs are used to defending with so many behind the ball anyway, I think they'll get trapped in for most of this game as they'll need to be even more defensive than usual to keep out this Liverpool attack. The Reds will need to be clinical and defend the counter wisely but I can't see Jurgen Klopp playing into Mourinho's hands and losing this.
Prediction: Liverpool 2-0 Tottenham
West Ham vs. Crystal Palace
Palace did the double over West Ham last season and they've certainly got a chance here but the safe pick is West Ham, I think. In previous seasons, even when the Hammers pick up the odd good result against a big side, I tend to hesitate before picking them to win more routine home games but after their recent victories over Fulham and Aston Villa they do seem to have more consistency in this campaign. You can't really argue against the 4 wins in 5 David Moyes has managed and they're a real threat at set pieces too with Soucek starting to contribute with goals as he did during Project Restart last season.
Prediction: West Ham 2-1
Aston Villa vs. Burnley
Burnley look like they're finally finding their feet in this campaign and are back to being the awkward opponent teams don't really want to play. They've also got a fairly kind fixture list over Christmas so they've a chance to get themselves out of trouble but this isn't an easy game. Villa picked up a decent win at Wolves and even in recent defeats have had plenty of the ball and lots of chances. When Villa do lose this sort of game it tends to be because they beat themselves with stupid errors but it's difficult to account for that when making a prediction and I think they should just about win this (though they are due a draw!)
Prediction: Aston Villa 1-0 Burnley
Sheffield United vs. Manchester United
I'm sure they'll manage 1 or 2 at some point but at the moment it doesn't look like Sheffield United will win a match this season. They've got issues all over the pitch, are struggling to even string many passes together and certainly don't look like scoring many goals. I think they've got to stick with Chris Wilder but this should be straightforward for Manchester United. After both teams played out such a boring Manchester derby on Saturday and took the point they each seemed happy with, they now have to back that result up with a run of wins.
Prediction: Sheffield United 0-2 Manchester United
Good luck to all with your predictions in Round 13!