Premier League Predictions: Round 12
Round 11 was a fairly good one for me as I managed 7/9 correct picks with 3 Exacts. As most of you will know, a round like that is usually followed by a bit of a mess when you predict the next round so I'm trying to spot the banana skins in Round 12!
This week we have a full schedule of 10 games starting this evening with the two standout fixtures coming tomorrow night - the Manchester derby and Everton vs. Chelsea.
Here are my thoughts on each game. Let me know where I'm wrong!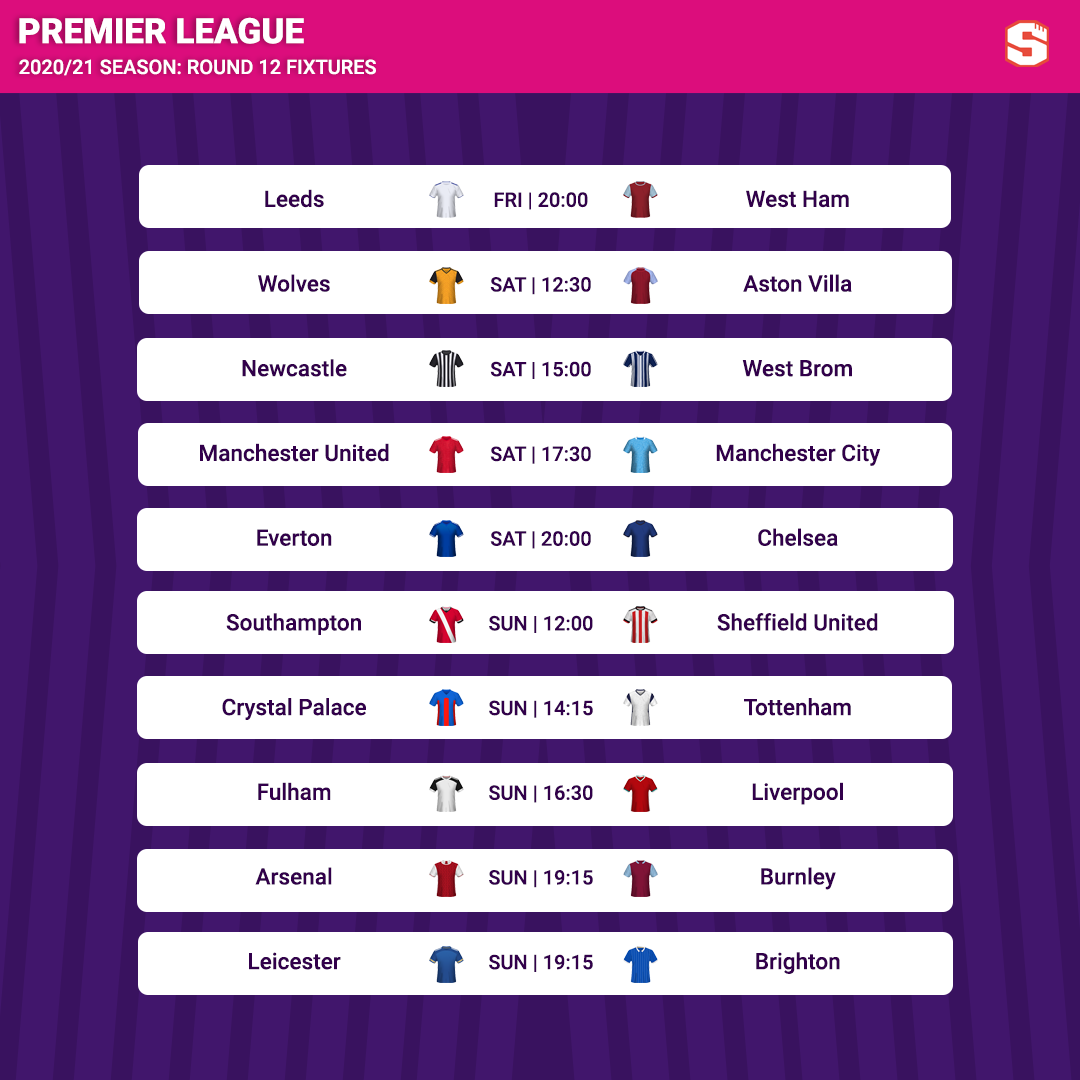 Leeds vs. West Ham
A tough one first up. Bielsa has done us all a favour by naming his starting XI in his press conference (unless this is just some truly evil scheme to ruin everyone's fantasy team/predictions) and I think this game will be typically end-to-end since Leeds are involved but they should have the greater number of chances. I'm a bit concerned by Leeds' home form but just feel that the lack of clinical finishing that cost West Ham against Man. United might be what we see again here.
Prediction: Leeds 2-1 West Ham
Wolves vs. Aston Villa
It remains to be seen whether Aston Villa's unexpected week off will help or hinder their form but I'm thinking a draw for this game. Wolves won't score as many goals without Jimenez and though they don't concede many at Molineux, Villa create a lot of chances because of Grealish.
Prediction: Wolves 1-1 Aston Villa
Newcastle vs. West Brom
The same question about Villa's week off naturally applies to Newcastle too and I'm going to have to wait and see the XI that lineup for Newcastle before committing to a pick here because Steve Bruce has said several players are still out because of the virus. If both were at full strength I'd be picking Newcastle I think and probably still will if they have Wilson starting and a decent defence but if the goal threat isn't there and they have some key players missing at the back, this might be a chance to jump on an upset.
Prediction: Newcastle 2-0 West Brom (for now)
Manchester United vs. Manchester City
It would be typical of the United we've known for a few years now if they go and win this game. I was annoyed again last week because I went 2-2 for their match again West Ham and United were so, so bad in the first half but the Hammers didn't take their chances and once Pogba scored we all knew what was happening. That pattern of playing badly for an hour before somehow getting a favourable result is what makes them a nightmare for Superbru players - they're consistently inconsistent throughout each game but surely this run of results (in the PL at least) is therefore totally unsustainable?
They left themselves too much to do against a good Leipzig team and they're up against another good team here of course. Given that United have won the last 2 meetings in this derby, I feel as naive as Mikel Arteta was last Sunday against Tottenham but I'm going to pick City. The visitors
should
control this game, exploit the defensive weaknesses Leipzig highlighted so clearly and use the pace of Kyle Walker/Joao Cancelo to guard against United's counter attack but if last year's City couldn't manage it, there has to be question marks over whether or not this season's can.
Prediction: Manchester United 1-2 Manchester City
Everton vs. Chelsea
I've been thinking about picking a draw for this game because Chelsea often struggle at Goodison but they do look much stronger this season than they've been for a few years. Everton have lost their last two at home so are due a performance but the number of chances they gave up against both Manchester United and Leeds doesn't bode well. Chelsea are missing a right-winger to fully exploit the absence of Lucas Digne at left-back for Everton but I'd expect either Pulisic or Werner can still do damage out of position down that side.
Prediction: Everton 1-2 Chelsea
Southampton vs. Sheffield United
This should be fairly routine for Southampton. They score quite a lot of goals, Sheffield United don't and Danny Ings is now fit again. I was always concerned about how Sheffield United might get on in this second season but didn't see them struggling quite this much. I'm not sure where they can suddenly find some goals when the wing-backs system their squad is built for isn't working and they don't have any creative central midfield players to bring in instead.
Prediction: Southampton 2-0 Sheffield United
Crystal Palace vs. Tottenham
This is another very one-sided one on paper and you'd be brave to go against Spurs. Some big teams tend to really struggle against Palace but Spurs aren't one of them and I'd be surprised to Palace get anything.
Prediction: Crystal Palace 1-3 Tottenham
Fulham vs. Liverpool
Another one where you know who 99% of the community are picking! Fulham are improving and didn't embarrass themselves last week against City but this is another match where they're probably just looking at damage limitation.
Prediction: Fulham 0-3 Liverpool
Arsenal vs. Burnley
I think this might actually be the game where Arsenal can score some goals and win. Their record against Burnley is decent and surely Arteta will make some changes to get some creative sparks in the final third. I don't think it'll be easy and Burnley will likely make them work for it but this should be a rare victory for the Gunners.
Prediction: Arsenal 2-1 Burnley
Leicester vs. Brighton
A more even one to finish with. You've got Leicester who have been so up and down this season, especially at home and then Brighton who play quite well every week but rarely win. I think I'm leaning towards a draw. Brighton have been good on the road in almost all of their away games this season and I just don't really trust Leicester to perform. It's always scary going against Vardy in this kind of game but I think Brighton can hold their own at the King Power.
Prediction: Leicester 1-1 Brighton
Good luck to all with your predictions in Round 12!